Back in July, after lots of searching I made the decision to order a table for the dining room in the new house.  We had given it some thought and decided against the traditional furniture store route.  Our dining room has always been a spot of gathering with friends and family and lingering long after the meal is over.  So, we wanted something special.  Not fancy, mind you, just a table worthy of creating memories. We are so happy with our table made from American Chestnut.
I took a real leap of faith after reading reviews and even personally contacting some of the reviewers when I found Joe Valentino of Valentino Designs on Etsy.
Now, without exception, every reviewer was thrilled with the furniture they got.  There were some grumbles about how long it took, but this was July and I just needed my table in place for the family to come to our new house Thanksgiving.  I placed my order after deciding on the trestle style design and measuring to come up with the exact size that would be perfect for our dining room. This is a photo from Joe's Etsy site showing the design.  What's surprising is how affordable it was.  I guess being patient has its rewards.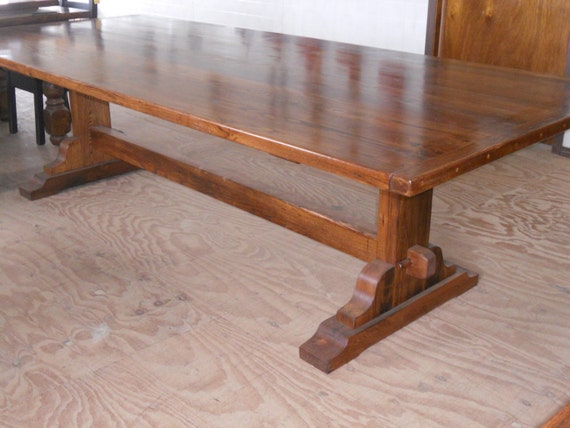 This table was built from reclaimed American Chestnut.  These trees were nearly wiped out in a blight in the early 1900's.  I didn't find out any more specifics on where the wood came from until the table actually arrived.  Our hardwood floors were to be White Oak, finished with Minwax Provincial stain.  Joe sent me a scrap of the chestnut to stain and make sure the Provincial would be good on it too.  It was perfect!
This is the dining room pre-delivery.
The rug I had ordered turned out to be back-ordered until the end of the year.  That wouldn't work.  Sara and I made an emergency rug-shopping trip and found this one.  The rug HAD to be down before the table came because…..
This table is heavy!  I mean, heavy!  Delivery was what they call "curbside" which means it could be just left on your driveway.  The freight driver who brought ours was nice enough to bring it into the garage so I could gather the troops to get it in.  The pallet was 385 pounds!
I guess he knew what he was doing.  His truck had a lift to bring it down to ground level.
He rolled the dolly under it and came into the garage with it.  It was in 3 main pieces — the two trestles and the top (the bulk of the weight).  Buddy unwrapped it the best he could and that evening our two sons, Will and James, came to bring it in.  Now, these are two big, strong guys.  But even they had to stop and rest between the garage and the front door with that top.  They made it though!
The trestles were attached to the bottom of the table and a stretcher connects the two trestles to stabilize the whole thing.  It's stable all right.  This table is going to be here long after I'm gone.
Joe emailed me the next day to make sure the table had arrived safely.  It is, without a doubt, the special piece I had dreamed of.  He sent me some details:  The wood was reclaimed from a barn built in Maryland in the mid-1850's.  The american chestnut would have been used as support beams.  He said the trees, to have been mature enough by then, would have been growing since sometime in the 1700's.  His neighbor, who is Amish, built the table, using no power tools.  Joe did the finish work himself.  Wow!  I printed out his notes and attached them to the bottom of the table.
Here it is that night, with chairs in place and a centerpiece.  I think it belongs here.  It just took a while to find its way home. Do you love these chairs as much as we do? You are not going to believe how affordable they are!
>We've already started making those memories with ten people seated at Thanksgiving.  I always have fun with my tablescapes, even if inspiration sometimes comes slowly.  Check this one out!  The touches of aqua and teal might seem un-Thanksgivingy, but I was anxious to scape my special new table with colors I use throughout the house.
………………and again at Christmas it was our immediate family — the kids and grands.  I went a little more traditional with some pine cones and spruce, but couldn't wait to use that beautiful vase Aunt Carol had given us and it of course has my blues and greens.
I am just thrilled with the table.  I love the stories behind "things".   To me, that's what brings them to life, and makes a house a home.  Now that we are getting more settled be sure to check out my
Home Tour.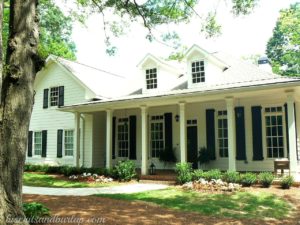 Keep up with all the latest at Biscuits and Burlap by clicking here.