Why did I write this? Over and over we get asked the same question:  How did you find the lot to build your house? No, it was not listed for sale. I didn't know where to start either.  I just dove in and started trying ideas. Because there's not a lot of information out there on how to go about this task, I want to document what I did.  Maybe it will help you when you start the process of finding a lot in a historic district, or any densely populated urban/small town area. This will be a wordier post than you'll usually find here, but I want to cover all the details
Background
We completed our home in October, 2015, in the small town of Norcross, Georgia, which sits just northeast of Atlanta.  Like so many people these days we had hoped to start our soon-to-be-retired years in a walkable community. I know, everybody wants that these days. I started out looking like anyone else would. I checked for existing homes on the market, existing lots, and had my real estate agent friend do some looking.
Nothing available was suitable.  We wanted a one level house and those were few and far between.  I came to the conclusion that, when you want to move into a densely populated and popular area, you must think outside the box.  Every community is going to be different.  There will be different levels of existing, renovated, teardowns, good-for-renovations, vacant lots, etc. It's my hope that you can learn from my experience even if only one point can help you and apply to your situation.
Here's How I Did It
Familiarize Yourself 
I mentioned above that I had the help of a real estate agent.  And, I want to stress this fact.  Having an agent on your side is invaluable.  Don't try this without one. However, this is a tedious, possibly long-term task, and many agents will not be able to tie themselves down to handling all of the background work you will need to do.  That being said, and knowing that I did have an agent I could call on, I moved ahead.
I rode around, and walked around, and rode around, and walked around. I think you get the picture.  I had coffee in the coffee shop, lunch in the cafes, drinks in the bars, dinner in the restaurants. I shopped in the shops.  All the while I was getting to know people — some are now my friends, and that makes me happy. But, I was also familiarizing myself with the area that I wanted to call home.  I asked questions. I listened. I read the local papers.
Who Do You Need to Know at City Hall? 
Chances are, if you are moving into a historic district, or dense urban area of any kind, there will be government officials with information you need.  I made an appointment with the head of the Planning Department in Norcross and my agent and I went together.  I introduced myself and told him what my plans were.  He showed me the map on the wall outlining the different areas and described the requirements for building and/or improving for each.  He explained the different zoning categories. He gave me the names of some entrepreneurial types who buy properties to build on, renovate, or re-sell.  I was back in his office several times over the course of this project, but I tried to always be respectful of his time and appreciative of his help.
 Resources from Within the Community
As mentioned above, I got some names from my contact at City Hall, I got some off signs, or from people I met around town.  I called, emailed and wrote letters and let them know where my interests were.  I will have to say that none of these sources worked out for me, but that doesn't mean they wouldn't for you.  And, I did gain valuable information from my contact with some of these people.
Know What You're Dealing With 
In our case there was a very lengthy, detailed document on the city's website outlining the requirements of building in the historic district.  I'm not saying you need to know every little detail, but if you familiarize yourself with it, future headaches can be prevented. I also learned about the board that approves the building plans.  I found out when they met, where they met and I read the minutes of the last few of their meetings.  Now, that was some valuable information.  The biggest help I got there was to look at some recently approved plans.  I reviewed the plans, but also, I scrolled down to the bottom corner and found the architect's name.  Boom! That leads me to the next step.
 What is Your Ultimate Goal?
You don't need completed plans before you ever look for the property, but an idea of how many stories, a range of square footage, basement or not, and maybe even thoughts on bedrooms and baths.  Keep in mind you may need to be flexible, depending on what you find, but, for instance, we knew the following: We wanted in the 2500-2800 square feet range, we wanted one level, no basement with a two car garage. By now, I knew that front entry garages were not allowed on new construction in the historic district.  So that meant finding a lot wide enough to enter the garage from the side.  A complication, but good information to have.
I contacted the architect whose name I found on those plans and set up a meeting.  I told her what I had in mind and listened to what she had to say.  She agreed to take a look at any property I thought had potential and render an opinion of its suitability.
Is Someone Willing to Sell Even Though Their Property is not Listed? 
This can be done in a variety of ways.  You can knock on doors.  Being a woman, sometimes working alone, I did very little of this.  For the most part I rode around and made notes on properties I thought had potential.  I focused on either vacant lots or houses that appeared to be in such bad shape the value was only in the land.  You must be careful, though, in a historic district.  Older properties are protected, and most likely any with historical architectural details will need to be saved.  That's where your flexibility is important.  Think about the possibilities of adding onto historical homes.
Any area in the United States should have owners of property available through tax and/or deed records and they are a matter of public record.  That's not to say that they will always be accurate, but it's a starting place. In our county the tax records have a mailing address for the owner, but many times it is not accurate.  Write letters and/or call if you can find a number.  Explain who you are and that you want to make this place your home.  I found that property owners were more willing to talk to me once they understood that I was not trying to make a profit — but make this place my home.
Remember Me?  I'm Still Looking 
At this point you might have to sit back and wait.  But, continue to follow up with the contacts you've made.  Don't let them forget about you.  An occasional visit to city hall, staying engaged with the residents and business-people are all smart moves to make.
This is how it happened for me.  My agent had sent a letter to the owner of an old house that had been sitting vacant throughout our search.  It occurred to me that I might have better luck being the actual person who wanted to build, so I sent my own letter.  Very shortly I got a response that he was willing to sell.  This property was level (no basement) and was wide enough to accommodate the general dimensions we needed, including a side-entry garage. The house appeared to be rundown with no real architectural features that deemed it worthy of saving.
We agreed to a price and a few months later our plans were complete and approved by the Architectural Review Board and construction started.
I hope this guide has been helpful as you start the process of finding a lot in a historic district.  Please stick around and learn more about the construction of our home and the final product.  We love our house and our location and feel the efforts to get here were well worth it.
 I kept a journal of the entire construction process.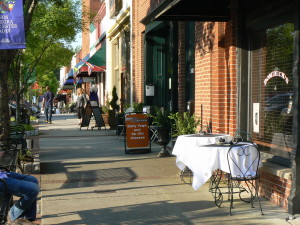 Read here about our decision to make this our home.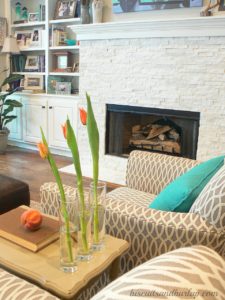 The House Tour of the interior starts here.
 Walking Tour of Historic Norcross, Georgia (North Peachtree)
 Walking Tour of Historic Norcross (South Peachtree)