This week I'm highlighting some of our wonderful local produce with Grilled Okra and Tomatoes!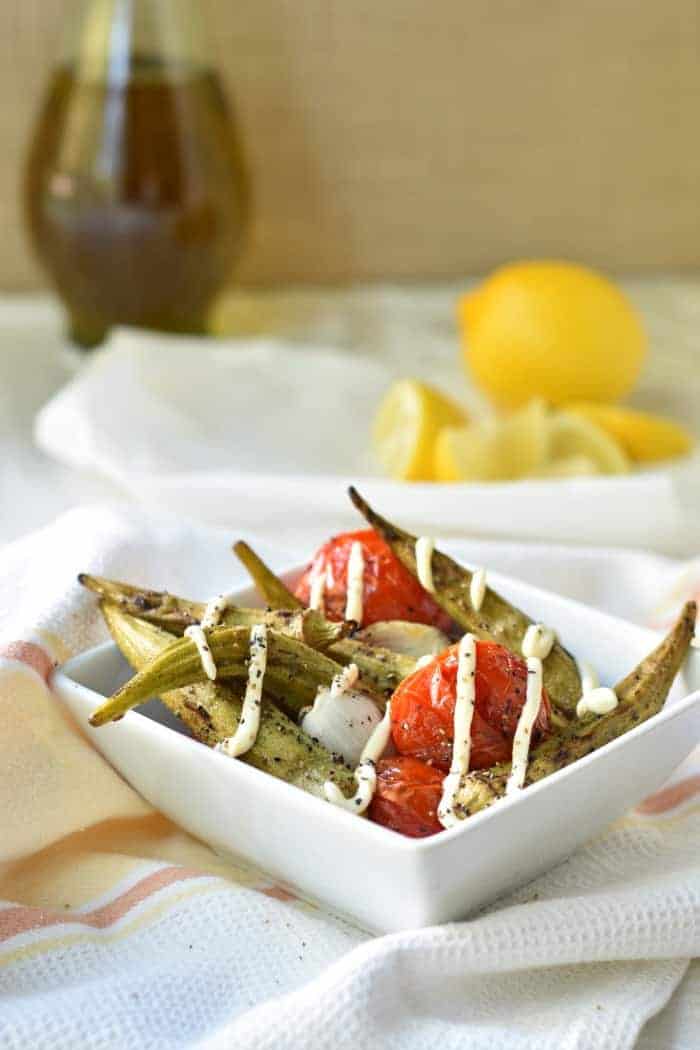 +
If you aren't new to Biscuits & Burlap, you probably know that we are both huge fans of neighborhood farmers markets. Mom volunteers at the Norcross Community Market each year and we both try to buy anything we can from the local markets before we go to a big chain grocery store.
There are so many vendors to choose from, selling everything from produce to meat to jam (for a full list of the vendors this year, be sure to check out the Norcross Community Market's Facebook page). One of our favorite local farms represented at the Norcross Market is Gilliam's Community Garden.
Gilliam's Community Garden
Gilliam's Community Garden located near Atlanta's West End has a little bit of everything including squash, peppers, okra, herbs, onions, melons, tomatoes, and just about anything else you can grow in Georgia. Ever heard of acre peas? They're an old favorite in our family and you can't find them just anywhere, but Lovey Gilliam has them, too! Best of all, everything grown on Gilliam's Community Garden is certified organic. For more information, check out her website here.
Right now Gilliam's Garden has the most beautiful okra and tomatoes, so I decided to make a side dish highlighting these ingredients. If you come from a Deep South family like mine, you've probably had stewed okra and tomatoes, but we're getting a little outside the box and doing these on the grill. Seeing as how it's Vidalia onion season, I couldn't resist throwing those in there, too.
Okra: Don't Fear the Slime!
Now I know okra isn't everyone's cup of tea. Some people could live off of it, but others say, "Ew! The slime!" That "slime" is essential to getting the right consistency in your gumbo, but sometimes it prevents people from popping a whole piece of okra in their mouths. Don't let that deter you! After a little research, I discovered that if you soak your raw okra in vinegar for half an hour before you cook it, it greatly reduces the slime. Don't ask how it works, just trust me.
You probably already know this little "hack," but be sure to soak your skewers in water before you put the okra and tomatoes and onions on there. This prevents the skewers from burning on the grill.
Okra and Tomatoes
While the okra and skewers are soaking, so ahead and make your garlic lemon aioli. You can look online for ways to make fancy "from scratch" aioli, but as with most things, I do it the simple way: Mayonnaise, garlic, salt, olive oil and lemon juice. Blend it all together and you have garlic lemon aioli.
Once your okra is good to go, start threading it on skewers, adding Vidalia onion slices as you go. Be sure to put your tomatoes on separate skewers because they don't have to cook as long as the okra and onions. Spray all your skewers with an olive oil-based cooking spray and season with salt and pepper.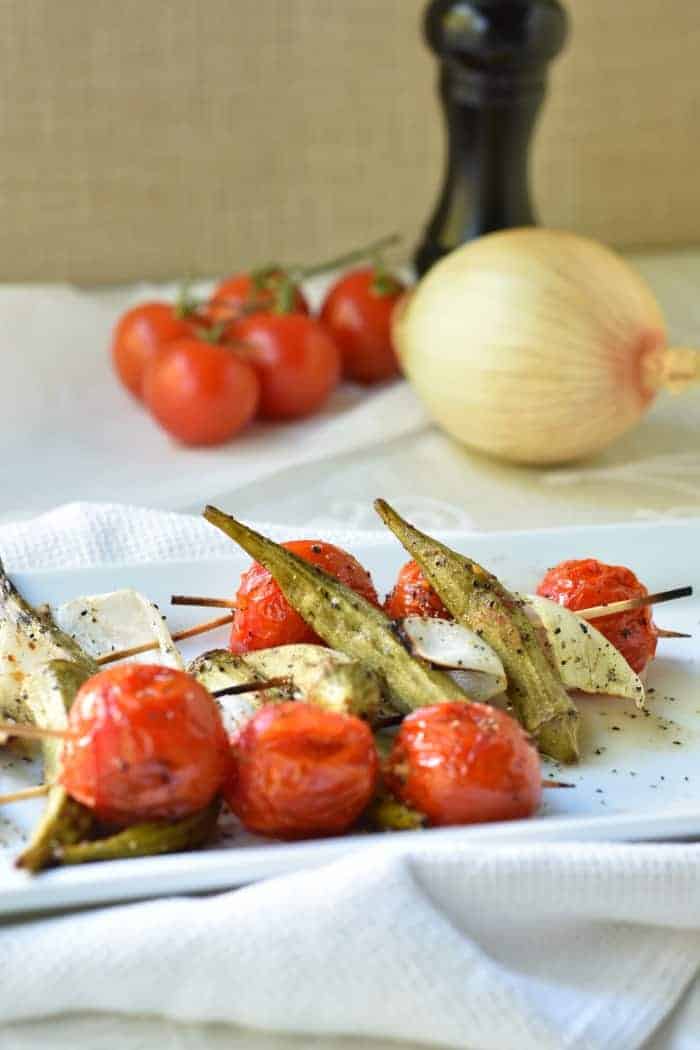 Grill tomatoes over medium heat for about 5 minutes, turning frequently. Turn the grill up to high heat and grill your okra and onions 10-15 minutes, or until okra is slightly charred all around.
Pull all the veggies off the skewers and serve hot with the aioli on the side. Delish!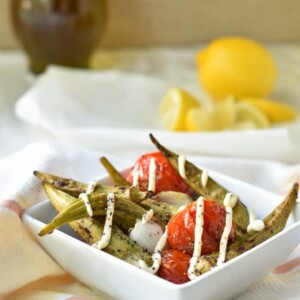 Grilled Okra and Tomatoes with Garlic Lemon Aioli
Ingredients
Instructions
To cut down on "slime," soak okra in apple cider vinegar for 30 minutes. Soak skewers in water to keep from burning.

While okra and skewers are soaking, press garlic and kosher salt together in a small bowl to make a paste. add mayonnaise, olive oil, and lemon juice and mix well. Cover aioli and chill.

Rinse off okra and pat dry with a paper towel. Skewer okra and onion slices alternately.

Skewer tomatoes on their own skewers.

Spray all skewers with cooking spray and season with salt and pepper to taste.

Put all skewers on grill and cook over Medium heat 5 minutes, turning once. Remove tomatoes from grill.

Increase heat to High and cook okra and onions an additional 5-10 minutes or until okra is charred evenly.

Remove all vegetables from skewers and serve immediately with aioli.
I bet you'll love these other Southern favorites, too!