Many of y'all know how much we love our little town of Norcross, Georgia. It sits just northeast of Atlanta and is close enough to have easy access to all the big city offers, but it is a small town in every sense of the word. Read here about our decision to make Norcross our home.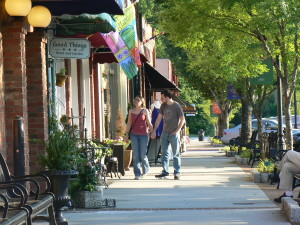 We've been slowing settling into the house and town and I wanted something in the decor that honors our sweet little hometown.
This post contains affiliate links for your convenience. Click here to read our full disclosure policy.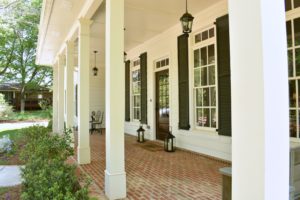 This is our house and at the bottom of this post is a link to tour. We'd love for you to check it out.
Where to Get Hand Cut Maps
I honestly cannot remember where I first read about Karen O'Leary of StudioKMO and her beautiful hand cut maps, but she has been featured in Garden & Gun and Oprah's O Magazine among others. I wondered about the possibility of Karen creating a map of Norcross for me.
I contacted her and she was so easy to work with. She sent me a screen shot of a map roughly covering the city limits of Norcross, but what I had in mind was more the historic district where we live. I zoomed in and sent it back to her and she was completely agreeable.
Karen's work is just exquisite. She hand cuts her maps using only an X-acto knife. It's obvious that she takes a huge amount of pride in every piece.
Hey, are you getting our newsletter? If not, sign up here. It's the easiest way to keep up with what's happening at Biscuits & Burlap.
The Possibilities are Endless
Some of the maps are extremely intricate. Check out this one of Paris. Can you imagine the hours of painstaking work that went into creating this?
That same pride is evident in my little 10″x 10″ map of Norcross. I have it framed and hanging proudly in my dining room, and it's already become a great conversation piece.
I can think of so many occasions that a map of Karen's would make a great gift. A treasured memory of a childhood neighborhood in a big city, for instance. Or, an area where a couple met, courted and married. How about to preserve the memories of a special vacation? The map below is Jacksonville, Florida — my birthplace. I love the St. Johns River flowing through the map. The river is as much of the Jacksonville landscape as the railroad is in Norcross.
The last one I want to share with you is Pawley's Island, South Carolina. I just love it! Each map is so unique. Karen has many already created to choose from in her Etsy shop, but custom maps like she created for me are always possible too. Visit her Etsy shop for details on her work. Any of the map images here will link to Studio KMO.
Related Posts
The promised link to tour our home is here.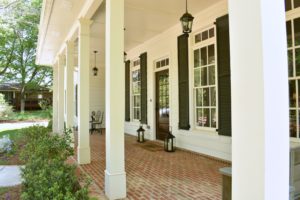 Walking Tour of Historic Norcross Starts Here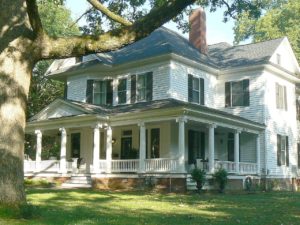 She-Shed or Sacred Man Space Shed Reveal 
Don't forget to sign up for our newsletters. They only come out once a week and have all our latest.