Honoring our Mamas
We're honoring our Mamas (and Mama-figures) by sharing our favorite recipes from those ladies so special to each of us. Typically Sara or I will write the posts"but in this case we're tag-teaming because each of us have "recipes like Mama used to make" that we want to share.
The three ladies for my line up are:
Grandmama
You don't hear that name used for grandmothers much, and certainly never outside of the South. But, my Grandmama was never known to us by any other name. This was one special person in my life until we lost her when I was sixteen. She lived her entire life in this area of north Florida.
She married my grandfather when my mother was 10 or 11 years old and the oldest of five. Can you imagine? Their mother had died leaving five little ones – 7 and under. Grandmama had two children of her own and became "Mama" to another five all at once.
My mother said she never treated any of them like they weren't her own. All of us grandkids were the same. She was Grandmama to us and we loved her and she loved us. Period.
Now, to the recipe – which is more a method than recipe. In north Florida when it's time to harvest corn that means "putting up corn".  More often than not, creamed corn is the method of choice. Hours can be spent cleaning and creaming corn sitting on the porch. Some is cooked and eaten fresh, of course, but there are bags and bags that go into the freezer for later.
Southern Food Then and Now is all about traditions, regions and the origins of our favorite cuisine!
Grandmama would protect the last of the corn in her freezer until I came to visit, because she knew it was my favorite.
How to Make Southern Style Creamed Corn can be found here, and includes links to get your very own corn creamer.
Are you getting our updates? That's the easiest way to make sure you don't miss a recipe or a project. Sign up here.
Jackie (my Mother-in-law)
Jackie, known as "Grandmother" to the grandkids, is another good ol' Southern cook. Her dressing (Cornbread Dressing if you will – we always just call it "Dressing") is a HUGE family favorite. My own Mama could make a mean pan of dressing herself, but since Jackie's was so popular I set out to learn to make it like she did.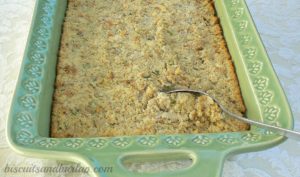 Several Thanksgivings in a row I watched, and helped, and made mental notes. I learned to make it, but she never used a recipe, so I didn't either. Last fall I decided I was being selfish keeping that dressing in our family, and so I went to work making it and writing down all the proportions.
That recipe for Cornbread Dressing can be found here and has become one our most visited posts ever. It went a little crazy on Pinterest during the month of November and then, in the days leading up to Thanksgiving, it just blew us away the number of people coming to Biscuits and Burlap for the dressing recipe. It made us so proud to think how many families were enjoying Grandmother's dressing at Thanksgiving.
My Mama (Flo)
If you've been around Biscuits and Burlap long you know how special my own Mama was to me (and many others). Remember, she's the one I mentioned above who was 7 years old and the oldest of five when her mother died. What a way to grow up fast.
She was quite a character. She had a bit of a "potty mouth" and liked to enjoy a Whiskey Sour or a glass of wine in the evening.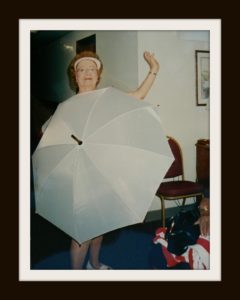 She had quite a few dishes that she was known for – potato salad, pot roast, macaroni and cheese and my personal favorite, Pecan Pie (recipe here). Now, there is nothing fancy about this pie. It's a classic Southern Style Pecan Pie, but you know what they say, "If it ain't broke, don't fix it"
It takes just a few minutes to stir up and the ingredients are simple, pure and delicious.
Before I turn this over to Sara, I want to say a word about thinking outside the box when it comes to seasonal dishes. With the creamed corn, you definitely want to make it in the summer when the corn is fresh. But very often in spring or summer we will have baked chicken and Cornbread Dressing . And Pecan Pie — there is no reason whatsoever to reserve it for fall. These dishes are too good and the ingredients are plentiful and available. Make them anytime you choose.
Sara's favorite Recipes Like Mama Used to Make:
It just wouldn't be right to have a Mother's Day post from a mother/daughter blog without the daughter writing about her mother, now would it?
My mom is known for keeping her home beautiful, her family close and her cooking in a class above the rest. As the baby in the family, there are so many recipes that I have just accepted as being "mama's" without actually knowing where they came from. Like that Pecan Pie she mentioned above… I was going to write about that til she said, "Well, Sara, that's your Mememama's recipe! I can't take credit for that." Years from now, though, I'll still refer to it "my mama's pecan pie"
One recipe that is uniquely hers is her Shrimp & Grits. Shrimp and Grits are one of those things that you can make as simple or complicated as you want… Dress it down for a fish fry, dress it up for Christmas Eve dinner (yes, we've done it). Since Mom started making this, I refuse to eat it out at a restaurant. They'll just screw it up 😉
Another one of my personal favorites of Mom's is what I refer to as "Mom's Famous Chicken Sandwiches." They're actually so simple and not the kind of thing you would make for fancy dinner guests… But these sandwiches are my favorite thing to whip up for myself or friends for lunch. The sauce is out of this world and I tend to make way too much of it on purpose… That way I can use it as a veggie dip or salad dressing later.
There are so many things my mama has made over the years that I will never forget and will one day make for my own family, but the most nostalgic are her Sausage Balls. This may have come from one mama or another before her, but all I know is every Christmas morning while my brothers and I sorted the presents under the tree into piles for each family member, my mama was pulling sausage balls out of the oven.
They're addictive, crowd-pleasing, and easy to make ahead. And again, don't feel like this is something you have to save for a holiday… I know my mama makes them for her Sunday school class as often as she cares to, no matter what time of the year it is. It's always a good time for Sausage Balls!
We hoped you've enjoyed this Mother's Day edition of "Recipes like mama used to make"
Are you getting our weekly newsletters? That's the easiest way to make sure you don't miss any recipes, and you can sign up right here. We promise to treat you like family.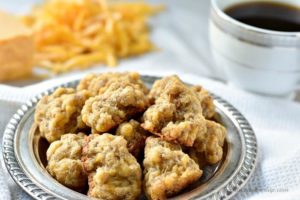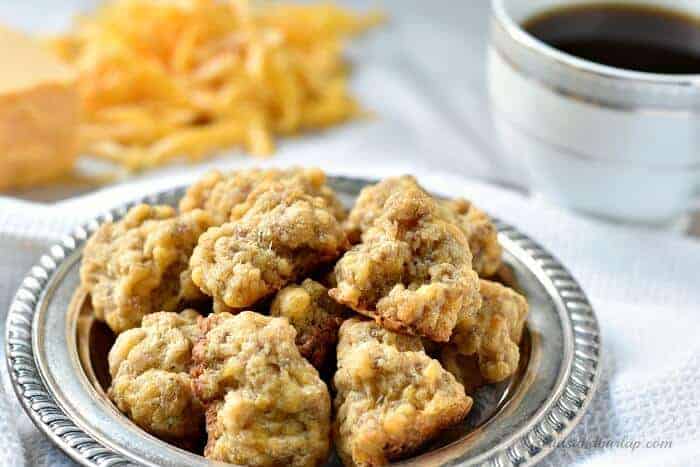 What are your favorite recipes like your mama used to make? We would love to hear about them. Happy Mother's Day from both of us here at Biscuits & Burlap!