The Time Has Come
Okay, y'all. We've been in the house over a year now. A new nightstand for the master bedroom was on my to-do list before we ever moved in. Uh, that didn't happen. But, I'm thinking the time has come to move on from the fiberboard round table with tablecloth over it.
You are looking smack-dab at this side of the bed when you walk in the room, so I think a little blingy statement piece is in order. Of course, the size needs to be right and, above all, the price must be right. I've set myself a budget of $350, but would go over just a little if the piece was perfect, so my choices are all under $400.
The room has some barnwood on this mirror and in picture frames and I like the contrasting texture that something shiny and fun would bring to the mix.
Most of the nightstands with bling of any type are totally mirrored, but I found a few with just a bit of shine.  Y'all check these out and let me know what you think.
The Choices
This post contains affiliate links for your convenience. Click here to read our full disclosure policy .
 I like the open display shelf on this one, and our existing lamps would look good. Have you seen my lampshade recover project? Quick, fun and easy. 
What about this one? Open on the bottom too, but I would say that's more for books/storage, etc. than display.
It's a little hard to see on the photo, but this one is painted silver on the sides, bottom and the trim and the drawer fronts and top are mirrors. I like that it's a little taller at 31.5″, but it's also a wider at 33″. That might be pushing the limits on my space.
Are you getting our newsletters delivered to your In Box? That's the easiest way to get our projects and recipes.
 Cute? I like these colors. At only 19″ wide it's on the small side. Perfect for tight spots.
 Heading in a little different direction with this color. It's called "antiqued champagne silver leaf". At 26″ wide I think it's about perfect, but the height is 28″ and my bed is 30″. That's not too low?
This one is kind of nice, but what the heck is that weird stuff on top? I assume it wouldn't come with it.
This one is too cool. I love the contrast of the top drawer being mirrored with the crocodile-type texture on the rest of it. And those crystal knobs? Yeah. About 25″ wide would be a good fit for my space.
 This one is sweet and simple. No texture contrast here, but maybe that's okay since I've got lots of other textures in the room. Is it a little delicate to be next to a king sized bed, though?
 I sort of like the nailhead trim on this one. But, at 25.8″ tall is it too short for my 30″ bed?
I can't wait to hear which one is your favorite.
UPDATE:  Want to see the final choice? The Home Tour Part 3 includes the Master Bedroom 
Other Projects in the Master Bedroom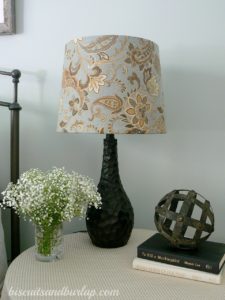 This shot shows the lamp I'll use on the new nightstand and also links to the tutorial on covering the lampshade. 
The bed skirt I made for our master bedroom is our most popular post ever. It's easy to make, easy to put on by yourself, and best of all you adjust it so it sits at the perfect length.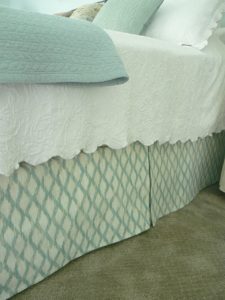 Full tutorial on the bedskirt is here. 
Sign up Now for Updates