Welcome! At first I intended to wait and feature a home tour after the house was decorated perfectly.
Well, you all might be waiting years for that. So, as the rooms get presentable I decided to share them with you a couple at the time. If I'm realistic, it will never be perfect, but it is, after all, a home and not a museum. And, many of our "things" are here because we love them, because they hold special meaning for us, because they hold memories of times we cherish, and sometimes, loved ones that are only with us still in our hearts.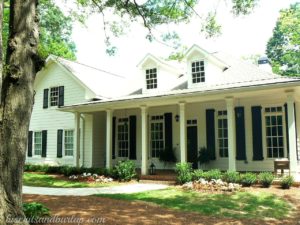 There have been so many questions about the finishes we used in building the house (construction story begins here) and some of the furnishings so, I will include those details wherever I can. What we're putting together is a collection of Amazon bargains, builder basics, flea market finds, reclaimed wood pieces, and those family treasures, some having no monetary value to speak of, but mean the world to us.
So…. come on in.
There seems to be a big interest in the paint color, Sherwin-Williams Sea Salt, which is what we used in our dining room. It's one of those colors that looks so different depending on the light and time of day. I took some photos in the middle of the day with bright light streaming through the windows, in the early evening, and at night with no light coming in from outside. You come in our front door and the dining room is to the left. Here we are in the middle of the day.
I LOVE the little alcove for the glass cabinets. The space was taken out of the garage in our design, and not missed at all. It makes the dining room seems so much more spacious when you have the china cabinet recessed. No more asking people to scoot up close to the table so you can get around them.
Are you getting our newsletters? Sign up here to have them delivered to your In Box so you never miss an update.
These are actually two pieces, Henredon cabinets, that I believe are about 25-30 years old. I found them in one of those flea markets with booths of individual dealers. What a find! Best of all is what they hold… my mother-in-law's wedding crystal, a collection of depression glass that was my mother's, and most recently, a cut glass compote that belonged to the mother of my sister-in-law, Carol.
Check out the brass hinges. I couldn't believe my good fortune at finding such high quality pieces at a super affordable price.
Thick glass shelves and adjustable lights!
Another daytime view. The story of the trestle table is one I shared a while back. It's made from reclaimed American Chestnut and was built to fit my space by Valens Reclaimed Barnwood Furniture.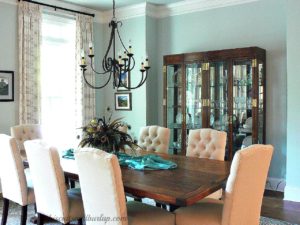 This post contains affiliate links for your convenience. Click here to read our full disclosure policy. The chairs
came from Amazon and I love how nicely this nubby, muslin look fabric blended with the drapery fabric.
The rug. I love this rug, but it's a simple, inexpensive synthetic that was picked up on an emergency rug shopping trip. It was all about getting it down before that heavy chestnut table arrived.
This shot was taken in the early evening. I think you can see what I mean about the sea salt wall color being so different.
The light fixture
was another Amazon order while the house was under construction. It's not at all what I originally wanted. If I'd had an unlimited budget you would see a hand-blown glass multi-pendant fixture. Now that I'm here and loving this house I think this one was the right choice. After all, we wanted to be able to sit on chairs and eat on a table. If I'd gotten the fixture I wanted we would be sitting on the floor. In every room. What was I thinking?
The little butler's pantry is one of my favorite features of the house. Here we switch to the wall paint color that's used through most of the house, which is Sherwin-Williams Agreeable Gray. I don't think it's gray at all, but it is a grayish beige. A "greige" if you will.
More glass treasures in the upper cabinet. Oh, how I do love glass. We use this area as a bar, but I've also used it to serve dessert and coffee. It's a handy little spot.
My absolute favorite time of day for the whole room is after dark. There is just something soothing about a dining room with soft lights coming from glass cabinets and it highlights those family treasures that mean so much.
The kitchen is just past the butler's pantry and yeah, it's more utilitarian, but I want to share it too. Like our style? We'd love it if you stay in touch.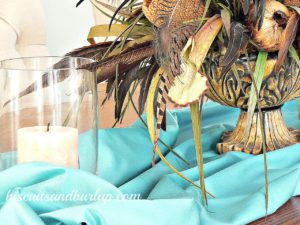 Come on into the kitchen now.
The little island houses the wine cooler
. The rest of the cabinets were a stock color, but this island is where I wanted to add a little pizzaz. Sherwin-Williams Underseas was the choice after LOTS of looking.
This cooktop wall is to the left when walking in. Those deep drawers are the best. I sometimes wonder if I would be fine with all of the lower cabinets being drawers.
The cooktop itself may be my favorite appliance. It's a 36″ Gas 5 Burner by LG
. It comes in 30″ also. The burners have several different power levels, including a simmer burner and a fast-heating, larger center burner. The other three fall in between.
Moving on around the kitchen next is the dishwasher/sink/bar wall. The sink itself is pretty cool. It's silgranit (a granite composite) made by Blanco. The material comes in lots of configurations. The one I chose has a larger sink on the left and the divider in the middle is recessed to make it easier to get big pans in. My color is truffle but it comes in several colors.
The faucet is by Delta
and it has the "touch" technology where you just lightly tap anywhere along the faucet and it comes on. Great for cleaning up messy hands.
The bar curves around the corner to seat four. I got these barstools
off Amazon and they're working out great. A couple of times I've needed to use the bar for serving and the stools will just tuck up under the bar and be out of the way. Our old stools had backs so they would have to be moved totally to use the bar for serving.
I was concerned the refrigerator might be a tight fit with the little island, so we ordered a counter-depth refrigerator
. It's plenty of space for us, being empty-nesters, but it might not have enough room for a bigger family. I do like the sleek look of it.
These pendant lights
are a different look from what I had before. They blend in wonderfully with the oil rubbed bronze faucet, which sits right below.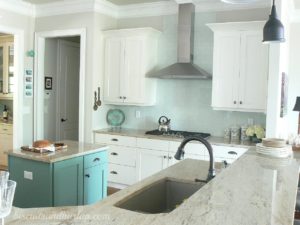 This is the best view of the chimney hood
. Because our ceilings are high it had to have an extension added to the top. I really like it, though. That wall wouldn't be the same without it.
I had a dimmer put on my under-cabinet lighting. A small expense but it's nice to be able to adjust that light, whether you want it for task lighting, or just mood-light.
The glass backsplash tile came from South Cypress and the color is called "Cloud". I really wanted that pale green — almost totally colorless, but not quite. A less expensive version

can be ordered off Amazon that has a little more green and would still be pretty.
The granite we used is Astoria Ivory. We had to buy two slabs, but there was enough to cut out a piece for the laundry room, so that helped to make it affordable.
I hope you've enjoyed the dining room and kitchen. The home tour continues with the Living Room and Screened porch here.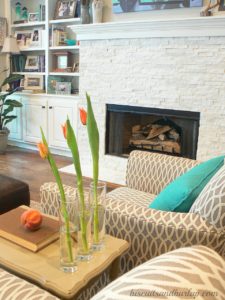 Resources/Materials Dining Room
Paint: Sherwin-Williams Sea Salt SW6204
Light Fixture, Dining Table from Valens Reclaimed Barnwood Furniture, Chairs
Resources/Material Kitchen
Paint: Sherwin-Williams Agreeable Gray SW7029 and Sherwin-Williams Underseas 6214
Sink
, Wine Cooler
, Refrigerator
, Dishwasher
, Cooktop
, Vent Hood
,Convection Microwave
, Granite is Astoria Ivory,
Pendant Lights
, Faucet
, Barstools
,Glass Subway Tile Backsplash
(similar to ours)
********************************
Related Posts:
TOUR CONTINUES WITH GREAT ROOM AND SCREENED PORCH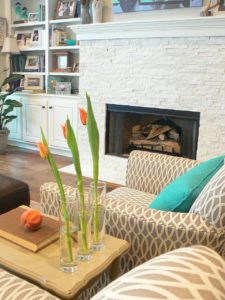 And After that, the Study & Master Bedroom
Wow, you found an old post! Did you know we're a food blog now?
If you love food, especially Southern food, you're going to love what we've done with the place! Check out some of our favorite recipes below.