My newly adopted hometown, Norcross, Georgia, was the first town in our county to be placed on the U.S. Register of Historic Places.  The homes (and two other buildings) in this walking tour are just a few of the interesting and beautiful homes located here. I invite you to come to Norcross if you are ever in this area.  You will find a charming little town and its residents will welcome you with open arms as they have Buddy and me.  The South Peachtree Tour was just highlighted a few weeks ago.
Read here to find out about how we decided to make this our home, as well as an overview of the town and its history.
Now, on to the tour….
Starting at the stone columns at the entrance to Thrasher Park walk up the hill on Park Drive and across the street you will find…
Cain House
Dr. Jack Cain's parents ran the Brunswick Hotel in the early 1900's.  He studied at Oglethorpe University and Emory Medical School, and returned to his home town to practice and live.  He was beloved for the gentle and compassionate treatment he provided.
Original Norcross Baptist Church
The Norcross Baptist Church was founded in 1872 and the congregation built this building shortly afterwards.  After more than 100 years, the church moved to a larger facility several blocks down on North Peachtree Street.
Rochester House
This house was built in 1930 by Louette Johnson Rochester.  She was the daughter of A.A. Johnson, whose family ran a retail store in Norcross for over 100 years.  Mrs. Rochester was the organist at the Norcross Baptist Church across the street for many years.
Norcross Woman's Club/Library
The Norcross Woman's Club established the first library in Gwinnett County in 1907 and opened this structure as a dedicated library in 1921.  It remained in use as a library until the 1970's, at which time the library moved to larger quarters and this building reverted back to use by the Woman's Club.
Phillips House
Attorney Dorsey Phillips and his wife lived in this home for 60 years.  Mr. Phillips was mayor from 1927-1932, and would walk from home to his office downtown in the Masonic Hall each day, many times accompanied by his dog Peanuts.
Summerour House
Ben Summerour was a local farmer, cotton seed merchant and cotton gin operator.  He built this stately Georgian-style home in 1922.
O.O. Simpson Houses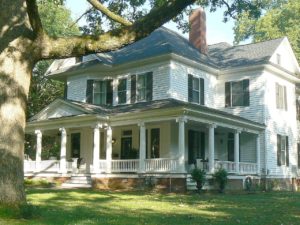 Dr. O.O. Smpson built the smaller of these two homes when he married Mattie Rakestraw in 1895. When their family grew, he built the larger home next door, about 1910.  He was one of the first owners of an automobile in the area, and he kept his car in the still-standing barn in the back of the smaller home.  He was notorious as a bad driver.
Ivey House
 Gaines Ivy and his wife Louise, lived in this home for over 60 years and raised three children there.  He ran a local retail store, served on the city council and as mayor.
Key House
Dr. Thomas Terrell Key served in the Civil War, and lived here when he practiced in Norcross around 1900.  The house has heart of pine flooring that is several inches thick.
Nesbit House
Captain Nesbit was a conductor for the Southern Railroad, and he and wife wife, Minnie, built this home around 1904.  They raised five children here.  Minnie liked to entertain and there are family stories of dancing guests in the large central hallway.
Ray/Puett House
This home was built around 1906 by Thompson Ray, owner of the Southern Oak Leather Company, which was a major industry in town.  He also ran the town's first dairy, keeping the cows on the back of this property.  Later Dr. William Puett lived in this home during his 35 year career in Norcross.
Ludie Simpson House
Ludie Simpson was a teacher in area schools for 35 years.  In 1971, she donated 239 acres of land along the Chattahoochee River to the Methodist Church.  The area became the home of the Lodge at Simpsonwood, a Christian adult and family conference retreat.
Gus McDaniel House
The McDaniel family shipped the first bales of cotton out of the then-new Norcross railroad depot in October, 1870.  Gus and his family lived n this home until 1961.  He was Cashier of the Bank of Norcross, and was active in the Norcross Baptist Church and Masonic Lodge.
Buchanan House
Edward Buchanan was adopted by a Norcross family as a young boy.  He learned to be a telegraph operator in the local depot and built these skills to become a millionaire stockbroker in New York in the early 1900's.  At the height of his wealth, in 1907, he built this home for his adoptive mother. However, his fortune collapsed the following year, and he died a pauper in 1910.
McDaniel House
 This home was built in 1908.  "Dr. Tom" was a successful salesman of pharmaceutical products in the early 20th century and his wife taught music lessons to the children of Norcross.  This Victorian Home is one of several in town that are based on the design originally used by Homer Jones when he built his home on Thrasher Street (that house is on the South Peachtree Walking Tour.)
************************************
The information here was all pulled directly from the brochure, Walking Tours of Historic Norcross Homes, which is available at the Norcross Welcome Center & Museum.  The tour and history development was by Gene Ramsay, Concept development by Cate Kitchen, Photography by Charlie Harbin and additional photography and design by Laura Smith.  The photography in this post is my own.
RELATED POSTS:
Restaurants of Historic Norcross
Journey to Adopt Historic Norcross as Our Hometown
Building a House from the Ground Up