Now, I am, by no means, a restaurant critic -- just a new resident of Historic Norcross, and proud to be here. As the spring comes, I am SO excited about all the activities available in this wonderful little town. I plan to stay involved in as many as I can, and I will, to the best of my ability, keep you up to date, via this blog.
For now, though, my mission is just an overview of our restaurants. It's not a huge number, but a good variety, and oh my goodness... what a joy to be able to walk out the door of our house and be at any of them within about seven minutes, leaving the car at home. Yeah!
In absolutely no particular order....
Paizano's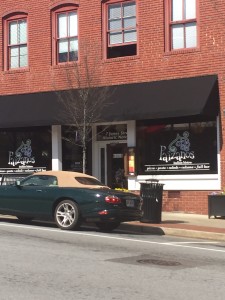 Check out their site here. Neighborhood pizza joint, but with pasta, full bar and friendly service. Tiffany, the manager, was one of the first people we met, and we've met several other neighbors from Norcross just hanging out at the bar waiting on our pizza. Everybody has their favorite menu items. Ours are the pizza and the antipasto plate and salad.
Zapata Tacos and Tequila Bar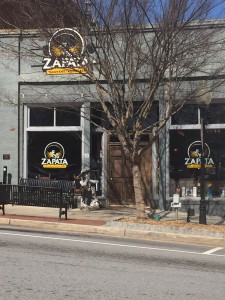 Their info is here. Not being much of a tequila drinker, I can't speak about that. But, the food is authenic Guadalajara cuisine. There are always friendly servers and neighbors, and they do have Tuesday night specials that seem to draw quite a crowd, and live music some nights. There is a patio out back for the nice weather months.
Iron Horse Tavern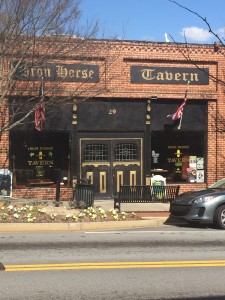 A traditional neighborhood tavern, Iron Horse is part of the Dunwoody Restaurant Group and the info is here. The building they are located in has been in Norcross for a long time -- 130 years or so. They have good solid, pub type food, a great fireplace blazing in the colder months and a dog friendly deck to the side for the warmer months. Their events calendar is full with trivia, karaoke, and live music.
45 South Cafe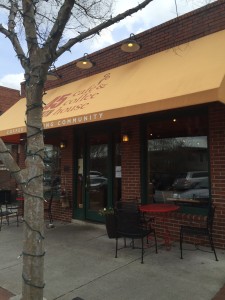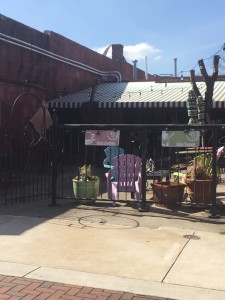 This is "the" coffee shop in Norcross. Check out their website right here. They have great breakfasts, an interesting lunch menu, and besides the awesome coffee there is a craft beer and boutique wine selection. Live music is offered every Friday and Saturday evening. There is a cute patio out back.
The Wednesday morning meeting of the Norcross "Progressive Development Committee" is one event that really makes 45 South stand out. This is an open forum meeting of citizens and city officials and is a great way to stay abreast of what's happening, or about to happen in town, meet other Norcross residents all while enjoying coffee or breakfast. All are welcome and many times there is a guest speaker. The group meets at 8:15 every Wednesday.
Dominick's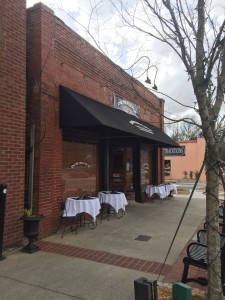 Traditional Italian food and wine in a beautiful historic building, Dominick's serves lunch and dinner and has a full bar. Read all about them here. That garlic bread is To. Die. For. We've tried a few of their pasta dishes and all have been wonderful. Cute little tables on the sidewalk make you feel like you are in Italy.
The Market, A Norcross Eatery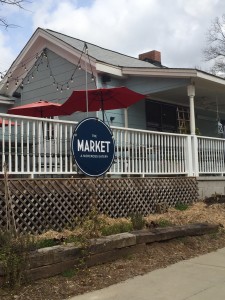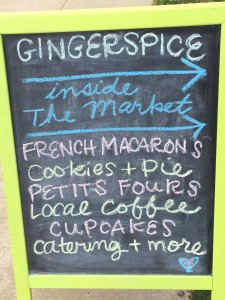 This is a Monday-Friday lunch place, located in a cute little building with inside and outdoor seating. Their website with details is here. We've been here several times and everything is yummy. They have wonderful smoked meats that are incorporated into salads, sandwiches, and naan-wiches. There has been a crowd each time I've been. I guess they've found their niche with the weekday lunch crowd, but I can't help but wishing they were open at least for lunch on Saturday.
Also, located within The Market are the sweet treats of Gingerspice, details here. Besides the goodies you can follow up that great lunch with, they are full-service caterers, specializing in weddings.
Mojitos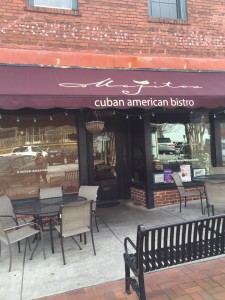 What a treat! Mojitos is a Cuban bistro and that says it all. Owned by a young couple, there is a real family feel to this place. Many traditional Cuban dishes such as Ropa Vieja, Empanadas, and my personal favorite is the Black Bean Soup. And then there are the Mojitos -- by the glass or by the pitcher. They have a few tables out front, a good size (but cozy) dining room and a covered patio. There is live music on weekends, which always seem to bring a crowd. Menu and more details can be found here.
Bleu House Cafe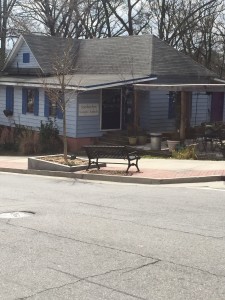 Delicious soups, salads and sandwiches make this cute place a favorite for lunch. Family owned and in the same group with The Market, their patio seating is the place to be when the weather is nice. Again, they are open for lunch Monday-Friday. Menu and all their information is here.
Chase's Grille & Wingery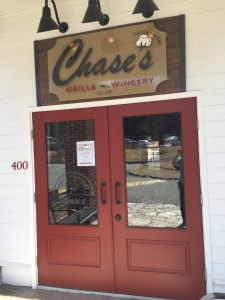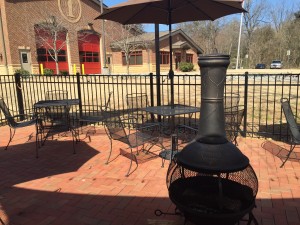 Located in the historic Cotton Gin, Chase's has sandwiches, burgers, pizza, salads and of course, wings. They pride themselves on making everything fresh. There is a patio out back (dog friendly), along with a full bar and big screen televisions for watching sports. Chase's is open for lunch and dinner every day except Monday. Details can be found here.
The Crossing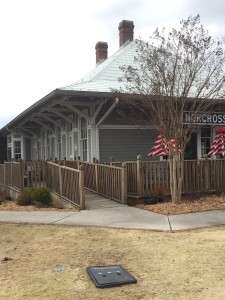 is an Old Norcross Steakhouse and is located in the old Depot building, which dates to the early 1900's. The train doesn't stop in Norcross anymore, but several times a day comes through and of course, the tracks run just a few feet from The Crossing. A traditional steak house, with a nice variety on their menu, this is another location owned by the same family who own Mojito's. A full bar with friendly service is where we usually have our meals, and everything we have tried has been excellent. Most evenings Don Luis is your host, and once he meets you, you are like family. There is a deck on the street side of the building for dining when the weather is nice. Click here for their website with details.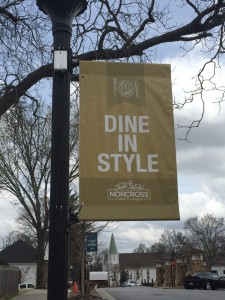 The overview of the town of Norcross (our new hometown) written right before we started construction is here.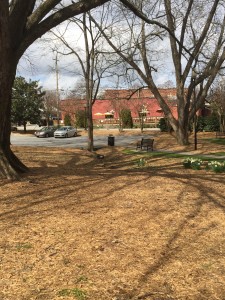 One last shot. This was taken from the grounds of City Hall, looking toward the deck on the side of Iron Horse Tavern.
See y'all next time,
Pam