Welcome to Phase 2 of my home tour — Living Room and Screened Porch.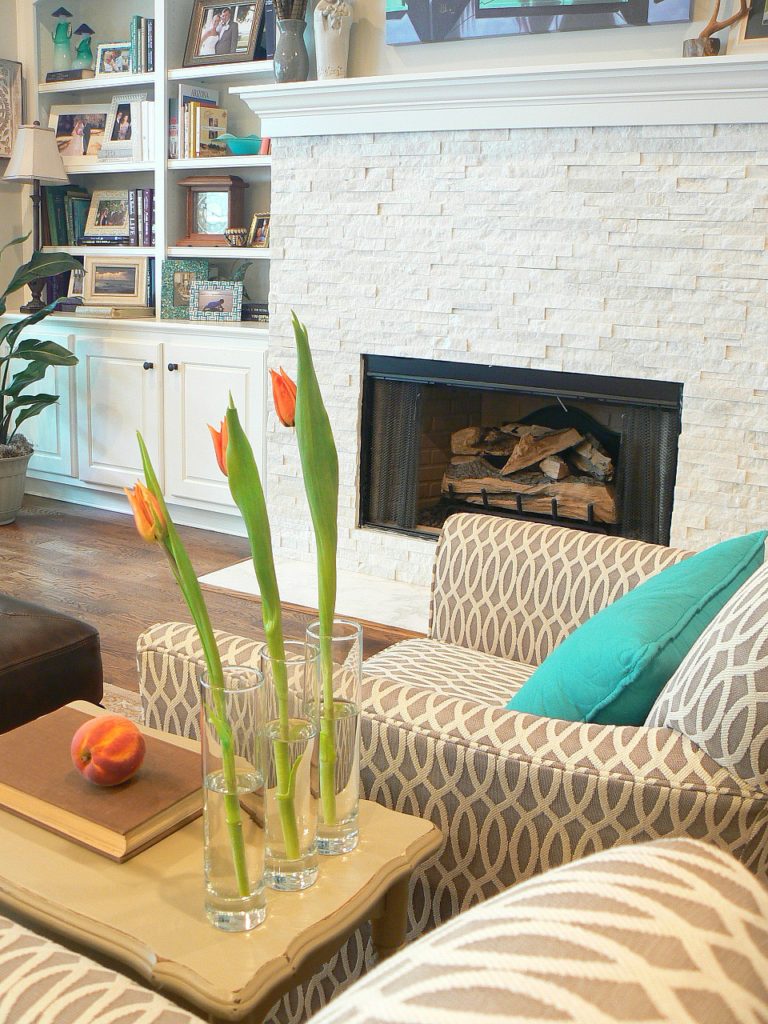 Question: Did y'all know that when you up your photography game even just a little, that every speck of dust on your stuff shows up? Now that I got that off my chest, let's move on.
I started the tour of our house (completed October, 2015) with the Dining Room and Kitchen. I'm excited to now share the Living Room and Screened Porch. I mentioned before that I can't wait until it's decorated perfectly because, well, that's never going to happen. But, lots of people have asked about the materials and finishes we used and I want to share that info.
This post contains affiliate links for your convenience. Click here to read our full disclosure policy.
So, come on in.
This is our first open-concept home. I really went back and forth on how I felt about it, as a "concept", (and still do), but one thing I didn't consider is how challenging it is to arrange furniture and find a wall to hang anything. I mean, when you have open-concept you don't have walls. What's with that?
Our kitchen, featured here, opens to the living room.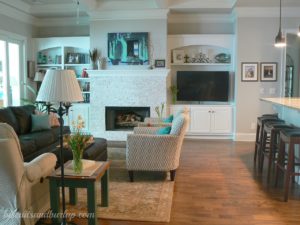 One thing we gave up since we downsized, was a breakfast room. Being just two of us we didn't use our breakfast room much. When it's cold we eat at the bar, and when the weather is nice we eat outside. Where I'm standing to take the above picture on my left is a small drop-leaf table against a wall (yay! a wall). Speaking of walls, they are Sherwin-Williams Agreeable Gray, used through most of the house.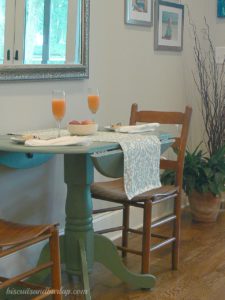 This is our version of a breakfast room. Add scones, peaches, and mimosas, and it works out pretty well. I actually ordered the table from Amazon and
painted it with leftover touch-up paint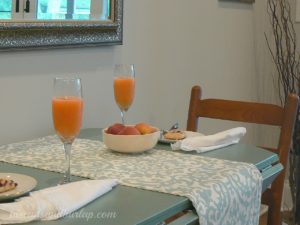 the cabinet maker sent me from the kitchen island (Sherwin-Williams Underseas — check it out here). The little table was unfinished, affordable, and I seated 5 children there on Thanksgiving.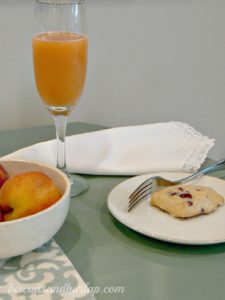 Yummm…. Fresh Georgia Peaches.
Over to the left is a table I bought 8 or 9 years ago from Home Goods. This table has served multiple purposes. At the moment, it's a bar cart of sorts. Okay, no wheels, so I guess it's not a cart — but it's a bar. Good enough.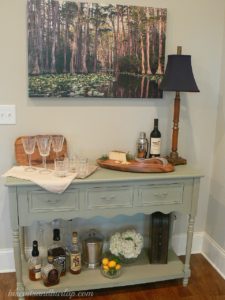 Add this awesome rosemary and olive oil flavored Asiago and a bottle of red wine and you've got yourself a bar.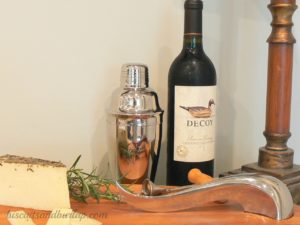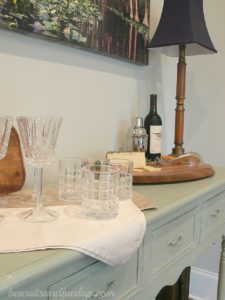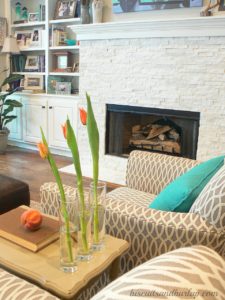 Back to the main part of the living room.
Are you getting our updates? Sign up here to have them delivered to your In Box.
I'm open to some suggestions here. My plan was to have a proper coffee table before we ever moved it, but as you can see, that didn't happen. I still can't decide what would look best. I'm thinking this space needs a little "opening up" so maybe my designer friends will have ideas. Is lucite crazy to use here? I've never been a fan of glass tables, and especially no sharp corners with grandbabies around, but maybe an oval glass coffee table? I'm open to ideas. Bring them on….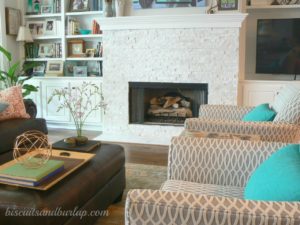 The fireplace was a "step-outside-my-comfort-zone" choice when building the house, (story starts here), but I think it turned out great. We got the stacked stone from a place here in Atlanta, Floor & Decor, but I believe this is the same thing from Amazon.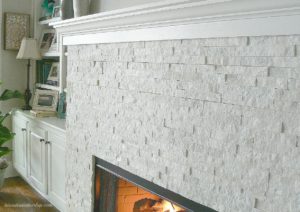 Now, it was about 90 degrees outside when we took these pictures, but I told Sara I have to crank up the gas logs to show y'all.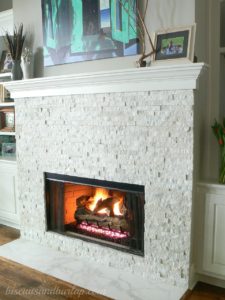 I LOVE these logs!!!! They are so realistic looking, but neat, clean and inexpensive to run. If you add a thing behind them called a Fireback Plate
it helps reflect some heat into the room. Ours are vented, because this is a real fireplace. In other words, it could be converted to wood-burning just by pulling out the logs. Ours are made by RH Peterson Co. and are the Real Fyre 24-inch Split Oak Designer Plus Log Set With Vented Natural Gas G4 Burner – Match Light
.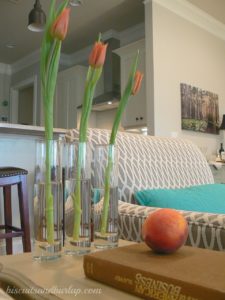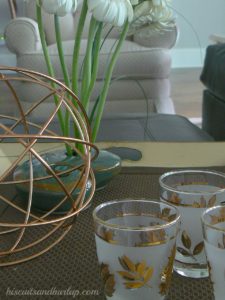 I found this cool little orb at Home Goods and thought it looked pretty nice next to some antique barware my mother-in-law handed down.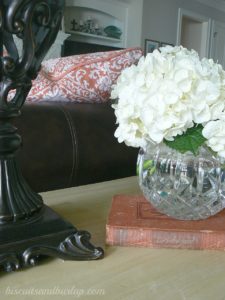 Now, please continue the home tour by stepping into my favorite room in the house — which is not even in the house — the screened porch.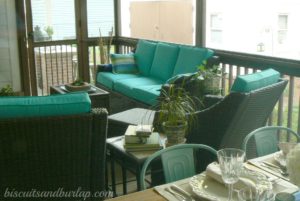 This porch is about 12 feet wide and 25 feet long, so it's big enough to have a dining area at one end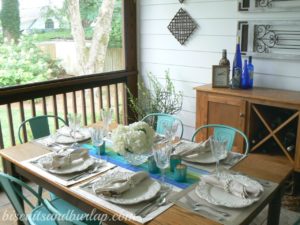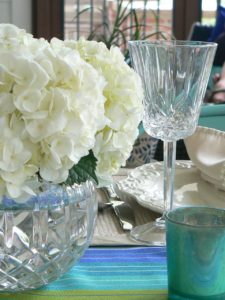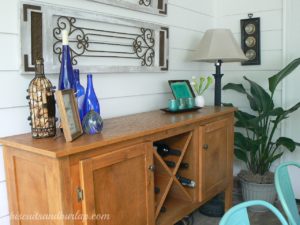 and seating area at the other end…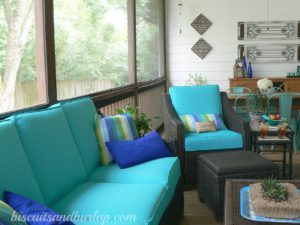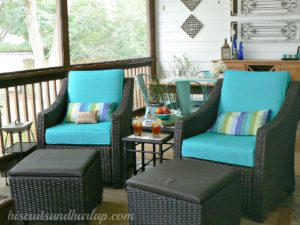 This is my absolutely favorite spot to have fun blogging when the weather is nice, and when Sara and I work together it's even better.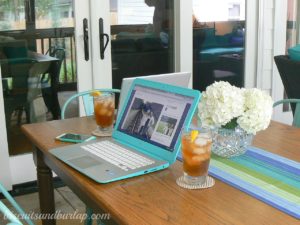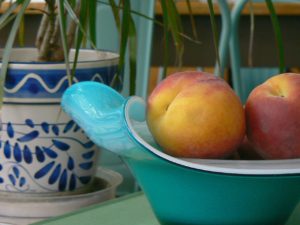 More Georgia peaches….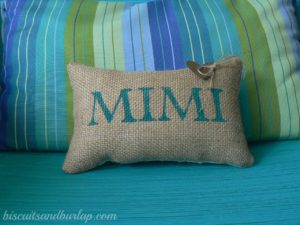 and a little something from my grandchildren for Mother's Day….
(I think we've met)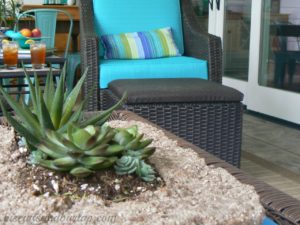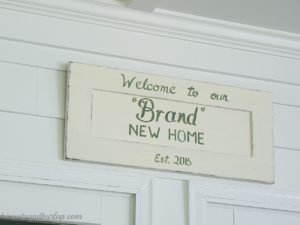 This was a "house-warming" gift from our cabinet guy. It's a cabinet door and he had it customized with our name and year of "Establishment". The entire construction journey of the house starts here.
Now, step right outside the screened porch and you are in the grilling area. We LOVE, LOVE, LOVE to cook on the grill, so this was an important space when planning the house. We liked our grills so much from our old house that we have the same ones here, a traditional BIG GREEN EGG and the gas grill is by FireMagic.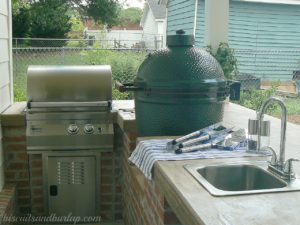 We had natural gas run for the gas grill. The little sink in the grill station was a splurge we've never had before, but I think it was definitely worthwhile. Buddy designed this space himself and the concrete guy built the counters. He used the same stains as on the floor of the screened porch. That was a stamped, concrete application (details are here) and this is a close up shot of how it looks….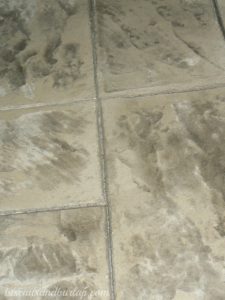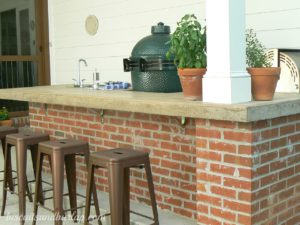 What a fun space this is! Throw in a f
ew simple bar stools and you've got a party. Or, at least, company for the cook.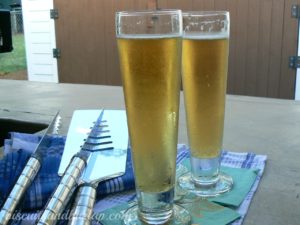 A couple of these can entice visitors to keep the grillmaster happy while he's hard at work.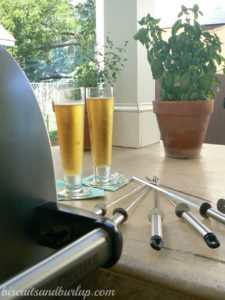 I love the look of soft evening candlelight, so wanted to share how pretty the porch setting is in that kind of light. The table is one we've had for many years. I refinished it and sealed it with a marine-grade varnish to protect from the elements. These fun metal chairs were another Amazon bargain.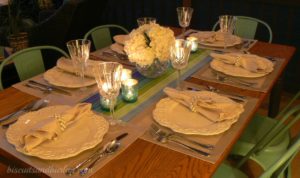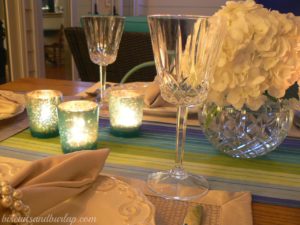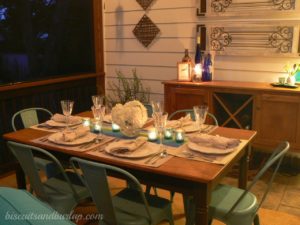 One of our favorite features of the house are these center-opening slider doors that essentially make the living room and porch one big area. We went about two and half months having these open before it got hot enough to need air conditioning inside.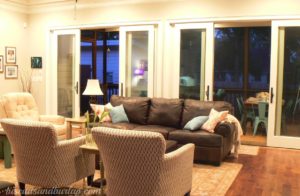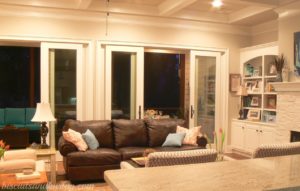 Thank you so much for stopping by for this phase of my home tour. I hope you enjoyed it. If I can answer any questions about the construction journey or materials we used please feel free to comment. Like our style? Don't miss the updates.
The Home Tour continues with the Study and Master Bedroom here.
If you missed it, please go back and check out the first part of the tour, Dining Room and Kitchen.
I journaled the entire construction process of the house beginning here. 
See y'all next time.
Wow, you found an old post! Did you know we're a food blog now?
If you love food, especially Southern food, you're going to love what we've done with the place! Check out some of our favorite recipes below.