Quick Background –
It's true. We're living a dream. In case you're new around here, let me catch you up. As empty nesters we wanted to downsize, but not too much. Living on one level is important, because we plan to stay here until…. well, you know.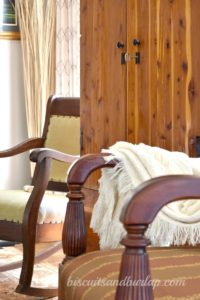 Like most empty nesters we wanted to be near family. The real icing on the cake is that we built our home in a small town just outside Atlanta, and we've got that walkable lifestyle that so many are seeking these days. Yes, it's a dream come true in so many ways. The full story of our town and how we chose it starts here.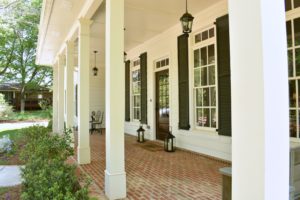 I'm a bit embarrassed at how long it has taken me to continue the tour of the house. We've been in well over a year, and soon after getting settled I shared the Dining Room and Kitchen here and continued into the Living Room and Screened Porch.
Come on in to the Study
Now, our house is laid out very simply. Step into the foyer and the dining room is on the left and the study on the right. One of my favorite features is that the study can be closed off to sleep one person if we have enough guests that we need overflow from the bedrooms. These french doors can be closed and it's reasonably quiet.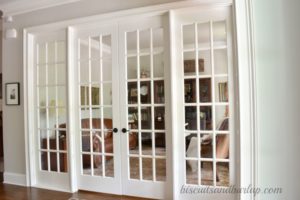 And, let me tell you from napping experience, that sofa sleeps very comfortably!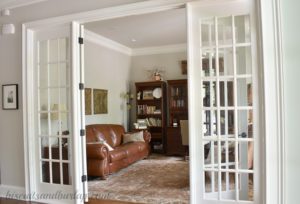 This is the one room in the house that has warm colors. I typically tend to use cool, breezy tones, but this room has a "clubby" feel to it.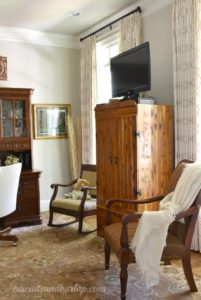 The walls and ceiling are painted Sherwin-Williams Agreeable Gray, as is most of the house.
Hey, are you getting our weekly newsletters? Sign up here. We'd hate for you to miss anything.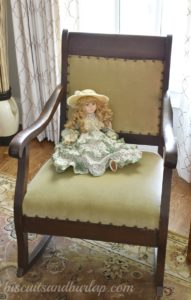 This rocker was Buddy's Grandmother's. She was born in 1898 and lived to be almost 103. Have you known anyone who lived in 3 centuries? This is the chair that she used to rock all of her babies. Of course, it's been recovered over the years. I love this sage velvet, and while it's pretty sturdy I try to discourage too much sitting by keeping a doll in it.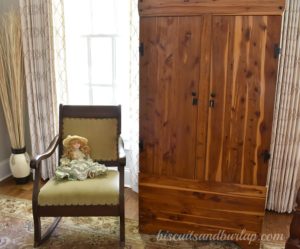 The cedar chiffarobe belonged to Buddy's other grandmother. These pieces were common in the early 20th century because closets were very small – and some homes had no closets at all. Buddy has retrofitted this one with shelves and now it holds office supplies.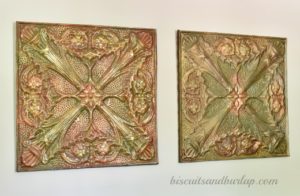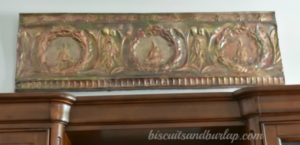 These three pieces are antique tin that I've had about 12 years. Reproductions are now very common and you can pick them up at home decor stores, but these are the real deal! An artist in our area had these pieces sourced from all over the country and then mounted and worked her magic with the colors. She actually marks the back with the place they were taken from, and the year the building was built.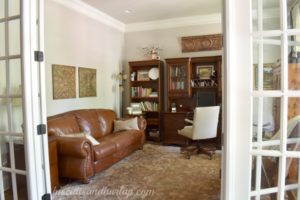 I hope you enjoyed our little study. Now, to the back side of the house to the master bedroom. This room is in my typical soothing, cool colors.
Welcome to our Master Bedroom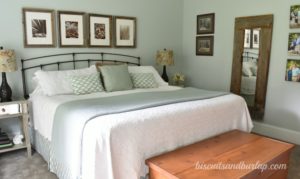 The walls and ceiling here are Sherwin-Williams Sea Salt. I love it! It can be grayish, greenish or bluish, depending on the light. Our dining room is Sea Salt, too.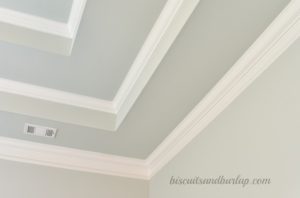 Speaking of ceilings and walls…. this the trey ceiling in our bedroom. I like painting the ceiling the same color as the walls. How do y'all feel about that?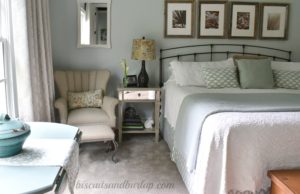 I love having a cozy little corner to read in the bedroom. This chair was my Mama's.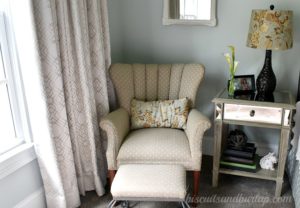 I would guess that it's been covered 5 times over the years. I used this fun little polka dot most recently and covered that footstool with leftover fabric.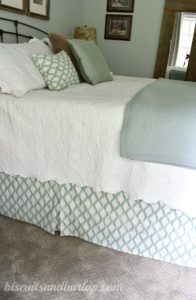 Did you know that our DIY Bedskirt Tutorial is the #1 post on Biscuits and Burlap? It's unique in that it easily adjusts to the height of your bed. Your bed skirt will never again bunch up on the floor.
And of course, here I am with leftover fabric scraps again. Those two little pillows took just a few minutes to make. If you have just very basic sewing skills you can add so many custom-look touches to your home for next to nothing. I love my sewing machine so much I reviewed it for you in this post.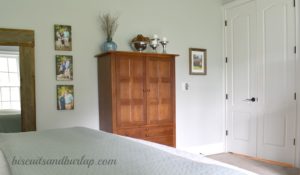 I love having double doors to come into the room. It just gives an elegant feel when you enter.
This post contains affiliate links for your convenience. Click here to read our full disclosure policy.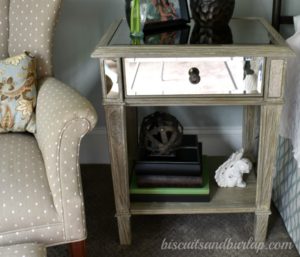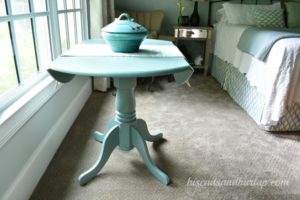 If you checked out the Living Room and Screened Porch Tour you may recognize this little dropleaf table. I decided that space would be better used for a buffet (I'm on the search now) and the table would be great in front of this window in the bedroom. Can you guess how I use this table?
It was unfinished and I painted it with leftover paint from our little kitchen island. At under $120 it's an affordable and diverse piece. Ordering information is here.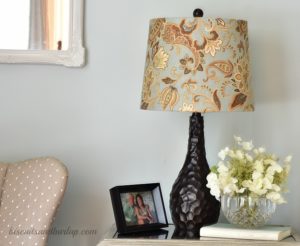 One last fabric project to leave you with. These DIY Lampshades were super easy and so much fun. The tutorial is here.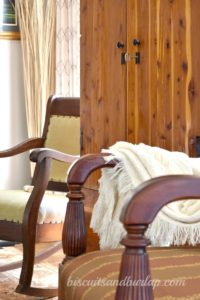 Thanks for stopping by. Be sure to check out Parts 1 and 2 of the Home Tour below.
Sign up here for Newsletters
Don't forget to sign up for our weekly updates. That's the easiest way to keep up with what we're up to. Sign up here.
Home Tour Parts 1 and 2
Tour Starts Here with Dining Room and Kitchen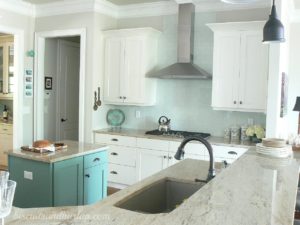 and continues Here with the Living Room and Screened Porch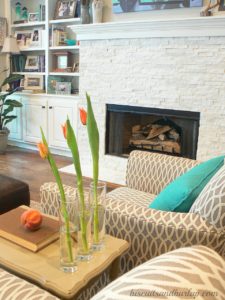 Wow, you found an old post! Did you know we're a food blog now?
If you love food, especially Southern food, you're going to love what we've done with the place! Check out some of our favorite recipes below.