The best and easiest breakfast bar recipe is packed with protein from peanut butter and eggs. With just minutes of easy prep and baking you'll have enough bars for the week ahead.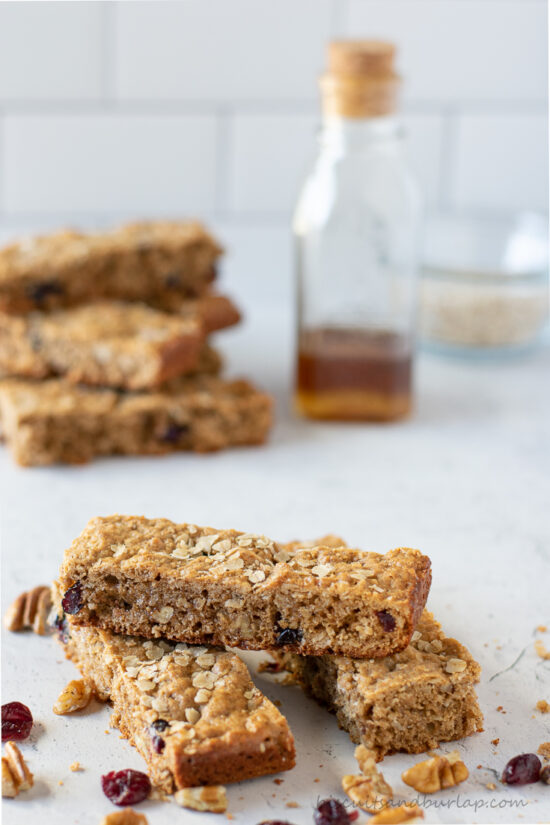 Lightly sweetened with honey, and customizable by adding more ingredients, you'll find yourself grabbing these breakfast bars for snacks too.
Truly an easy breakfast bar recipe...
Making them is just a matter of stirring a few ingredients together in one bowl. It all gets pressed down in a baking pan and cooks in the oven for about 15 minutes. That's it!
We have cut them into 8 larger bars or 12 smaller ones by cutting down the middle once, and then divide by however many you want. Adding a few to your Breakfast Charcuterie Board will give it a "grab and go" element.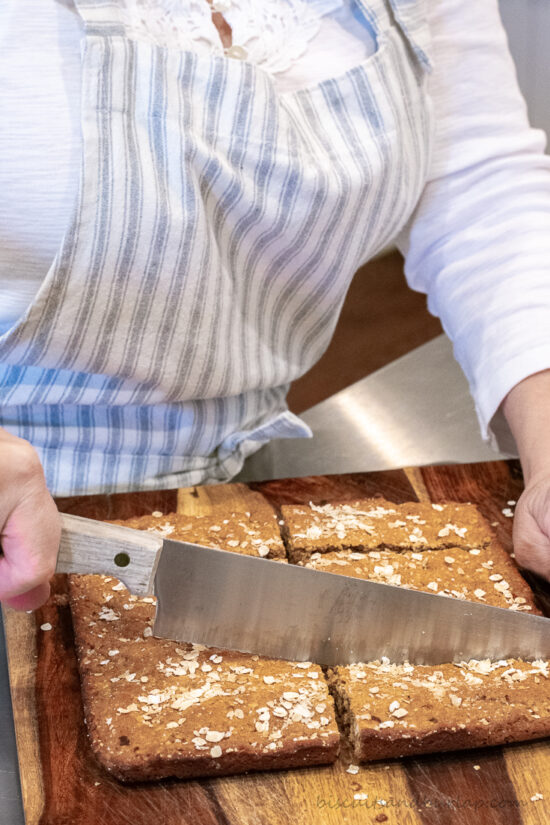 Besides the basic ingredients what can be added?
We love pecans around here and have an ample supply. If you don't believe it, just check out our collection of pecan recipes.
So, naturally we added a few pecans and they gave the breakfast bars an additional punch of protein. We love craisins (dried cranberries) and usually add those, too.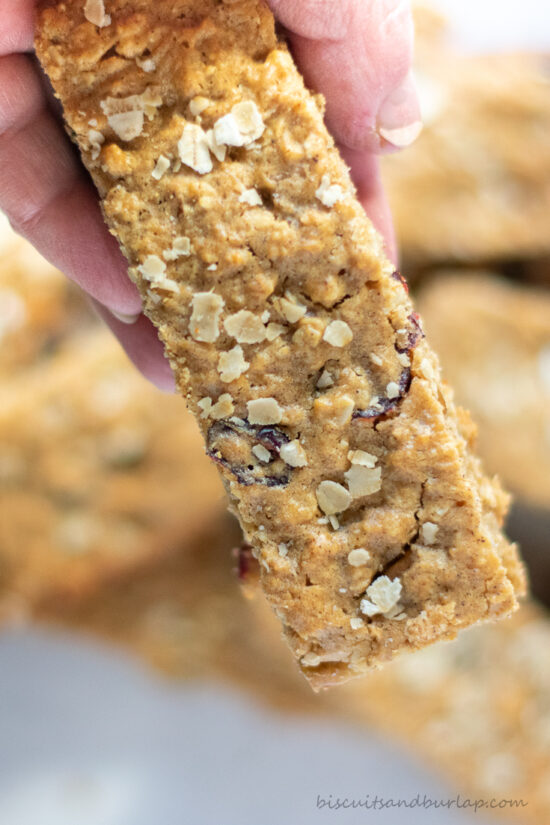 OTHER INGREDIENTS YOU COULD ADD TO THIS BREAKFAST BAR RECIPE:

Seeds of your choice, i.e. sunflower, chia, hemp, etc.
raisins, or other chewy dried fruit like pineapple or cherries
any type of nut you love such as walnuts, almonds or pecans
chocolate chips or butterscotch chips
coconut
Healthy-ish Breakfast Bars
If you do add the sweet chips like chocolate or butterscotch you're going to start veering away from the healthy version. But otherwise this breakfast bar recipe is packed with just pure, natural ingredients.
They're hearty enough to fill you up and really all you need to make a reasonably healthy breakfast is a cup of yogurt or a glass of milk.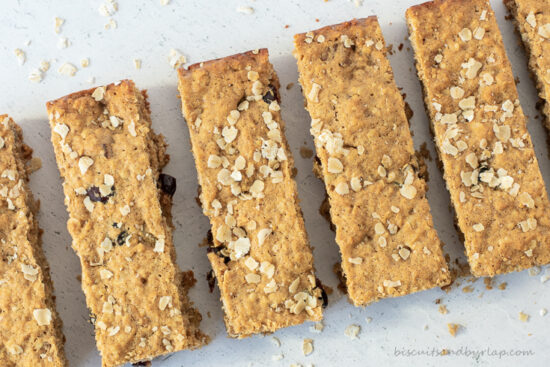 We typically don't include nutrition information with our recipes because the ingredients and portion sizes can vary so widely. But, in this case we did do a rough calorie count. If cut into 12 bars each of them will have approximately 190 calories. Not bad!
Tips for this breakfast bar recipe:
TIP NO. 1
Line the baking pan with parchment paper going in two directions. This will make them easy to lift out of the pan and onto a board for cutting. Bonus is the easy clean up!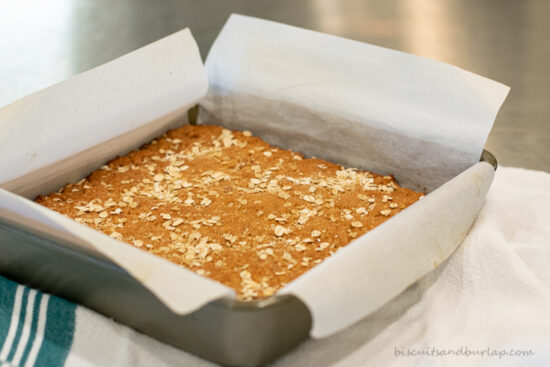 TIP NO. 2
Lightly oil your fingers before pressing the batter down in the pan. You may even have to go back and oil them a second time - just enough to keep your fingers from sticking.
📖 Recipe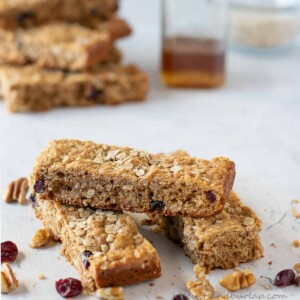 Breakfast Bar Recipe with Peanut Butter
Breakfast Bars with Peanut Butter & Oatmeal are easy to make, hearty and delicious.
Ingredients
1

cup

rolled oats

¼

cup

flour

1

teaspoon

cinnamon

¼

teaspoon

baking powder

¼

teaspoon

baking soda

¼

teaspoon

salt

3

Tablespoons

oil

canola, coconut, etc

2

eggs

⅓

cup

honey

⅔

cup

peanut butter

1

teaspoon

vanilla
Instructions
line a 9 x 9 inch baking pan with parchment paper.

Mix dry ingredients in a small bowl.

Mix oil, eggs, honey, peanut butter and vanilla in medium bowl, whisking until smooth.

Add dry ingredients to medium bowl and blend thoroughly.

Add any additional ingredients, such as nuts or fruit and blend thoroughly.

Pour into baking pan and pat down with oiled fingers getting the batter into the corners and evenly spread.

Bake at 375 for 15 minutes or until edges are lightly browned. If desired, 2 additional teaspoons of oats can be sprinkled on top about halfway through baking time.

When completely cool move with parchment paper to cutting board and cut into desired number of bars.

Store tightly sealed in refrigerator. Bars can be frozen.
Notes
Additional ingredients may be added up to a total of ⅔ cup:
nuts of any type
seeds of any type
dried fruit that is chewey, i.e. cranberries, cherries, dates, etc.
coconut
sweet candy bits like chocolate, butterscotch, etc.

More breakfast recipes to try: