Pimento Cheese Grits combine two southern classics into one creamy, dreamy dish that will become a staple at your breakfast, brunch or dinner table.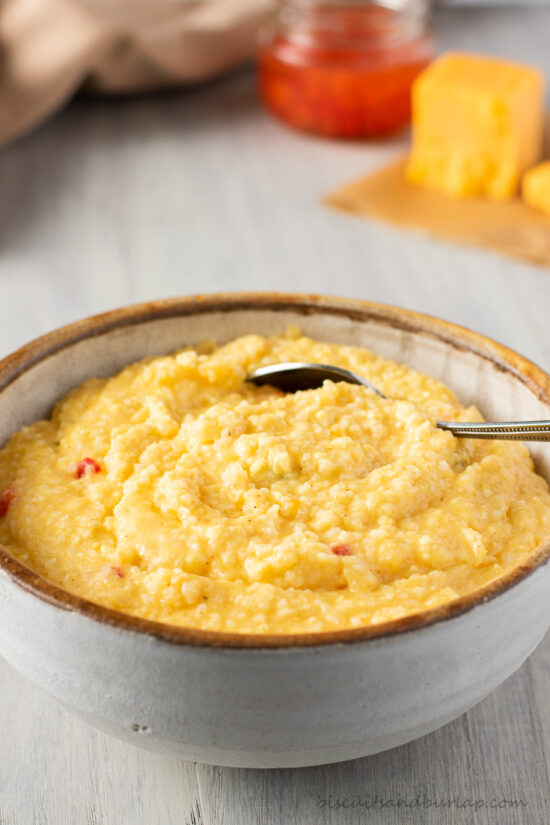 Seriously… what is more Southern than pimento cheese? The only answer to that is grits. We love both down here, and I see no reason to not marry these two culinary masterpieces to make one quintessentially Southern side dish.
I do know that everyone has their own preferred grit texture, though, so be aware that this recipe will make thick, creamy, cheesy pimento cheese grits. If you prefer yours thinner, opt for a milk with less fat or add extra milk. Want it less cheesy? Feel free to use less pimento cheese.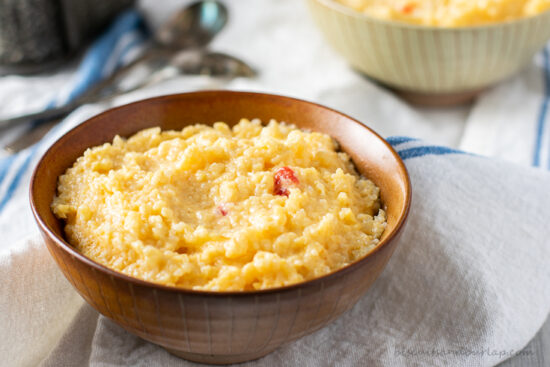 This really couldn't be a simpler recipe. Basically, you're going to start by making regular old grits. Be sure to use "Quick Grits" and when it gives you the option to use milk or water, always go with milk. With the brand I used, I brought 4 cups of milk to a simmer and then added in 1 cup of grits along with 1 tsp of salt. Doesn't sound like enough salt? Don't worry- you'll make up for it with the Creole seasoning!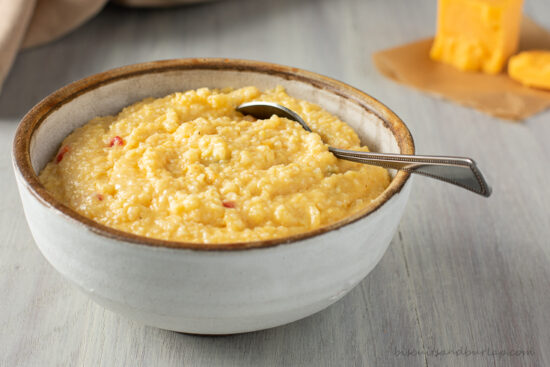 Give it a good whisk to make sure there are no clumps, and then stir it frequently until the grits are done to your liking- For me this took about 10 minutes. Whenever you're satisfied, remove them from the heat.
Next, stir in the rest of your ingredients. Mix in the pimento cheese, butter, Tony Cachere's, pepper, and crushed red pepper and you have pimento cheese grits!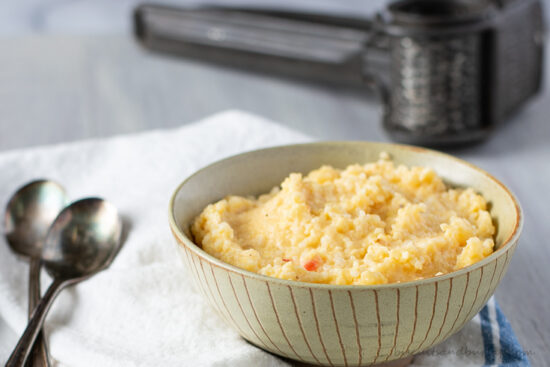 Not sure whether to make your own pimento cheese or get it pre-made at the store? We think everything is better homemade, so if you have the time go ahead and whip up a batch of our Spicy Smoky Pimento Cheese or try this Pepper Jack Pimento Cheese to add a little kick.
We do realize everyone doesn't have time for all that, though, so if you want to pick up a container of Proper Pepper Pimento Cheese or Pawley Island's Palmetto Cheese, we won't fault you for it.
*If you go with our recipe or or one of the other versions with jalapenos, be aware that you may want to leave out the crushed red pepper.
Whether you make your pimento cheese from scratch or buy it in the store, you will have some left over after making your pimento cheese grits, so here are our favorite ways to use it up:
If you're here you must love interesting grits so you'll also want to get the recipe for Grits with Corn and Jalapenos.
Love all things southern food? Be sure to read about its history, ingredient origins and unique regions in Southern Food: Then & Now.

If you make this or any of our recipes we'd love for you to leave us a comment and star rating. If you're into sharing your creations, snap a photo and tag us when you post it to Facebook or Instagram.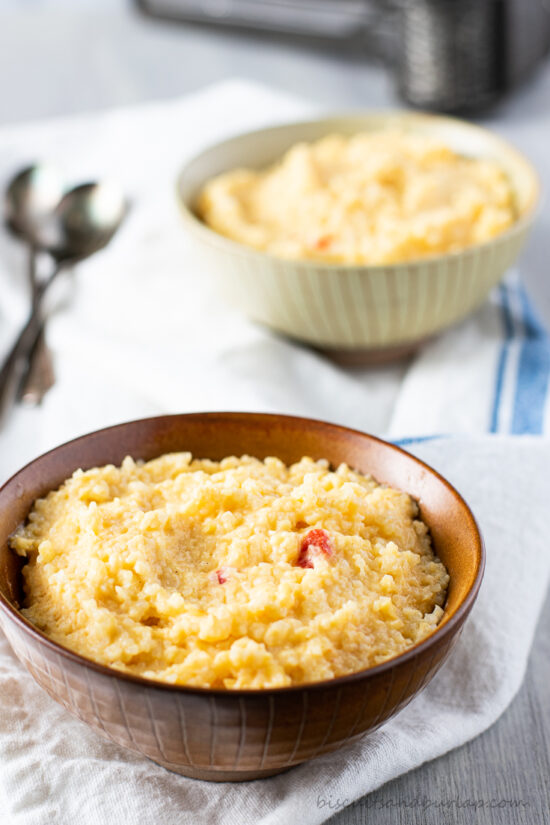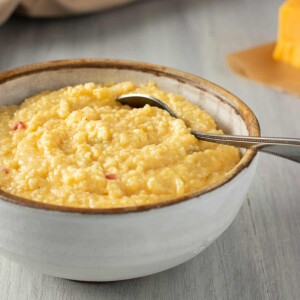 Pimento Cheese Grits
Pimento Cheese Grits combine two southern classics into one creamy, dreamy dish that will become a staple at your brunch or dinner table.
Ingredients
4

cups

whole milk

1

cup

Quick Grits

t

tsp

salt

½

cup

pimento cheese

1

tbsp

butter

1

tsp

Tony Cachere's

½

tsp

black pepper

¼

tsp

crushed red pepper

optional
Instructions
Cook grits according to package directions with 4 cups whole milk and 1 tsp salt. This should take 10-15 mins.

When grits are cooked to your liking, remove from heat and stir in remaining ingredients. Serve immediately!
Notes
You can vary this recipe by using 1% milk to make it thinner (this recipe will make thick grits) and adjust to your spice preference by using more or less red pepper flakes or using pimento cheese with or without jalapenos. 
You can also used store bought pimento cheese or make your own homemade. If you're going to buy it, we love Pawley Island's Palmetto Cheese and if you want to make your own, here is our favorite recipe! 
Looking for more breakfast/brunch ideas?