Iron Skillet Potatoes are the perfect way to stay out of the kitchen. Let your grillmaster cook the meat and the potatoes!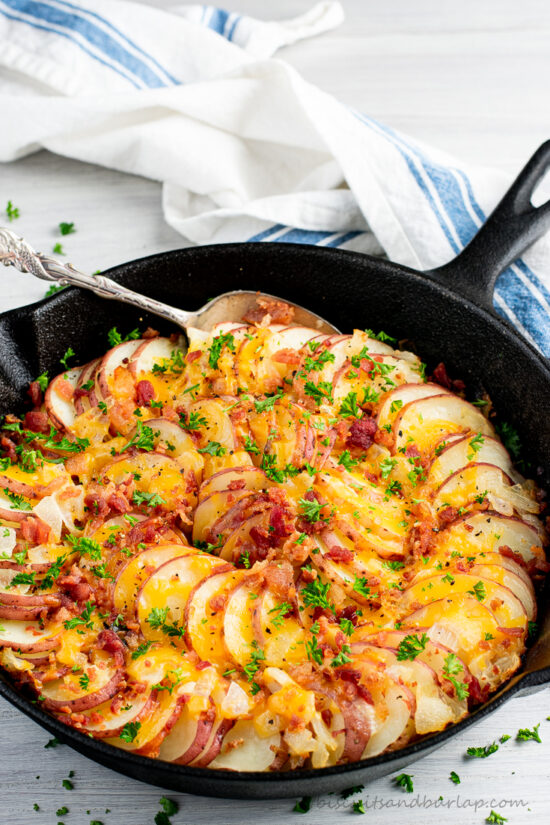 Skillet potatoes on the grill or in the oven
If it's not grilling weather, or you just don't have a grill available you can make these potatoes in the oven. Just set your oven for 350 and start checking for doneness after 35 minutes. Either way, grilled or oven baked – they're fabulous!
Tips for cooking potatoes in cast iron:
Cutting the potatoes into equally thick slices means even cooking. A mandolin is a handy tool for this, so we've added a link to one below. Also, this spiral design is pretty to look at, but it also promotes more even cooking.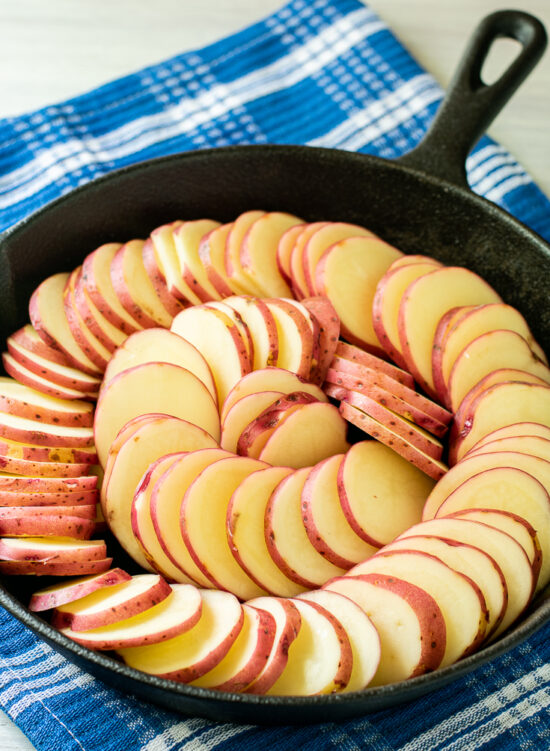 This recipe makes enough for 4 good sized portions. It's easy enough to increase the amounts and serve 6-8. You would add a little more time to get the potatoes done.
Check for doneness after about 35 minutes. You can easily add more time if your meat is cooking at a lower temperature, or take off some time if the meat is cooking at high temps.
Once the grilled potatoes are done it's time to add the cheese and bacon bits. A few green onions would be good at this point too.  If adding green onions I would probably cut back on the onions in the butter mixture.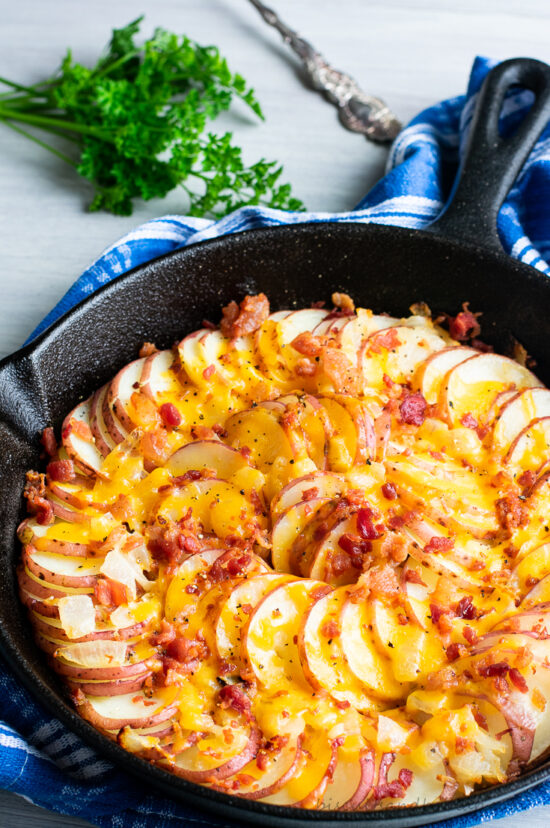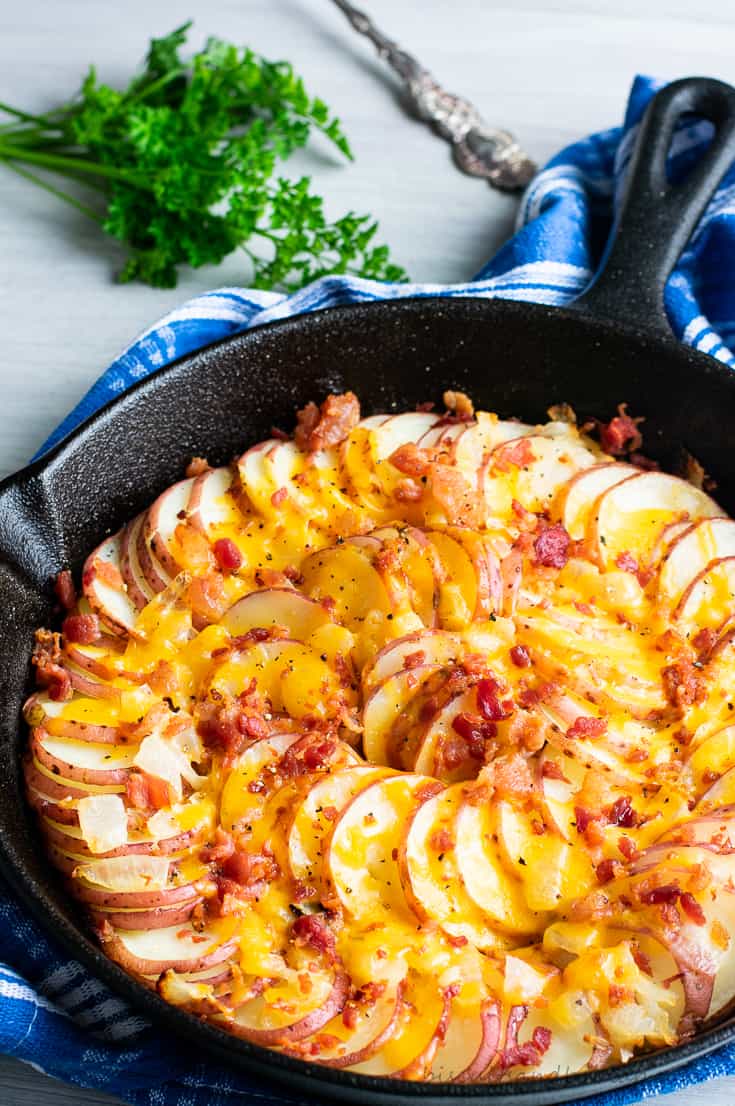 If you don't add the green onions a sprinkling of pretty green parsley (or any fresh herb you like) is going to make your skillet potatoes look as beautiful as they taste.
Iron Skillet Potatoes go perfectly with: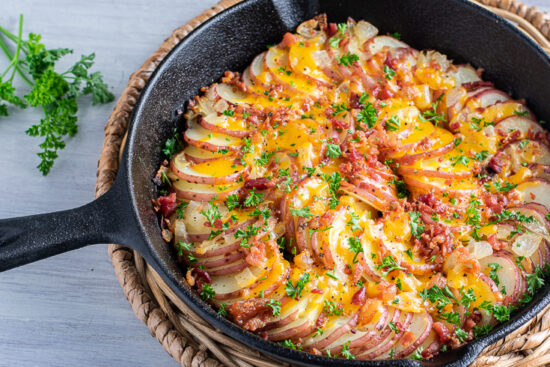 One last note: When I add "pepper to taste," you know me…. it's going to be cayenne. I don't add enough to make it really spicy, I just like the flavor of cayenne.
This post contains affiliate links, which means if you click on an affiliate link and buy something, we may receive a very small commission. It does NOT result in additional charges to you or cost you anything extra. Click here for our full privacy and disclosure policy. As an Amazon associate we earn from qualifying purchases.
Items you may need for your grilled potatoes:
You can find a fun web story on these skillet potatoes here.
To learn more about the history and traditions of southern food and cooking be sure to check out Southern Food: Then and Now. It's a look at where a lot of our traditions came from, as well as a peek into the future.
📖 Recipe
Cast Iron Skillet Potatoes
Iron Skillet Potatoes are the perfect way to stay out of the kitchen. Let your grill master cook the meat and the potatoes or cook them in the oven.
Ingredients
Instructions
Slice potatoes about ¼ inch thick.

Layer them in a 10 inch cast iron skillet, creating 2 circles and then fill in the middle section.

Melt butter in saucepan.

Add garlic and onion

Cook on med-low 7-8 minutes

Pour butter mixture over potatoes

Cover tightly with foil

Cook over indirect medium heat for about 45 minutes, checking for doneness after 35 minutes.

When potatoes are fork tender sprinkle with cheese and bacon bits

Recover and put back on heat 4-5 minutes or just until cheese melts.

Garnish with fresh herbs if desired.
Notes
If you prefer to cook these potatoes in the oven bake them at 350 degrees, covered, and begin checking for doneness at 35 minutes. 
Nutrition
Calories:
211
kcal
Carbohydrates:
39
g
Protein:
8
g
Fat:
3
g
Saturated Fat:
1
g
Polyunsaturated Fat:
1
g
Monounsaturated Fat:
1
g
Trans Fat:
1
g
Cholesterol:
4
mg
Sodium:
132
mg
Potassium:
1087
mg
Fiber:
4
g
Sugar:
4
g
Vitamin A:
46
IU
Vitamin C:
22
mg
Calcium:
90
mg
Iron:
2
mg
THIS RECIPE MADE OUR "BEST OF THE YEAR" LIST. THE OTHERS CAN BE FOUND HERE.

Other recipes you'll love: