Smoked Ham on the Big Green Egg produces a tender, smoky ham with a sweet bourbon glaze. Here you'll find complete instructions and a recipe for the flavorful glaze. This method is specifically for hams that are not spiral-sliced.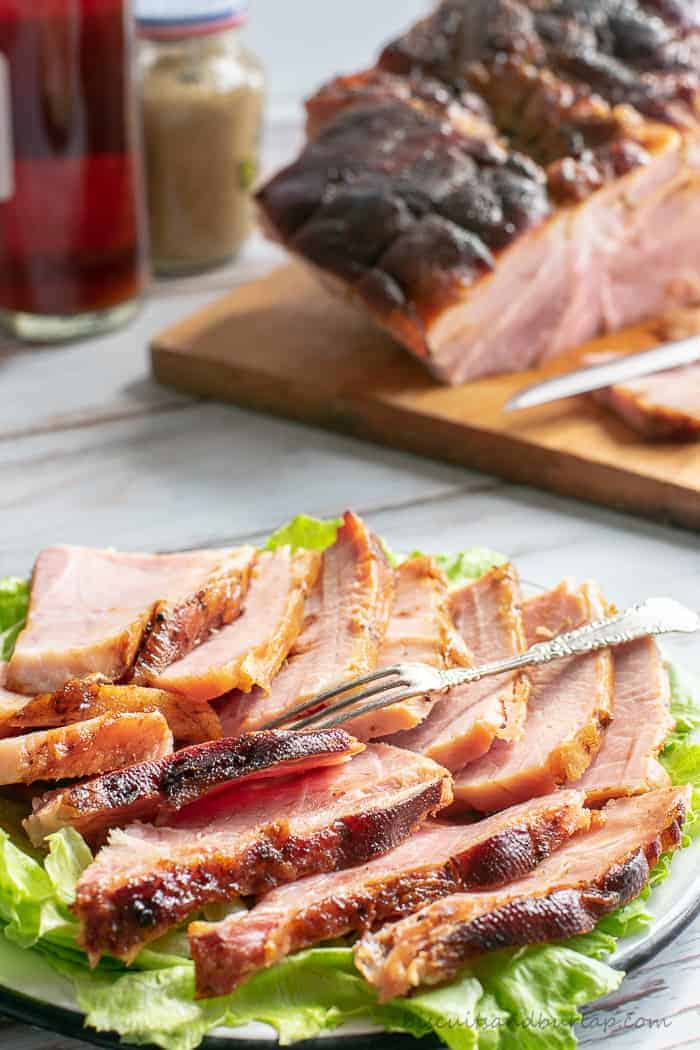 These directions and glaze recipe are ideal for smoked ham on the Big Green Egg when you have an old school ham, not the spiral sliced version so popular these days.
We realized there was a need for this when we wanted to smoke a ham on the Egg and could find very little in the way of recipes, tutorials or instructions except for those designed for spiral sliced hams.
We are honored that Big Green Egg has chosen our recipe to be featured on their official website. Thanks BGE!
Why not spiral sliced?
We enjoy a spiral sliced ham - love them, in fact. But a spiral sliced ham is really meant to be eaten cold, or only warmed up. Being pre-sliced makes it subject to dry out if you do anything else.
Also, as the glaze seeps down between the slices it gives a completely different flavor to the ham. Don't get me wrong, it's good, but different from a ham like I grew up eating - and probably you too.
Sometimes I like to have a ham that I can cut big thick slices from. Using leftovers for dishes like a frittata, are easier with a ham that you can cut up however you like.
So, for those reasons and more, we like to occasionally have the good old fashioned version, and smoked ham on the egg is a great way to get it.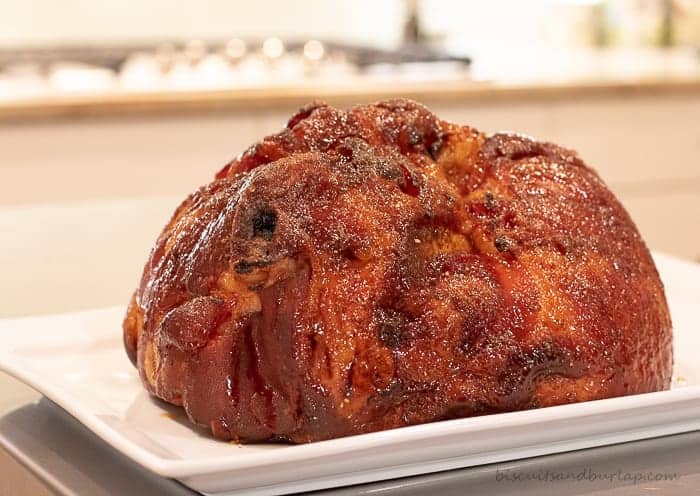 It gives a smoky flavor like no other, and you can still glaze for a little sweetness on the outside. A big benefit is you can have that grill master cook the meat and leave your oven free for other dishes like Brown Sugar Honey Glazed Carrots, Aged Gouda Potato Gratin, Roasted Carrots and Green Beans, corn soufflé casserole or Macaroni & Cheese Like Mama Made. One of our favorite sides for this main is Fried Apples.
If you love all things smoked you'll want to make Smoked Mac & Cheese and Smoked Baked Beans too. It's really cool that you make it all in one pan or skillet and start with uncooked noodles. They cook as you smoke it.

With just a little space left on the smoker you can toss on a piece of fish. Use it to make the most amazing Smoked Fish Dip you've ever tasted.
You'd be hard pressed to find a more southern food than smoked ham with a bourbon laced glaze. Read about others and their origins through the link above.
VIDEO INSTRUCTIONS:
How to Smoke Ham on the Big Green Egg
This post contains affiliate links for your convenience. Click here to read our full privacy and disclosure policy.
Start out by soaking some wood chips (we like applewood) in water at least 4 hours, up to overnight.
With a sharp knife score the fatty side of a ham (shank or butt portion, 7-12 lbs.) in a checkerboard pattern. Make the cuts about 1 inch apart and about 1 inch deep. (there's a photo below of the cooked ham that illustrates)
Build a charcoal fire in your Big Green Egg. When it becomes hot scatter the wood chips.

Fill a pan about 1 inch deep (we use a disposable aluminum pan) with apple juice if you have it, water if not. Add cut up fruit for more flavor. Here we used apples and oranges.

Set a plate setter in the Big Green Egg. (This is an essential tool for indirect cooking (smoking) on the Big Green Egg.) We covered ours with foil.

Place the pan filled with juice and fruit on the plate setter.
Allow the heat to reach 275 degrees.
Over that place the grill, and this is where you'll set your ham.

Cook for approximately 1 hour for every two pounds of weight of the ham, maintaining as close to 275 degrees as possible. Brush with glaze during the last hour. Ham should reach an internal temperature of 155 - 160 degrees for best flavor, but ham is cooked and fully safe at lower temperatures.
You can see what I mean about scoring the fatty side from this photo of the completed ham. These cuts help the ham absorb the smoke, but without drying it out.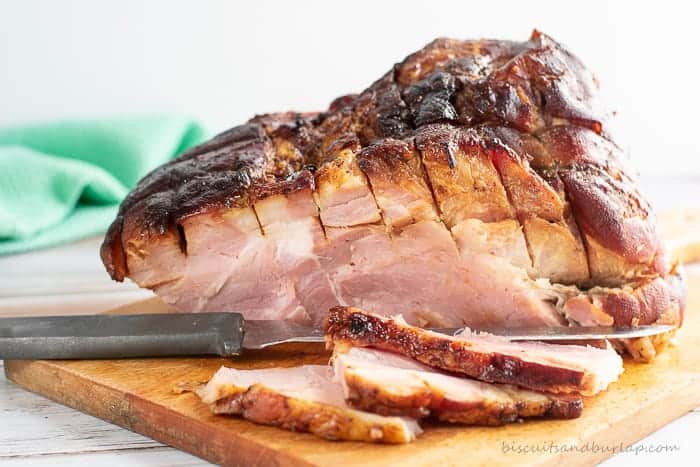 During the last hour or so we like to put a basket of Smoked Vegetables on for a unique side dish. You can use whatever is fresh and that your friends and family love.
If your smoker is large enough and you've got a crowd coming you'll want to consider making Smoked Beef Short Ribs too.
For a side that complements the ham perfectly we like to make this Salad with Grapefruit and Champagne Vinaigrette.
This recipe made the suggested list for the Backyard BBQ Menu Ideas. You'll want to visit for lots of other recipes as well as tips, tricks and planning help for your cookout.
For a fun and quick look at this recipe be sure to check out the Google Web Story.
📖 Recipe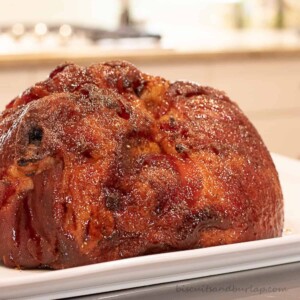 Smoked Ham on Big Green Egg
Step by step instructions for smoking ham on a Big Green Egg, plus a delicious bourbon glaze.
Ingredients
1

7-12 pound

ham, fully cooked

not spiral sliced

3

cups

apple juice

water or other juice can be used

2

cups

cut up fruit

apples, oranges or other fruits
Glaze for Ham
1

cup

brown sugar

1

teaspoon

black pepper

¼

cup

bourbon

¼

cup

syrup

2

Tablespoons

brown mustard
Instructions
Stir all ingredients together.

Let sit for 2-3 hours and then stir again before glazing ham.
Smoked Ham on Big Green Egg
Score fat portion of ham in checkerboard pattern, making cuts approximately 1 inch apart, and 1 inch deep.

Build charcoal fire and when it becomes hot (red glowing coals) add soaked wood chips on top of hot coals.

Cook for approximately 1 hour for every two pounds of weight, maintaining temperature as close to 275 degrees as possible by adjusting Big Green Egg vents.

During last hour of cooking brush ham with glaze.

Take ham off when it reaches an internal temperature of approximately 155-160 degrees.
A few items you will need for your Smoked Ham on the Big Green Egg:

We are confident that you'll love smoked ham on the Big Green Egg. Be sure to leave us comments or questions if you have them, and tag us when you post your photos on Instagram and Facebook.
A classic side dish for your ham is Baked Beans with Bacon and you'll love this version. Want something a little fancier? Look no further than Green Bean Bundles Wrapped in Bacon. They're easy, delicious and make a beautiful presentation.
Planning your Easter or other holiday meal will be a snap with the ham, green bean bundles and Garlic Herb Deviled Eggs.

More Recipes from Biscuits and Burlap