Smoked Mac and Cheese takes a favorite dish and infuses it with smoky flavor. Starting with uncooked noodles makes it extra easy.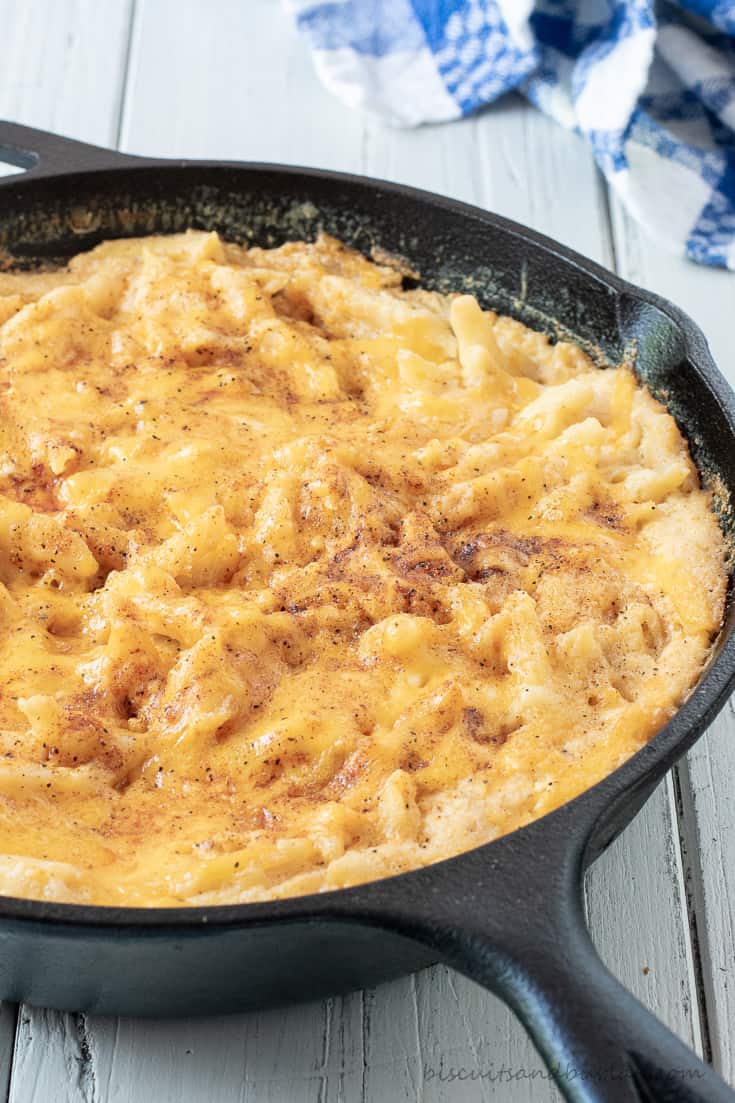 LOVE SMOKY FLAVORS? THEN YOU'LL LOVE THIS SMOKED MAC AND CHEESE
There is absolutely nothing wrong with a traditional, old fashioned macaroni and cheese. In fact, we have a recipe here that was inspired by the way my Mama made it. I worked for years trying to recreate hers, and finally got it pretty darn close.
But if you want to take that favorite dish and bring it into the world of smoky flavors this is the recipe for you. It's really easy and we help keep it that way with all the tips you need.
Besides pasta we've also got you covered with Smoked Baked Beans, Smoked Vegetables, Smoked Sweet Potatoes and Smoked Beef Short Ribs. We even have a recipe for Smoked Queso Dip. Make your whole meal on the smoker!
With just a little space on the smoker rack you can add a piece of fish. It will make Smoked Fish Dip that is completely amazing!
Can you really get the smoky flavor throughout the mac and cheese?
YES! This is accomplished by not just "baking" like you would in an oven but actually "cooking" in the smoker. Every twenty minutes or you'll give it a stir. This brings all of the ingredients to the surface giving an opportunity to truly infuse the smoke flavor through and through.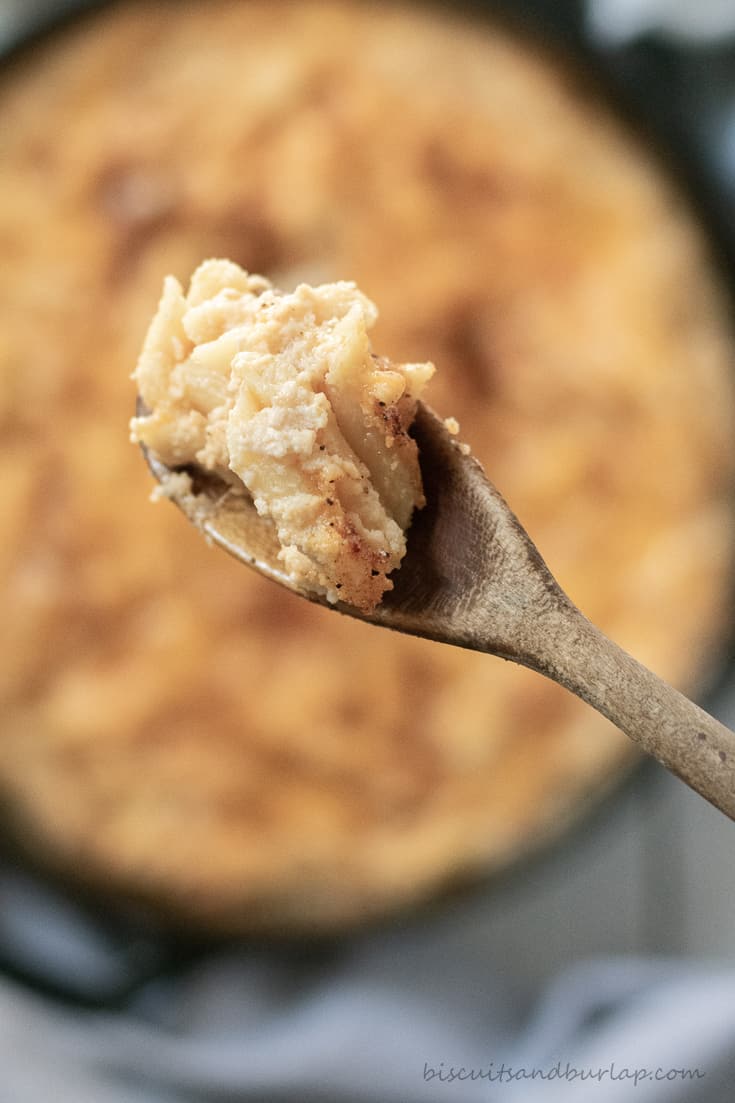 Cooked on the smoker or grill in similar fashion are Smoked Vegetables. You can use whatever you have on hand and get that rich smoky flavor in your veggies too.
Starting with uncooked pasta is key
If you did all of that cooking and stirring with cooked noodles you'd end up with mush by the time it was over. So beginning with uncooked pasta not only makes this dish super easy, it's really necessary to make a perfectly prepared smoked mac and cheese.
Because the noodles are not boiled first you'll begin with lots of liquid. As you stir and smoke the liquid will slowly be absorbed into the pasta.
FAQ's about smoking macaroni and cheese
What is the best cheese combination?
We like a combination of sharp cheddar cheese and smoked gouda. But you can use any good melting-type cheese and even adding a hard cheese like parmesan, will put a slightly different spin on the flavor.
What is the best dish to use?
Hands down our favorite is a 10 inch cast iron skillet. It holds up to the heat and smoke best of all. You can use a disposable aluminum pan but we advise keeping the heat of your smoker at the low end of the recommended range due to a lack of insulation.
Should I use freshly grated cheese or pre-grated?
We always recommend freshly grated. It melts better, tastes better and lacks the additives needed to keep the shreds separated. Our Cheese Tartlets, Sausage Balls and Potato Gratin with Aged Gouda just wouldn't be the same without freshly grated cheese.
What type of wood is best?
Our favorite woods for smoking this dish are pecan and apple. Use whatever you like to smoke with but keep in mind that mac and cheese is a more delicate dish than a big piece of meat like Smoked Ham on Big Green Egg or Barbecue Pork. The pasta will really soak up that smoke flavor.
How much time should I allow to make smoked mac and cheese?
A good rule of thumb is 2 hours, but it will vary. We're giving you a range of temperatures, though you definitely want to keep your smoker on the low side. Even so, the time will depend on how steady the heat remains in your smoker and the size of the noodles.

Keep in mind that you want to make smoked macaroni and cheese alone or when cooking meat at lower temperatures. Medium heat and above won't give great results.
So how will I know when it's done?
When the dish overall goes from being liquid-y to creamy check a piece of pasta for doneness. As long as it's cooked to your liking (anywhere from al dente to soft and tender) you can then top your mac and cheese with the final sprinkle of cheese, seasoning and breadcrumbs. Give it just enough additional time to melt the cheese on top.
This recipe made the suggested list for the Backyard BBQ Menu Ideas. You'll want to visit for lots of other recipes as well as tips, tricks and planning help for your cookout.
Our web story on this recipe can be found here.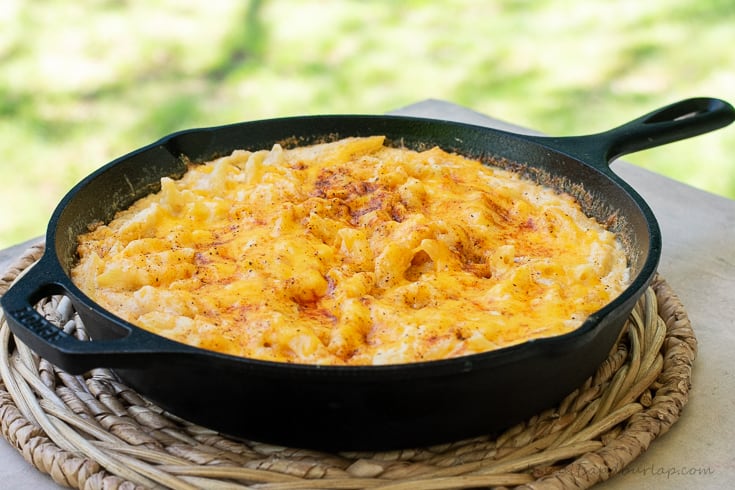 📖 Recipe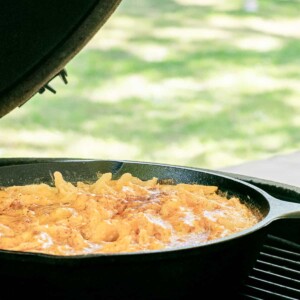 One Pan Smoked Mac and Cheese
Smoked Mac and Cheese takes a favorite dish and infuses it with smoky flavor. Starting with uncooked noodles makes it extra easy.
Ingredients
8

ounces

freshly grated cheddar cheese

6

ounces

freshly grated Gouda cheese

smoked or regular

6

ounces

cream cheese

cut into small pieces

3

Tablespoons

butter

cut into 3-4 pieces

3

cups

half and half***

8

ounces

elbow or mini penne pasta

1

teaspoon

black pepper

½

teaspoon

bbq spice rub blend

optional

¼

teaspoon

smoked paprika

optional

2

Tablespoons

panko breadcrumbs

optional
Instructions
Place butter in dish (preferably 10 inch cast iron skillet) and set in smoker heated to about 225-250 degrees until butter melts.

Set aside about ⅓-1/2 cup of grated cheese for topping.

Remove from heat and add noodles, half-and-half, cheeses and black pepper, stirring until well combined.

Return skillet to smoker and smoke for approximately 2 hours, stirring every 20 minutes.

At about 1 and ½ hours the mixture should be creamy with much of the liquid absorbed. Top with remaining cheese, spice blend mixed with paprika (if desired) and breadcrumbs (if desired).

Return to smoker for final 20-25 minutes.
Notes
*** half and half is a blend of milk and cream
Nutrition
Calories:
431
kcal
Carbohydrates:
24
g
Protein:
16
g
Fat:
30
g
Saturated Fat:
18
g
Polyunsaturated Fat:
1
g
Monounsaturated Fat:
8
g
Trans Fat:
1
g
Cholesterol:
94
mg
Sodium:
428
mg
Potassium:
216
mg
Fiber:
1
g
Sugar:
5
g
Vitamin A:
939
IU
Vitamin C:
1
mg
Calcium:
384
mg
Iron:
1
mg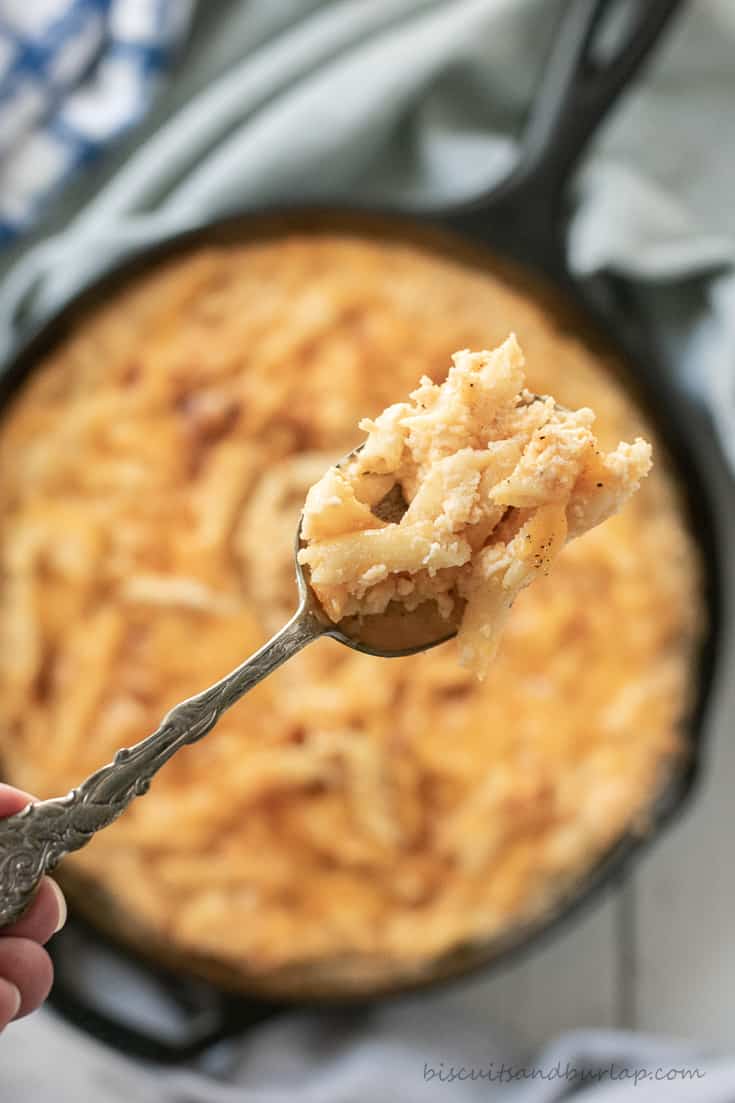 If you make this or any of our recipes we'd love for you to leave us a comment and star rating. If you're into sharing your creations, snap a photo and tag us when you post it to Facebook or Instagram.

More favorites for the smoker and grill