A southern favorite, three ingredient sausage balls are a holiday tradition that can be served as a breakfast or brunch item, or an appetizer. Don't wait for the holidays to make them!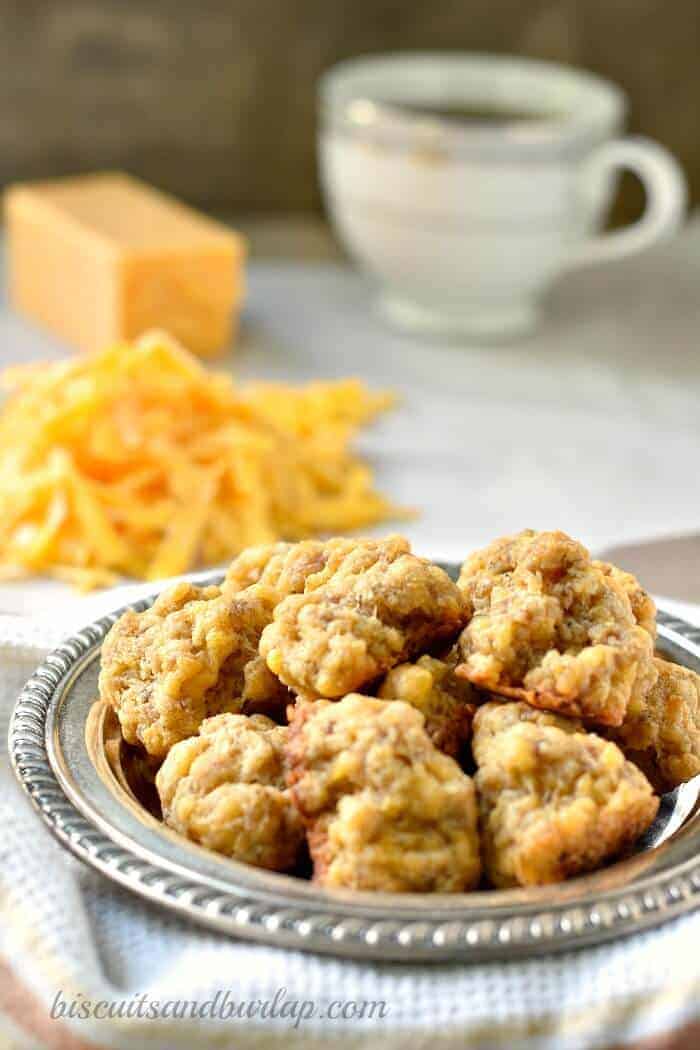 As long as I can remember we have made sausage balls at Christmas. These savory little treats hold so many dear memories for me.
Y'all have all heard me talk about my Mama and her good old Southern cooking. But, the sausage balls at Christmas were my Daddy's thing. Mama or I may have helped him make the little balls (it makes a LOT), but it was his project. Another one of his recipes was Cheeseball with Pimento Cheese. Can you tell the man liked cheese?
We always have sausage balls on Christmas morning with a cup of coffee or hot chocolate while we open gifts. That's a family tradition that has not changed for many years. But, the beauty of these little babies is that they also make an excellent appetizer. How versatile can you get?
Breakfast, brunch or appetizer and with only 3 ingredients. For some other southern favorites, be sure to check out Old Fashioned Tomato Gravy, Classic Southern Style Pecan Pie or The Only Shrimp & Grits Recipe You Will Ever Need.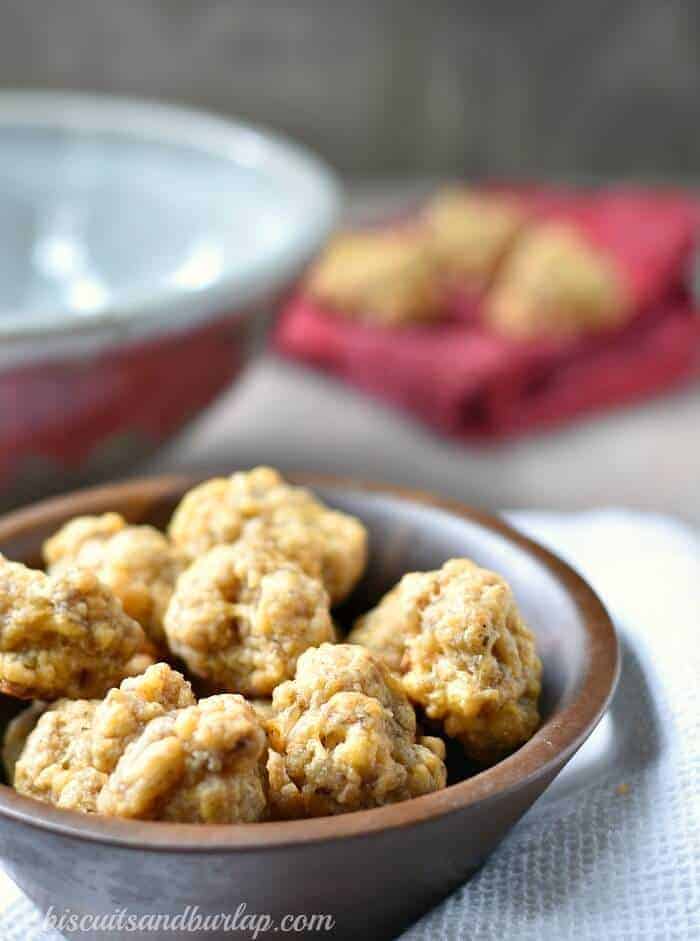 The tradition of making them is as special to me as the times we served and ate them. After Daddy was gone Mama carried on the tradition and I would help her, or my sister-in-law Carol would help her. As she became unable, I've made them myself, usually with Sara's help. And James has introduced his wife's family to the joys of sausage balls, too.
You can find them now in the freezer section at the grocery (at least here in the south you can) and they're passable. But, once you try the homemade ones you will never go back.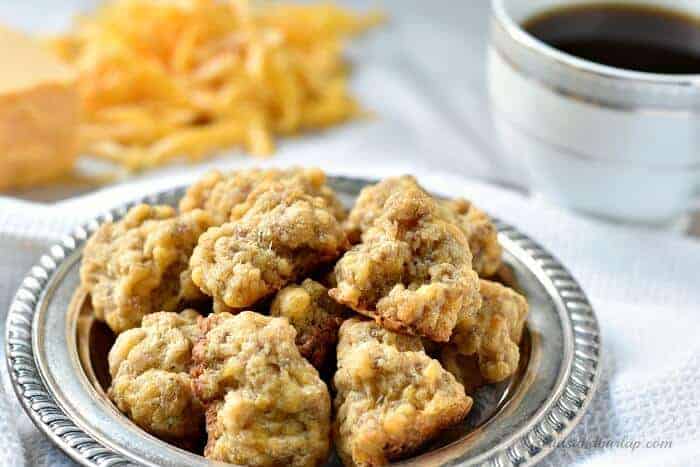 We try to eat healthy whenever possible. But there are some things that are just not the same with low-fat ingredients and sausage balls is one of them. Don't make the mistake of using the low-fat Bisquik or cheese. And grate your own cheese if you have time. It really does make a difference.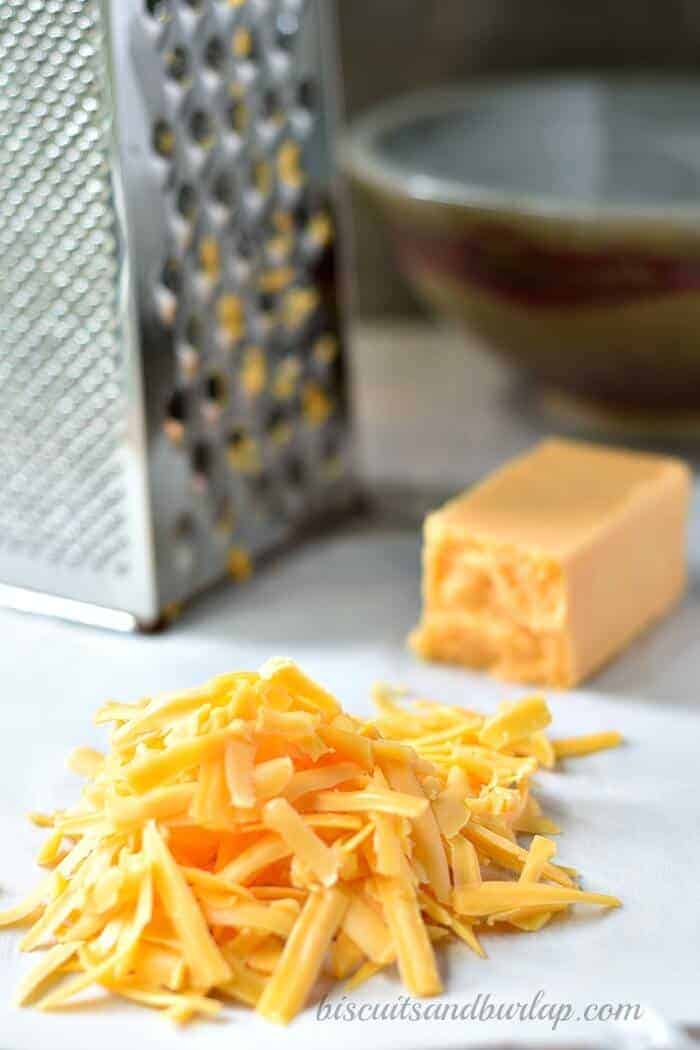 This post contains affiliate links for your convenience. Click here to read our full disclosure policy
One last tidbit. If you let the sausage sit out at room temperature for a little while it will be easier to mix than if it's ice cold. Mixing it is a messy job. I usually put my hands in food prep gloves like these and just dig in!
📖 Recipe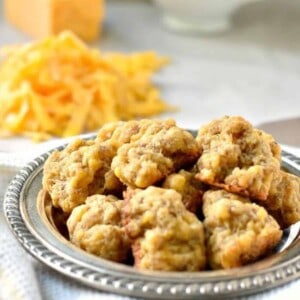 Sausage Balls
A simple Southern treat made with only three ingredients. Perfect for breakfast, brunch, or as an appetizer.
Ingredients
1

pound

ground sausage, hot or mild

3-½

cups

Bisquik

1

pound

sharp cheddar cheese, grated
Instructions
Let sausage sit at room temperature for 30-45 minutes.

Combine all ingredients with your hands (use gloves or baggies).

Shape loosely into small balls.

Bake at 350 degrees for 15-20 minutes.
If you're reading this post chances are you love southern food and know others that do too. We've put together this awesome guide, Great Gifts for the Southern Foodie. It has several cast iron cookware choices, books of southern recipes and food history and small items that would make a great gift basket. We did the homework for you, and have only included items with Amazon 4 stars and above.
Southern Food Then and Now is all about traditions, regions and the origins of our favorite cuisine!
Looking for more breakfast and brunch ideas to serve with Sausage Balls?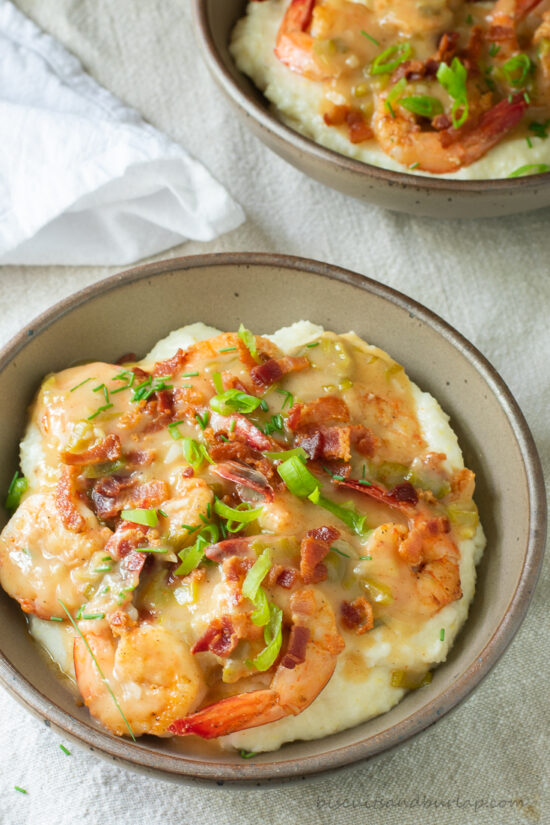 Thanks for stopping by. We hope you'll let us know when you make the sausage balls and add them to your family traditions. We want to hear how they turn out for you.
Don't forget to sign up to get our updates.
If you like spicing things up a bit check out this twist on classic sausage balls - Spicy Chorizo Cheese Bites.
Follow our Southern Favorites Food & Drinks Pinterest board here. A group of the best Southern bloggers are putting their favorites all in one place!