This heavenly Cheese Ball has a southern flair with Pimento Cheese and pecans. It can be rolled in a variety of ingredients, giving each one a unique look and taste.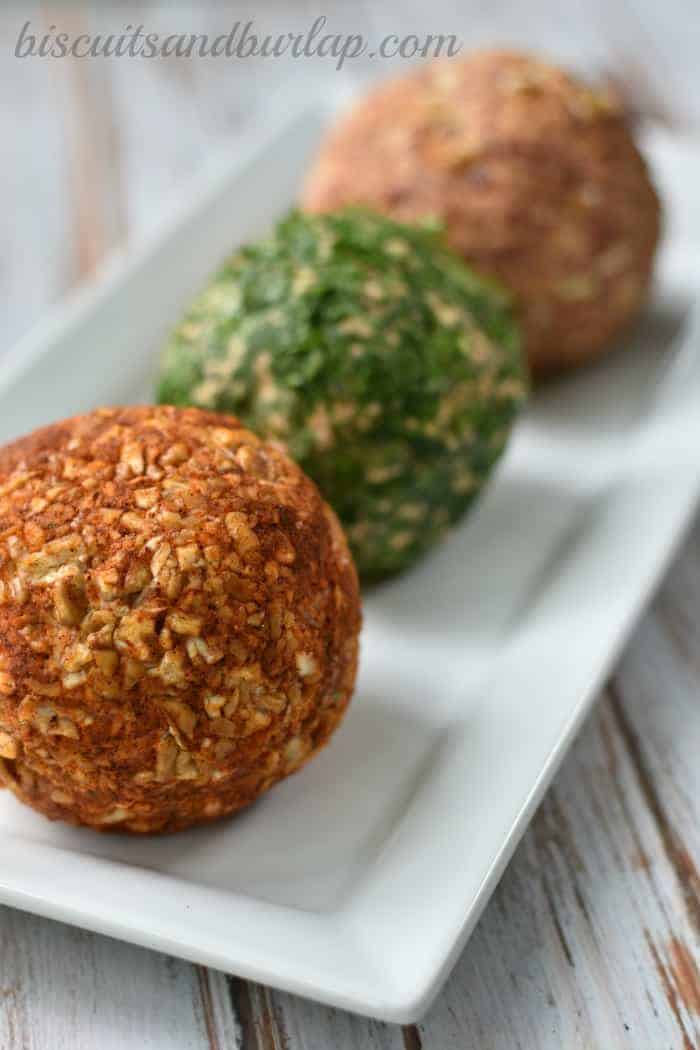 Our Cheese Ball recipe has the perfect blend of cheddar, cream cheese and pimento cheese as the base. This was my Daddy's recipe. Beyond the base ingredients, he listed everything else "to taste".
Nonetheless, we did come up with measurements for those cooks that like a precise amount for everything, but it can be made in accordance with your own personal preferences.
Daddy made his recipe into two larger cheese balls (it does make a lot), but for variety I made three smaller ones that I could roll in different herbs, spices, etc.
If you love family recipes like we do, you should check out some of our favorites from our family cookbook! Aunt Mildred's Foolproof Brownies are a sweet, chocolate favorite of ours.
Aunt Carol's Blueberry Orange Nut Bread makes a delicious breakfast bread. And, my Best Apple Pie You Have Ever Tasted lives up to its name. Or, at least, we think it does.
Let's get back to those cheese balls.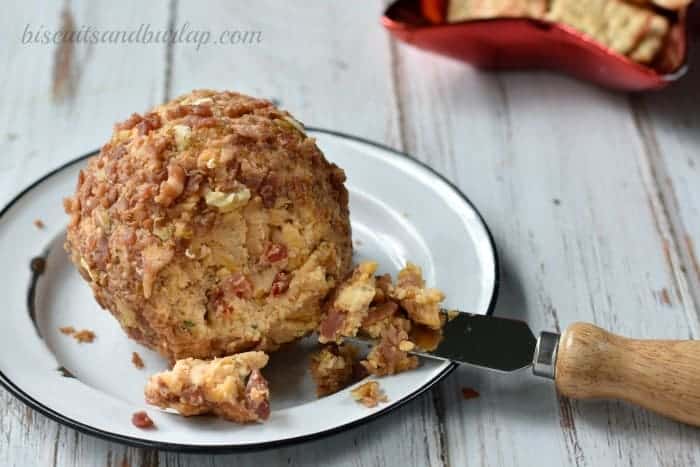 Daddy liked to roll his cheese ball in just paprika, but I decided to try some different ideas. This one is a combination of bacon bits and pecans, and that turned out to be a perfect pairing.
Another recipe featuring that to-die-for combination of pimento cheese and bacon are these little appetizers in mini phyllo cups.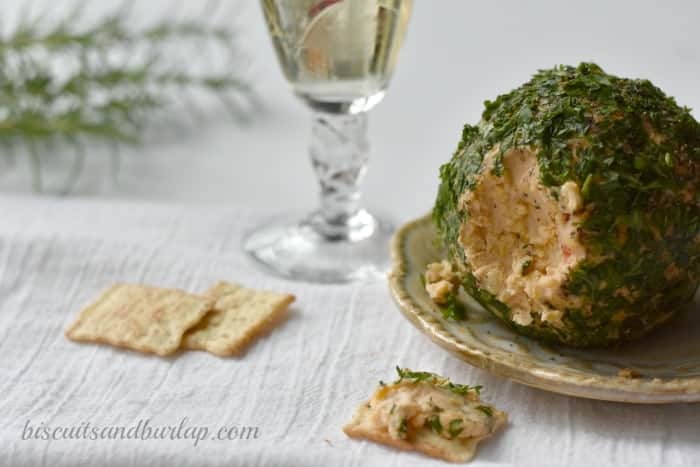 For this one I used cracked black pepper and parsley. I had parsley because some goes in the cheese ball mixture, but you could roll it in any herb you like. Or, use a combination of whatever you have on hand.
Tips for Making the Best Cheese Ball Ever
Chill the mixture before you make the balls. It will be much easier to handle
Make it a day ahead to give the flavors time to blend
Finely grate the cheddar cheese (use the small side of your grater or a shredding disc for your food processor with small holes)
Use fresh herbs if you have them, but if you don't, dry is fine - just cut back on the amount
By the way, before we go any further you should know this. Homemade pimento cheese is always best, and our Spicy and Smoky Pimento Cheese works great for these cheese balls. If you have to use premade make sure it's good quality, like Proper Pepper Pimento Cheese, made right here in Georgia. Have you seen our Burger Sliders stuffed with Pimento Cheese? Perfect for any cookout!
Back to those cheeseballs...
I made one more combination for rolling the third cheese ball. That one did give a nod to the original way Daddy liked to do it. I used chopped pecans and then sprinkled some paprika and chili powder on a paper plate and rolled it in that.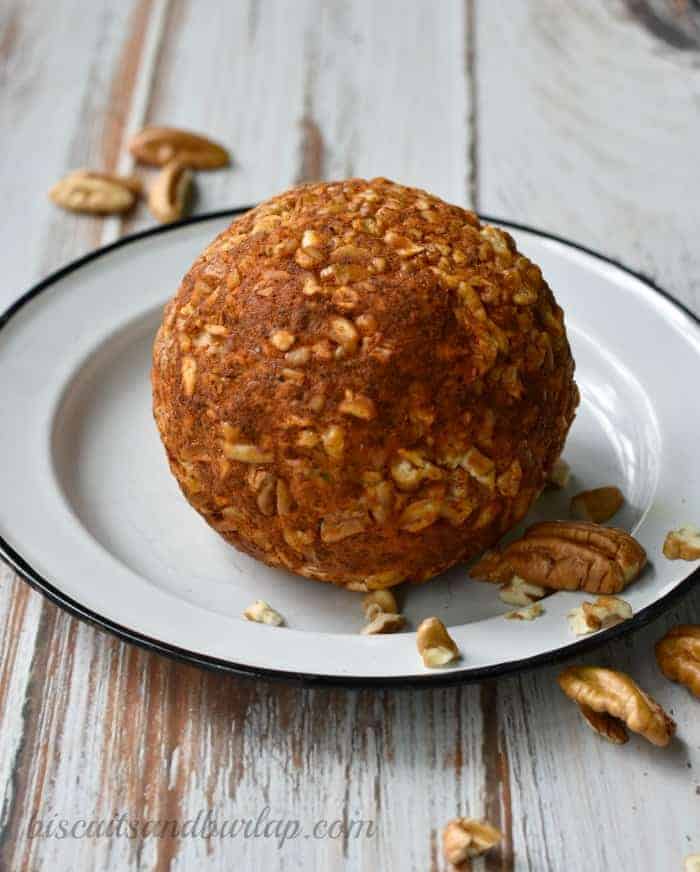 More Ideas for Finishing Your Cheeseball
We've got a few suggestions, either on their own or combined with each other. The sky is the limit, really. The key here is to get creative and have fun.
diced peppers (you could use all one color or combine green, red and/or yellow
green onions
other nuts besides pecans
seeds such as sesame, sunflower, poppy or whatever you like and have on hand
panko or your favorite breadcrumbs
consider making one of your cheese balls "nut-free" for those that are allergic, or don't like them
Southern Food Then and Now is all about traditions, regions and the origins of our favorite cuisine!
📖 Recipe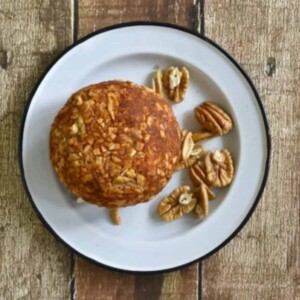 Pimento Cheese Ball
Use our base recipe and then add the other accent flavors "to taste". We've given you a variety of ideas to roll the cheese balls in to give a different look and flavor.
Ingredients
1

pound

sharp cheddar cheese, finely grated

12

ounces

Pimento Cheese

Preferably Palmetto Cheese

8

ounces

cream cheese, softened

3

Tablespoons

worcestershire sauce

1

teaspoon

chili powder

1

teaspoon

hot sauce

optional

2

Tablespoons

fresh parsley, chopped

½

cup

pecans, chopped
Instructions
Combine three cheeses until creamy.

Add additional ingredients adjusting for personal taste. Mix well.

Divide into 2 or 3 portions and roll into balls.

Roll each ball in your choice of ingredients. Suggestions are below and in recipe post.
Notes
Roll cheese balls in one or more of these suggested combinations:
Bacon bits and chopped pecans,  
chopped fresh herbs and cracked black pepper, 
paprika/chili powder/pecans. 
Other suggestions in recipe post.

If you love this recipe, we'd bet good money you'll love these too: