Baked brie spread on crackers or fruit slices is a classic appetizer and this version has a sweet and salty twist that is sure to impress.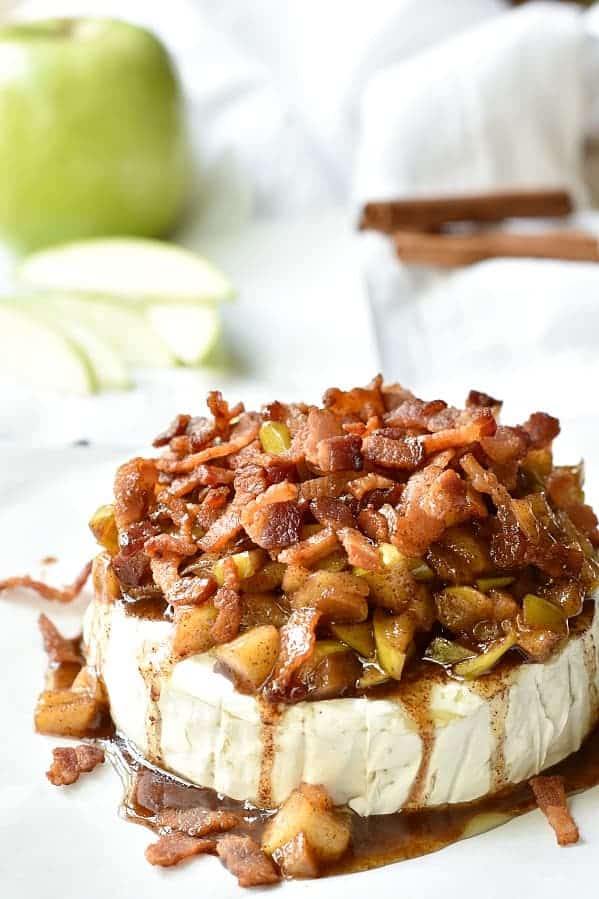 This recipe was originally developed for and posted on Restless Chipotle
Fall is almost over and the winter holiday season is upon us! I don't know about y'all, but over here our calendars are filling up fast.
It's hard to find enough dishes to share that won't take up too much time or be too boring (you think you have a tough time impressing people with your cooking, try being a food blogger... talk about high expectations!) at all the get-togethers.
You'd be hard pressed to find someone who doesn't love melty baked brie cheese regardless of what you put on it, but when you top it with cinnamon apples and bacon? Perfection.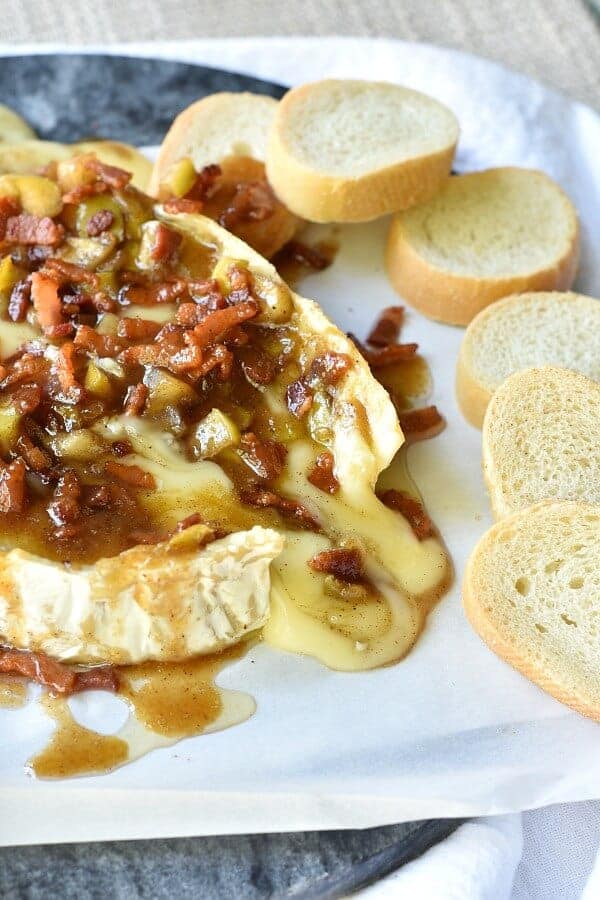 Okay, enough bragging. On to the recipe!
The easiest way to get crumbled bacon is to slice the bacon into thin strips while it's still raw and then fry it up. When it's done, set it aside, drain off the grease, and add butter to the pan.
Once it's good and melted, dice an apple (we like granny smith but use whatever you've got on hand) and toss it in. You with me so far? Bacon, butter, apples... really, how could this go wrong?
After a couple minutes, add in the cinnamon, brown sugar, and kosher salt to give it a salted caramel sort of glaze. Cook it for 2 more minutes and remove from heat.
Brie vs. Camembert is an interesting topic. Do you think Camembert could be substituted in this recipe? If you're interested in trying both you'll want to check out Baked Camembert with Honey, Pears & Pecans. It's easy and delish!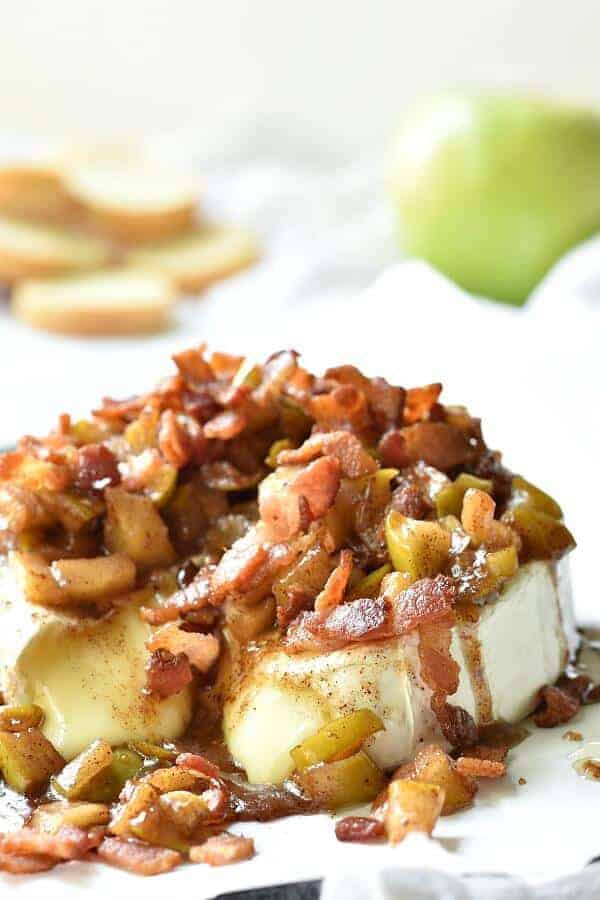 The key to moving baked brie from the oven to a serving dish easily is putting it on parchment paper and keeping it there! Slice or scrape the top of the rind off the brie and move it (on the parchment paper) to a baking dish.
Bake for 8-10 minutes. When its done, just take the whole baked brie, parchment paper and all, and move it onto a serving dish. Top with the apple mixture and then the bacon. Serve with toasted baguette, crackers, or apple slices.
Enjoy this and our Baked Brie with Pesto and Sundried Tomatoes any time you want an appetizer that's easy, delicious and sure to impress everyone!
Did you know that you can also grill apples? Toss a few slices on while you're cooking pork or chicken and then serve as a side or topped with ice cream for dessert. If you're just looking for some great Fried Apples, we have a great recipe for that too.
📖 Recipe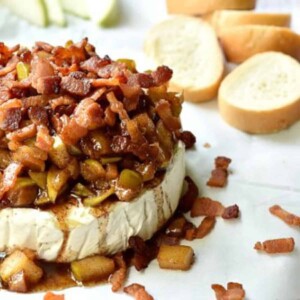 Baked Brie with Bacon and Apples
Ingredients
3

strips bacon

1

apple

diced

2

tablespoon

butter

2

tablespoon

brown sugar

¼

teaspoon

kosher salt

8

oz

brie cheese

½

teaspoon

cinnamon
Instructions
Dice bacon and cook over medium heat until brown, about 7-8 minutes.

Drain bacon on paper towels and set aside.

Melt butter over medium heat and add diced apples.

Cook apples about 2 minutes and then add cinnamon, salt and brown sugar.

Cook apples additional 2 minutes, or until tender.

Slice rind off top of brie and place brie on parchment paper in baking pan.

Bake brie in preheated 325 degree oven for 8-10 minutes.

Slide baked brie on parchment paper onto serving dish and top with apple mixture and then bacon.

Surround brie with water crackers, baguette slices or other breads.
We see you're a cheese lover, too! Check out these recipes for more cheesy goodness: