What is the difference between Brie and Camembert? We researched and tested both in our home kitchen to find out!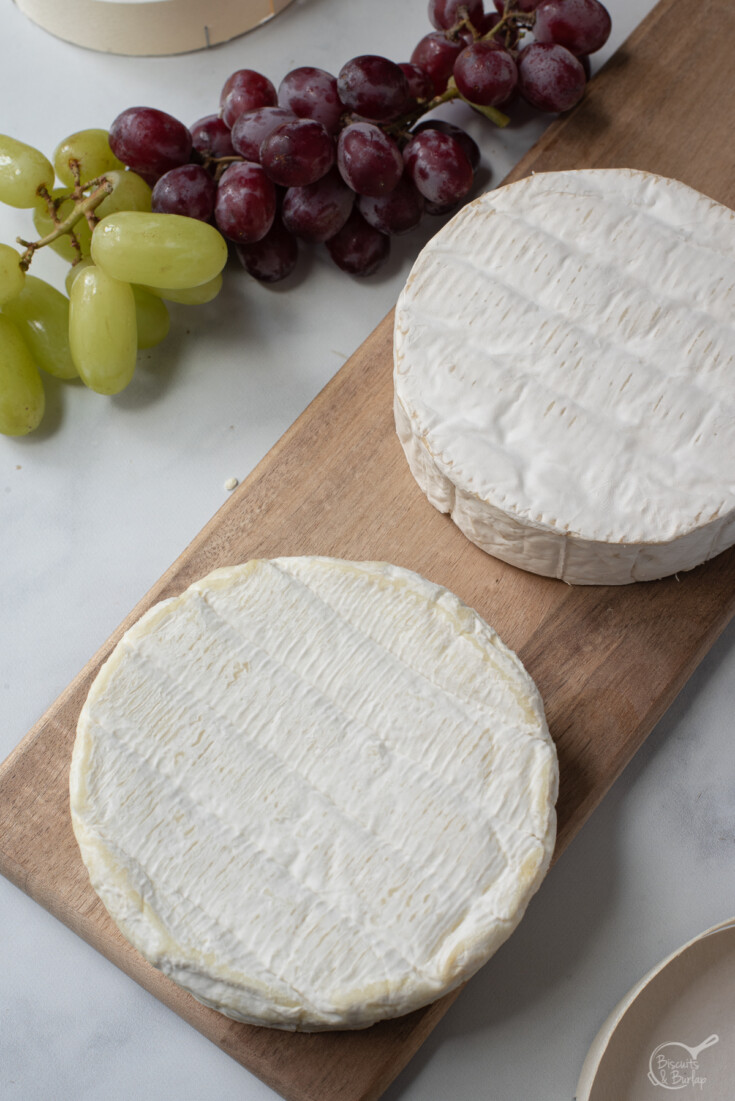 Jump to:
Two similar cheeses but with distinctly unique qualities
Yes, Brie and Camembert are similar in a lot of ways.
They're both soft, creamy cheeses originated in northern France. They both have a flowery, white rind which is completely edible.
They're both made from cow's milk and in the world of cheeses they're both relatively mild tasting.
But, there are some differences between Camembert and Brie that you will want to be aware of before you buy and plan your entertaining.
Brie and Camembert cheese look different
Traditionally, Brie is made into a bigger wheel of cheese. What you buy is a wedge cut from that wheel.
"Baby Brie" is available, though and that's what we've used for our comparison study. Camembert is always made in the small wheel, and we wanted an "apples to apples" comparison.
The color has very subtle differences too. Brie has a slightly grayish tone and Camembert is more of an ivory color, so yellowish tones.
The two cheeses have unmistakably different tastes
Brie has had cream added, which contributes to its light, bright, almost fruity taste. You could even say it's got a buttery flavor.
Camembert on the other hand is best described as earthy. Some people would describe the aroma as similar to mushrooms. Camembert is most definitely the more intensely flavored of the two cheeses.
Brie and Camembert both have delicious, edible rind
The rind is part of the cheese and enhances the enjoyment of the flavors. But, there are some people who just don't like the idea of eating it.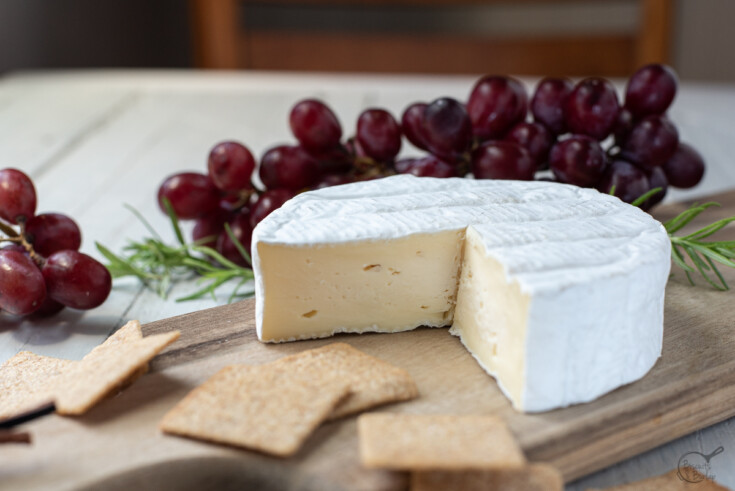 In our Baked Brie with Bacon and Apples recipe, as well as the Brie with Sundried Tomatoes we've just scraped the top of the rind off. Some people will slice it off.
Either method will still leave rind around the edges and on the bottom for those that love it, but it can get a little tricky to get cheese and rind in one bite.
We also love this method: Score the top rind before putting the cheese in the oven. That makes it easy for everyone to get what they like. We suggest that for Baked Camembert with Honey, Pears & Pecans, but you could also slice the top off.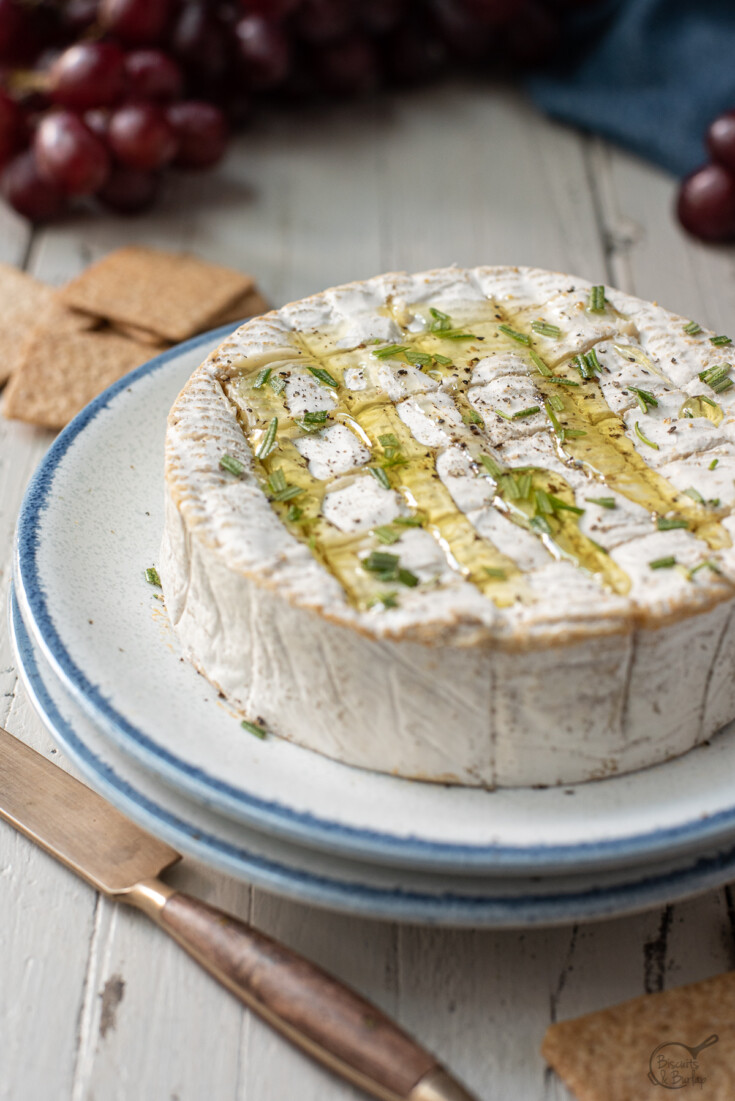 What is best to serve each one with?
Fruits and nuts are typically served with both types of cheeses, but we wanted to go a little more in depth here so we consulted our Flavor Bible.
This post contains affiliate links, which means if you click on an affiliate link and buy something, we may receive a very small commission. It does NOT result in additional charges to you or cost you anything extra. Click here for our full privacy and disclosure policy. As an Amazon associate we earn from qualifying purchases.
Not familiar with the Flavor Bible? It's a kitchen resource that we wouldn't consider being without.
Thousands of foods are listed with the other foods that complement their flavor. We checked both brie and camembert in our Flavor Bible and came up with the complementary foods that were unique to each.
A few that really stood out are listed here:
What goes with Brie?
Chicken
Dates
Figs
Onions
Pistachios
What goes with Camembert?
Arugula
Lettuces
Olive Oil
Plums
Balsamic & sherry vinegars
Keep in mind that both are wonderful with most nuts, fruits and breads.
For your own copy of the Flavor Bible you can order one here.
Is the texture the same when Brie and Camembert are baked?
We didn't find a discernable difference. With either cheese you're going to get varying amounts of "melt" depending on whether you start with cold or room temperature cheese, your oven setting and how long you leave it in.
In the photo below is a Brie which was in a 250 degree oven for 10 minutes. It was room temperature when it went in the oven.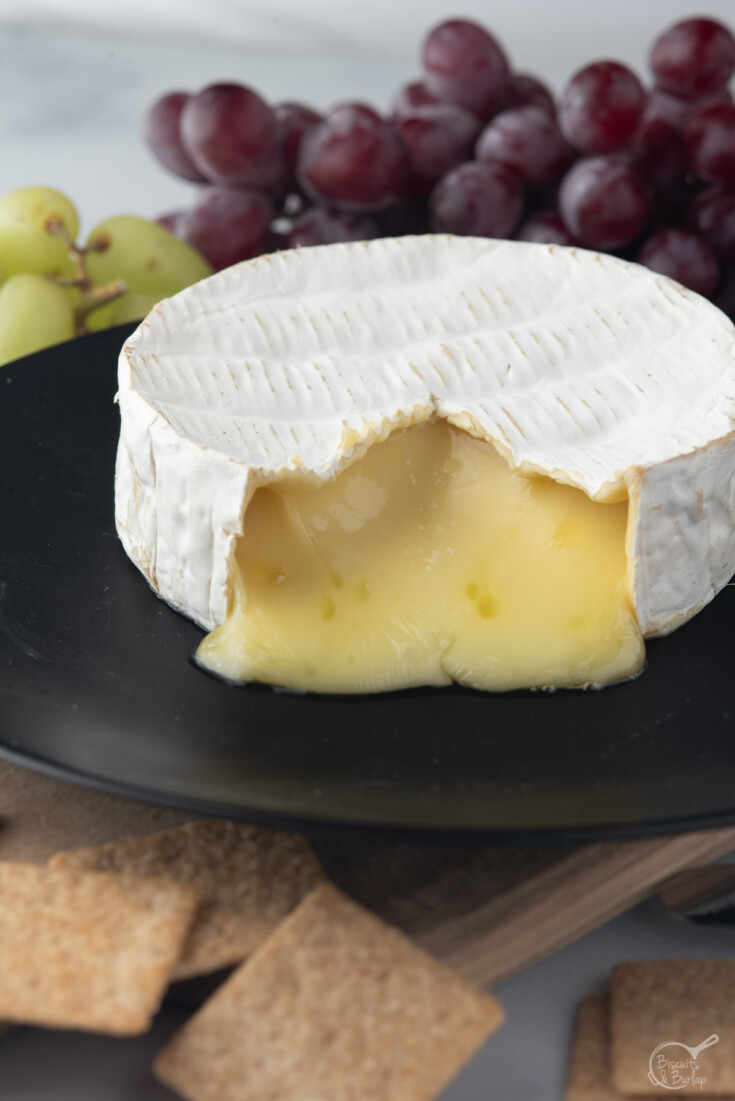 To conclude which cheese to serve
At the end of the day it's not really a brie vs. camembert debate at all. Each of these cheeses have a marvelous taste and will be well received by your guests.
If you know your group tends to like mild, lighter flavors you'll probably want to go with Brie. If they are bolder and a bit more adventurous choose the Camembert.
When serving at room temperature the Brie will hold it's texture better, though there certainly nothing wrong with gooey room temperature Camembert either.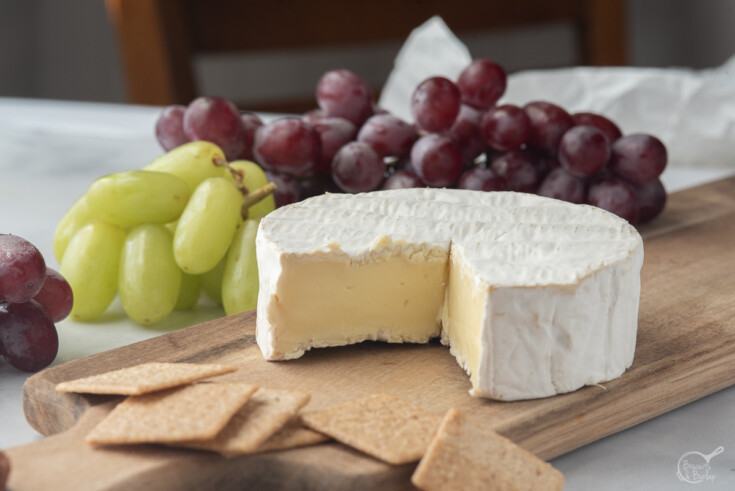 For baking either one will be melty cheesey goodness. Just consider if you need to contain it somehow to keep from running into other foods. A small dish with sides works well.
The favorite with our taste testers?
We served both to a family group of 10 at room temperature and then baked. When they first heard what we were up to there were shouts of "Brie! We love Brie!"
In the end we decided that most of them were just more familiar with brie and that's why they thought it would be their favorite.
Truthfully, when it was all said and done most everyone in our group did love the Brie. But they loved the Camembert even more!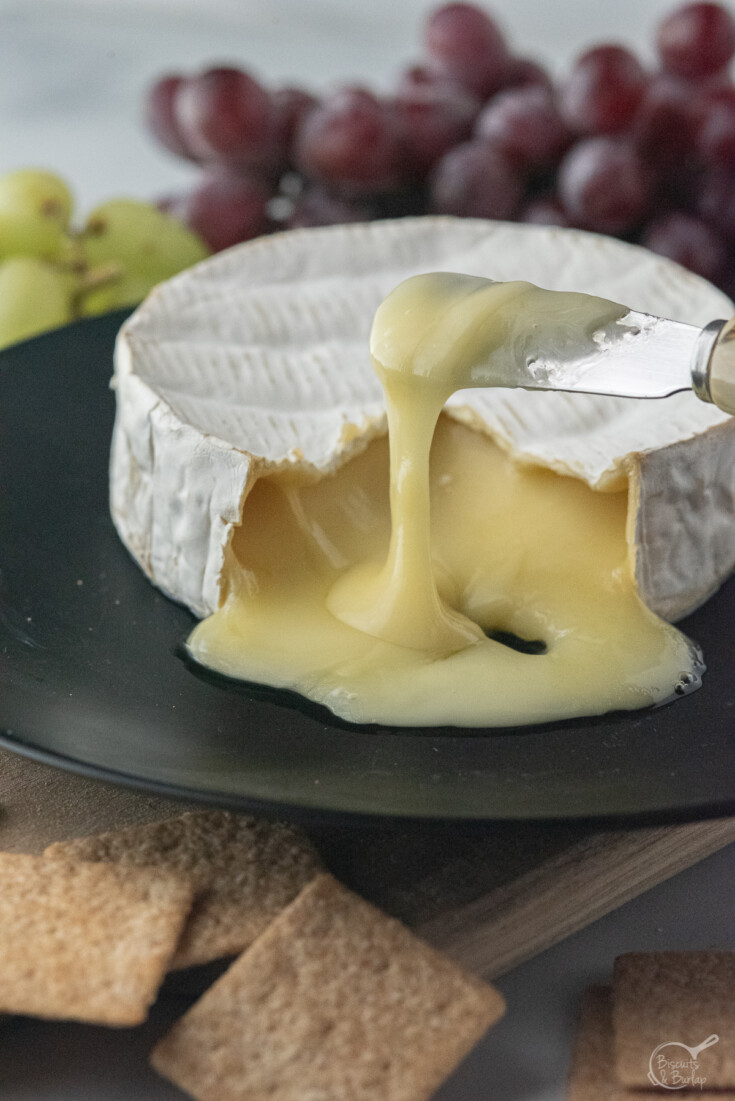 Keep in mind that we are a family of adventurous eaters. Spicy, bold flavors are favored around here so it would make sense that the more intense cheese would win out.
For some real fun of your own serve both and see what your people like the most. Then come back and leave a comment and let us know. Or tag us with a photo on Instagram or Facebook.