Here is the classic southern pimento cheese recipe you've been looking for. It's simple and without any fancy added ingredients. This is just plain old fashioned cheesy goodness.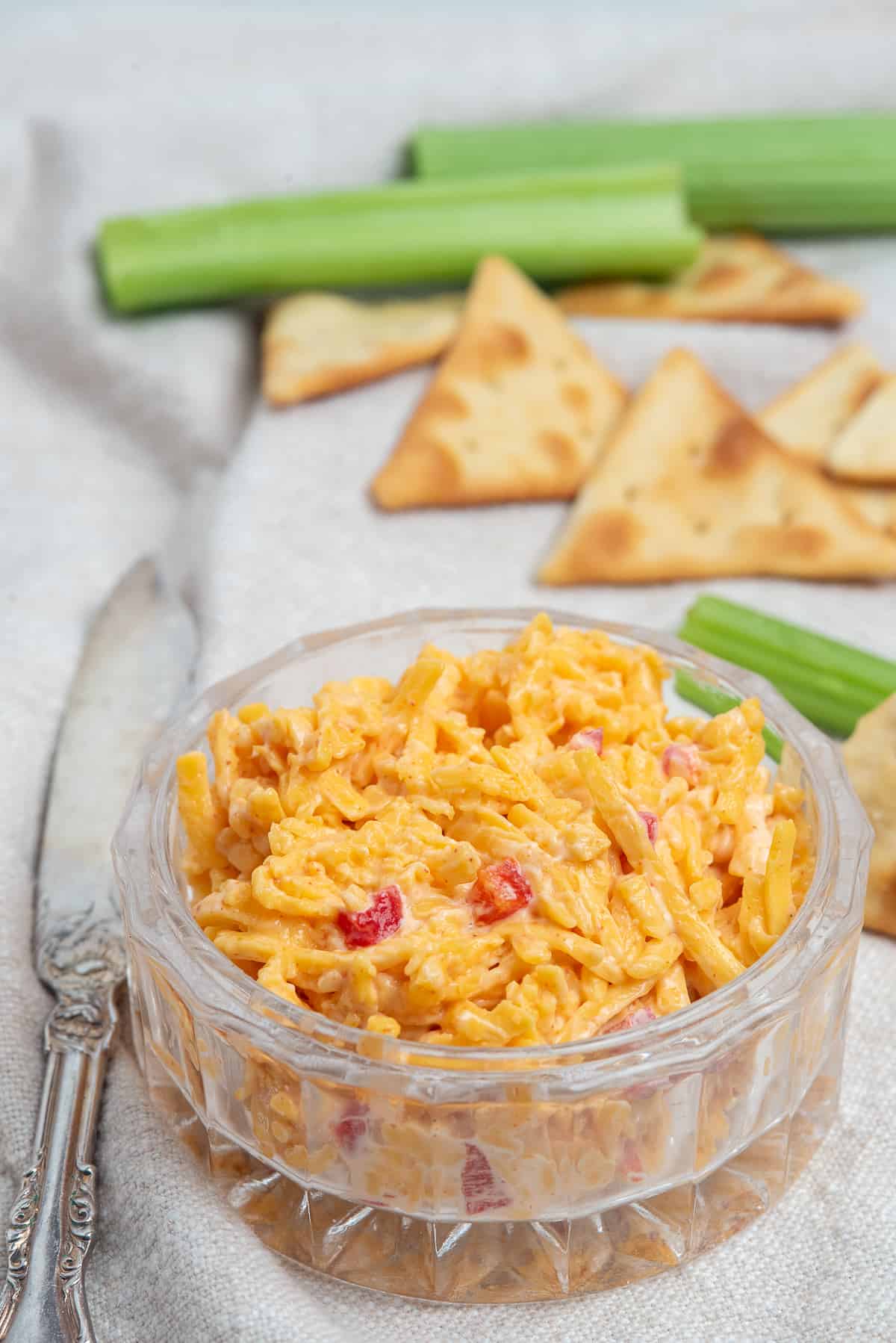 Jump to:
Pimento Cheese has long been a favorite here in the south, but it's now gained in popularity all over. We're big fans of taking something great and adding a fun new twist, and we've done that twice with this southern spread.
Spicy and Smoky Pimento Cheese has two ingredients that give it the "smoky" flavor, and several that give it the "spicy kick". Besides all that there is cream cheese in that recipe which binds it all together. The old fashioned versions did not have cream cheese, though, so we've left it out here.
Pepperjack Pimento Cheese is what you might think. Made from a combination of pepperjack and cheddar cheeses, it gets more of a peppery punch from additional diced pickled jalapeno peppers.
But, for this recipe we are going old school, plain and simple pimento cheese. In other words, this is how my mama made it, so you know it's good!
Ingredient notes
Sharp Cheddar Cheese (buy a block and grate it yourself - this is essential!)
Mayonnaise (we use either Dukes or Blue Plate)
Cayenne Pepper (do yourself a favor - do NOT leave it out)
See recipe card for full ingredient list and quantities.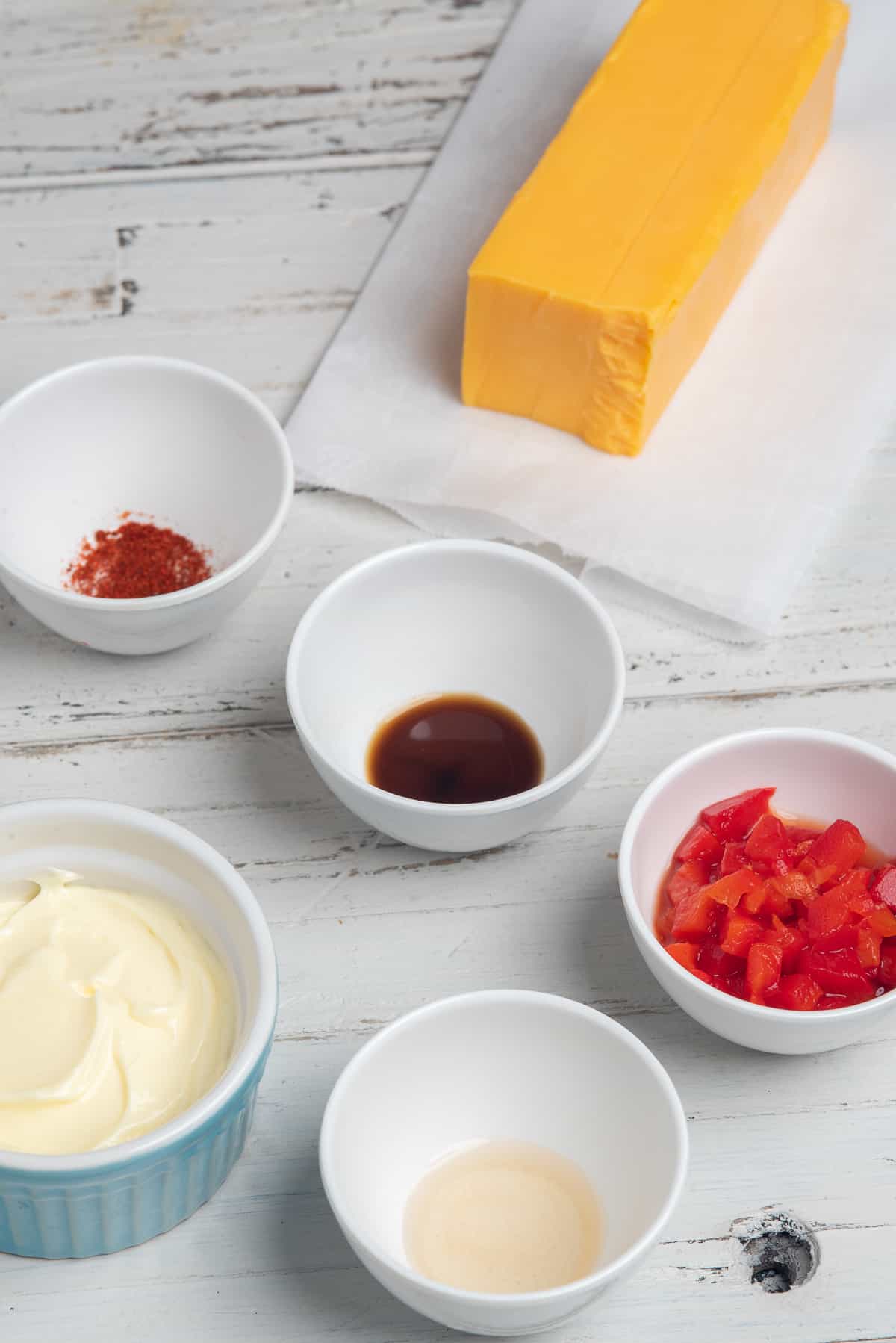 You could use a mild cheddar, but we prefer a bold sharp cheese. We cannot emphasize enough the need to grate your own cheese. The pre-shredded type has a coating to keep it from sticking together. You do not want that in your spread.
Cayenne pepper is most always found in a very small amount in classic southern Pimento Cheese. It's not enough to give any real heat, but the flavor pairing of the cheddar and cayenne is unmistakable, and a marriage made in heaven.
Cast Iron Skillet Potatoes (which can be cooked on the grill) and Classic Southern Cheese Straws are two more examples of recipes which use that flavor combination.
How to make it
Grate or shred the cheese.
Mix all of the ingredients except the pimentos until well blended.
Add the drained pimentos and stir.
As you begin to blend the ingredients it may seem a little dry. You should wait until everything is well mixed before deciding if you want to add another spoonful of mayo.
There is a little bit of liquid in the peppers, even after they're drained. We most often find that no additional mayo is needed.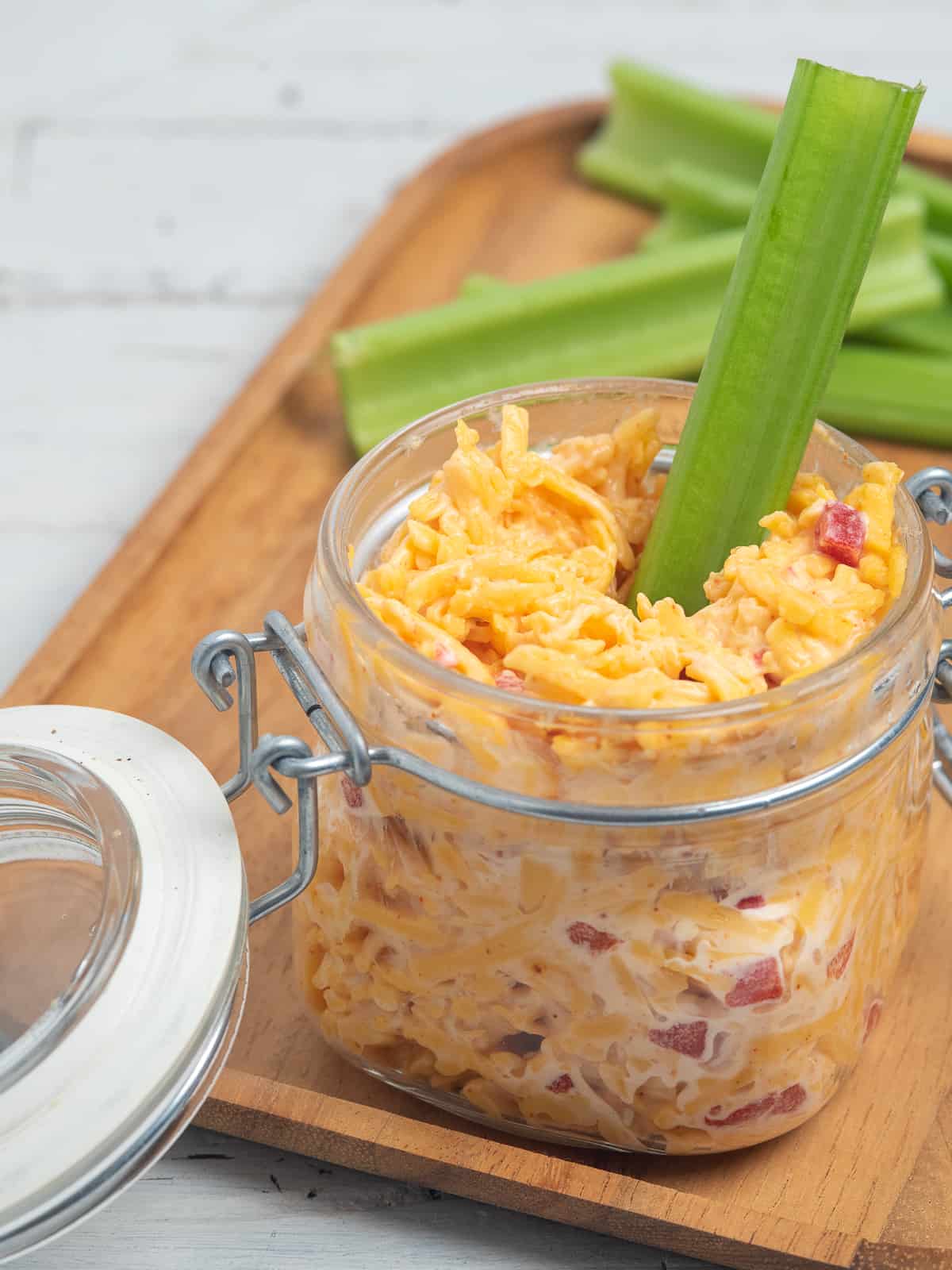 Ways to use pimento cheese
Oh, y'all - the possibilities are endless! It's traditionally served as a dip or spread with crackers or veggies (celery being a favorite).
You can also make the most divine little appetizers by filling petite phyllo shells with it and top with bacon. These are served hot and the recipe is simply called Pimento Cheese Appetizers.
You can stir it in your grits.
You can top a burger with it. These Stuffed Burger Sliders are actually stuffed with none other!
You can make Pimento Cheese Biscuits.
The most classic way to serve is between two slices of bread for divine sandwich. The traditional sandwich doesn't have anything else on it. Just order one at the Masters Golf Tournament and see what you get. They know their southern food!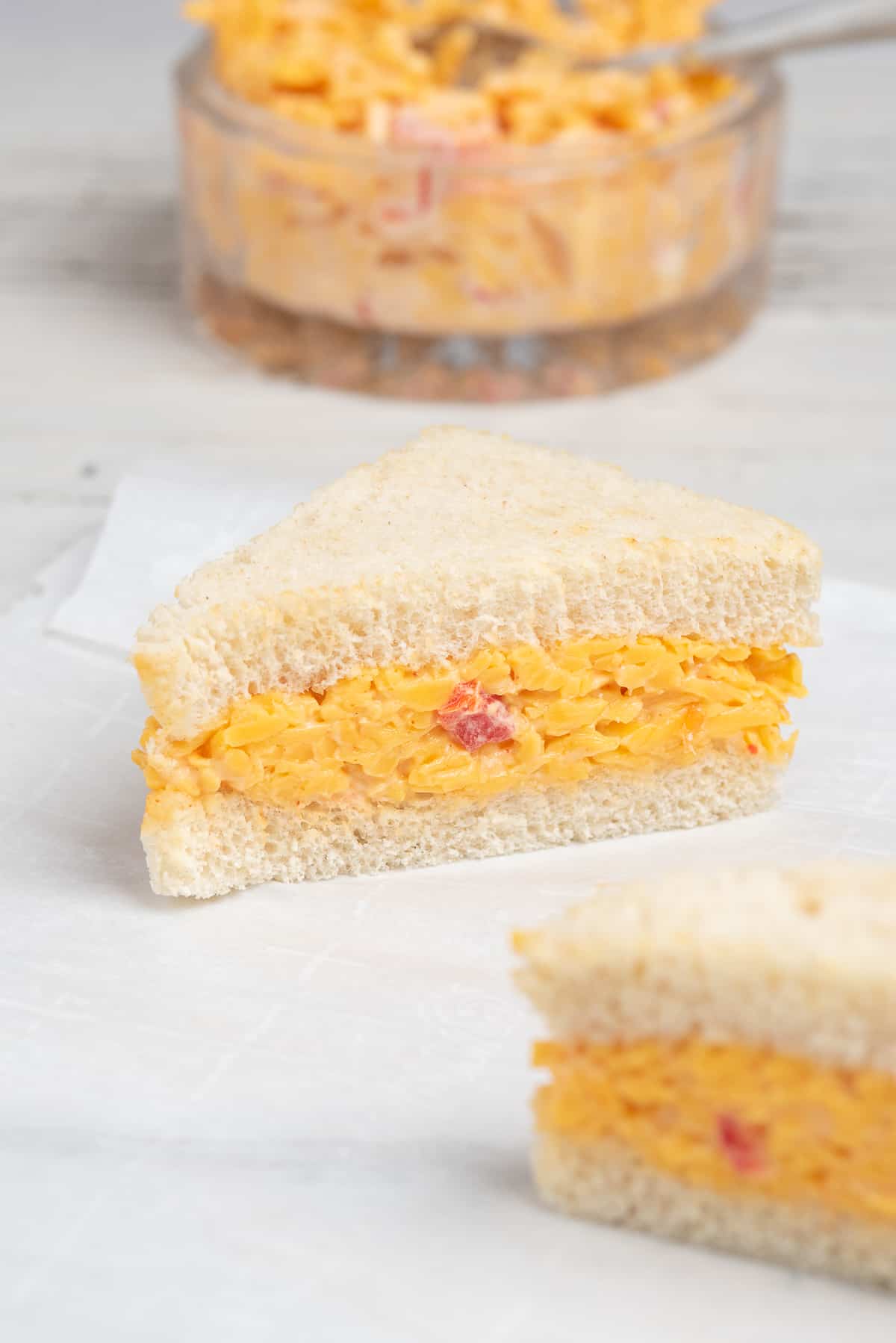 FAQ's
Is Pimento Cheese served hot or cold?
Most often cold on a sandwich or with crackers or celery, but you can make a grilled pimento cheese or top a burger with it. Either way, it's amazing!
How do you keep pimento cheese sandwiches from getting soggy?
Just don't make them too far in advance. In most cases the day they will be eaten is best.
How long can you keep homemade pimento cheese?
It's perfectly safe for up to 10 days if kept tightly covered and refrigerated. It actually has the best flavor if you can make it a day ahead of serving.
📖 Recipe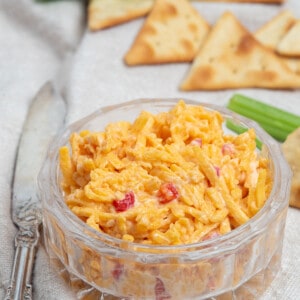 Old Fashioned Pimento Cheese Recipe
Here is the classic southern pimento cheese recipe you've been looking for. It's simple and without any fancy added ingredients. This is just plain old fashioned pimento cheese.
Instructions
Blend all ingredients in a bowl except the pimento peppers.

Add the pimento peppers and still under well combined.

If pimento cheese seems dry add mayonnaise a teaspoon at a time.
Notes
Do NOT use pre-shredded cheese.
Dukes or Blue Plate Mayonnaise is recommended.
Cayenne pepper is an optional, but highly recommended ingredient. 
For a quick and fun look at this recipe be sure to check out the Google Web Story.