Pimento Cheese Biscuits blend the best of southern flavors in one easy-to-make biscuit. They're perfect for brunch, parties or charcuterie boards.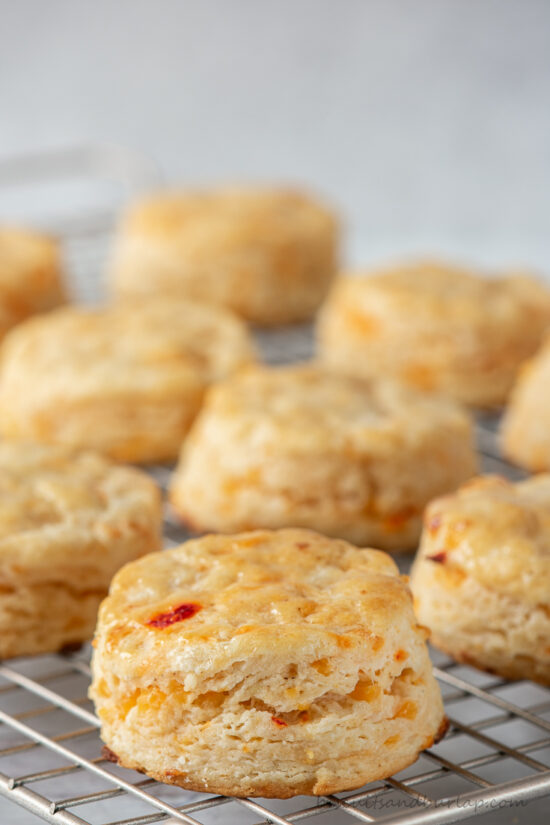 Pimento Cheese in Biscuits?
We know what you're thinking... "I'm in heaven" or "how can it get any better than this?" We hear you because we feel the same way.
Naturally, our love of biscuits runs deep around here. 3 Ingredient Buttermilk Biscuits are one of our signature (and most popular) recipes and they are the basis for this newest one. If you haven't made them, you simply must. There's even an easy-to follow video that goes with the recipe.
And then we've got some fun variations like Sweet Potato Biscuits, Asiago and Black Pepper Biscuits and even Mexican Style Biscuits. They're all delish, and have their place on the menu.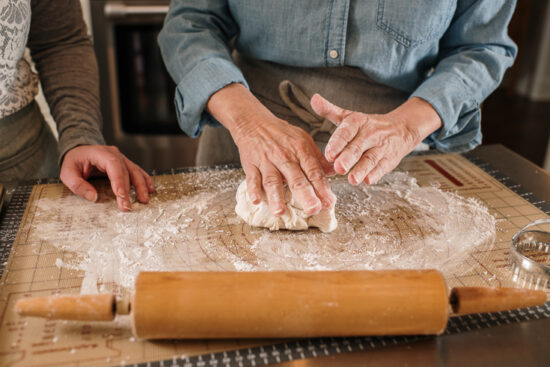 However, we truly cannot decide if we love biscuits any more than we love Pimento Cheese. The homemade version that we have here is Spicy and Smoky Pimento Cheese and it's always been a big hit. Pepper Jack Pimento Cheese is also delicious in these biscuits.
Naturally homemade is always best if you have time, but there are some really good storebought varieties out there. We're big fans of Palmetto and Proper Pepper. The latter is made right here in our home state of Georgia.
Two favorite southern foods get married!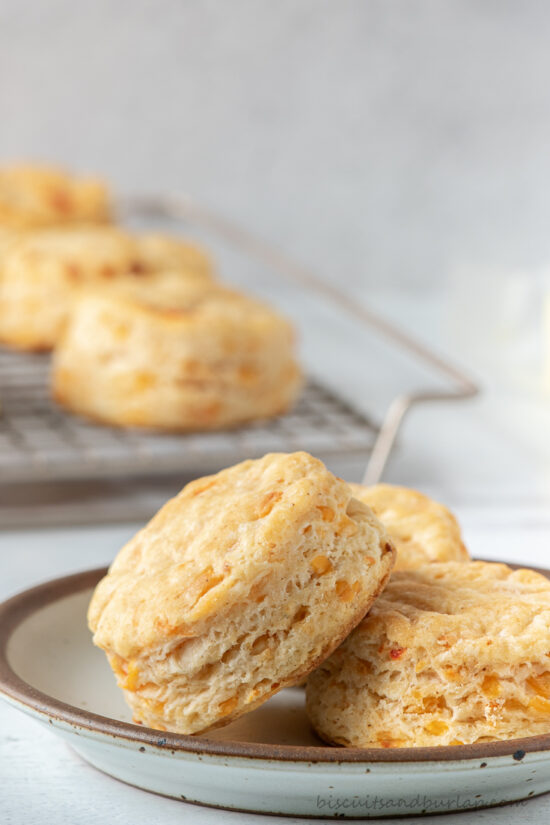 That's a big deal, huh? We had no trouble finding volunteers to be taste testers for this one.
In the end, the ingredients and proportions in our Three Ingredient Biscuits turned out to be just right. We just added the pimento cheese, and one more ingredient that we feel is crucial, but you could leave out if you must. That one ingredient? Cayenne pepper.
Cheddar cheese and cayenne pepper are a flavor match made in heaven even if you don't add enough of the pepper to get any heat. If you go right by our recipe your Pimento Cheese Biscuits will have a mild kick, which we love. If you and yours don't, just scale it back accordingly.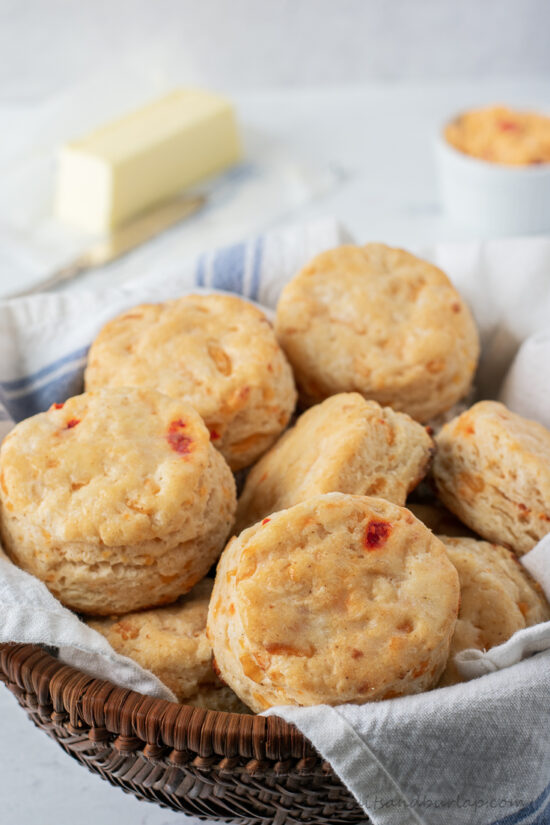 Tips for making Pimento Cheese Biscuits:
As is the case with the 3 Ingredient Biscuits all the ingredients should be very cold. In fact, the butter is frozen. Yes, even the flour is chilled.
The pimento cheese is dropped into the flour in teaspoonsful and tossed with the flour as you go, just like you do with the butter. The key is to not end up with any big "globs" of pimento cheese
Always use a straight up and down motion when cutting biscuits
If you're strained for time, try using the Best Biscuit Mix and adding the pimento cheese.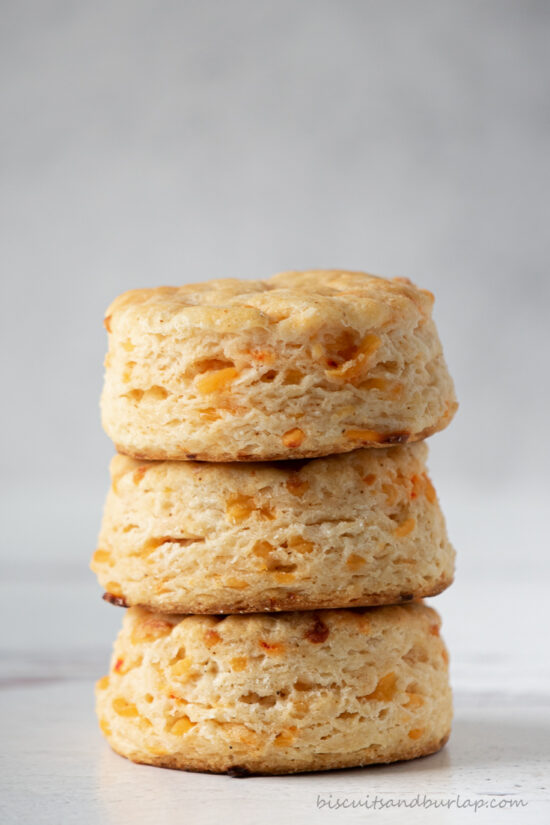 How and when to serve them:
Pimento Cheese Biscuits are super versatile! You can serve them at breakfast, brunch, lunch or dinner. They make a great addition to a party platter like our Southern Appetizer Board. You could even make them in little "tea" sized biscuits for parties or receptions.
If you love our favorite cuisine as much as we do you'll want to read Southern Food: Then & Now.
📖 Recipe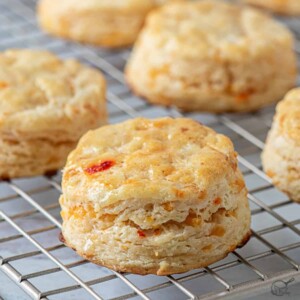 Pimento Cheese Biscuits
Pimento Cheese Biscuits are the best of southern flavors in one easy-to-make biscuit. They're perfect for brunch, lunch or charcuterie boards.
Instructions
Stir cayenne pepper into flour.

Freeze butter and chill flour mixture. Measure buttermilk and place measuring cup in fridge until very cold.

Grate butter with large holes of box grater adding to cold flour a bit at a time, tossing after each addition.

Add pimento cheese to flour mixture a heaping teaspoon at a time, tossing in flour as you go.

Add buttermilk stirring just until all ingredients are blended. Do not overblend.

Turn dough onto floured surface. Pat out until about ½inch thick and then fold over and pat out again. Repeat this 4 times.

Use rolling pin or pat with hands until dough is about ½ inch thick.

Cut with biscuit cutter using straight down and up motion.

Place close together on parchment lined sheet and bake at 450 degrees for 12-13 minutes or until lightly browned.

Brush with butter if desired immediately after removing from oven.
Notes
Using a 2 and ½ inch biscuit cutter will yield approximately 12 biscuits. Re-roll dough and cut 3-4 more biscuits for a total of approximately 15-16.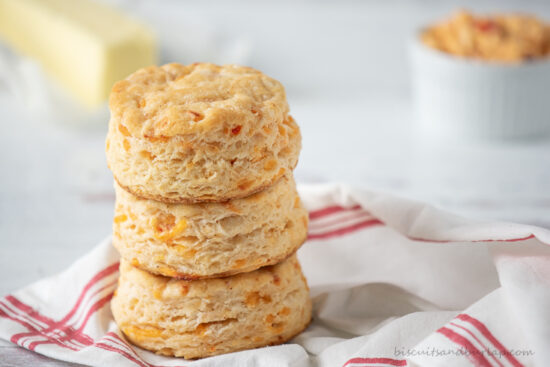 More pimento cheese and bread recipes