Toasted Cornbread has an extra burst of flavor that comes from a few minutes in a buttered skillet. This recipe includes tips for making the perfect cornbread toast.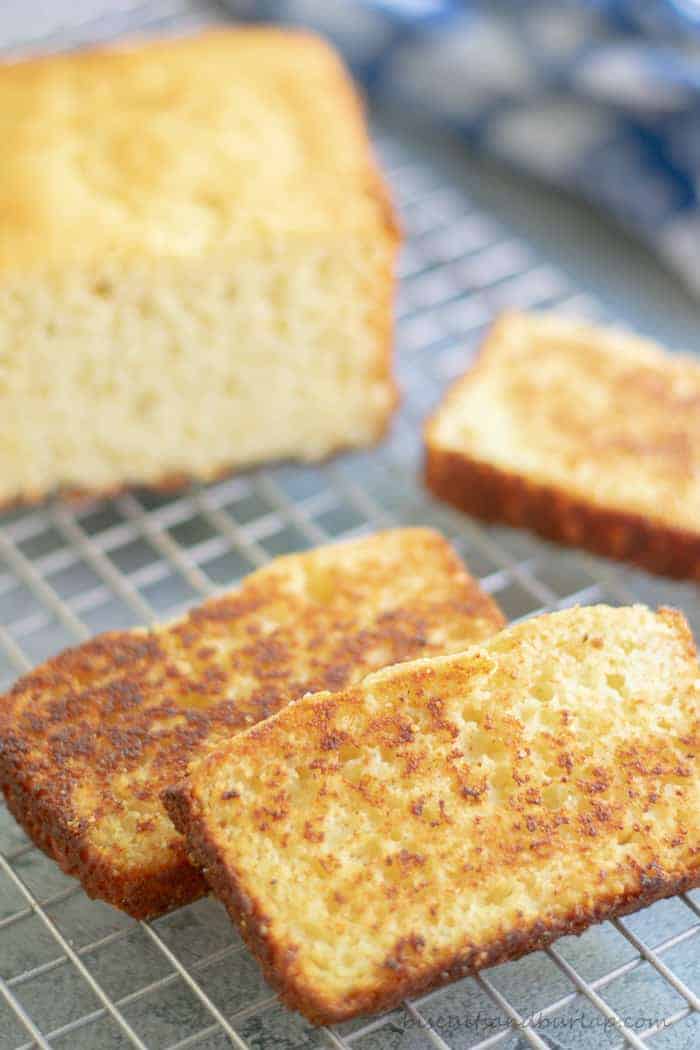 Toasted Cornbread? You read that right. Maybe some of y'all have had it before, but I only recently discovered this fun twist on classic cornbread at a little roadside barbecue cafe'. While I love traditional cornbread (our Cornbread Dressing is a top post), I really enjoyed this for a change and I thought y'all would like it too.
If you love all things southern food, you'll want to read Southern Food Then and Now. 
Toasting the cornbread adds a delightful little crispiness without drying it out, and gives it an almost nutty flavor. You can also make the cornbread in advance (we love anything that can be made ahead) and then toast it right before the meal.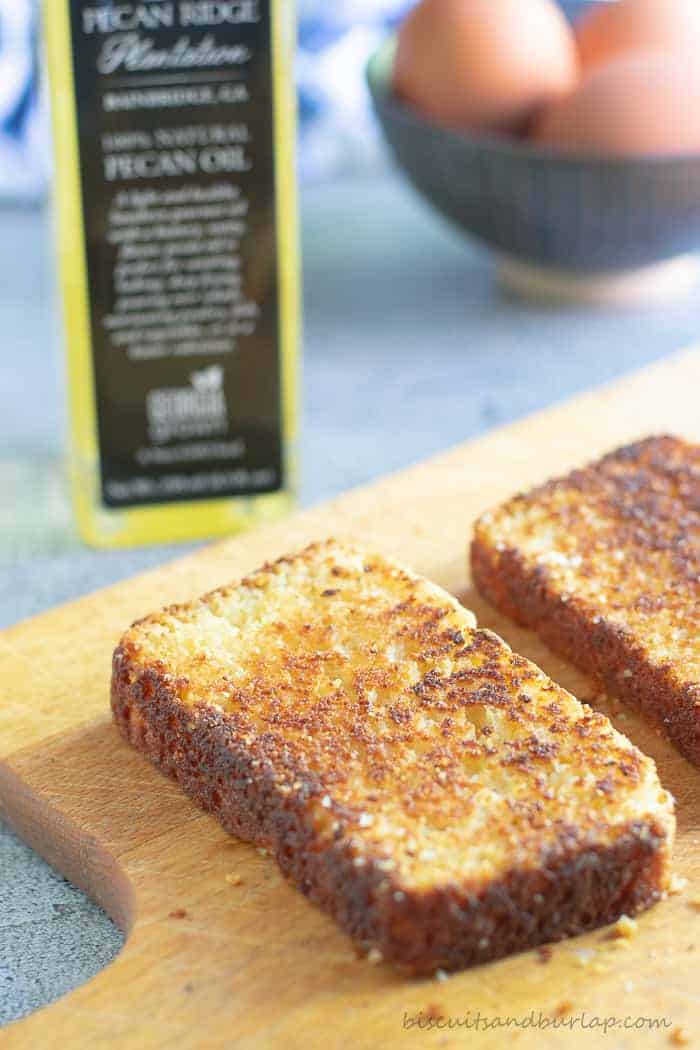 Do you like your cornbread sweet?
For the traditional version I do not make my cornbread sweet. But, when I first had toasted cornbread it was slightly sweet, so I did add some honey into this recipe. You could increase it just a tad for a bit more sweetness if that's your preference. Very similar in sweetness are our Buttermilk Cornbread Muffins.
This post contains affiliate links. Please click here for our full privacy and disclosure policy.
What is the best pan to use for making cornbread for toasting?
I developed this recipe for making into a small loaf. The loaf form gives you the most cut "surface" for toasting. The loaf pan I used is a 8.5" x 4.5" and if you don't have one you can order that size by clicking here.  Depending on how thick you cut the slices you'll get about 9-12 slices.
Sign up here so you don't miss our new recipes.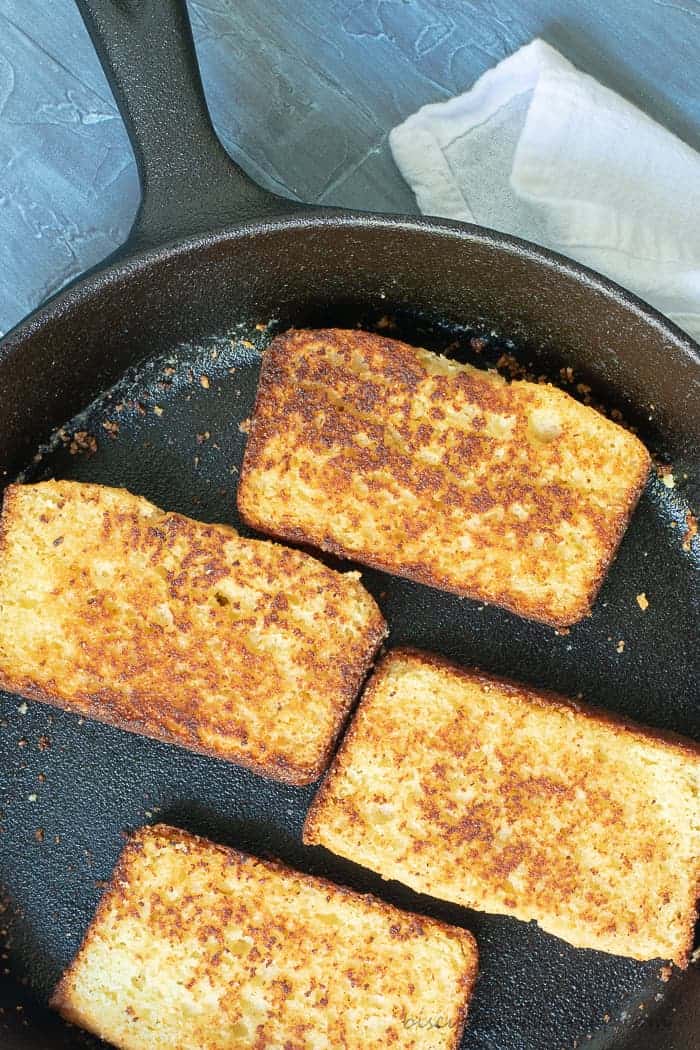 Y'all know we love our iron skillets, and we most certainly used one for toasting the cornbread, but you could use any skillet if you don't have iron.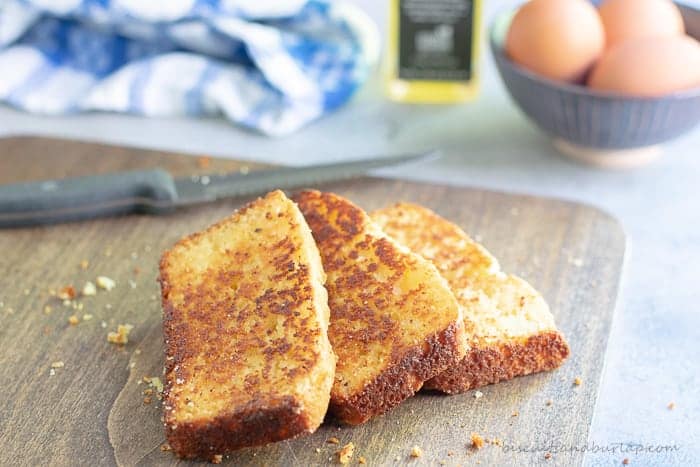 What kind of oil is best for your toasted cornbread?
We have recently discovered pecan oil and are loving it! Did you read our review of Skinny Southern?  Award winning chef, Lara Lyn Carter has reinvented a whole pile of southern favorites and she uses pecan oil often.
The benefits of pecan oil are numerous, but we especially like that it's rich in monounsaturated fats (the good ones) and has a high smoke point of 470 degrees.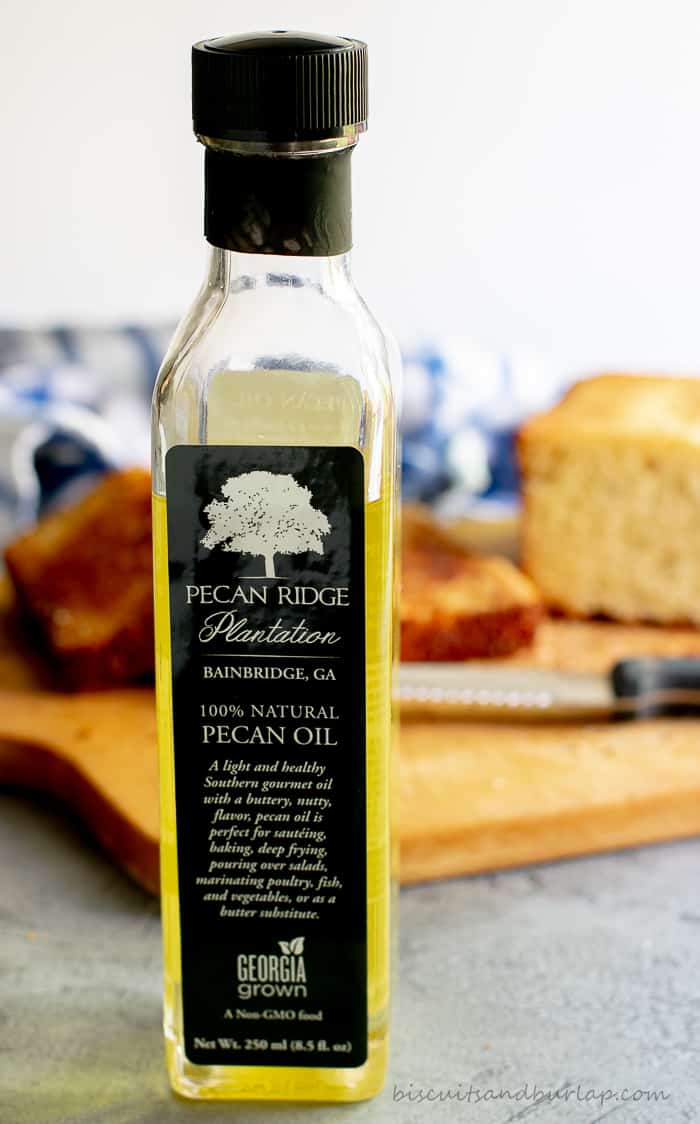 A word about self-rising cornmeal mix
Through our cornbread dressing recipe we've discovered that a lot of people aren't familiar with self-rising cornmeal mix. It's really just a blend of the ingredients you would mix yourself to make cornbread - flour, cornmeal and the leavening agents.
We've never had any trouble finding it in our local grocery store right next to the cornmeal. But, if you can't find it, or just like to order online you can do that right here. 
📖 Recipe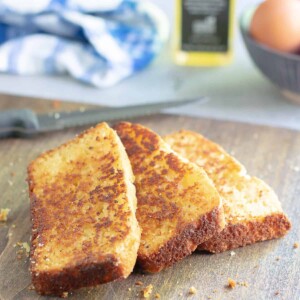 Toasted Cornbread
A cornbread recipe especially for baking into a loaf and then toasting the slices
Instructions
Mix all ingredients except butter in a bowl until well blended.

Pour into a greased 8.5"X4.5" loaf pan and bake at 400 degrees for 20-25 minutes, or until toothpick inserted in center comes out clean.

Cool on rack 5 minutes before removing from pan.

Melt butter in skillet over medium heat.

Slice cornbread into approximately ¾" slices and brown on each side in buttered skillet.
Notes
We love pecan oil, but any vegetable or nut oil would work fine.
After baking and cooling the cornbread it can be wrapped in foil and refrigerated for up to 2-3 days before slicing and toasting. If toasting the same day it can left un-refrigerated.
Nutrition
Calories:
271
kcal
Carbohydrates:
33
g
Protein:
4
g
Fat:
14
g
Saturated Fat:
5
g
Polyunsaturated Fat:
2
g
Monounsaturated Fat:
6
g
Trans Fat:
1
g
Cholesterol:
51
mg
Sodium:
500
mg
Potassium:
120
mg
Fiber:
2
g
Sugar:
8
g
Vitamin A:
358
IU
Vitamin C:
1
mg
Calcium:
133
mg
Iron:
2
mg
Are you getting our weekly updates? You can easily sign up right here
Cornbread toast isn't our only easy-to-make homemade bread. Check these out too!