Our cornbread dressing is made the classic old fashioned Southern way and will be the hit of your Thanksgiving dinner table! (Video tips included)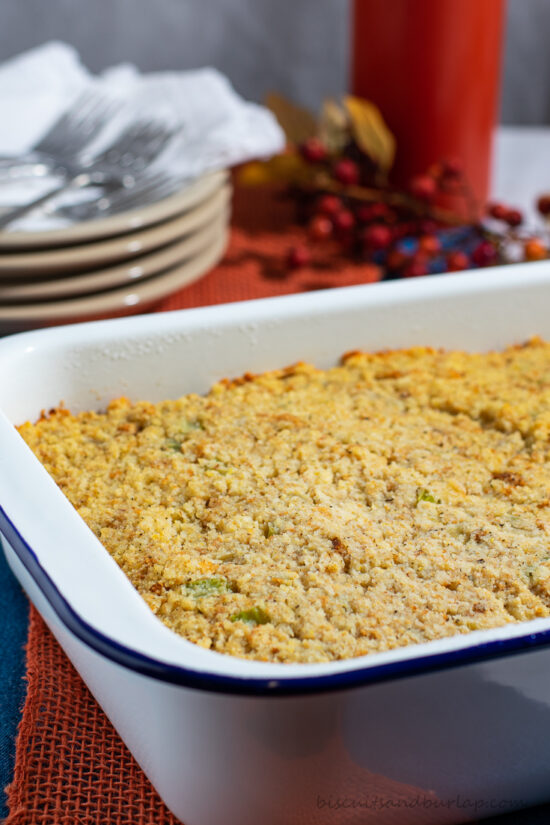 Turkey and dressing is a southern family classic
This is dressing made the way my mother-in-law makes it, and I learned just by watching her. When I decided I wanted to share it with y'all I had to make it and measure each ingredient to have an actual recipe.
I admit that this recipe includes a couple of prepared grocery items - Pepperidge Farm stuffing mix and a canned cream soup. We typically try to stay away from prepared foods in our recipes.
But, this is one of those "if it ain't broke, don't fix it" situations. Everyone loves this cornbread dressing just the way it is, so we don't mess with that.
Dressing or stuffing? And then there's the gravy
Here in the south, we don't refer to our dressing as stuffing. That probably comes from the fact that we don't typically "stuff" the turkey with our dressing. We bake it in a dish separately.
Gravy is made of the pan drippings from the turkey and most folks like to have gravy over their dressing, though not everyone eats it that way. For the basics on "How to Make Gravy from Scratch" you'll want to read this.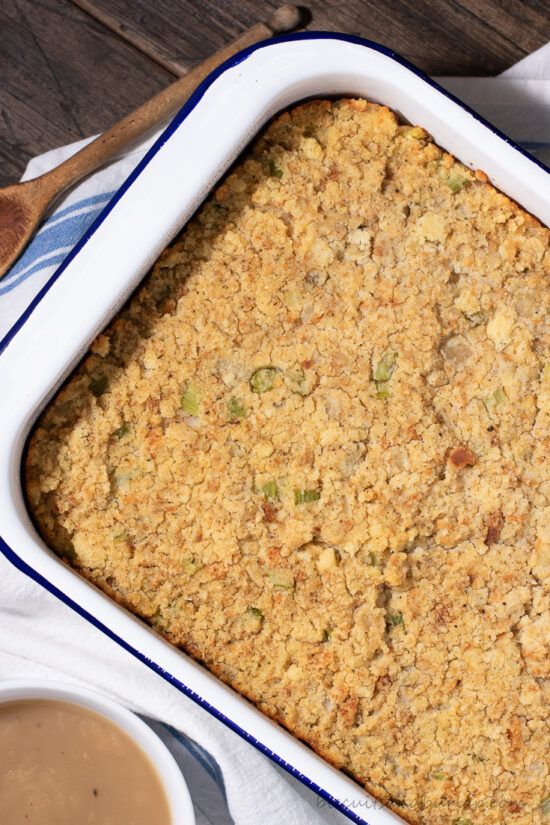 Advance prep makes it easy (and good)
I like to make the cornbread for my dressing ahead of time. This may seem odd, but stale cornbread is better. If it's fresh it would absorb too much of the liquid and get mushy.
To cut down on the last minute prep needed I usually make cornbread a week or two ahead and cut it into pieces and freeze it. Just empty it into a bowl early in the morning to thaw and don't worry about covering it. Remember, stale is good!
Watch the video for tips on making the best southern style cornbread dressing:
If you're putting together your Thanksgiving menu you'll want to include Sweet Potato Biscuits. Y'all, they are so good!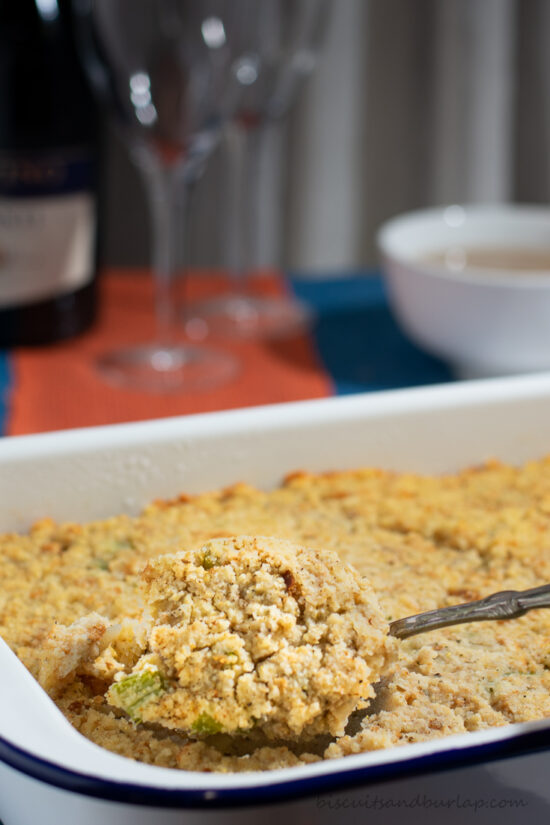 Another trick for saving time the day you're making dressing is to chop the celery and onions the day before. They'll keep just fine in plastic bags in the fridge.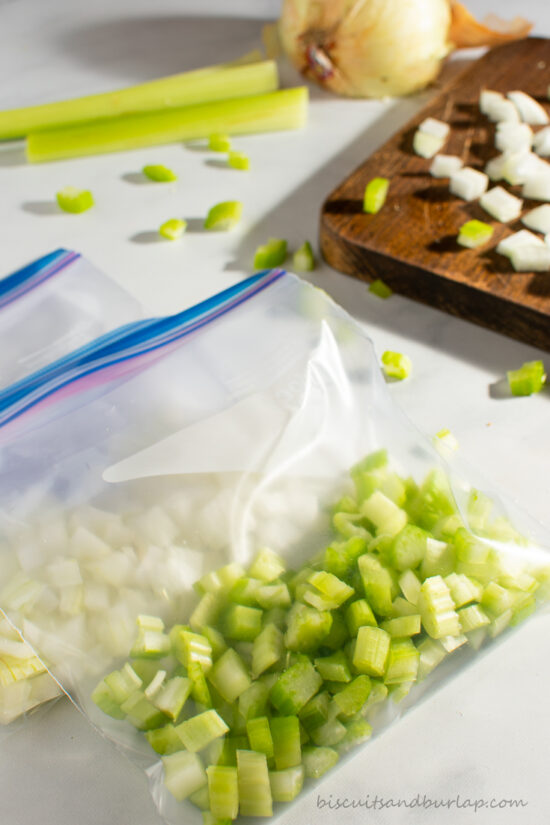 VERY IMPORTANT TIP: Do NOT overstir when you mix all the dressing ingredients together. Stir only enough to get it all mixed up. Overstirring will remove air and the cornbread dressing will end up being too heavy and dense. Be gentle with your dressing!
I make my cornbread as follows, but you can use your favorite recipe (just don't use any version that is sweet - sorry Jiffy).
Cornbread
3 cups of self-rising cornmeal mix
2 eggs
1-¾ cup milk (buttermilk is best)
Stir it together and bake in a preheated oven at 400 degrees for about 20-25 minutes, or until brown.
Self-rising cornmeal mix is found in the baking products aisle at your grocery and already has the proper proportions of cornmeal, flour and leavening agents combined. We use it in our Cajun Hush Puppies, Toasted Cornbread and Buttermilk Cornbread Muffins.
I usually make cornbread in a iron skillet, but I don't have a skillet big enough for this much cornbread so I use a 9x13 pan. What? You don't have an iron skillet? You don't know what you're missing. Order one here.
📖 Recipe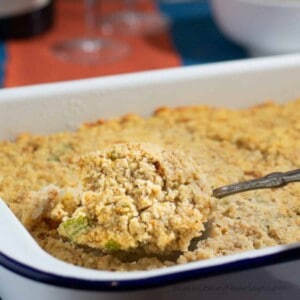 Cornbread Dressing (Southern Style)
It's easier than you think, and your family will love it.
Ingredients
1

large recipe

cornbread

(1.5 times a typical pan of cornbread)

¾

cup

butter

2

cups

onion, diced

2

cups

celery, diced

2

cups

Pepperidge Farm Herb Seasoned Classic Stuffing

1-½

teaspoons

salt

to taste

1

teaspoon

pepper

2

Tablespoons

rubbed sage

1

can

cream of chicken soup

4

cups

chicken broth or stock
Instructions
Crumble cornbread with your hands. No need to completely pulverize it, but don't leave any large pieces (see video).

Saute' onions and celery in butter until tender and partly translucent.


Stir all ingredients together, being careful not to overstir.

Bake at 400 for about 30 minutes

Southern Food Then and Now is all about traditions, regions and the origins of our favorite cuisine! In fact, many people consider this type of cornbread dressing to be soul food, and this article explores the difference between southern food and soul food.
If you're reading this post chances are you love southern food and know others that do too. We've put together this awesome guide, Great Gifts for the Southern Foodie. It has several cast iron cookware choices, books of southern recipes and food history and small items that would make a great gift basket.
We did the homework for you, and have only included items with Amazon 4 stars and above.
A few more of our Southern favorites for fall: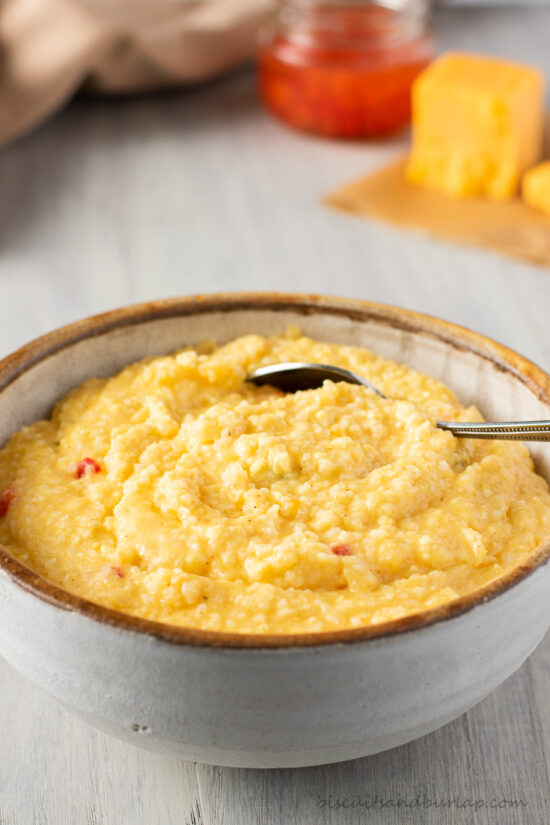 This post contains affiliate links for your convenience. Click here to read our full disclosure policy
If you make this or any of our recipes we'd love for you to leave us a comment and star rating. If you're into sharing your creations, snap a photo and tag us when you post it to Facebook or Instagram.