This Crustless Squash Pie truly highlights fresh zucchini or yellow squash from your garden or the market. It's lighter than quiche, but rich and cheesy enough to be a hearty side dish.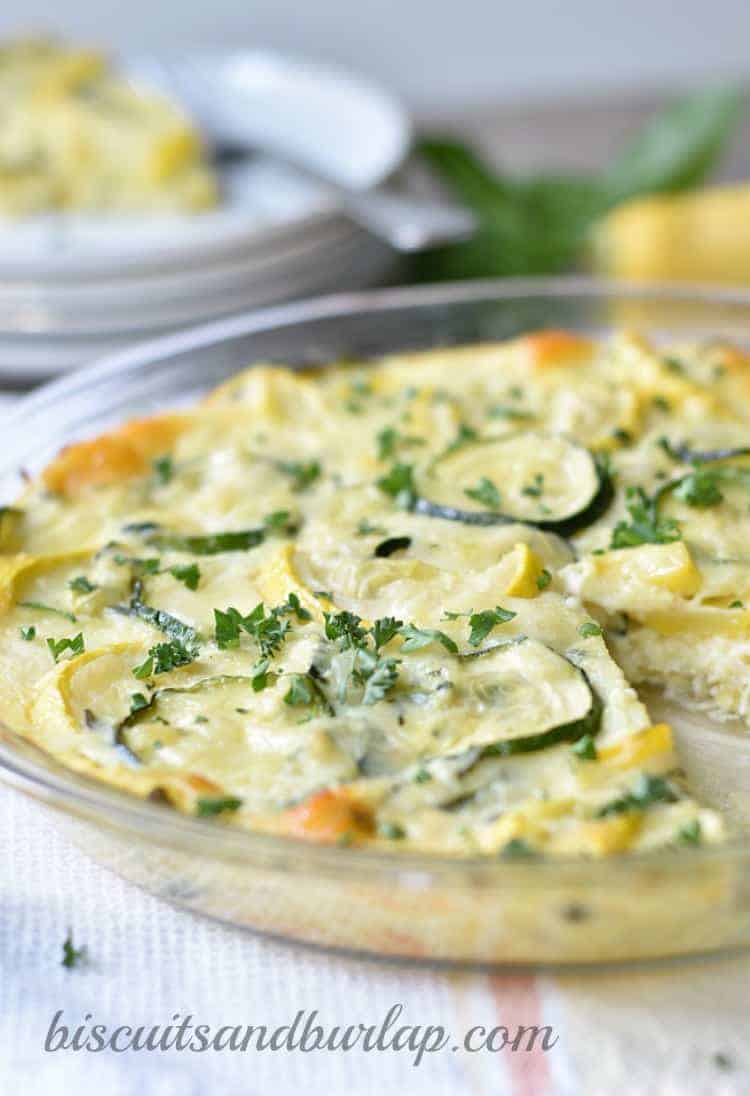 Squash Pie is Lightened Up, Low Carb, and Versatile
You may remember a similar dish that was popular 20 or 30 years ago. It used all zucchini and had a crust made from refrigerated crescent rolls. My Mama used to make that one.
It was yummy, but that crust didn't really do anything to complement the taste of the squash, and, to my way of thinking it just added some empty calories.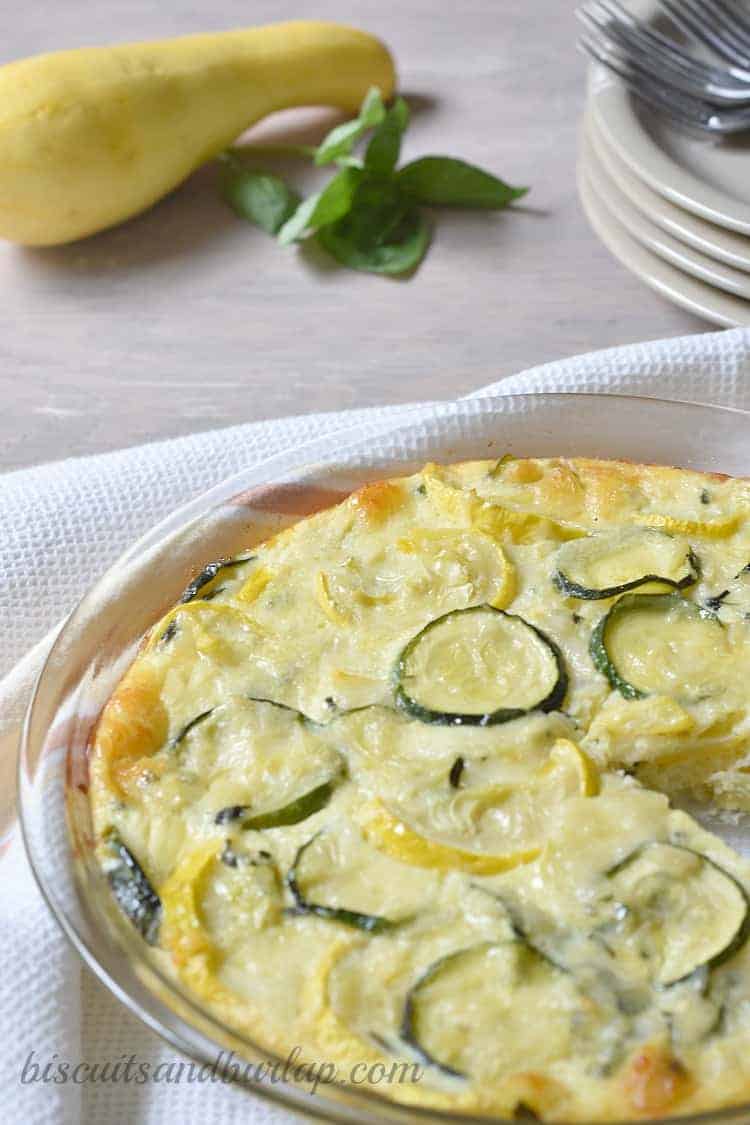 Are you getting our weekly newsletters? We would hate for you to miss anything. Sign up here.
As usual, I've kept this recipe versatile to make use of whatever is fresh in your area, or what you have on hand. I used a combination of yellow squash and zucchini, but you could use all of either. If you love squash like us, you'll want to try these Fried Squash and Yellow Squash Fritters recipes.
Also, I had fresh herbs, but dry would be fine if that's all you have. Just remember to use less of dried herbs because they're much stronger.

If you've got fresh squash, chances are the tomatoes are ripe in your area too. Just think how beautiful this Tomato & Goat Cheese Gallette will be on the buffet next to the Crustless Squash Pie. Or, for a low carb option for those tomatoes, check out Crustless Tomato Pie (includes video). We love any of these sides paired with this Greek Salmon. If you're looking for a breakfast version, this Crustless Breakfast Quiche is just as hearty and delicious!
Another summer favorite is Melon & Prosciutto Salad with Goat Cheese. It's perfect for when the cataloupes and/or honeydew melons are ripe and delicious.
Southern Food Then and Now is all about traditions, regions and the origins of our favorite cuisine!
This recipe made our Reader Favorites of 2017. Check out the others here.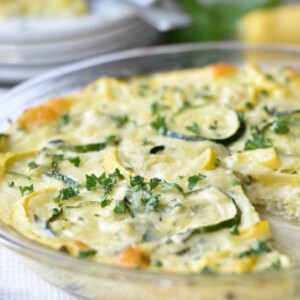 Squash Pie (No Crust)
Crustless Squash Pie highlights the best of summer. Lighter than a quiche, but still cheesy and rich enough to be a hearty side dish.
Instructions
Melt butter in 12″ skillet over medium to medium-high heat.

Saute' onion in butter about 1 minute.

Add squash and garlic and saute' until squash in slightly limp, about 8 minutes.

In a separate bowl stir together cheese, eggs, herbs, salt and pepper.

Add squash/onion mixture to cheese mixture.

Pour into 9″ pie plate, which has been buttered or sprayed.

Bake at 375 degrees for 25-30 minutes, or until center is set and edges are lightly browned.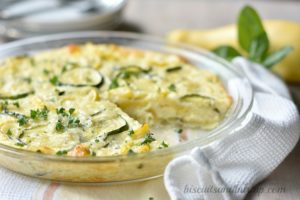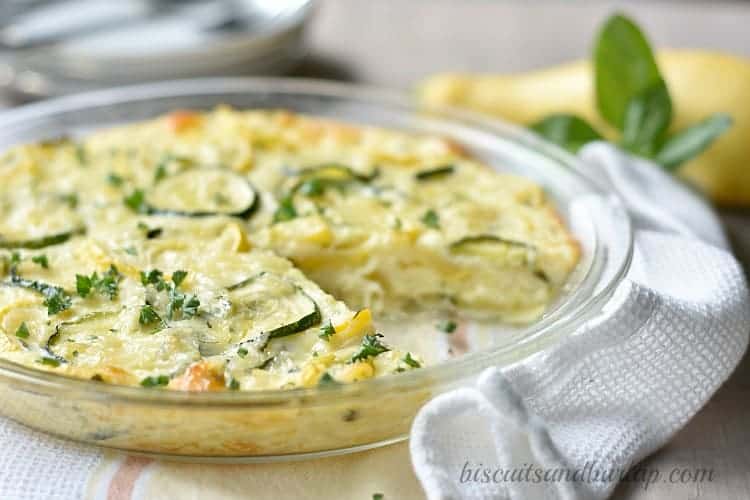 A Tip to Make Your Squash Pie Perfect
Only one little preparation note for you: Yellow squash tends to cook a little faster than zucchini. If you're using a combination of the two it's best to saute' the zucchini a minute or two before you add the yellow squash. That's it. It's easy and delicious
Another low carb option for cooking your summer squash is keto friendly squash casserole.
This post contains affiliate links for your convenience. Click here to read our full disclosure policy
A few items you may need:
Other Recipes You Will Love