Air Fryer Okra is a classic Southern side, lightened up by using an air fryer instead of cooking it in all that oil!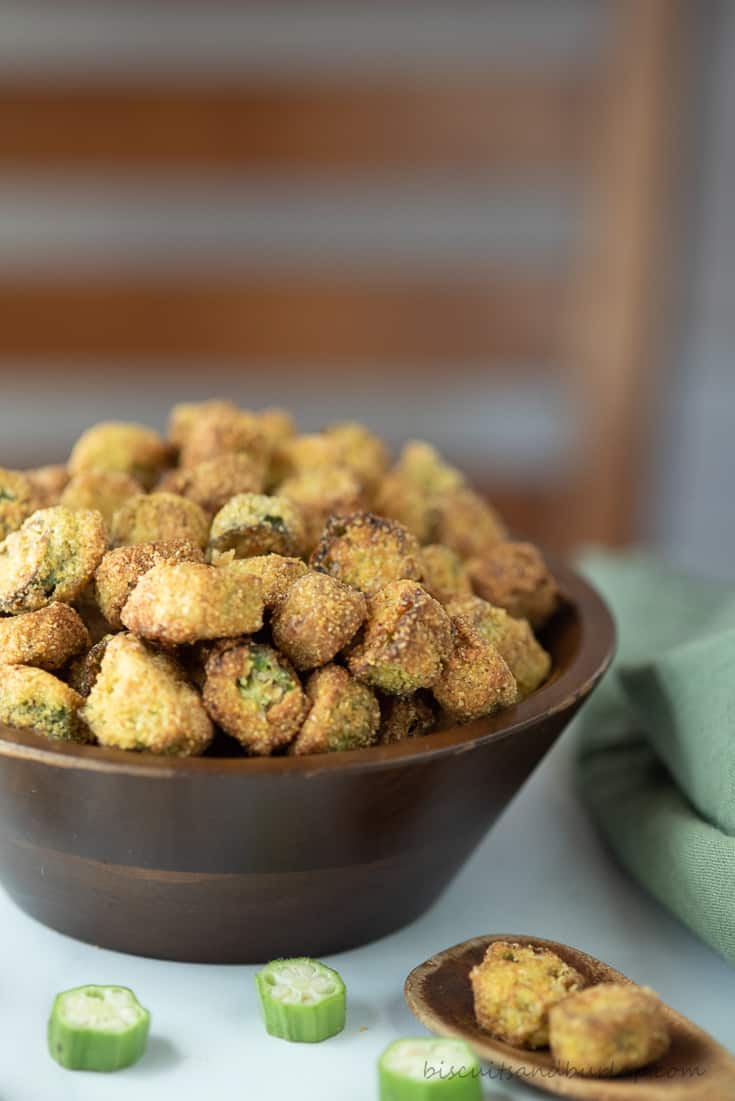 Air fryer okra? Air fried okra? Whatever you want to call it, this is fried okra cooked in an air fryer and if you're a Southerner (or a wannabe) who loves this crunchy goodness, you're going to freak out over the guilt-free version.
Do I need an air fryer?
I'm so glad you asked! By now I'm sure you know that air fryers are the easy little appliance that magically fries food with little or no oil, which means much less calories when you're craving something that is typically greasy like fried okra.
We also love to make Air Fryer Catfish Fillets, which make you think of an old school fish fry – but without the grease. And Air Fryer Lobster tails are hands-down the best way to cook these special treats (but easy enough for a weeknight).
Lots of fish fries would include shrimp, and yep, we've got Air Fryer Breaded Shrimp for you too! All you need is a bowl of cocktail sauce and you've got it made in the shade! Air Fryer Asparagus Parmesan is a super quick and easy side that can be dressed up for a fancy dinner. Air Fryer Home Fries is another perfect side, but they're also a rustic breakfast classic.
Sure, there are baked version of our favorite foods out there, but let's be honest: you don't get the same crunch and sometimes you just don't want the hassle (or the warmth!) of heating up that whole oven for a side dish. With an air fryer, those problems are totally eliminated.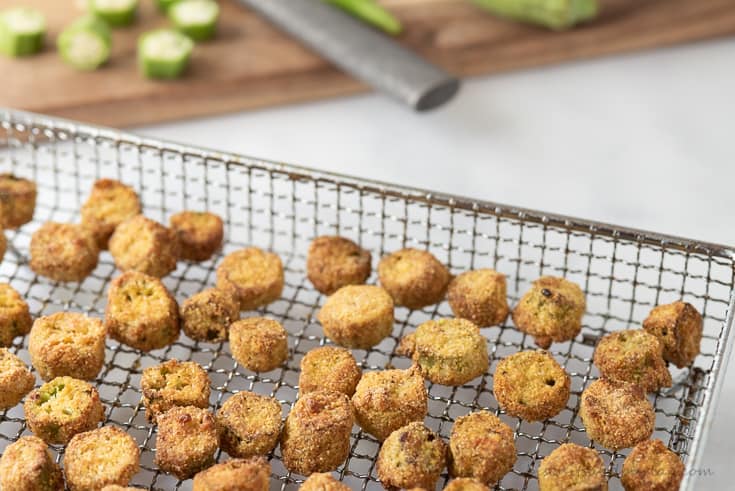 Haven't bought an air fryer yet? Here are some of our favorites! And when you do get yours, be sure to check out our Greek lemon chicken skewers… I promise you'll be hooked.
This post contains affiliate links, which means if you click on an affiliate link and buy something, we may receive a very small commission. It does NOT result in additional charges to you or cost you anything extra. Click here for our full privacy and disclosure policy. As an Amazon associate we earn from qualifying purchases.
How to Make Air Fryer Okra
Ok, enough jibber-jabber. Let's talk okra! When you're frying okra the old fashioned way you would typically never see the okra dipped in egg first, so don't be thrown off by that!
That egg is the perfect binder for the batter to make sure none of it comes off while you're cooking and will keep the okra nice and moist inside its crunchy shell.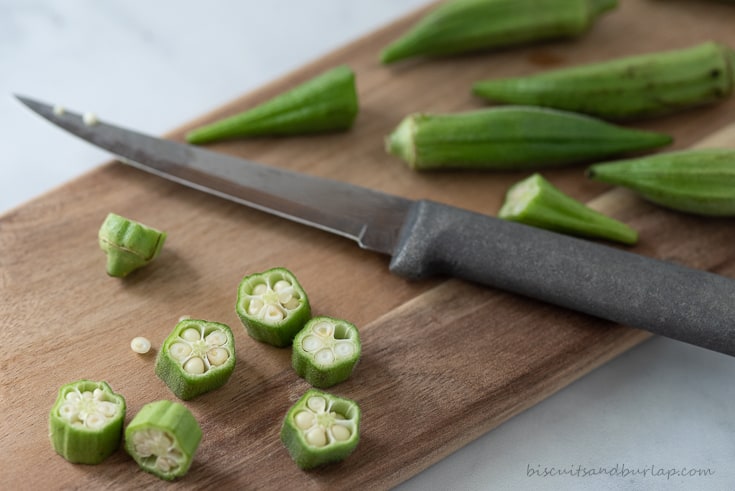 As for the batter, y'all know us… we love a Cajun/Creole flair to all things. If you don't believe me you can check out our take on Fried Green Tomatoes or even Beef Tenderloin. Our air fryer okra has that same Creole taste thanks to Tony Chachere, but you can use whatever Cajun or Creole taste you want to spice it up.
Any Southerner will tell you that fried veggies or even fried shrimp are best with the crunch that comes from cornmeal so we used a combination of cornmeal and flour along with the Creole seasoning.
After you dip your okra in the egg, toss them in a zipper bag with all the dry ingredients, seal it up, and give it a shake- a perfect way to avoid a mess while you're making air fryer okra!
How long do I cook okra in the air fryer?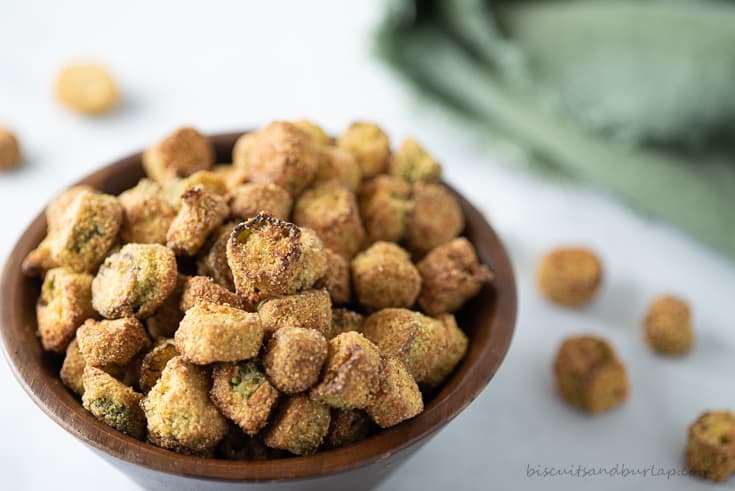 It's going to vary just a little bit based on how crunchy you want it and how much okra you have in there, but my general rule for air fryer okra is to spray it down with spray oil and then cook it for 5 minutes on 400.
Then, toss it, spray it again, and cook for another 5 minutes. After that, check it! It may be good then, but if not, just toss, spray, and repeat for another 3-5 minutes. Easy peasy!
What type of oil spray/mist is best?
We've tried the refillable type oil misters and don't recommend them. Your goal is to get a really fine mist of oil. That way you use the least amount of oil while still giving the okra (or whatever you're cooking). We found the refillable type tend to spray vs. misting.
Traditional cooking sprays like we use to keep food from sticking to pans isn't recommended either. They have additives that tend to scorch or burn in the air fryer.
Our favorites are the type that have no propellant, but are non-refillable. This one is an avocado oil and our other favorite is a canola oil mister.
More okra recipes
If you love okra and love all of the great health benefits of including it in your diet you'll want to try these too:
If you make this or any of our recipes we'd love for you to leave us a comment and star rating. If you're into sharing your creations, snap a photo and tag us when you post it to Facebook or Instagram.

📖 Recipe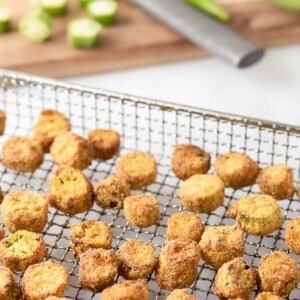 Air Fryer Okra
Air Fryer Okra is a classic Southern side, lightened up by using an air fryer instead of cooking it in all that oil!
Instructions
Preheat air fryer to 400.

Combine cornmeal, flour, Cajun seasoning, and black pepper in a gallon-sized zipper bag. Shake to mix well.

Beat the egg in a medium-sized bowl. Add cut okra and stir to coat.

Let excess egg drip off okra as you transfer it to the bag. Reseal and shake to coat okra completely.

Spray the inside of the air fryer basket and transfer okra to the basket. Spray with cooking spray, toss, and spray again. Let cook 5 minutes.

Toss okra, spray with more cooking spray, and cook 5 more minutes.

Check for crispiness. Depending on your air fryer, your okra may be done now. If not, toss the okra, spray again, and cook for another 3-5 minutes.
Nutrition
Calories:
173
kcal
Carbohydrates:
30
g
Protein:
7
g
Fat:
3
g
Saturated Fat:
1
g
Polyunsaturated Fat:
1
g
Monounsaturated Fat:
1
g
Trans Fat:
1
g
Cholesterol:
55
mg
Sodium:
29
mg
Potassium:
390
mg
Fiber:
6
g
Sugar:
2
g
Vitamin A:
1770
IU
Vitamin C:
17
mg
Calcium:
78
mg
Iron:
2
mg
Want more twists on Southern classics?