With this recipe for air fryer lobster tails you'll have succulent, buttery lobster tails on your table in minutes! Just a few ingredients are needed for this special occasion or quick weeknight meal.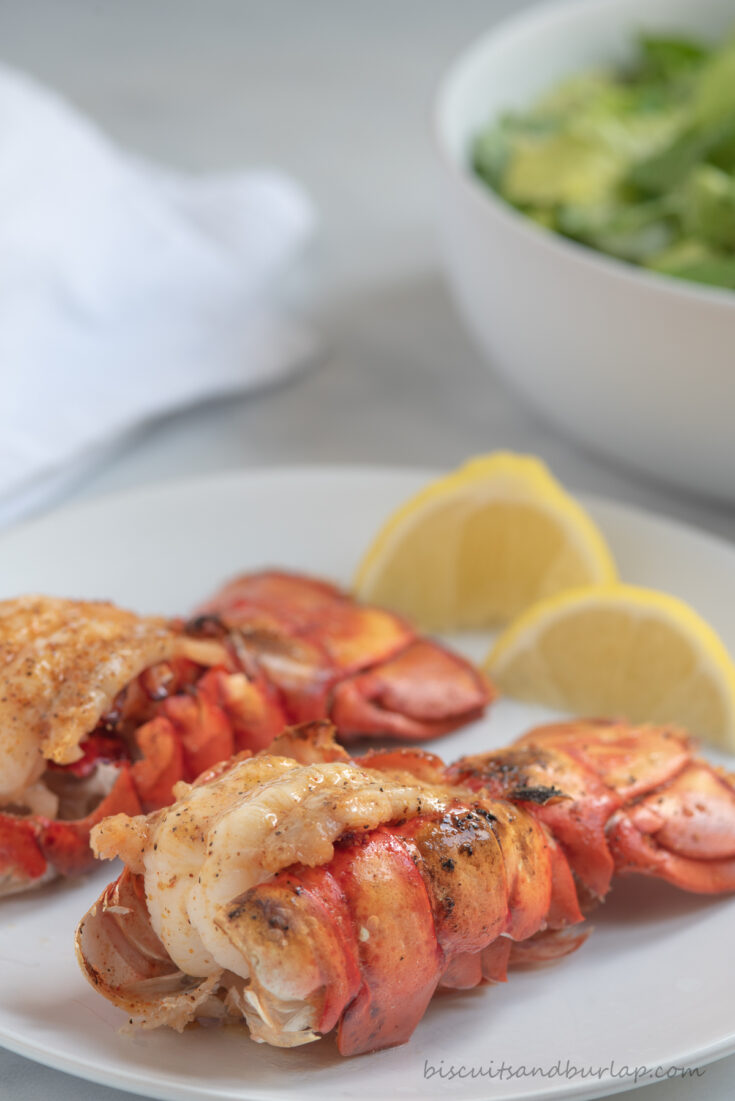 If you don't have an air fryer yet you really need to get on board. Every week we're discovering new foods that can be cooked in them with delicious results!
Lobster tails are the most recent success story, but we've cooked air fryer okra, air fryer asparagus parmesan, air fryer catfish filets, southern style air fryer breaded shrimp and air fryer home fries. They're all easy, fast, healthy and scrumptious!
Air fryers we've used
This post contains affiliate links, which means if you click on an affiliate link and buy something, we may receive a very small commission.  It does NOT result in additional charges to you or cost you anything extra. Click here for our full privacy and disclosure policy. As an Amazon associate we earn from qualifying purchases.
Mine is a larger model that also functions as a toaster and convection oven and it's made by Cuisinart. It does take up a good bit of counter space, but I have a counter in my pantry where I keep it.
Sara has a small, inexpensive version that she can put in a cabinet when not using it. This page has several 4-star or better rated air fryers similar to hers.
Sister-in-law Susan has this one by NuWave. It has a temperature probe and rotisserie function and she loves it. I think both of those would be good features to have.
How to prepare lobster tails
Start with fresh lobster tails or frozen ones that have been thawed. Rinse and then pat dry.
If you don't know how to butterfly lobster tails we can help you. Using a good pair of kitchen shears cut down the top of the shell all the way to the base of the tail (photo below).
Pull the shell open to expose the lobster meat and lift it partly or all the way out of the shell.
Inspect for any small pieces of brittle shell that came loose during the cutting process and remove those.
Brush with melted butter mixed with fresh lemon juice. I even like to lift the lobster meat and brush the underside.
Sprinkle lightly with your seasoning of choice.
That's it! Your lobster tails are ready to go in the air fryer basket.
Hey, did y'all know that we also have a fun recipe for Lobster Flatbread? You cut the tails open in similar fashion but then remove the meat to go on a savory, tasty flatbread. It's ready in just minutes too!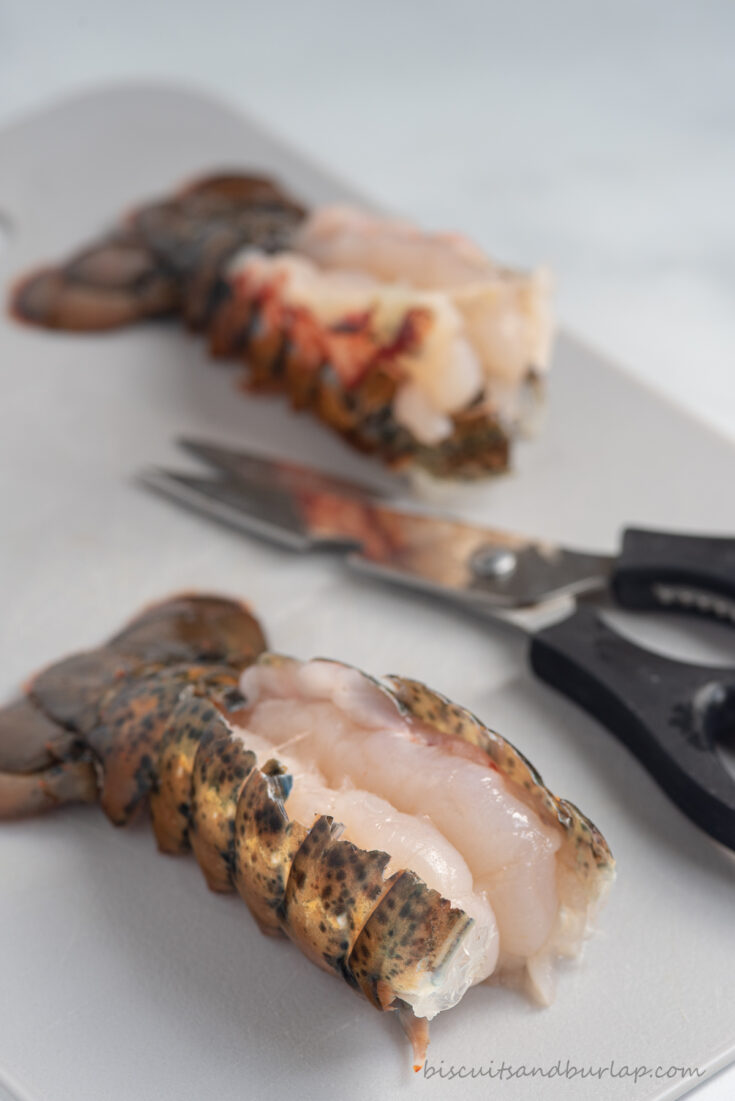 Lobster tail size and cooking times in the air fryer
You may be wondering what size is best for making air fryer lobster tails. The truth is that any size lobster tail will be amazing!
The cooking time wil vary naturally because smaller lobster tails will be done in less time. We can give you guidelines, but checking for doneness is really the key.
What you are looking for is when the lobster meat goes from transulcent like you see in the above photo to opaque like you see in the photo below.
I like to keep my melted butter and lemon sauce handy and every time I open the air fryer I give the tails a quick brush.
The temperature setting of 370 degrees seems to be just perfect, no matter what size the lobster tails are.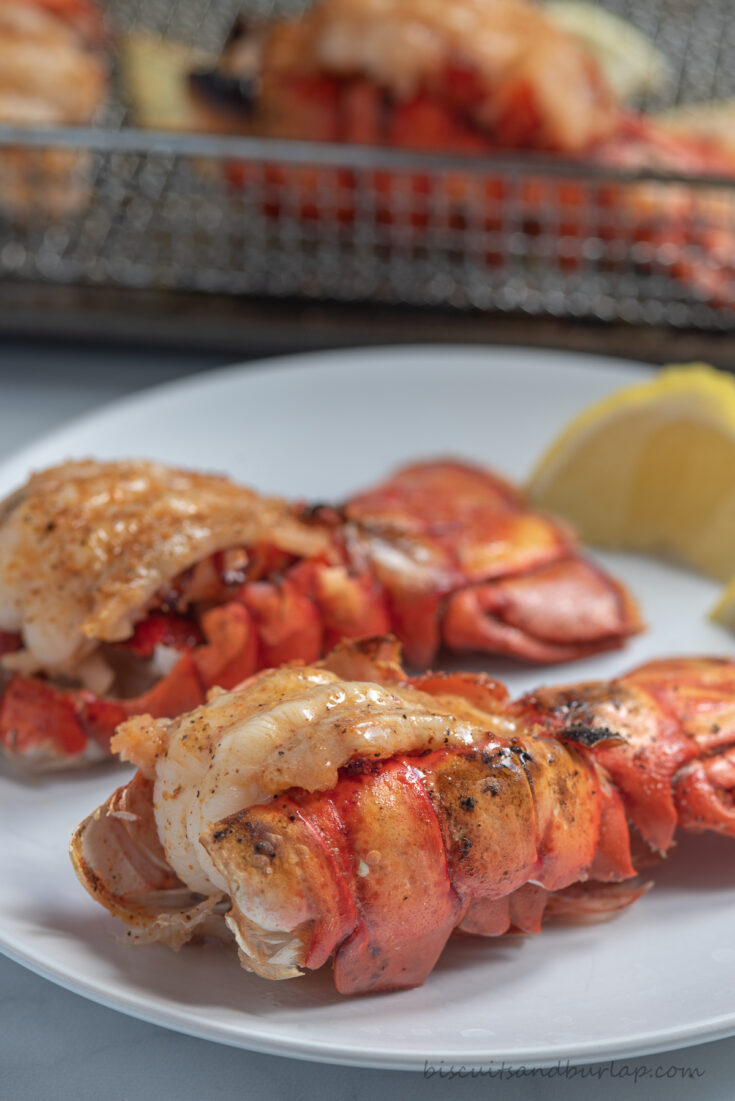 How to season the lobster tails
We definitely want freshly squeezed lemon juice to be included. Additionally, you'll want to serve a lemon wedge with each tail. Many people like garlic included in the butter, too
This link will take you to one of our all time favorite kitchen tools - a citrus juicer. We've bragged on it often because we love it so much. It's super handy for getting fresh citrus juice quickly.
Additional seasoning could be very simply just salt, but we do like to sometimes add a Cajun twist with Cajun/Creole seasoning like Tony Chachere's.
A light sprinkle of paprika gives a nice little rosy glow to your air fryer lobster tails.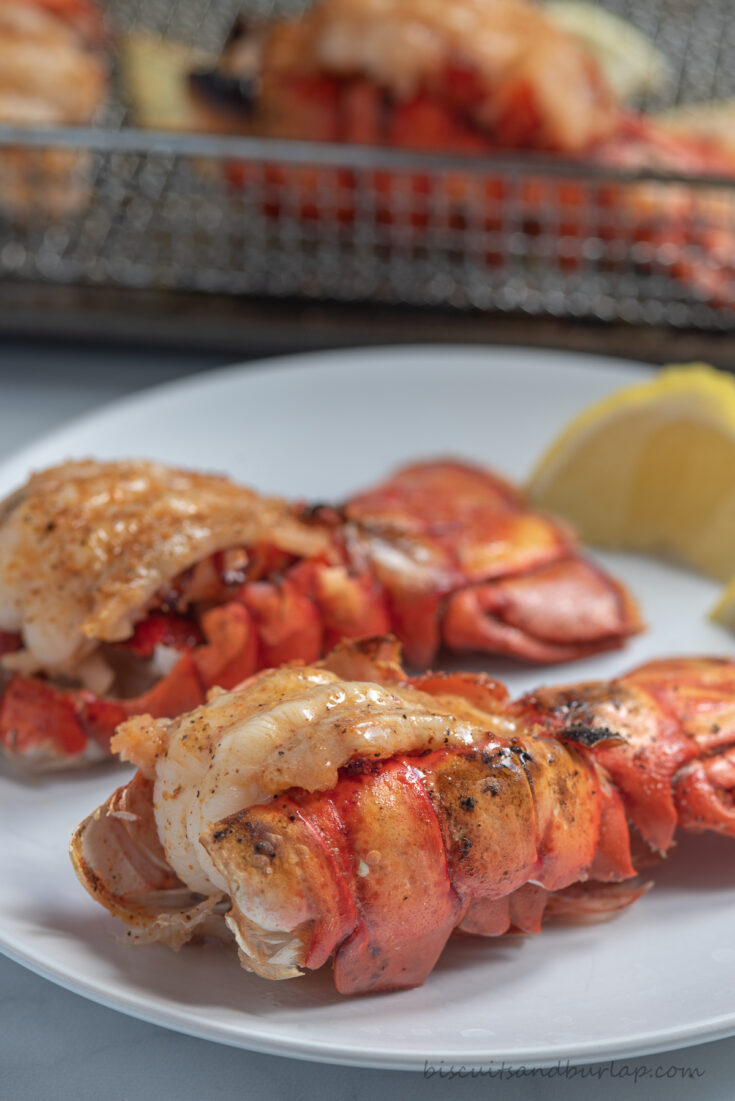 Recipe FAQs
How long can you freeze lobster tails?
Uncooked lobster tails can be frozen in the shell for 9-12 months. After that they are usually still safe to eat! Keep in mind that lobster meat will only last in the freezer for 3-6 months if not frozen in the shell.
📖 Recipe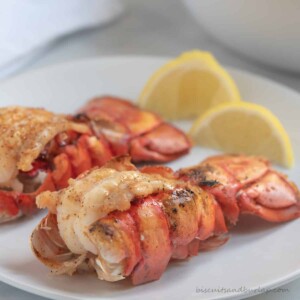 Air Fryer Lobster Tails with Lemon and Butter
Air fryer lobster tails means you'll have succulent, buttery lobster tails on your table in minutes! Everything you need to know is here.
Ingredients
2-4

lobster tails

depending on size, totalling about 1 pound

3

Tablespoons

butter

2

Tablespoons

freshly squeezed lemon juice

about ¼ lemon, juiced

½

teaspoon

salt

1

teaspoon

Creole or Cajun seasoning

optional

1

clove

garlic

diced, optional

½

teaspoon

paprika
Instructions
Wash lobster tails and pat dry.

Butterfly lobster tail by cutting down the middle of the top of the shell all the way to base, using kitchen shears.

Open the cut shell and pull the lobster meat out, either partially or all the way to sit on top of the shell. Check for small bits of shell and remove any found.

Melt butter and stir in lemon juice, salt, additional seasoning and garlic, if desired.

Brush lobster tails with butter mixture.

Cook in 370 degree air fryer for 3-5 minutes, depending on size of lobster tails.

Check for doneness (opaque lobster meat) and brush with butter mixture again.

Continue cooking in 2-4 minute intervals, checking for doneness each time.
Nutrition
Calories:
206
kcal
Carbohydrates:
1
g
Protein:
11
g
Fat:
18
g
Saturated Fat:
11
g
Polyunsaturated Fat:
1
g
Monounsaturated Fat:
5
g
Trans Fat:
1
g
Cholesterol:
126
mg
Sodium:
985
mg
Potassium:
169
mg
Fiber:
1
g
Sugar:
1
g
Vitamin A:
1190
IU
Vitamin C:
1
mg
Calcium:
64
mg
Iron:
1
mg

More seafood recipes you'll love!