The original Fiery Cajun Shrimp recipe gets an update, but it's still a tasty and beloved recipe.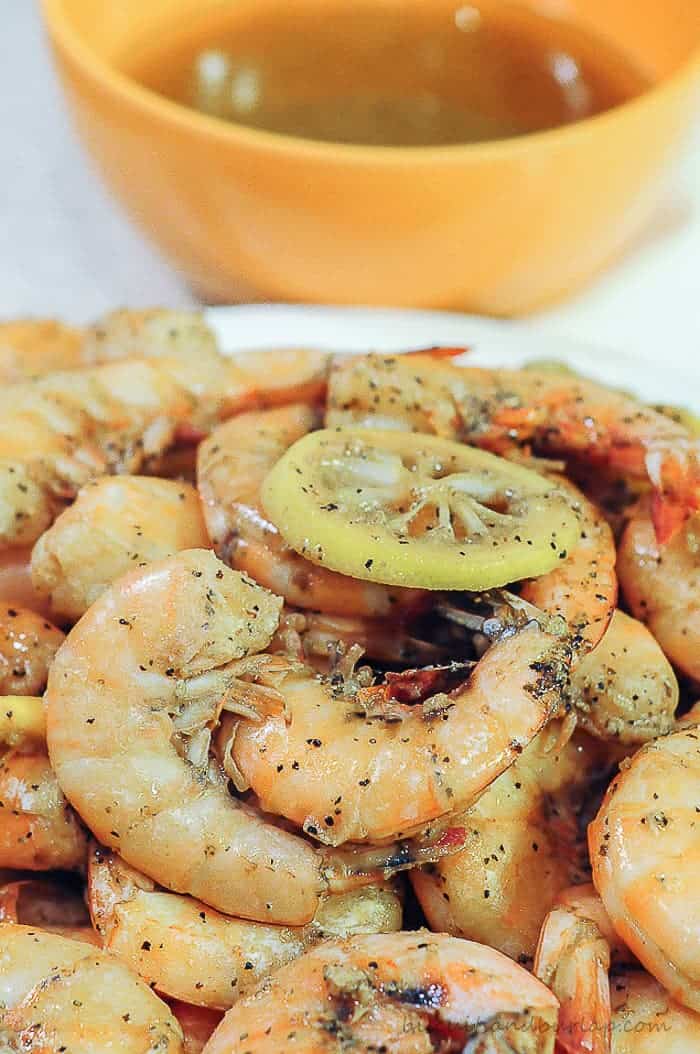 Fiery Cajun Shrimp has been a favorite of our family since the early 1990's when I cut the recipe out of a Southern Living magazine. No, it was not created by a celebrity chef as you might think if you did an internet search of the title. It's an interesting story that I thought y'all would enjoy hearing.
Here's what happened:
It was Sara's idea to cook and share Fiery Cajun Shrimp as a blog post. We typically post only original recipes that we created ourselves or have been passed down from family members, but we do make occasional exceptions.
Ritz Carlton Lodge Spicy Pecans is one that everyone loves and we clearly got it somewhere else. Bourbon-Glazed Cajun Beef Tenderloin is another that came from an older cookbook, but we're always honest about the source.
Below you'll see a photo of my obviously old, well used magazine clipping of Fiery Cajun Shrimp. I remembered it as being from the late 1980's to early 1990's, but I hoped to find out exactly when it was published in Southern Living so I began searching. First I attempted to contact Southern Living, but never got a response.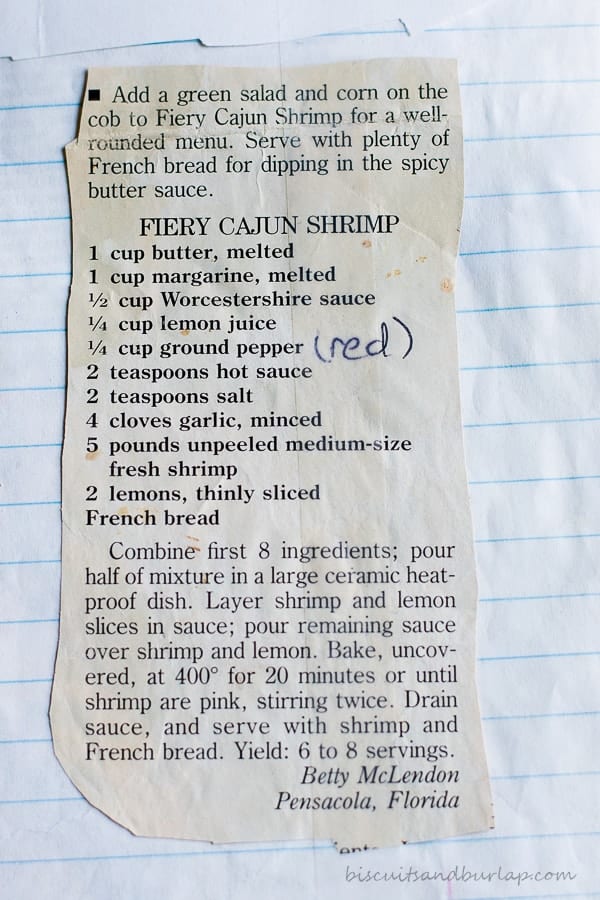 Fiery Cajun Shrimp by who?
Lo and behold, the only references I could find using this recipe title attributed Paula Deen, via the Food Network. Every single one of them pointed to Paula Deen as the originator.
So, I also reached out to the Paula Deen operation, but received no reply from them either. As you can see, Fiery Cajun Shrimp originally came from Betty McLendon in Pensacola, Florida.  I set out to see if I could find Mrs. McLendon or some of her family and get the rest of the story about this recipe that we love so much.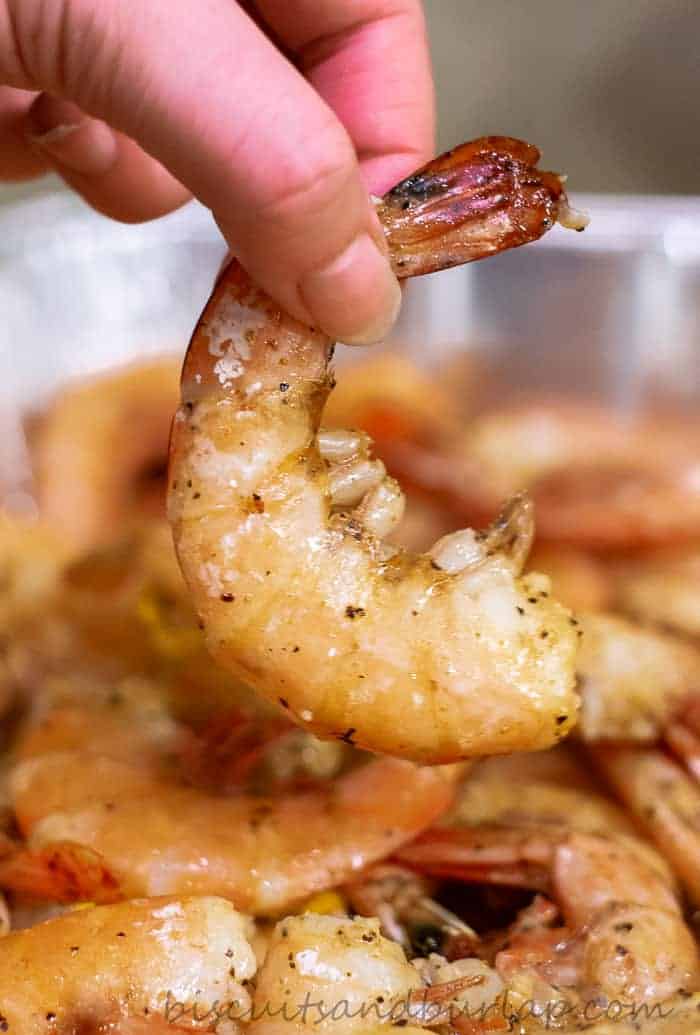 Sara and son James both helped dig for for contact information, and eventually came up with a winner. In the end, I didn't actually speak to Mrs. McLendon who is nearly 90 years old, but she did ask her daughter-in-law to contact me.
We had a delightful conversation and I learned the following: Betty created the recipe by combining a few others. She submitted it to Southern Living and it was published in October, 1991. They paid her $10 for this recipe! She also had a few other recipes published in Southern Living over the years.
If you love reading stories about the origins of recipes and ingredients you'll want to check out Southern Food: Then & Now.
Fiery Cajun Shrimp was published October, 1991, in Southern Living magazine, and was the recipe of Betty McLendon.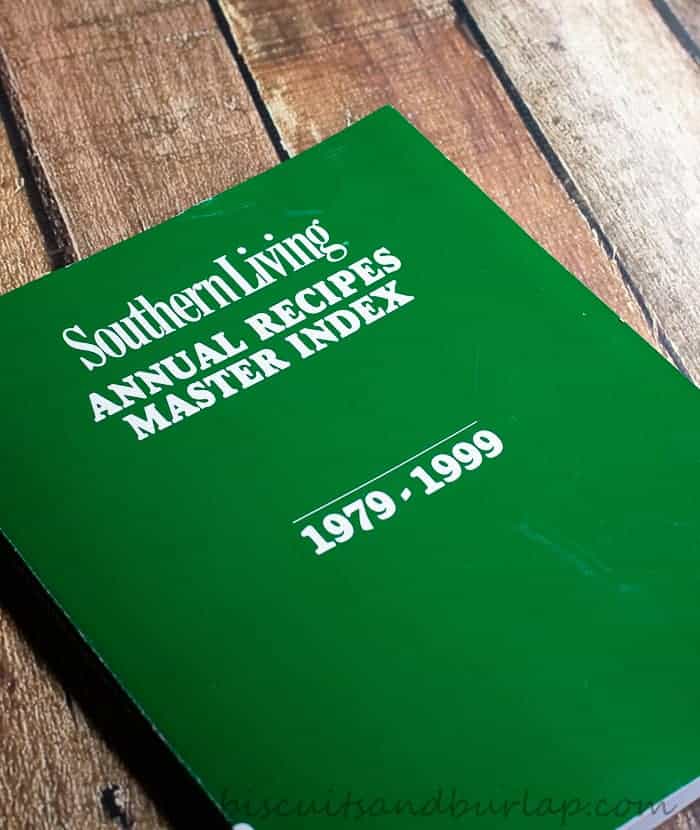 In the meantime I had located and ordered this "Index of Recipes" from Southern Living covering the years 1979-1999. By the time it arrived I had spoken to Mrs. McLendon's daughter-in-law and therefore I went right to it, just like she said.
For a fun cocktail to have with your shrimp and a classic from New Orleans a Hurricane is easy to make and delicious!
Hey, are you getting our weekly newsletter? It comes straight to your inbox and it's the best way to make sure you don't miss a recipe.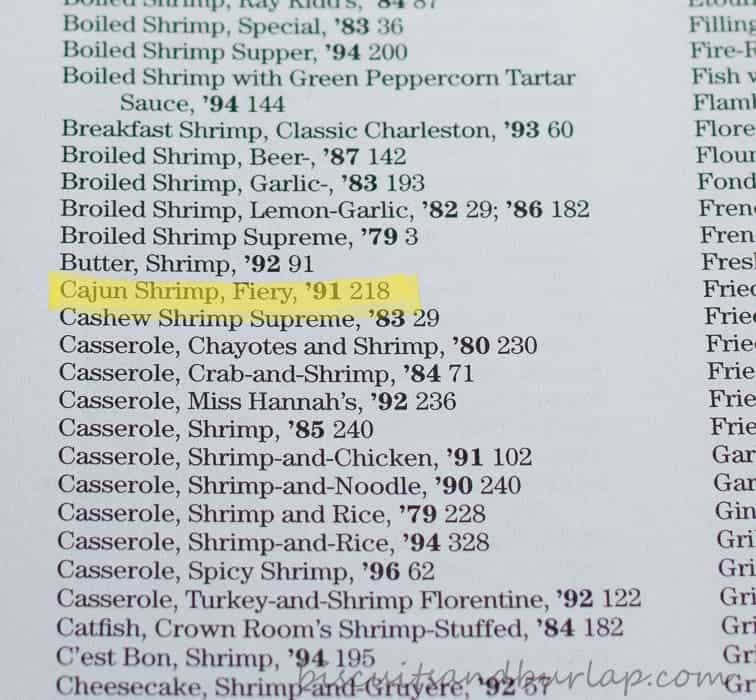 Recipe Updates made over the years
As you can see from my cut out above, I've changed the amounts of pepper and, over the years gone back and forth between black and red (cayenne) pepper. It should definitely have a hefty portion of black pepper, but to truly make it "fiery" you would want to add cayenne as well. Adjust that according to your tastes and tolerance level for heat.
I rarely make the full 5 pounds of shrimp so I've written the recipe for two and a half pounds. Mrs. McLendon developed the original recipe with half butter and half margarine. Being butter lovers we use all butter, and I think Paula's version does too.
This post contains affiliate links for your convenience. Please feel free to click here for our full privacy and disclosure policy.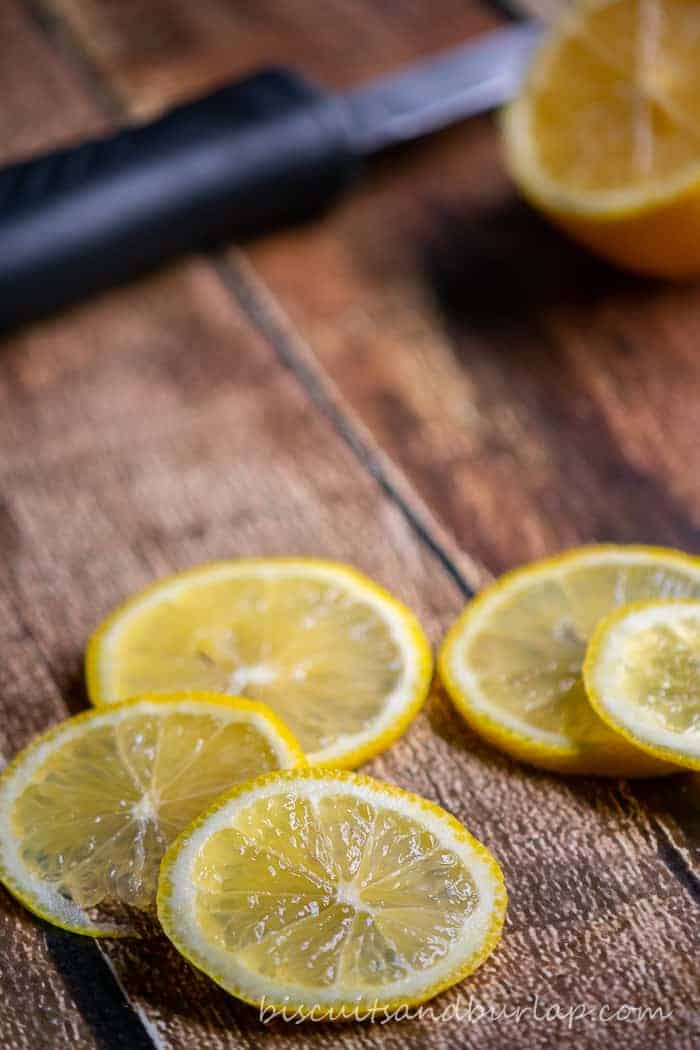 Tips for the Best Fiery Cajun Shrimp
Make sure you have a good sharp knife for getting those lemons thinly sliced and our favorite citrus juicing tool to get fresh lemon juice quickly and easily.
We like our shrimp to be deveined, but you must cook the shrimp with the shells on for this recipe to be as wonderful as it should be. Therefore, buy your shrimp deveined with the shells on or devein yourself by cutting down the back with good sharp kitchen shears and then rinse out the vein.
We all agree on this point. Be sure to have good, crusty bread for dipping into the sauce. It may be as good as the shrimp itself.
For ease of clean up with a casual meal like this we like to use aluminum pans. This size works well for 2.5 pounds.
As with any shrimp dish, the size of the shrimp will determine the cooking time. Keep an eye on them so they don't overcook.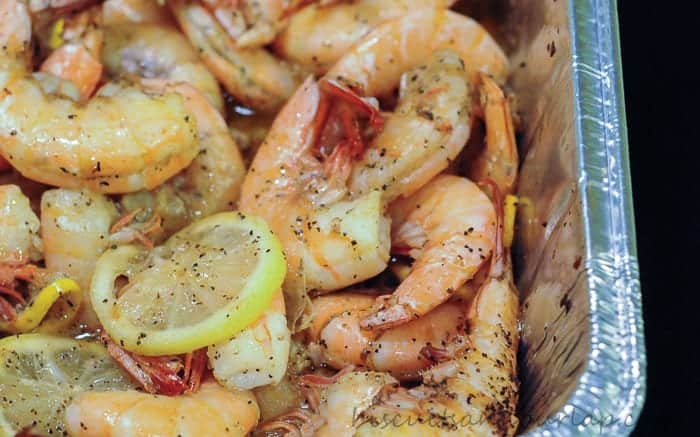 Thank you Betty McLendon for giving the world Fiery Cajun Shrimp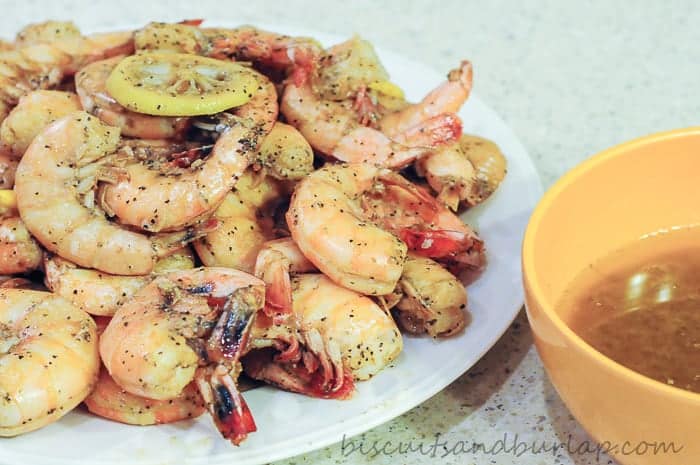 📖 Recipe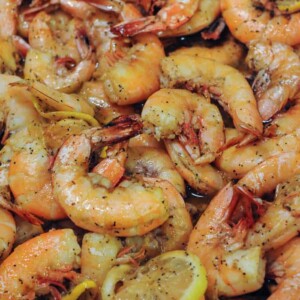 Fiery Cajun Shrimp
The original Fiery Cajun Shrimp is updated, but as delicious as ever!
Instructions
Combine all ingredients except shrimp and lemon slices. Pour about half of mixture into a large baking dish.

Layer shrimp and lemon slices in baking dish.

Pour remaining sauce over shrimp and lemon.

Bake at 400 for 15-20 minutes, or until shrimp turn pink, stirring twice.

Drain sauce and serve along with shrimp and crusty bread for dipping.

Pin here to save for later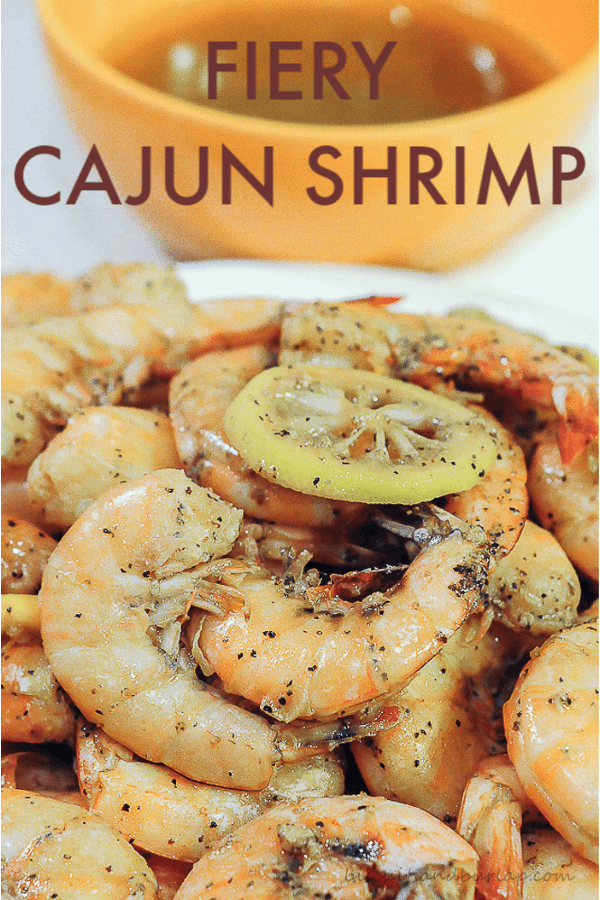 We hope you enjoy this story and recipe. Be sure to tag us on Instagram or Facebook if you make it, and leave us a comment below.
Don't forget... if you're not already getting our weekly updates you can sign up here. It's the easiest way to make sure you don't miss anything. And if you love Southern Food, including its origins and history you'll want to read Southern Food Now and Then.
If you're planning a meal with a Cajun theme you'll want to include our Muffaletta Shot Appetizers, too. They combine all the flavors of that favorite New Orleans sandwich in individual appetizers served in shot glasses. So much fun and yummy!

If you love seafood and you love a bit of spice, these recipes are for you!