Smoked Fish Dip is so easy to make and will bring back memories of your vacation on the coast. All you need is a cold beer and a few crackers to go with this dip. It's even better than what you had at your favorite beach bar.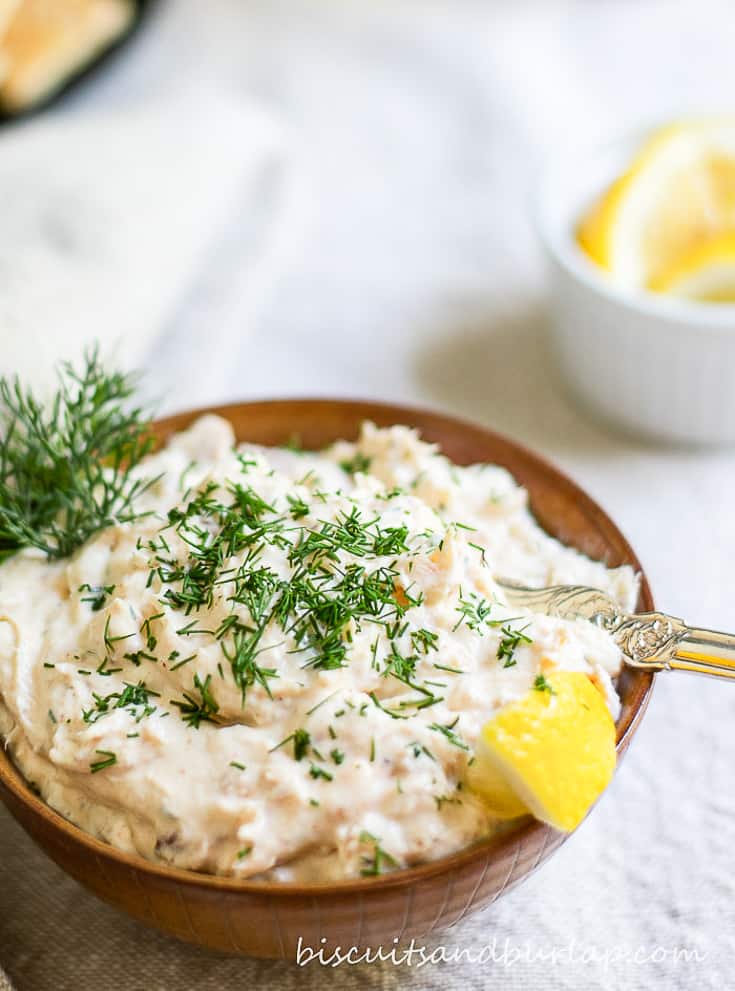 Smoked Fish Dip is an appetizer that I've always enjoyed, but until recently never tried to make it at home. It just seems connected to trips to the coast and it never occurred to me how easy it would be to create that same taste and sense of "beach time" no matter where you are.
To complete that experience follow up your smoked fish dip with classic Southern Style Fried Shrimp.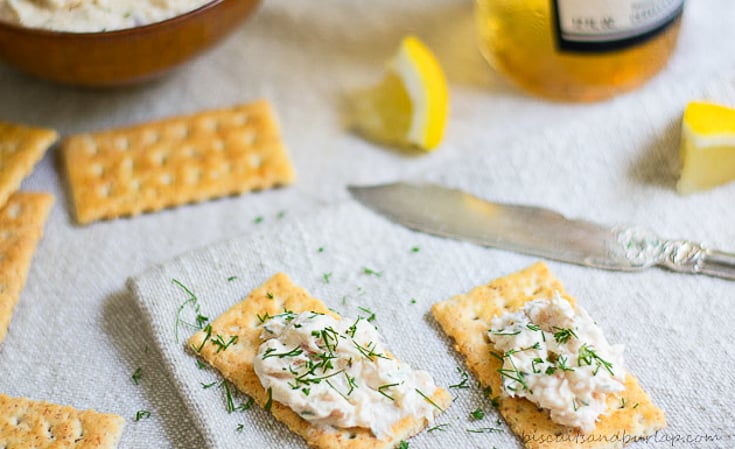 When I was a little girl living in Jacksonville, Florida, we would have smoked mullet any time there was a family get together. Mullet is a fairly large fish and it would be laid out on brown paper on a picnic table with some saltine crackers.
No dip – just crackers and smoked fish. In those days we didn't use the word "appetizer". To us, it was just a snack before supper.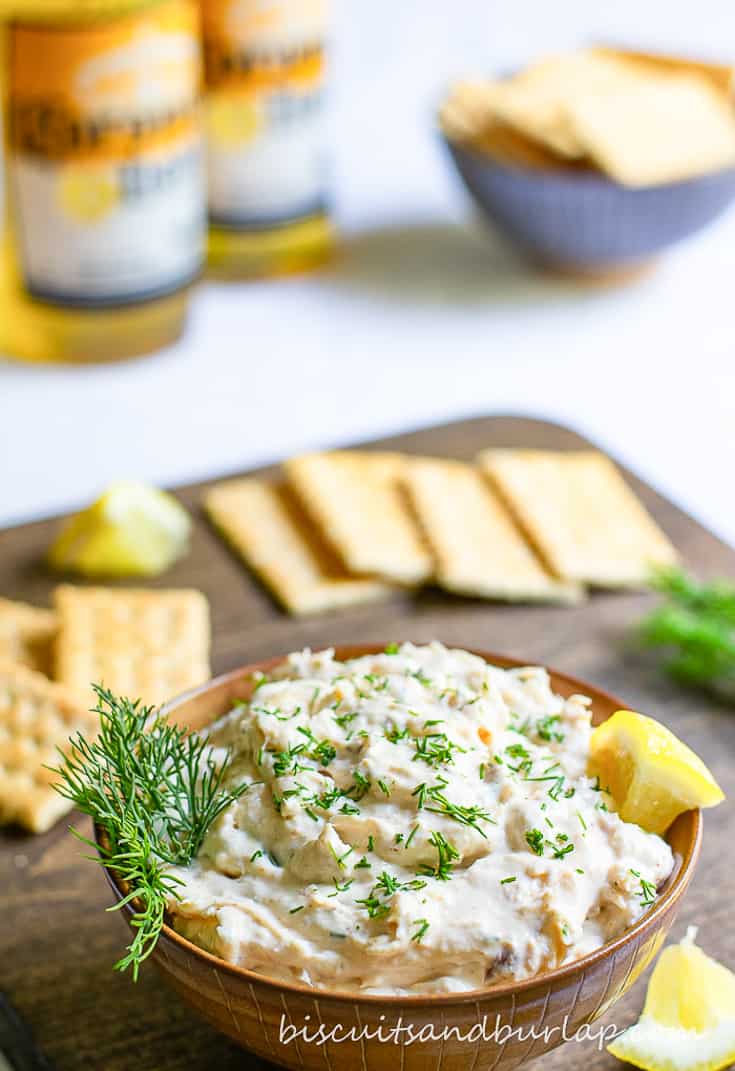 Love seafood and love casual meals? After this smoked fish dish make Fried Oyster Po Boys.
What Type of Fish is Best in Smoke Fish Dip?
Unless you live on the coast mullet probably isn't available. But, if you are on the coast, or if you can get your hands on some, smoked mullet would make a mighty fine fish dip.
Smoked salmon is available most everywhere these days, and is delicious in this recipe. Salmon in general has its own unique taste and puts a tasty spin on this dip.
The first time we made it we used speckled trout (salt water trout) that Buddy smoked in the big green egg. It made a superb smoked fish dip! I think fresh water trout would be delicious too. Instructions are below if you want to smoke your own fish.
If you love cooking outdoors we have a whole collection of grilled seafood recipes that you'll want to check out.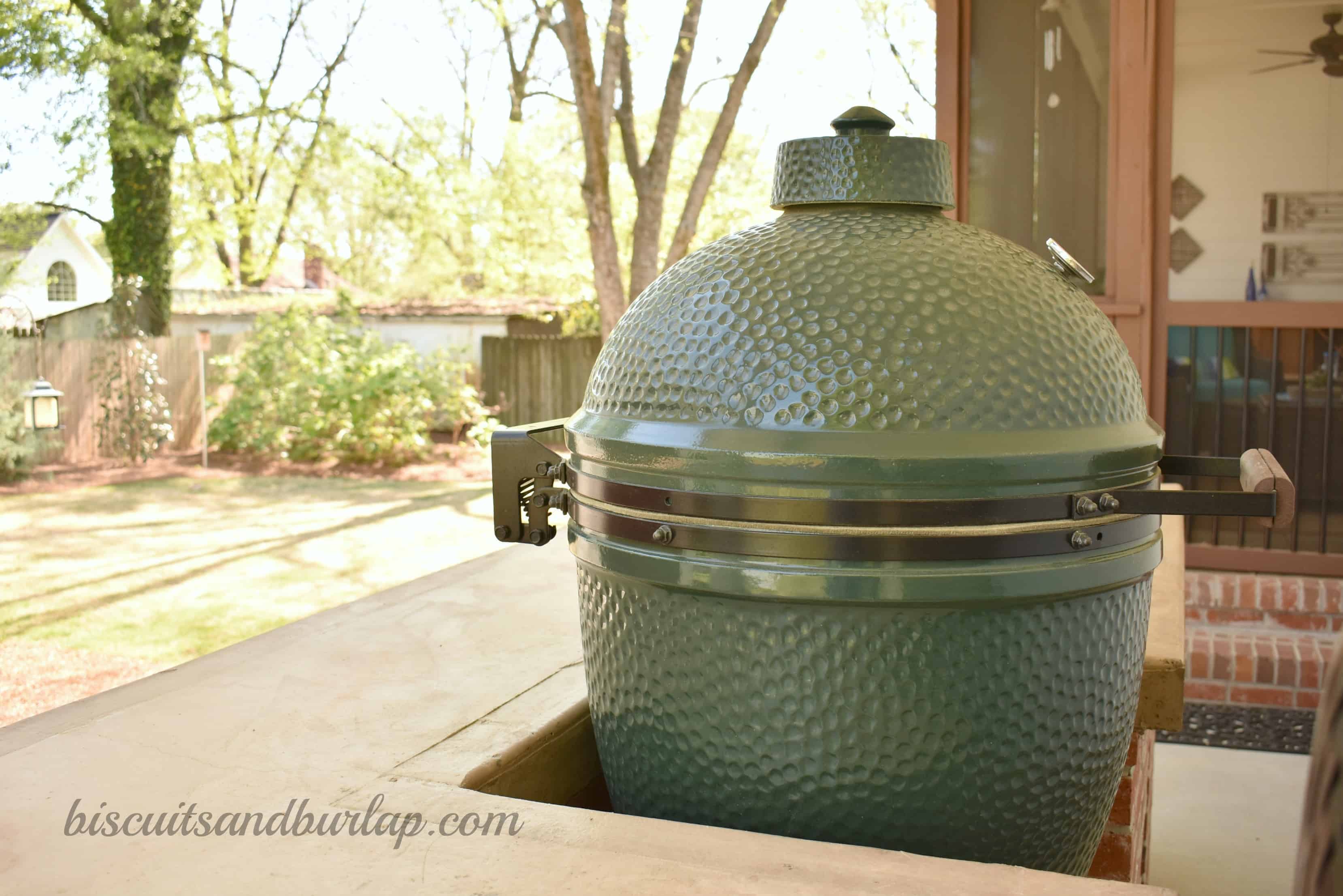 Most recently the fish we used in the dip was mackerel. I found it at Whole Foods and the brand was Ducktrap River. They have several varieties of smoked fish and I think it would be fun to try them all. Links to two and several other things you may need are right below the recipe.
I do recommend that you use a hearty flavored fish because you want to really taste the fish and the smoke flavor in this dip. A mild, white fish is going to get a little lost.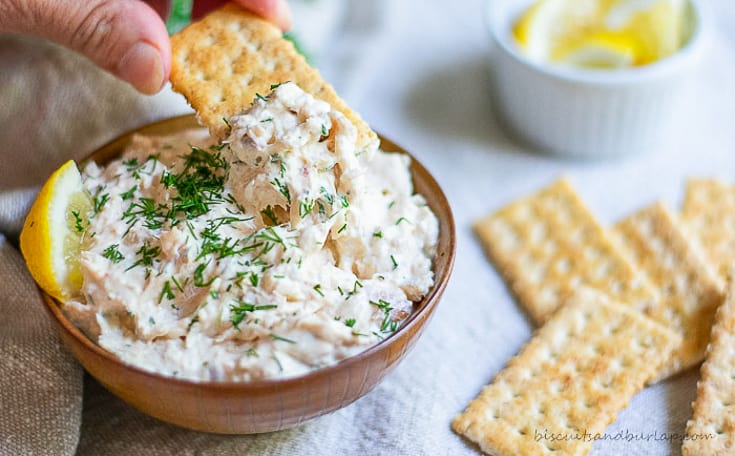 How to Smoke Fish
Chance are, you're not going to crank up a smoker or the egg for just a few ounces of fish to go in dip. But, let's say you've got some ribs or a smoked ham going – why not smoke a little fish too?
Here's how we did it:
dry brine 6-8 ounces of fish for 3 hours in a mixture of ¼ cup kosher salt, ½ cup brown sugar and 1 tsp. black pepper in refrigerator.
Rinse the fish, pat dry, and, if possible, let it rest in the fridge overnight.
Smoke on low heat (about 200 degrees) 2-3 hours (depending on the thickness of the fish)
#1 TIP FOR MAKING THE BEST SMOKED FISH DIP? DON'T OVERSTIR WHEN YOU ADD THE FISH INTO THE OTHER INGREDIENTS. BE GENTLE!
This recipe made the suggested list for the Backyard BBQ Menu Ideas. You'll want to visit for lots of other recipes as well as tips, tricks and planning help for your cookout.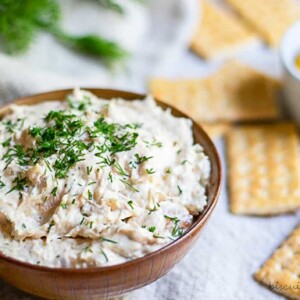 Smoked Fish Dip
This easy recipe for Smoked Fish Dip will bring back memories of that trip to the beach. The full post includes directions for smoking your own fish, but you can easily use pre-smoked fish, too.
Instructions
Blend all ingredients except fish, reserving half the dill.

Stir in flaked fish, blending carefully (don't overstir).
This post contains affiliate links for your convenience. Click here to read our full disclosure policy
Links to smoked fish and other items you may need:
Substitutions for Smoked Fish Dip ingredients
You know we always want to encourage you to try a recipe, even if you don't have the exact ingredients. Keeping that in mind the following substitutions would be fine.
use mayo instead of sour cream
bottled lemon juice if you don't have fresh (but fresh is definitely better)
don't have dill? Or prefer another herb? Whatever works for you
if you want a spicy kick, but don't have hot sauce, try a few shakes of cayenne
Southern Food Then and Now is all about traditions, regions and the origins of our favorite cuisine!
See y'all next time,

Love Seafood? More recipes that rock!