This Smoked Fish Dip recipe is so easy to make and will bring back memories of your vacation on the coast. All you need is a cold beer and a few crackers to go with this dip. It's even better than what you had at your favorite beach bar.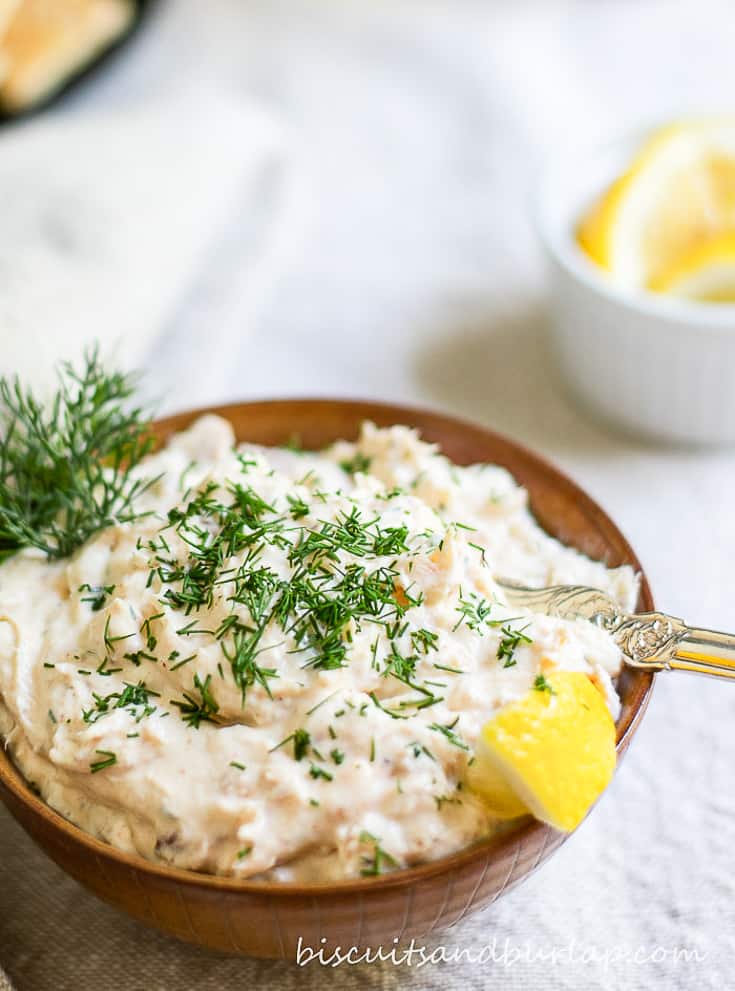 Jump to:
This fish appetizer is one that many people enjoy at their favorite beach bar but never tried to make at home. You'll be amazed at our quick and easy it is.
To complete that experience follow up with classic Southern Style Fried Shrimp.
When I was a little girl living in Jacksonville, Florida, we would have smoked mullet any time there was a family get together. Mullet is a fairly large fish and it would be laid out on brown paper on a picnic table with some saltine crackers.
No dip - just crackers and smoked fish. In those days we didn't use the word "appetizer". To us, it was just a snack before supper.
Why you'll love this smoked fish dip recipe
Easy and quick preparation: This recipe is incredibly simple to make, making it a go-to choice for a fast and delicious dip.
Coastal vacation vibes: It brings back memories of coastal vacations and beach bars, making it perfect for reliving those moments at home.
Versatile fish options: You can use a variety of smoked fish, such as mullet, salmon, trout, or mackerel, allowing you to tailor the flavor to your preference.
Bold and hearty flavor: The dip offers a bold, hearty flavor profile that highlights the taste of the fish and the smoky undertones.
Ideal for parties or gatherings: It's a fantastic appetizer for parties and gatherings, and it pairs perfectly with a cold beer and crackers.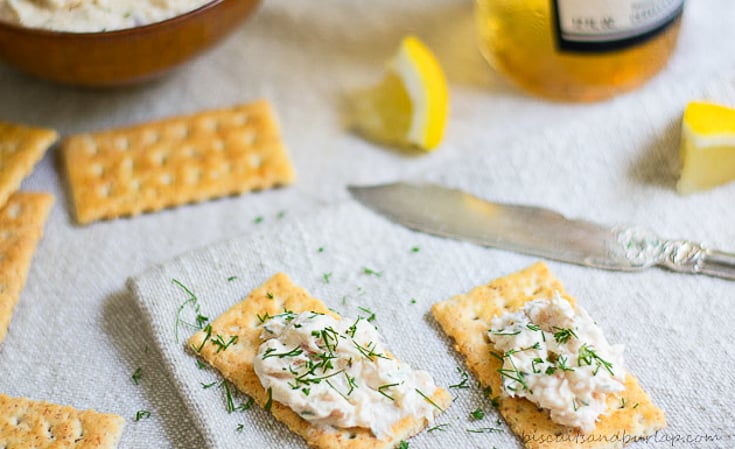 Ingredients for smoked fish dip
Smoked fish: The star of the dip! We used trout or salmon, but there are some other ideas listed below. You'll also find instructions for smoking your own fish in the article!
Cream cheese: softened cream cheese will create the foundation for this dip.
Sour cream: This will keep the dip light enough to not break your crackers!
Lemon: Fresh squeezed lemon juice give a tangy flavor to the smoked fish dip.
Old Bay: This seasoning mix goes perfectly with the fish.
Dill: Adds an earthy flavor to the smoked fish dip.
Hot sauce: Use as much as you would like to suit your family's spice preferences.
This post contains affiliate links for your convenience. Click here to read our full disclosure policy
Links to smoked fish and other items you may need:

How to make this smoked fish dip recipe
Start with 6-8 ounces of smoked fish (make your own or find vacuum sealed packages in most markets)
Juice ½ lemon if possible. Otherwise use about 2 Tablespoons of bottled juice
Flake the fish with a fork
Blend all ingredients except the fish
Gently stir in the fish
Refrigerate covered for at least one hour before serving, if possible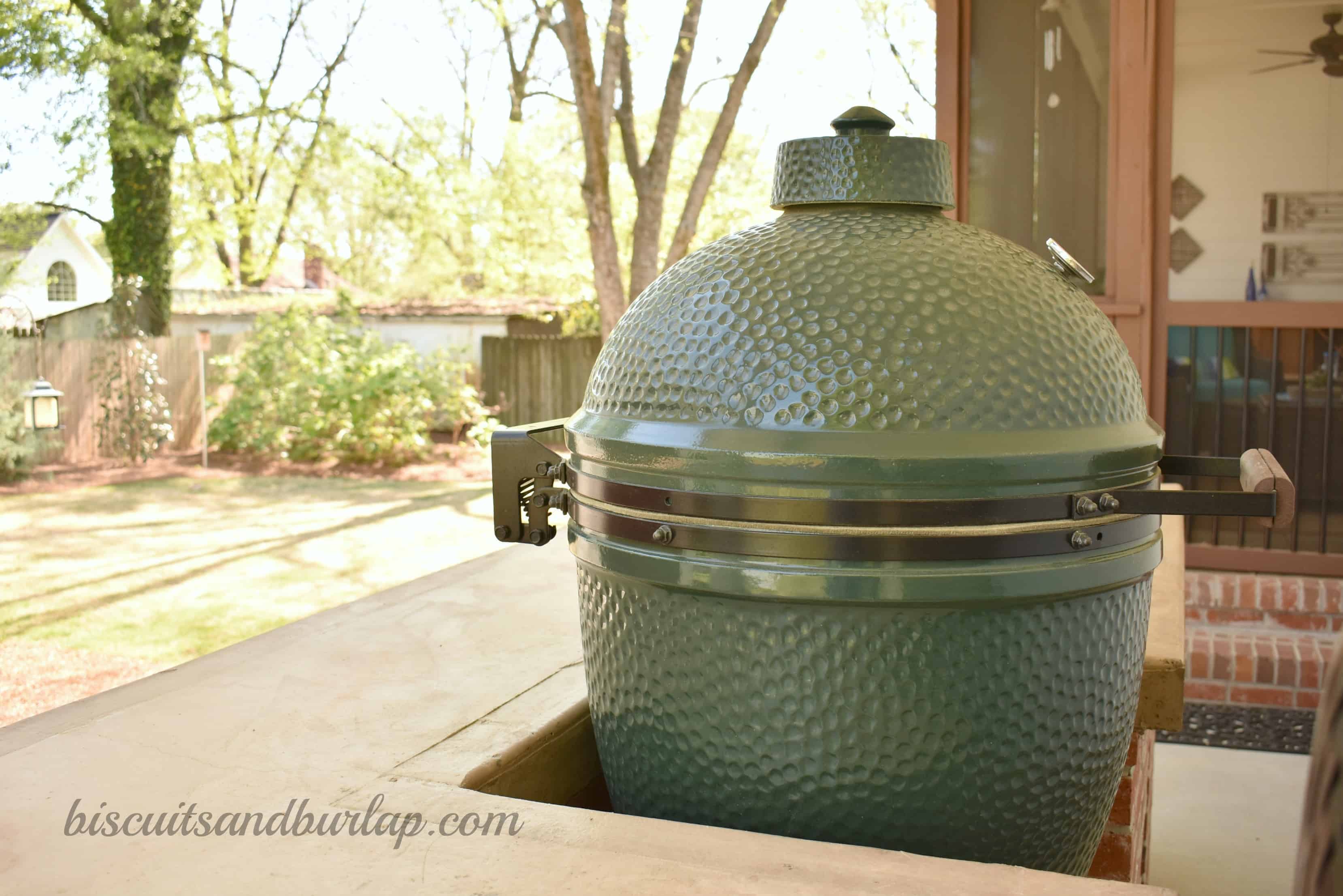 How to smoke fish
Chance are, you're not going to crank up a smoker or the egg for just a few ounces of fish to go in dip. But, let's say you've got some beef short ribs, smoked ham or smoked mac and cheese going - why not smoke a little fish too?
Here's how we did it:
Dry brine 6-8 ounces of fish for 3 hours in a mixture of ¼ cup kosher salt, ½ cup brown sugar and 1 tsp. black pepper in refrigerator.
Rinse the fish, pat dry, and, if possible, let it rest in the fridge overnight.
Smoke on low heat (about 200 degrees) 2-3 hours (depending on the thickness of the fish)
This recipe made the suggested list for the Backyard BBQ Menu Ideas. You'll want to visit for lots of other recipes as well as tips, tricks and planning help for your cookout.
What is the best fish for smoked fish dip?
Unless you live on the coast, mullet probably isn't available. But, if you are on the coast, or if you can get your hands on some, smoked mullet would make a mighty fine fish spread.
Smoked salmon is available most everywhere these days, and used in this recipe it will produce an amazing smoked salmon dip.
The first time we made ours we used speckled trout (salt water trout) that Buddy smoked in the big green egg. Let me tell you that was one superb smoked trout dip!
Fresh water trout would be delicious too. Instructions for how to smoke fish are below if you want to try your own.
Most recently the fish we used in the dip was mackerel. I found it at Whole Foods and the brand was Ducktrap River.
They have several varieties of smoked fish and I think it would be fun to try them all. Links to two and several other things you may need are right below the recipe.
I do recommend that you use a hearty flavored fish because you want to really taste the fish and the smoke flavor in this dip. A mild, white fish is going to get a little lost.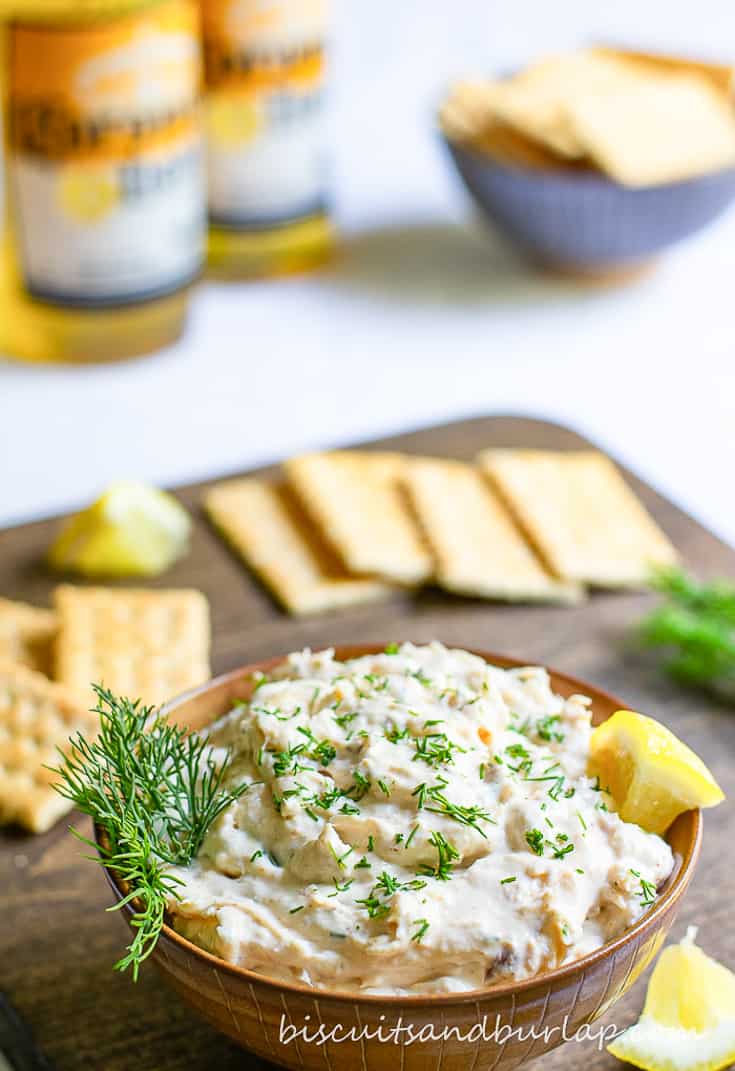 Expert Tips
Let the cream cheese come to room temperature before you begin making your smoked fish dip.
We recommend trout, salmon, or mackerel for your smoked fish.
Don't overstir when you add the fish to the other ingredients. Be gentle!
Before serving, allow the dip to chill in the refrigerator for at least an hour. This step allows the flavors to meld together and enhances the overall taste.
Substitutions and Variations
You know we always want to encourage you to try a recipe, even if you don't have the exact ingredients. Keeping that in mind the following substitutions would be fine.
We made ours with no mayo but you could substitute it instead of sour cream
bottled lemon juice if you don't have fresh (but fresh is definitely better - see below for our favorite tool for juicing lemons)
don't have dill? Or prefer another herb? Use whatever works for you
if you want a spicy kick, but don't have hot sauce, try a few shakes of cayenne or top it with jalapeno slice.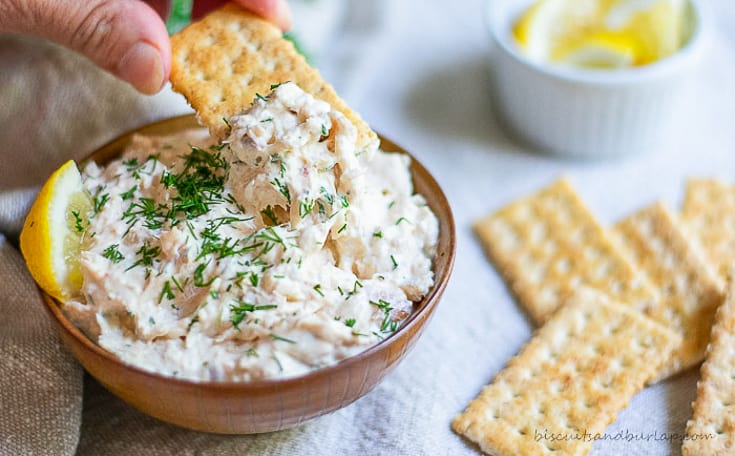 Storage Tips
Store any leftover dip in an airtight container in the refrigerator. The dip should be consumed within 3-4 days for optimal freshness.
For a fun and quick look at this recipe check out the Google Web Story.
What to serve with smoked fish dip
When we think of this dip we are taken back to the surfside seafood restaurants of our childhood on the Florida coast. If you could find it on the menu there, it would go great with this dip.
Recipe FAQs
What type of fish is best for making Smoked Fish Dip?
Smoked mullet, smoked salmon, smoked trout, and mackerel are all excellent choices for making this dip. Opt for a hearty-flavored fish to enhance the smoky taste.
How long can I store Smoked Fish Dip in the refrigerator?
Smoked Fish Dip can be stored in the refrigerator for 3-4 days. Make sure to keep it in an airtight container to maintain freshness.
What are some serving suggestions for Smoked Fish Dip?
Smoked Fish Dip pairs well with crackers, baguette slices, or fresh vegetable sticks. It's a great appetizer for parties, gatherings, or as a tasty snack.
Can I freeze Smoked Fish Dip?
It's not recommended to freeze this dip, as dairy-based dips like this one tend to change in texture and consistency when frozen and thawed.
📖 Recipe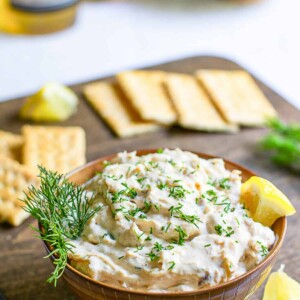 Smoked Fish Dip
This easy Smoked Fish Dip recipe will bring back memories of that trip to the beach. The full post includes directions for smoking your own fish, but you can easily use pre-smoked fish, too.
Instructions
Blend all ingredients except fish, reserving half the dill.

Stir in flaked fish, blending carefully (don't overstir).

Refrigerate for at least 1 hour before serving to give flavors time to blend.
Notes
Let the cream cheese come to room temperature before you begin making your smoked fish dip.
We recommend trout, salmon, or mackerel for your smoked fish.
Don't overstir when you add the fish to the other ingredients. Be gentle!
Southern Food Then and Now is all about traditions, regions and the origins of our favorite cuisine!
See y'all next time,