These southern fried oysters are crispy and a little spicy on the outside and moist on the inside. They're perfect for snacking on by themselves or for tossing on a po'boy!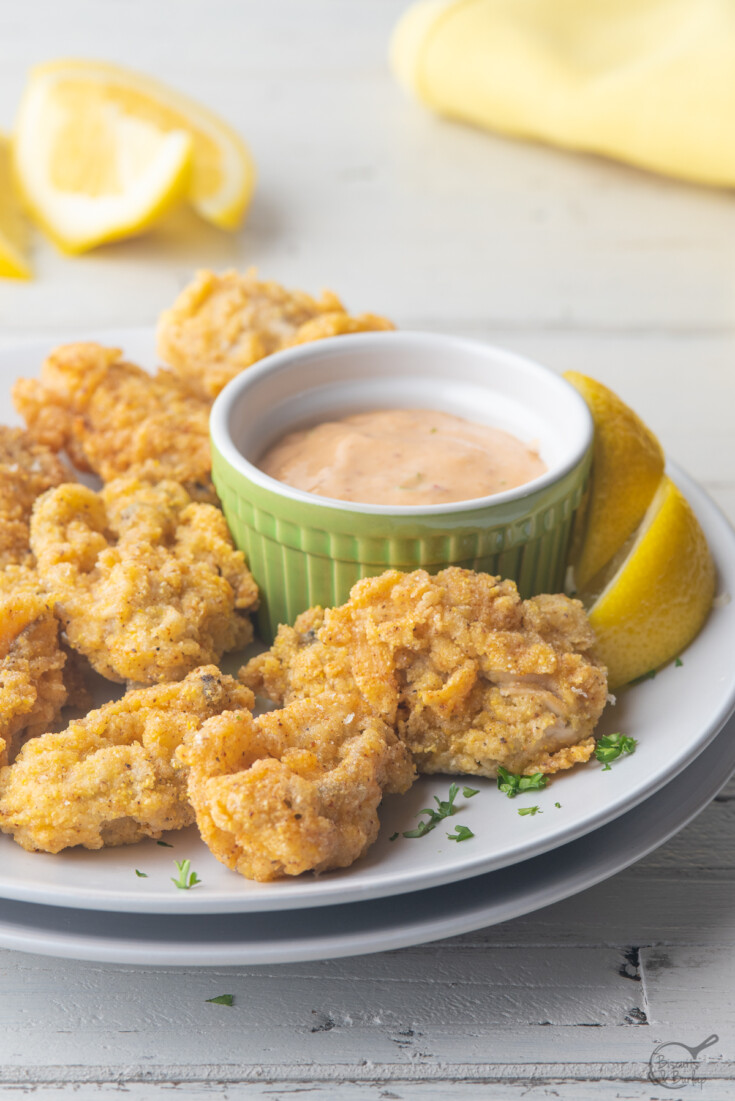 Fried oysters are one of those Southern classics that bring us right back to our favorite surfside restaurant or po'boy shop. You won't believe how easy they are to make yourself!
Do you rinse oysters before frying?
Whether you are shucking your oysters yourself or buying them pre-shucked, it's always a good idea to drain and rinse your oysters and get any traces of shell or sand out of there.
How to make easy fried oysters:
Next, you'll want to pat them dry before putting them in the buttermilk mixture for a few minutes. We mix our buttermilk with egg and hot sauce to give them a little kick.
When you pull them out of the mixture, you'll want to use your fingers to "pull" all the excess off the oysters. This will make sure that your breading doesn't fall off after they're fried!
Next, you're going to dip them in a mixture of cornmeal, flour, and Creole seasoning. The wet and dry ingredients on our fried oysters are the same ones we use for our fried green tomatoes and fried pickles, so we swear by this combo!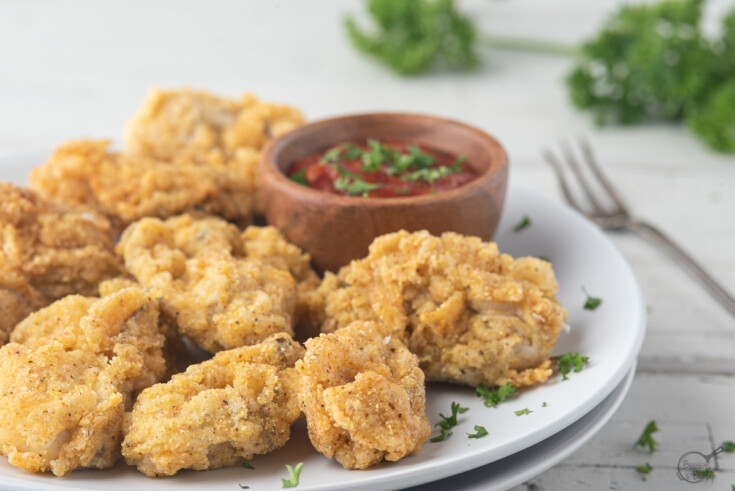 This post contains affiliate links, which means if you click on an affiliate link and buy something, we may receive a very small commission. It does NOT result in additional charges to you or cost you anything extra. Click here for our full privacy and disclosure policy. As an Amazon associate we earn from qualifying purchases.
When you're ready to fry them up there are some different methods you could use:
First, if you have a deep fryer (you can click the link to grab one) it's super easy to regulate the temp. Don't have/want a deep fryer? No worries…
You could also fry them in a dutch oven (we recommend this to prevent splatter) using a candy thermometer to regulate the temperature.
No candy thermometer handy and want to do it the old fashioned way? Toss a little water on the oil. If it's hot enough to sizzle, it's hot enough to fry. Just be sure to only put a few oysters in the oil at a time (6-8, depending on their size), and take a little break between batches to let the oil get back up to temperature again.
What kind of oil is best for frying oysters?
You can certainly use vegetable oil, but we recommend peanut oil because it has a high smoke point and doesn't leave any taste behind.
What do you serve with your oysters?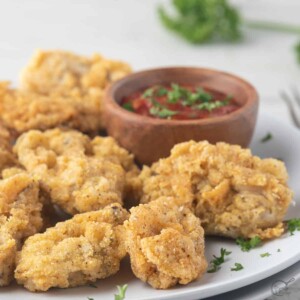 Fried Oysters
Our fried oysters are crispy and a little spicy on the outside and moist on the inside. They're perfect for snacking on by themselves or for tossing on a po'boy!
Instructions
Heat oil to 360 degrees in a deep fryer or a dutch oven.

Rinse oysters and pat dry with a paper towel.

In a small bowl, combine buttermilk, egg, and hot sauce. Submerge the oysters in the mixture.

In a medium bowl, combine cornmeal, flour, and cajun seasoning.

Remove oysters from the buttermilk mixture and use your fingers to "pull" off the excess. Then, coat with cornmeal mixture.

Drop oysters into oil 6-8 at a time, being careful not to crowd. Give the oil time to heat back up between batches

Let oysters cook 2-3 minutes (depending on size) and pull out when golden brown. Put on paper towels to drain.
Nutrition
Calories:
180
kcal
Carbohydrates:
29
g
Protein:
7
g
Fat:
4
g
Saturated Fat:
1
g
Polyunsaturated Fat:
1
g
Monounsaturated Fat:
1
g
Trans Fat:
1
g
Cholesterol:
49
mg
Sodium:
144
mg
Potassium:
199
mg
Fiber:
3
g
Sugar:
2
g
Vitamin A:
951
IU
Vitamin C:
4
mg
Calcium:
54
mg
Iron:
2
mg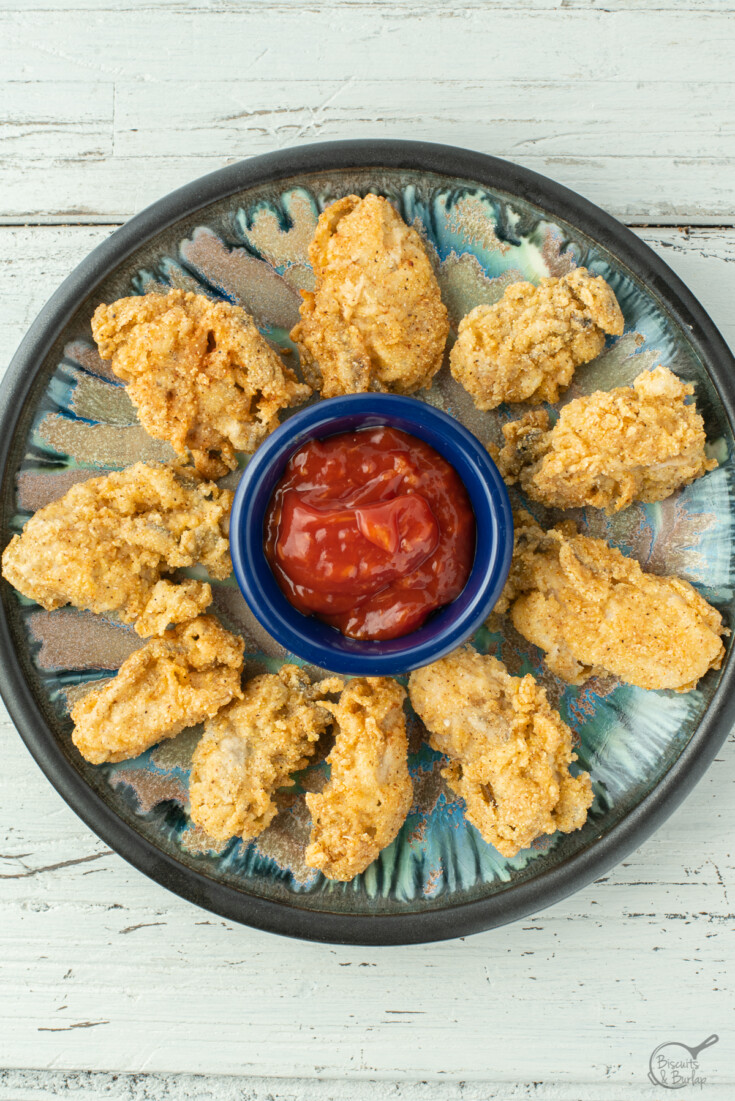 If you make this or any of our recipes we'd love for you to leave us a comment and star rating. If you're into sharing your creations, snap a photo and tag us when you post it to Facebook or Instagram.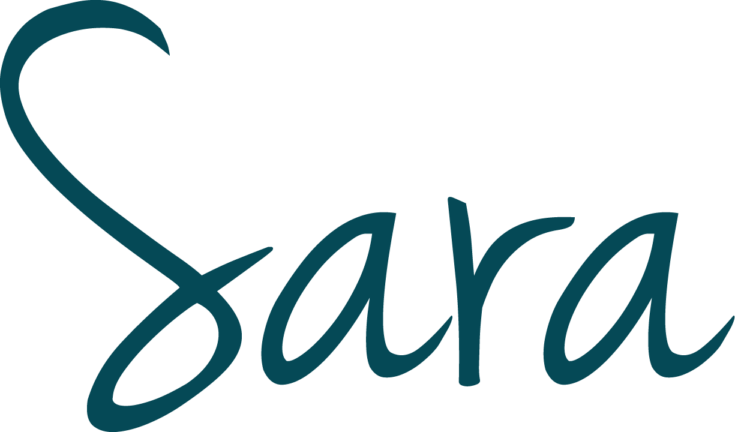 More Seafood Favorites from Biscuits & Burlap