Homemade French Fries will put anything you can get from a fast food restaurant to shame. If you've never had them, now is the time to find out what you've been missing.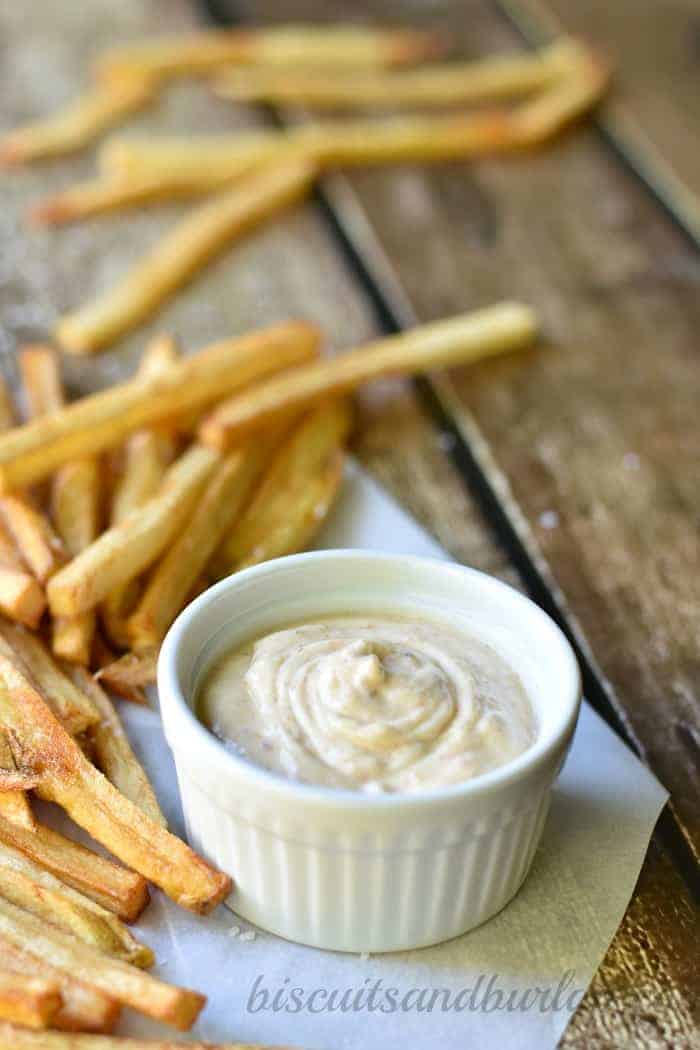 When I was growing up, homemade french fries were a staple at our house. Mama would cook them in an iron skillet naturally. My brother and I would hover over her as she took the first pan full out to drain on paper towels.
As soon as they were salted and cool enough to eat, we were shoveling them down. She knew better than to think that first pan would make it to the supper table.
Mama always said that french fries would only brown properly if there was a spoonful of bacon grease added to the vegetable oil. Being a southern cook, I usually have a little bacon grease around and I add it to the oil when cooking fries, but I do know that you can get good, browned fries without the bacon grease (sorry, Mama).
What size is best for homemade french fries?
It's really a matter of taste, but I personally like the potatoes cut into about ¼ inch size pieces. In fact, I have a mandoline that has a ¼ inch julienne blade. If you have one, this is a great opportunity to use it. If you don't, just try to keep your potato pieces as close as possible to equal size so they'll all get done at the same time.
This post contains affiliate links for your convenience. Click here to read our full disclosure policy
A mandoline is a handy tool to have around the kitchen. Click here to order one, or at the bottom of the post is another link if you're interested.
Peel the potatoes for homemade fries or not?
I like the peel left on, but I will tell you this. If you are using a mandoline, a peeled potato goes through much more easily. When I cooked the potatoes for this post I left about half of them unpeeled. Again, it's really a matter of personal taste.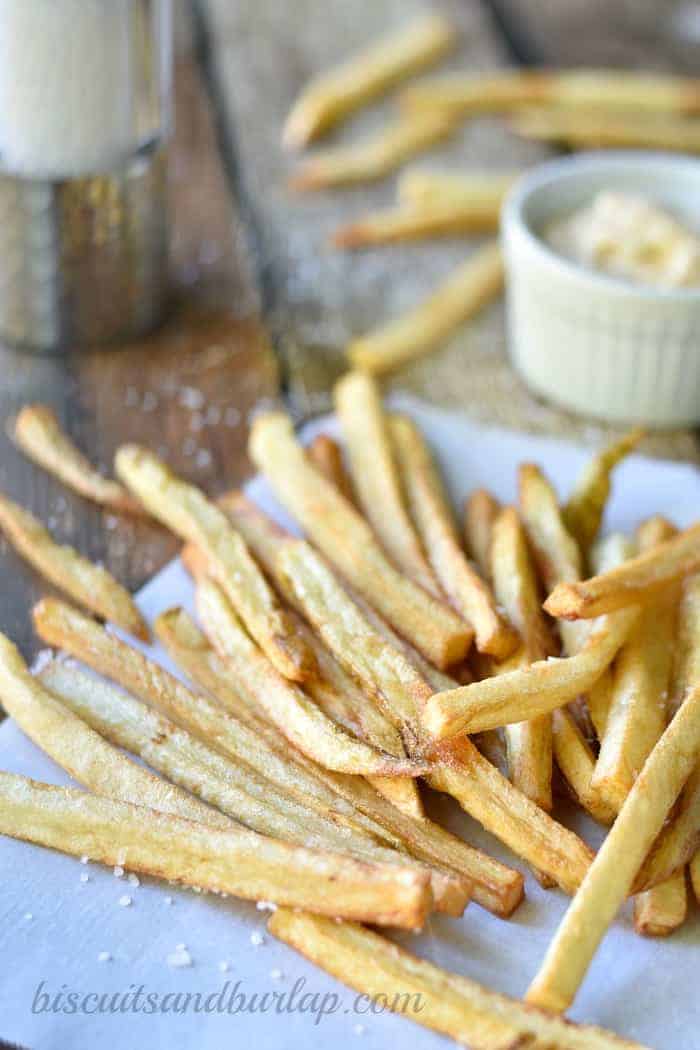 Homemade french fries aren't as unhealthy as you might think
Now, I'm not trying to tell you that this is health food. It's really just a simple dish – a throwback to my childhood for me. For some people, it will take you back to a trip to Europe where "frites" are a common dish.
But, truthfully, if cooked properly, they aren't greasy at all. I poured the oil back into a measuring cup when I had finished frying four small skillets of fries. I had only one ounce less than when I started.
To lighten it up as much as possible, be sure to thoroughly drain your fries. Also, the aioli can be made with non-fat yogurt and light mayonnaise and it's just as delicious.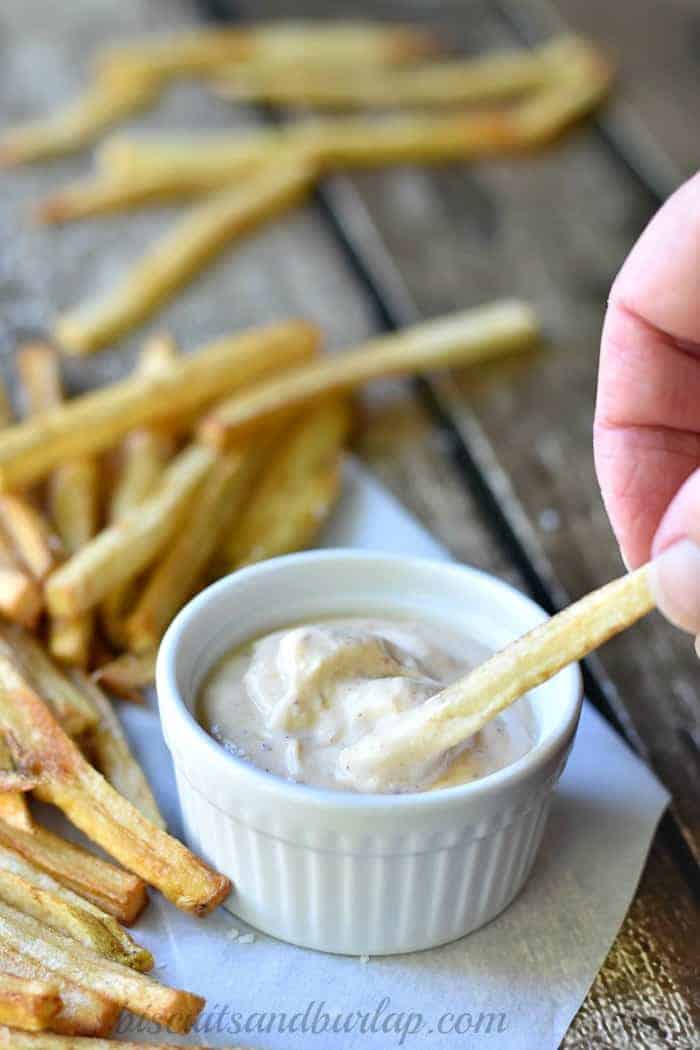 Creole Aioli makes a fun dipping sauce for homemade french fries
That's kind of a thing in restaurants in our area these days. Whatever little finger food snack being served is dressed up with an aioli or other type of sauce for dipping.
Of course, if you want to go old school you can stick with traditional ketchup, but we think it's fun to update an old classic and this is a great way to do it. The aioli comes together in just a few minutes.
You can kick it up with a little hot sauce, but if heat isn't your thing just leave that out. It's still way flavorful. An alternative dipping sauce is Remoulade Sauce. Are you a fan? We've got a great recipe.
If you love Cajun spices as much as we do check out Gouda Grits with Cajun Spice – just one of several recipes on Biscuits and Burlap using this flavorful blend.
If you're looking for a simple main dish to go with these fries, this Gourmet Grilled Cheese pairs beautifully with them!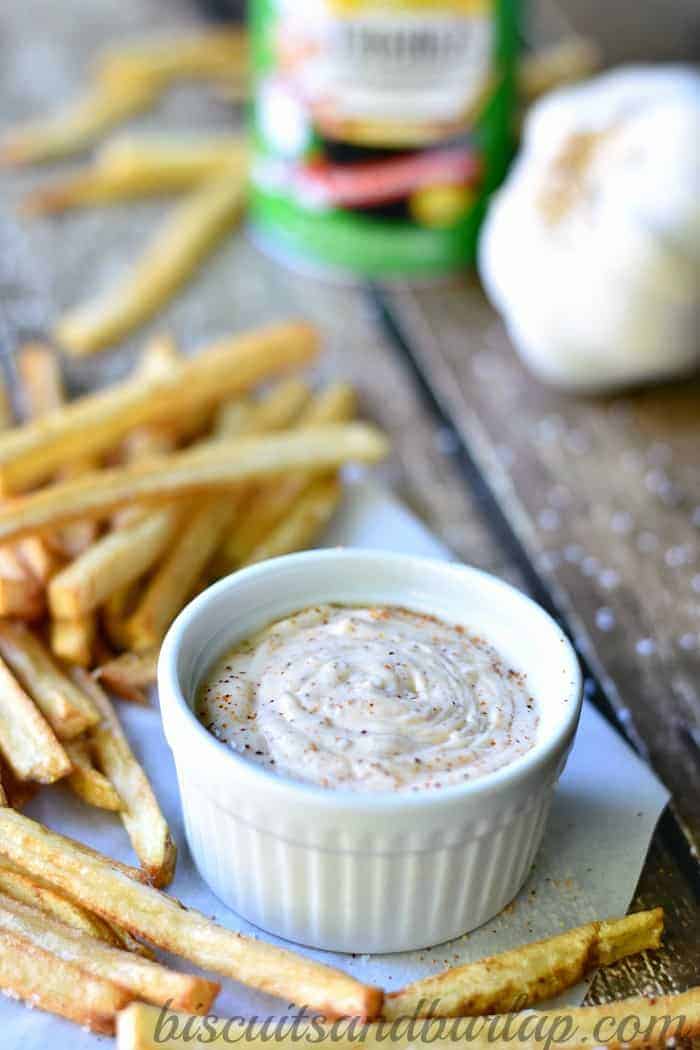 Are you getting our weekly updates? Sign up here. We promise to treat you like family!
Tips for Making Homemade French Fries
Cut the potatoes into pieces as equal in size as possible (use a mandolin if you have one)
Oil amounts will vary according to the size of your skillet, but you want to have the potatoes covered with oil
Heat the oil to medium heat before adding the potatoes – if a small piece of potato sizzles when you add it, the oil is at the right temperature
Add the potatoes a few at the time to prevent the oil from cooling
Stir a few times while the potatoes fry to promote even cooking
Remove with a slotted spoon and drain on paper towels or other absorbent paper
Salt while still hot and toss slightly to distribute the salt
Every stove and pan are going to cook differently, so cooking times and temperatures are approximate, but the short video below shows what the fries will look like when they are browned to perfection
📖 Recipe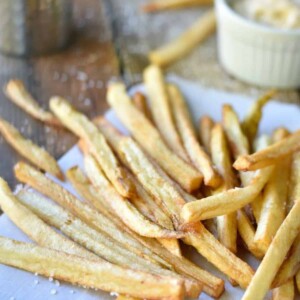 Homemade French Fries with Creole Aioli
Simple, homemade french fries like your Mama made are delicious on their own. If you want to dress them up, this Creole Aioli is easy and adds just the right touch.
Ingredients
For the French Fries
3

large

potatoes, cut into ¼ inch strips

1-¾

cup

vegetable oil

1

tablespoon

bacon grease

optional

1

teaspoon

salt, coarsely ground
For the Creole Aioli
½

cup

plain Greek yogurt

½

cup

mayonnaise

1

clove

garlic, minced

4

teaspoons

olive oil

1

teaspoon

Creole mustard

2

teaspoons

fresh lemon juice

(juice of ½ lemon)

1

teaspoon

Creole seasoning

½

teaspoon

hot sauce, optional
Instructions
For the French Fries
Heat oil and bacon grease (if used) in 10-11 inch skillet over medium heat.

Test heat by adding one french fry. If it gives a good sizzle, the heat is right.

Add potatoes slowly to prevent oil from cooling.

Gently stir a few times to promote even cooking.

Cook 8-10 minutes, or until lightly browned.

Remove with slotted spoon to absorbent paper to drain.

Salt potatoes while still hot and toss lightly.
For the Creole Aioli
Brown garlic in olive oil over medium heat for 1-2 minutes or until lightly browned.

Stir remaining ingredients together.

Add garlic and olive oil and stir until well blended.

Garnish with an extra shake of Creole seasoning, if desired.
Notes
This makes enough for two skillets full of fries. According to how big the appetites are that you're feeding, it will be about 5-6 servings.
If you make this or any of our recipes we'd love for you to leave us a comment and star rating. If you're into sharing your creations, snap a photo and tag us when you post it to Facebook or Instagram.

Looking for main dishes to serve with homemade french fries?