Gouda Grits with Cajun Spice are an easy and versatile side dish that you'll want to serve often. Additionally, this version gives a new twist to grits as a traditional brunch or breakfast choice.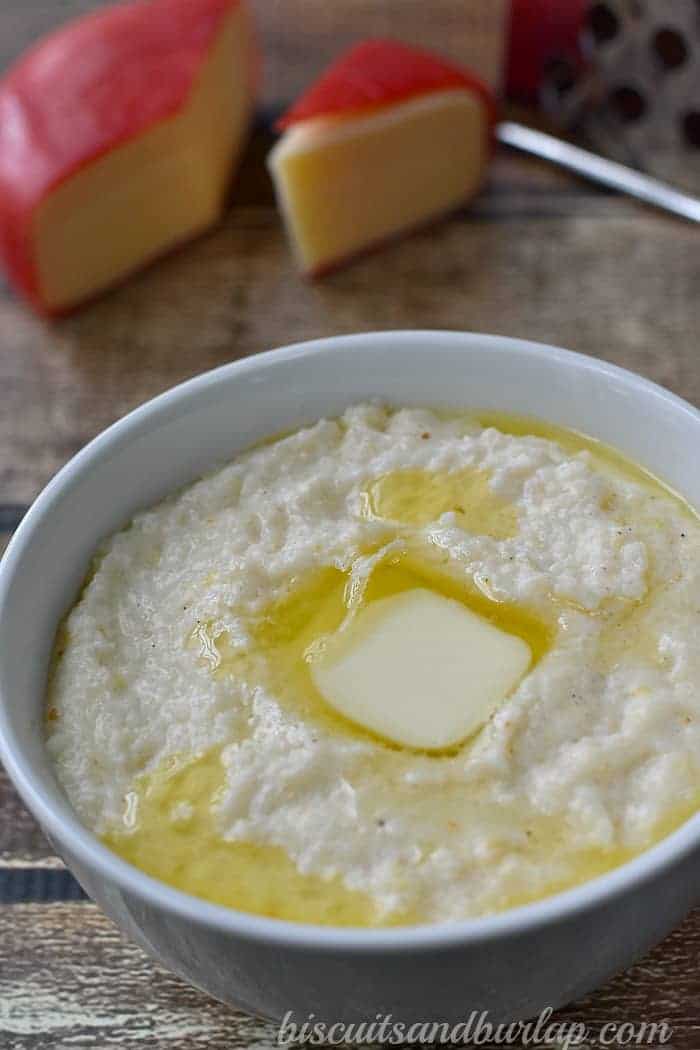 Grits are not just for breakfast anymore! Of course, we all know that Shrimp and Grits have become hugely popular over the past decade, and rightly so. But we want you to think even beyond that. Our Gouda Grits with Cajun Spice are a perfect side dish for many entrees.
Hey! Are you getting our weekly newsletter with recipe updates? If not, you can sign up here. We promise we'll treat you like family.
Some Ideas for Serving Gouda Grits
Did you know that grits have been served with fish or other types of seafood in the south for a really long time? For example, a traditional southern event known as a fish fry is a place where you're likely to find a big pot of grits. Sometimes the grits will be cheesy and sometimes just plain. You can find out more about a fish fry by reading this.
These gouda grits would be an awesome side for Low Country Boil Sheet Pan Dinner too. You can click over for that recipe.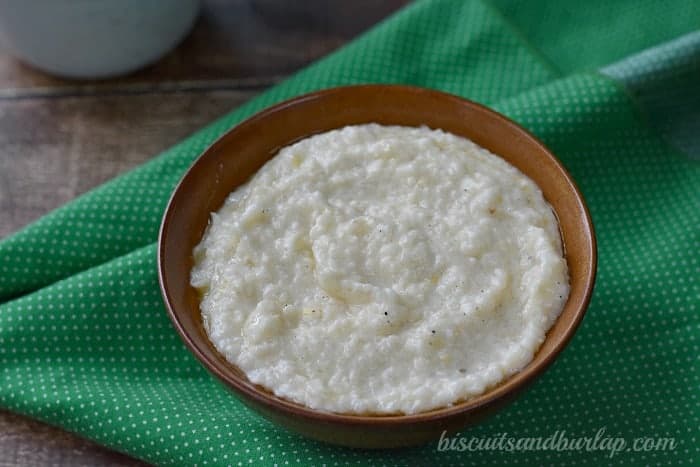 Besides seafood, another favorite of ours is to serve a well-seasoned dish of grits (like our Gouda Grits) with fresh pork. A pork tenderloin is a great choice, as is a slightly spicy pork chop like this one. Add to that Sweet Potato Biscuits and you are talking southern love on a plate!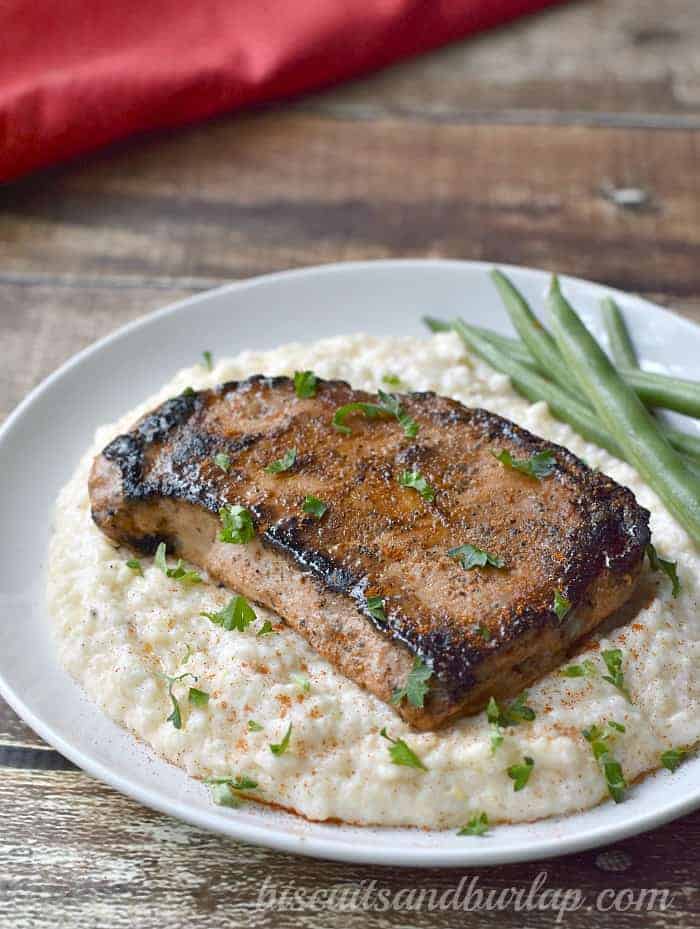 A light sprinkling of cayenne pepper can be stirred into the grits or dusted on top. It makes for a pretty presentation and, as long as you add it with a light hand, it will give just a hint of kick.
For a fun, southern style appetizer, grits can be used as the base for Appetizers with Barbecue and Cheese Grits.
These are our favorites, but the point is to consider grits as a side dish when planning your meals. As you can see, they're quick, easy, cheap and delicious, and…
Grits are big in the versatility department
You can make a big pot that will serve a lot of people, or just enough for one, and anything in between.
They can be cheesy like these Gouda Grits or the grits we made with our Shrimp and Grits, which has white cheddar. Or, you can leave the cheese out altogether.
We love a Cajun or Creole seasoning added into our grits – like Tony Chachere's Original Creole Seasoning, but you can get creative and try difference spices. If you're a fan of Cajun seasoning and a fan of seafood you'll want to check out our Oyster Po'Boy Recipe. It's super easy and so good!
You can also alter the amount and heaviness of the cream in your grits. For the richest (and best) use all half and half for the liquid. In our recipe we used one part water and one part half and half. To make them lighter you could use whole milk, low fat milk or even make them with all water.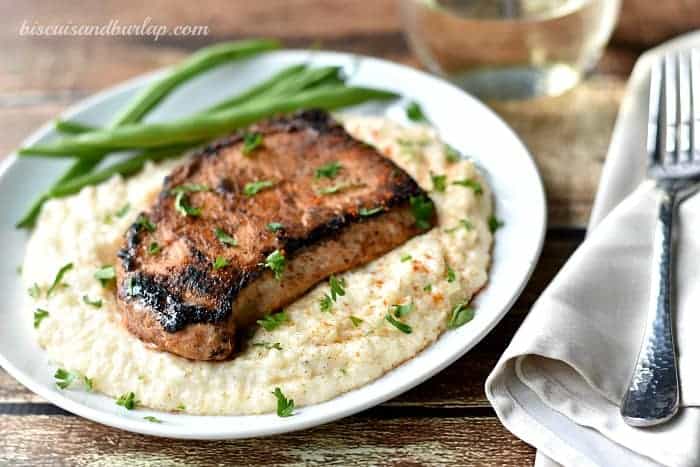 Tips for Making the Best and Easiest Gouda Grits Ever
Use Quick Grits (not instant, but not the long cooking kind)
Don't salt the water if using a seasoning blend that includes salt
Cook the grits covered for the best liquid absorption
Stir with a whisk to get out any lumps
If serving for a buffet, make the grits on the stove top and move to a slow cooker to keep warm
Our recipe makes two generous servings, but double or triple the ingredients easily if you're feeding more people.
📖 Recipe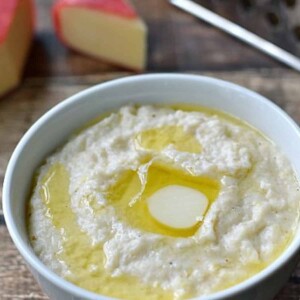 Gouda Grits with Cajun Spice
Gouda Grits with Cajun Spice is a versatile side dish that can be served with seafood or pork.
Ingredients
1-⅓

cup

water

1-⅓

cup

half and half

3

ounces

gouda cheese, grated

⅔

cup

quick grits (not instant)

½ to ¾

teaspoon

Cajun Seasoning

1

Tbsp.

butter

¼

teaspoon

cayenne pepper (optional)
Instructions
Bring water and half and half to a boil.

Stir in grits and return to boil, stirring.


Reduce heat to low and cover. Cook 7-8 minutes, stirring occasionally with whisk to get lumps out.


Stir in cheese and cajun seasoning until cheese melts.

Top hot grits with butter.
For a fun twist on these grits leave out the gouda and stir in a couple of heaping spoonsful of Spicy and Smoky Pimento Cheese. Mmm……
We hope you'll consider grits when planning your meals. Let us know what ideas you have. If you're having grits for brunch, think outside the box and make bialys. Don't know what they are? Find out here.
Other Recipes with Cajun Spice
As you can see from browsing around on Biscuits and Burlap, we love to add a bit of Cajun or Creole Seasoning to a lot of dishes. If you like it as much as we do, or want to explore the possibilities check out these recipes.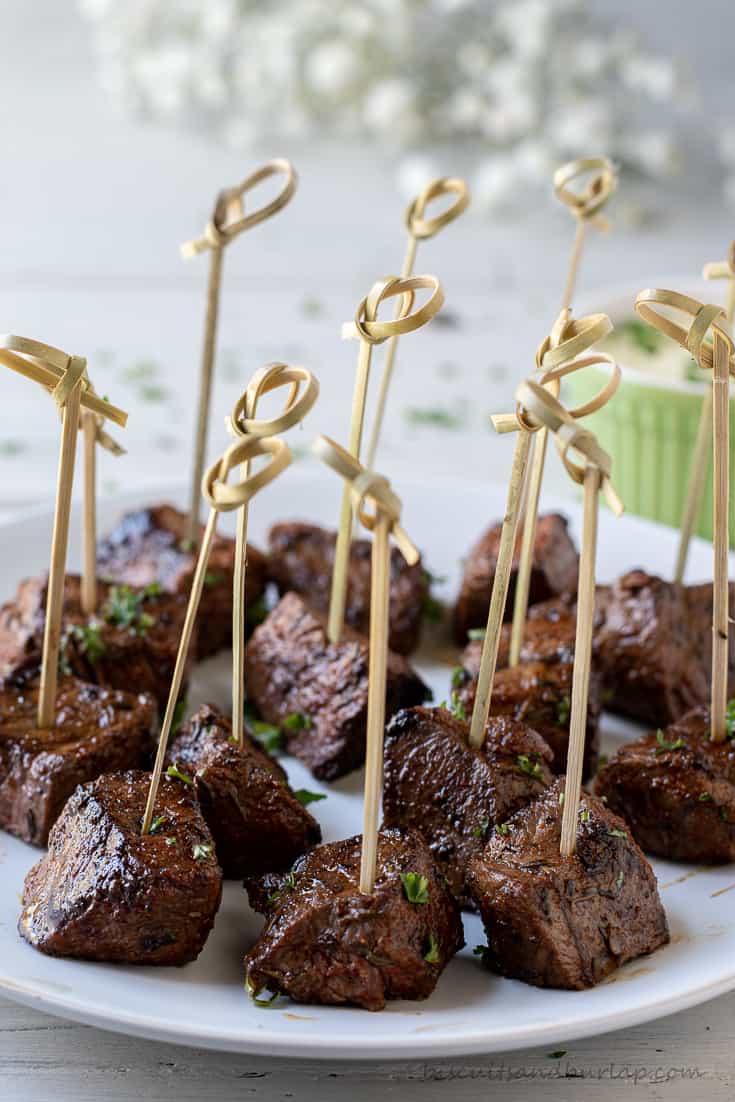 Don't forget. You can sign up here for our weekly updates.