This delicious hot Cajun crab dip is an update on a family favorite made in a cast iron skillet with cream cheese, cheddar cheese, juicy lump crab meat, and a Cajun kick.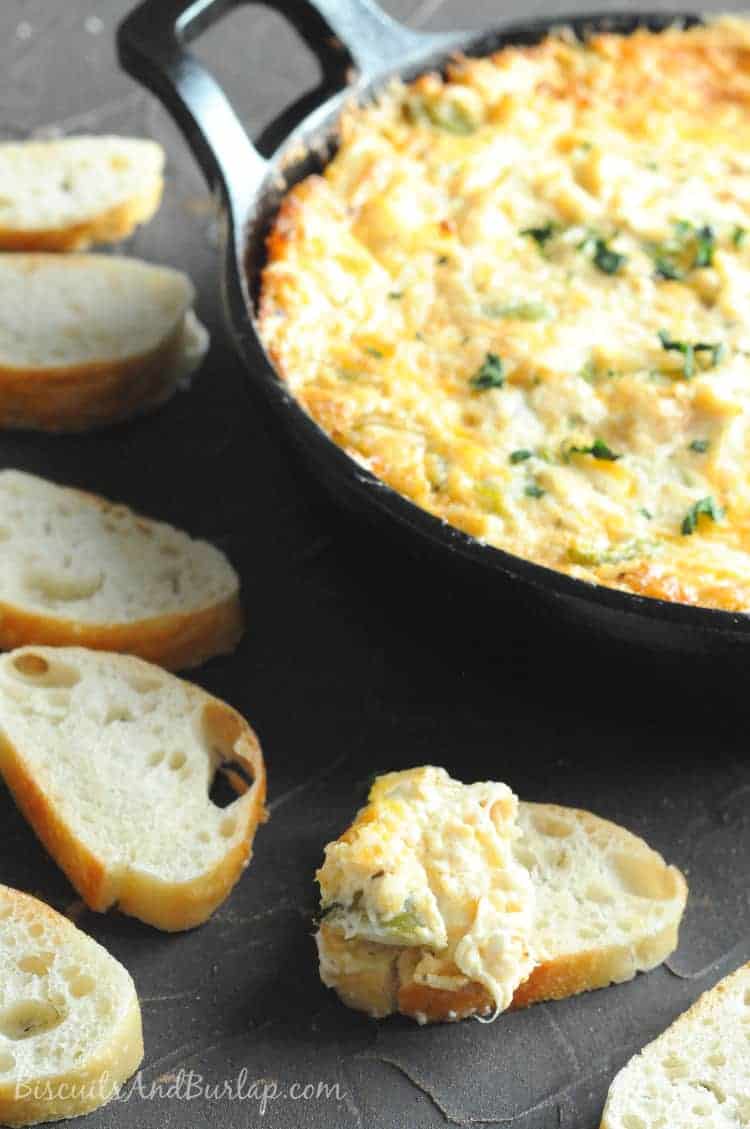 This hot Cajun crab dip is a twist on a very simple classic family recipe. The original had cream cheese, Worcestershire sauce, and lump crab meat. Seriously.. that's it.
So simple but oh so good. This Cajun version has a few more ingredients but I promise it's really easy too and takes no time at all to throw together. Did I mention how rich and creamy and delicious it is?
This was our top annual recipe in 2019. Be sure to check the other favorites!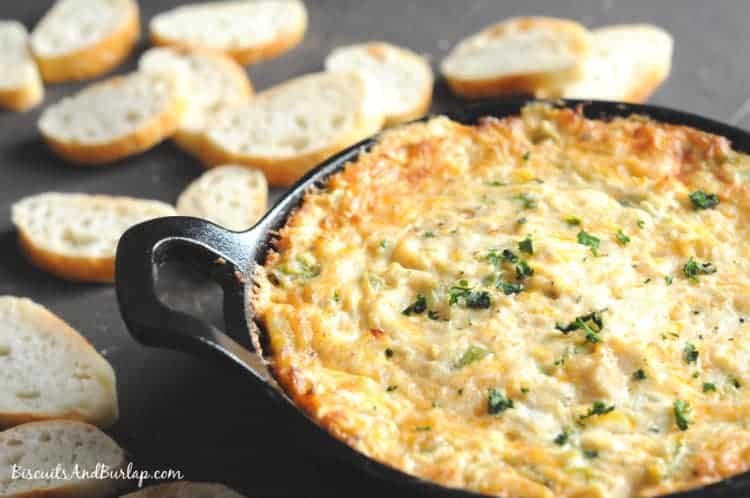 If you're looking for an appetizer for Mardi Gras, this would be perfect! Like any good Cajun recipe, you start out with the Cajun holy trinity. You know, onions, bell peppers, and celery. Just dice them all up together… they'll cook along with the rest of the ingredients in the dip.
Two totally different, but also favorite recipes calling for the "holy trinity" are the Best Jambalaya Recipe and Shrimp Etoufee. Make the Etoufee with crawfish if you can get them, for real authentic flavor.
Cajun and Creole flavors are just two of our favorites, but we love food from many areas of the south. Learn more about the regions and their classic ingredients through the above link.
As if the cream cheese isn't enough, I added a little mayo to make it even more creamy. Mix it up with Worcestershire, Tony Chachere's (or your preferred Cajun/Creole seasoning), and Tabasco (or another hot sauce) for that NOLA kick. Mix the holy trinity and cheddar cheese into it all and you're almost ready to bake it.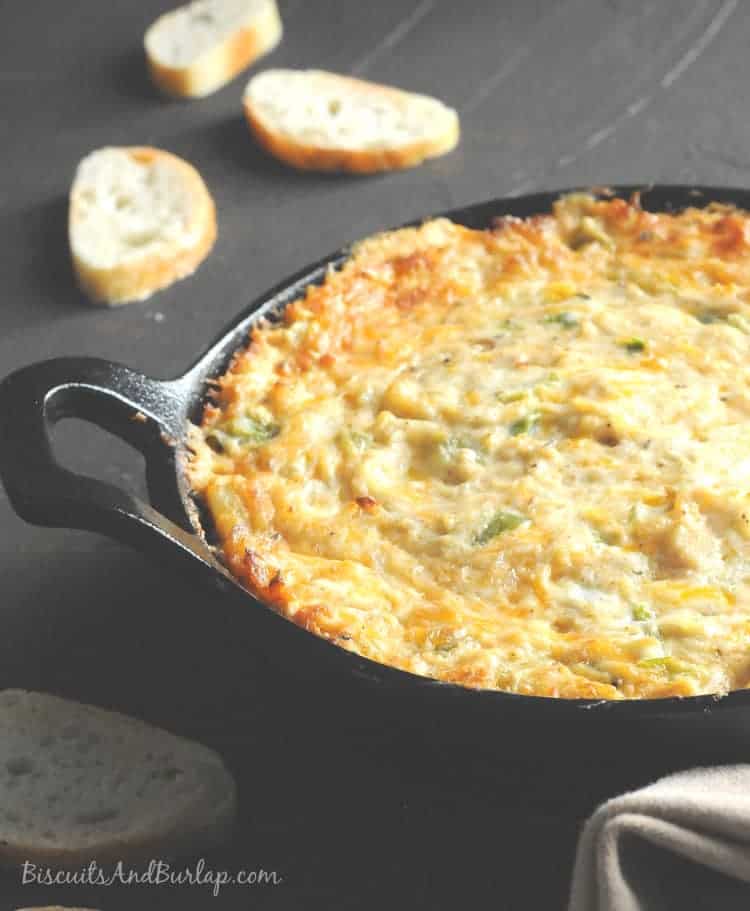 Don't forget about that crab meat! That sweet, glorious lump crab meat… Be sure to fold it into the cream cheese mixture as gentle as you can. If you mix it up too much, you'll bust up the big pieces.
Though you'll still have the same scrumptious flavor, you won't get the satisfaction that comes from biting into a lump of crab meat and that's the best part of this Cajun Crab dip as well as our Crab Au Gratin and She Crab Soup.
This post contains affiliate links for your convenience. Click here to read our full disclosure and privacy policy.
Spread the cajun crab dip into a small cast iron skillet and into the oven it goes. Just 30 minutes or so and the dip will start to bubble and brown around the edges.
Serve it with crackers, tortilla chips, crusty French bread… let's be honest, you can put it on just about anything and it's delicious.
Love our little 7 inch two handled skillet? We do too! It's by Guro Cast Iron and it's the perfect hot dip dish! Get your very own by ordering here.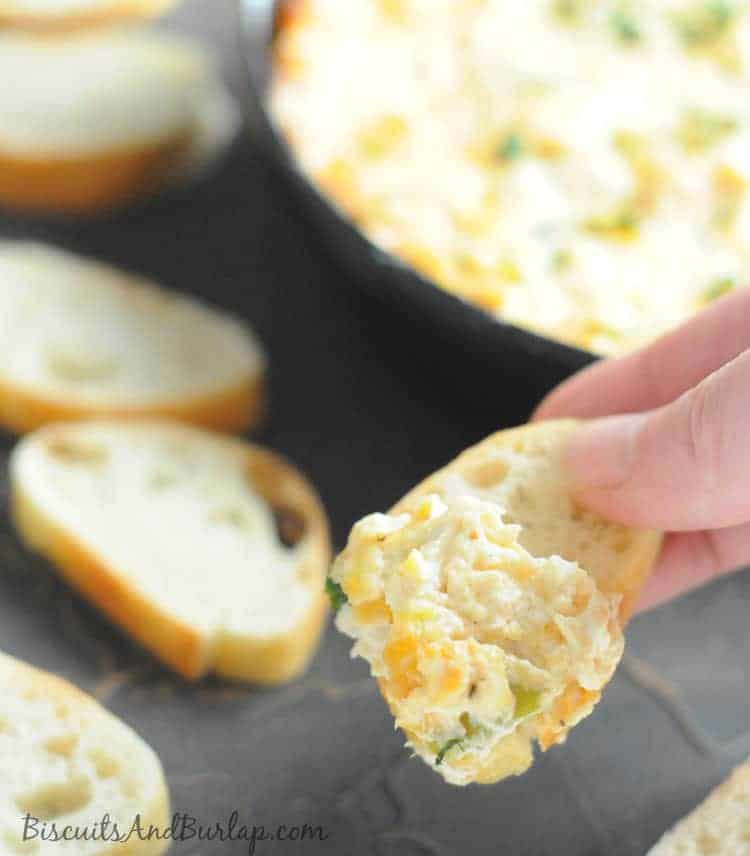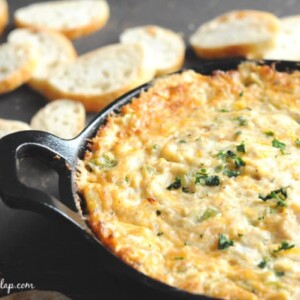 Cajun Crab Dip
This delicious hot Cajun crab dip is an update on a family favorite made in a cast iron skillet with cream cheese, cheddar cheese, juicy lump crab meat, and a Cajun kick.

Instructions
Preheat the oven to 400°F.

In a large bowl, mix together the cream cheese, mayonnaise, Creole seasoning, hot sauce, and Worcestershire sauce until well-combined. Mix in cheddar cheese, celery, bell pepper, and green onions. Gently fold in crab meat. Transfer the mixture to a cast iron skillet or greased baking dish.

Bake until warmed through and bubbly, about 30 minutes. Serve hot with chips, crackers, or toasted bread.
Let me know if you try it by commenting below and tagging us on Instagram! Be sure to check out Fiery Cajun Shrimp. It's the newest Cajun Seafood recipe on Biscuits and Burlap and you'll love it, too!
Planning a party around the Creole/Cajun theme? Include Muffaletta Shot Appetizers! They combine the flavors of that favorite New Orleans sandwich in fun little shot glass apps.


If you think our Cajun Crab Dip sounds good, check out these other seafood and Cajun favorites from Biscuits & Burlap!