Dirty rice is a classic Creole dish that can be served as a side or an entree. This version has beef and pork sausage and is so easy to make!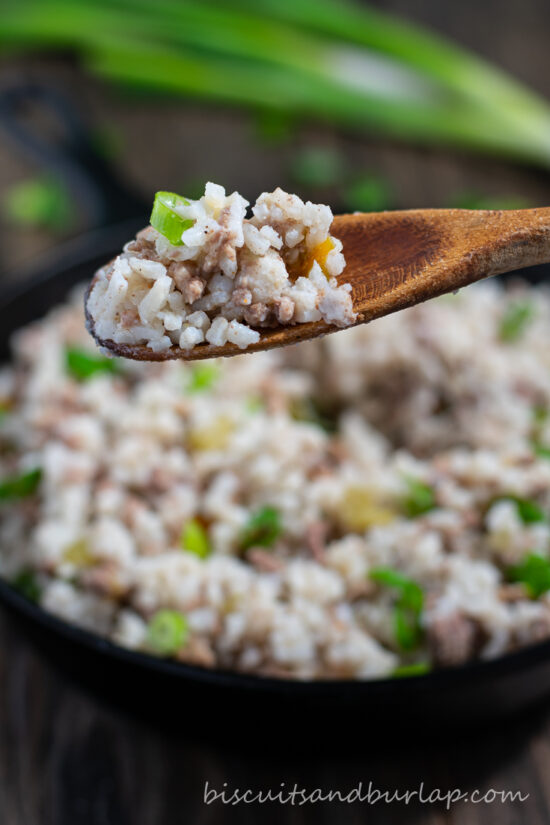 What is dirty rice?
The reason we call this rice dish "dirty" is because cooking it with small bits of beef, pork, or minced chicken livers can give the originally white rice a brownish color. I chose to make it without chicken livers, so this rice is pretty light in color.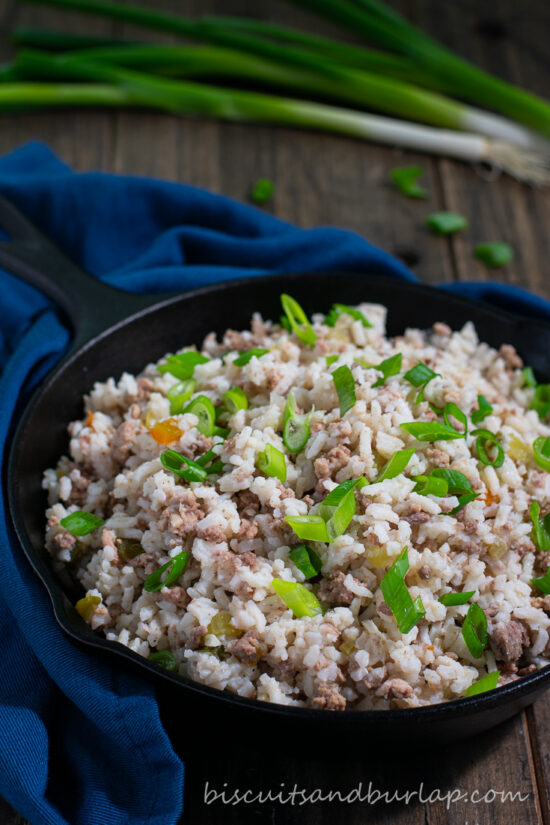 The meat used can vary, but it always includes the "holy trinity" of Cajun and Creole cooking: green bell pepper, onions, and celery. It also always includes a Creole or Cajun seasoning like Tony Chachere's, which is our personal favorite and we use it in a ton of dishes.
This Jambalaya Recipe and Shrimp Etouffee are two more classics that wouldn't be the same without our favorite Tony C's seasoning!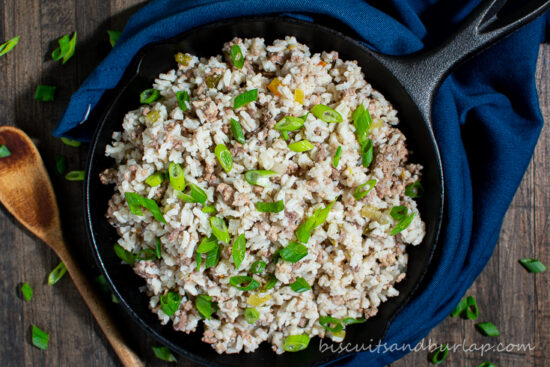 How do you make dirty rice?
First, cook ground beef and ground pork sausage in a heavy pot. Then, add in the holy trinity, garlic, and seasonings. Once the veggies are starting to get soft, add rice and chicken broth. Let it come to a boil, and then reduce the heat, cover, and let it simmer until the rice is cooked.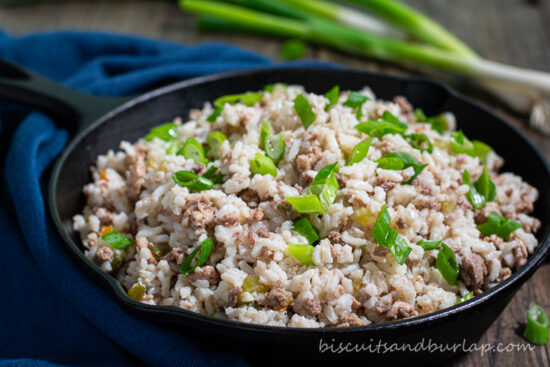 Seriously, that's it! I told you it was easy... garnish with green onions and serve it with hot sauce so it can be spiced to your liking.
Frequently Asked Questions
WHAT'S ANOTHER NAME FOR DIRTY RICE?
It's also called Cajun Rice or Cajun Dirty Rice
IS DIRTY RICE SPICY?
It can be spicy or not, according to your preference. If you make it with a hot sausage that's certainly going to add some spice. Otherwise, the main heat will come from the seasoning blend and anything added by each diner according to preference, like hot sauce. Our Spicy Mexican Rice has heat that can be dialed up or down too.
IS DIRTY RICE A HEALTHY DISH?
Our version is made from all natural, pure ingredients, so it's definitely healtheir than most mixes out of a box.
WHAT'S ANOTHER SIDE DISH TO GO WITH DIRTY RICE?
Any type of salad, or cooked vegetable pairs well. Favorites are old fashioned Ambrosia Salad or a platter with a selection of munchies, including Pickled Okra.
Main Dishes to go with Dirty Rice
Main dishes to serve with it include Blackened Salmon, Creamy Cajun Pork Chops, Grilled Blackened Chicken, and Grilled Cajun Wings, and if you're feeling festive, try your hand at making a classic New Orleans Hurricane!
If you want a second rice option be sure to check out Red Beans and Rice. It's a traditional Creole favorite.
Scroll down to the bottom for even more ideas.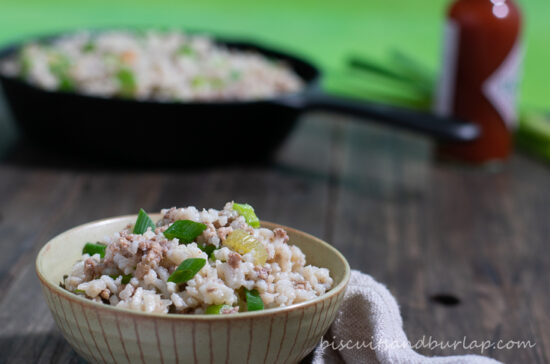 📖 Recipe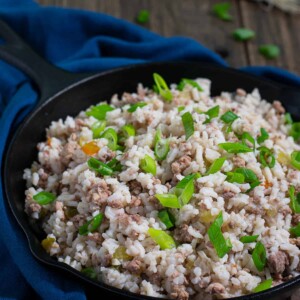 Easy Dirty Rice
Dirty rice is a classic Creole dish that can be served as a side or an entree. This version has beef and pork sausage and is so easy to make!
Instructions
Add ground beef and sausage to a heavy bottomed pan over medium heat. Cook 4-5 minutes until no pink remains.

Add onion, garlic, green pepper, celery, Cajun seasoning, salt, and bay leaves. Cook until softened, about 5 minutes.

Add rice and chicken broth. Bring to a boil, reduce heat and simmer covered about 20 minutes or until rice is cooked.

Let sit for 5 to 10 minutes, then fluff with a fork. Garnish with green onions and serve with hot sauce.
If you love all foods from the south like we do you'll want to read Southern Food: Then & Now. It'a detailed look at the origin of our ingredients and recipes, as well as a look into what the future may hold for southern food.
If you make any of our recipes we'd love for you to leave us a comment and star rating. If you're into sharing your creations, snap a photo and tag us when you post it to Facebook or Instagram.

Try these other Cajun and Creole recipes!