In just minutes you'll have perfectly seasoned grilled blackened chicken. It can be served as a main dish or made into tacos, nachos, sandwiches or as a salad topping.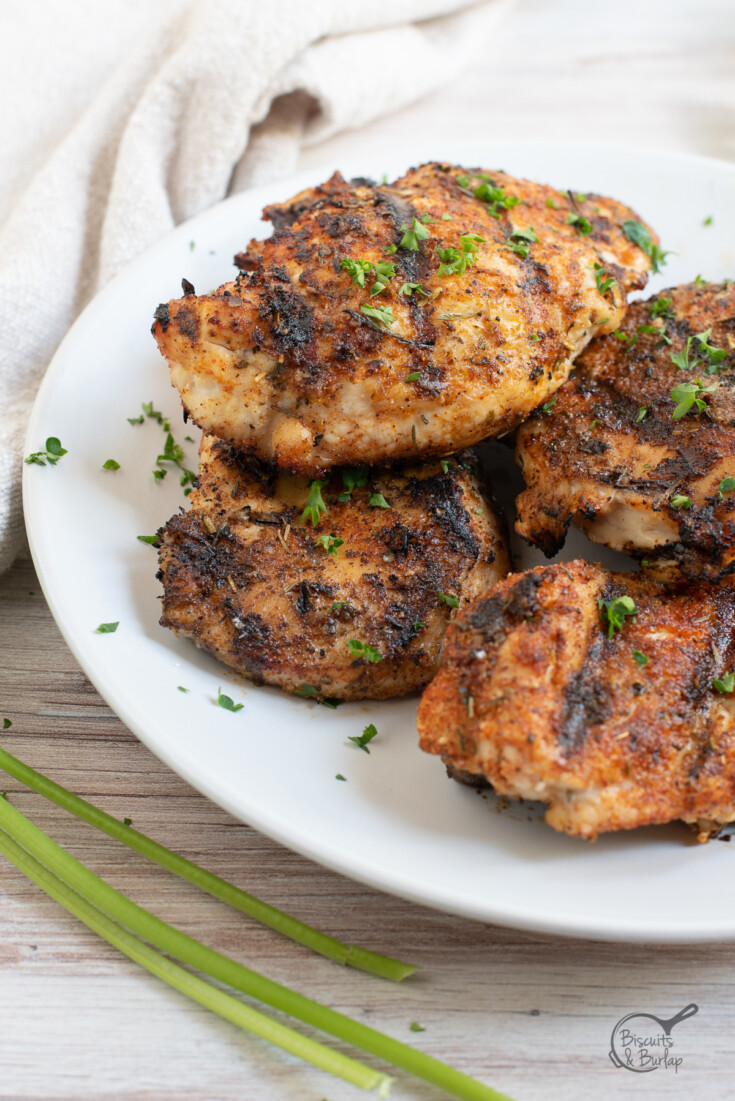 Grilled foods are tops around here and only rivaled by our love for Cajun and Creole dishes, so we've naturally combined the two.
With just a few ingredients that probably are already in your pantry you can stir up your own blackened seasoning. This spice mix is great on all kinds of dishes, like Fried Turkey Breast, Spicy Chicken Pasta, and Cajun Gravy. If you love the flavor of blackened dishes you'll want to also make Blackened Pork Chops, Blackened Salmon and Blackened Corn. Then fire up that grill until it's good and hot.
You'll brush the chicken with a little oil, add the rub and then quickly cook it on both sides. That's it! How easy is that?
Jump to:
Alternate cooking method
We love the flavor you get from a good grilling recipe (like in our Smoked Chicken Thighs). But if you don't have a grill (or it's just not grilling weather) this chicken can also be cooked in a skillet on the stovetop.
We prefer our cast iron skillet, but you could use any heavy skillet that you've sprayed with cooking spray or added a little oil to.
This post contains affiliate links, which means if you click on an affiliate link and buy something, we may receive a very small commission.  It does NOT result in additional charges to you or cost you anything extra. Click here for our full privacy and disclosure policy. As an Amazon associate we earn from qualifying purchases.
Ingredient and substitution notes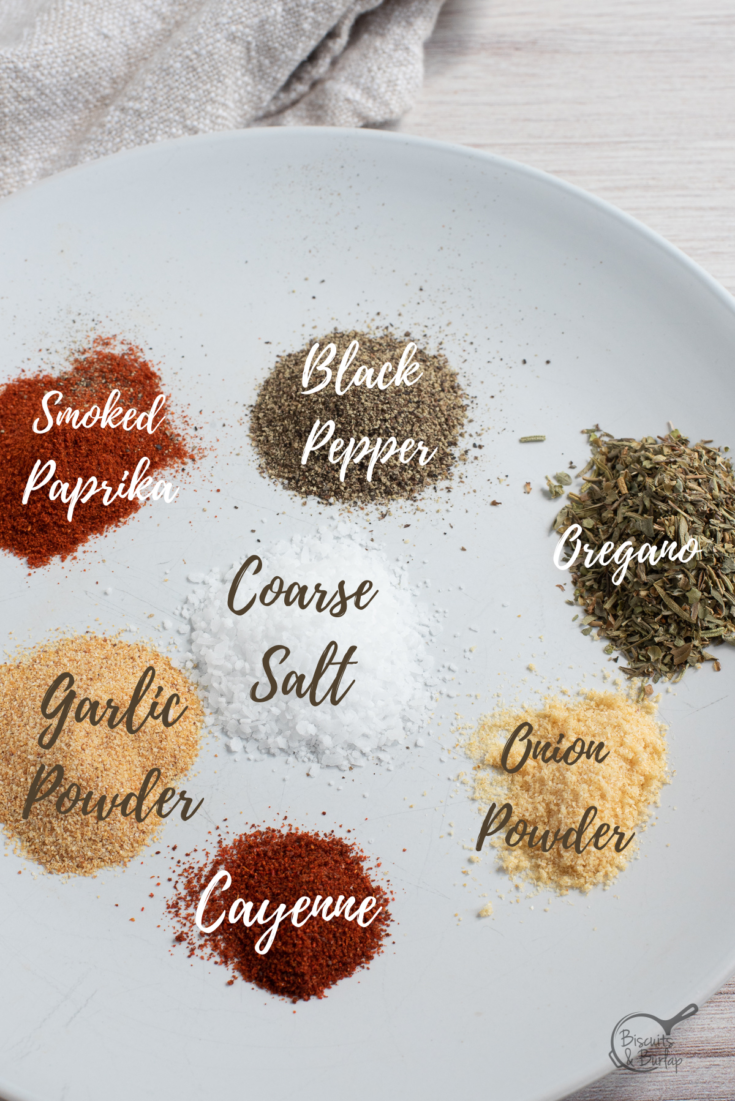 Boneless chicken breast is what we typically use for this recipe. You could make it with chicken tenders, but you'd need to use a grill mat or basket so the tenders don't fall through the grill. Boneless thighs could also be used, but the dark meat needs to cooks a little longer.
Smoked paprika - if you only have regular paprika you could use it, but we highly recommend keeping smoked paprika in your spice cabinet.
Coarse kosher or sea salt. If plain table salt is all you have, that's fine.
Black pepper - standard out of the box is okay, but freshly ground is always best.
Garlic powder
Onion Powder
Cayenne Pepper - This is where the heat comes from so cut it down or leave it off altogether if you don't like the kick.
Oregano - Adding this herb gives a nice balance to the spices.
How to make it
Mix the spices and herbs together.
Use a mallet to pound the chicken breasts until they are consistently about ½ inch thick.
Brush the chicken with oil on one side and then sprinkle with the blackened seasoning.
Pat the rub into the chicken breast.
Turn the chicken over and repeat.
Cook on a pre-heated grill (medium high heat) about 4 minutes per side. You can also cook it in a skillet for about the same amount of time.
That's it! How quick and easy is that? This is quickly becoming our favorite spice mix for our Cajun recipes. We use the same mix for Cajun Gravy and Chicken.
Recipe Tips
The most important tip is to have the chicken at a consistent thickness - about ½ inch. This ensures that the meat will cook evenly. We like to put ours in a sturdy zip-lock bag and then pound it with a mallet. We typically cut the chicken breast into two pieces afterwards.
Also it's very imporant to not overcook it! You can test for doneness by piercing with a fork. If the juices run clear (not pink) it's done. Start checking after 3 minutes per side. You can also use a digital thermometer (our favorite) and cook to 165 degrees.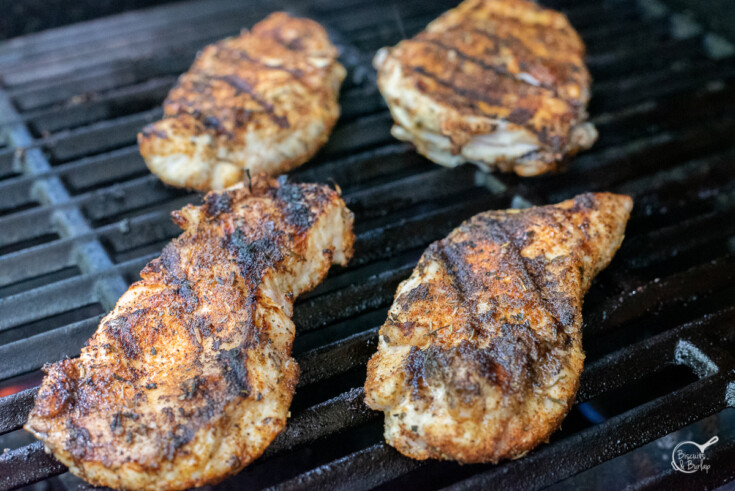 For a fun quick look check out the web story for this recipe.
What to serve with your chicken
This is the fun part! Since the whole concept of blackened seasoned fish and meat originated with Chef Paul Prudhomme you can bet it would be great with Creole and Cajun dishes.
Our favorite suggestions are Cajun Hush Puppies, corn soufflé casserole, Red Beans and Rice, Oven Roasted Cajun Potatoes and Dirty Rice. Then wash it all down with a Hurricane Cocktail.
But you can definitely think outside that box and use your blackened chicken to make nachos, tacos, chicken salad or make it into a sandwich. You can also add it to your favorite salad with some Cajun Salad Dressing or try it in this Southwestern Salad. A restaurant favorite is blackened chicken alfredo, so grab a jar of alfredo sauce (or make your own) and some pasta. This is also great on nachos with some Creamy Poblano Sauce.
The way we eat it most often is sliced up and on top of a salad. Pasta Salad with Asparagus and this Clementine Salad are two excellent choices.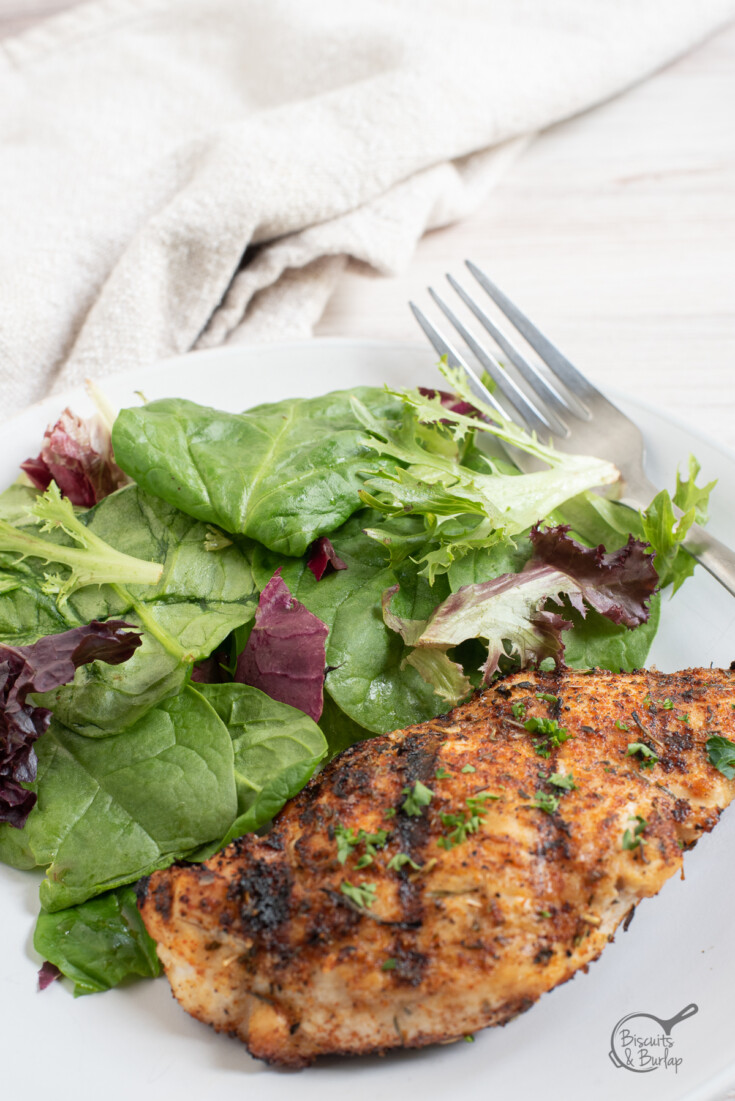 Recipe FAQ's
Does blackened mean spicy?
Full of flavor? Yes! Spicy? It totally depends on you and your family's preference. If you don't like any heat you can add just a touch of cayenne for the flavor it gives, but you can definitely cut back on it. If you and yours love a good kick then go all out with that cayenne! In fact, on most tables in Louisiana you will find at least one bottle of hot sauce. That way everyone can customize their own dish
What's the difference between grilled and blackened?
Grilled just refers to food that is cooked on a grill. It can be flavored or seasoning any number of ways, or even left unseasoned. Blackened means it has been highly seasoned with a blend that will turn a dark brown (almost black) color when cooked.
Is blackened chicken healthy?
This is a great lean protein option. It can be served as a main course with vegetables and other sides, or added to a salad to make it a complete, good-for-you option for a meal.
📖 Recipe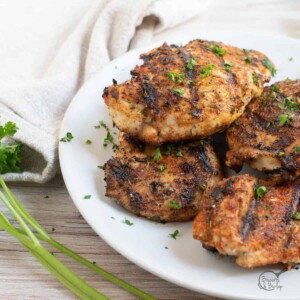 Grilled Blackened Chicken
In just minutes you'll have perfectly seasoned grilled blackened chicken. It can be served as a main dish or made into tacos, nachos, sandwiches or as a salad topping.
Ingredients
2

pounds

boneless, skinless chicken breast

2

teaspoons

smoked paprika

1

teaspoon

onion powder

2

teaspoons

garlic powder

2

teaspoons

dry oregano

½-1

teaspoon

cayenne pepper

optional

2

teaspoons

black pepper

2

teaspoons

salt

coarsely ground recommended

1

Tablespoon

vegetable oil
Instructions
Stir all spices and seasonings together in a small bowl or shake them together in a tightly closed bag.

Pound chicken with a mallet until uniform thickness of about ½ inch. Cut each piece into two smaller pieces if desired.

Brush each piece of chicken with oil on one side and then sprinkle with seasoning blend. Pat seasonings into chicken with hands.

Turn chicken and repeat the oil and seasoning process.

Cook on preheated grill (medium high heat) for approximately 4 minutes per side, checking for doneness after minutes per side. Juices should run clear when pierced with a fork, or digital thermometer reads 165 degrees.
Notes
Boneless chicken breasts should be pounded with a mallet until a uniform thickness of approximately ½ inch.
Test for doneness beginning at 3 minutes per side. Juices should run clear when pierced with a fork or a digital thermometer reads 165 degrees.
Nutrition
Calories:
243
kcal
Carbohydrates:
3
g
Protein:
39
g
Fat:
8
g
Saturated Fat:
1
g
Polyunsaturated Fat:
2
g
Monounsaturated Fat:
2
g
Trans Fat:
1
g
Cholesterol:
116
mg
Sodium:
1143
mg
Potassium:
733
mg
Fiber:
1
g
Sugar:
1
g
Vitamin A:
550
IU
Vitamin C:
2
mg
Calcium:
31
mg
Iron:
1
mg