In just minutes you can have a flavorful and creamy Creole Sauce ready. It is absolute perfection over fish, pasta, shrimp and even chicken.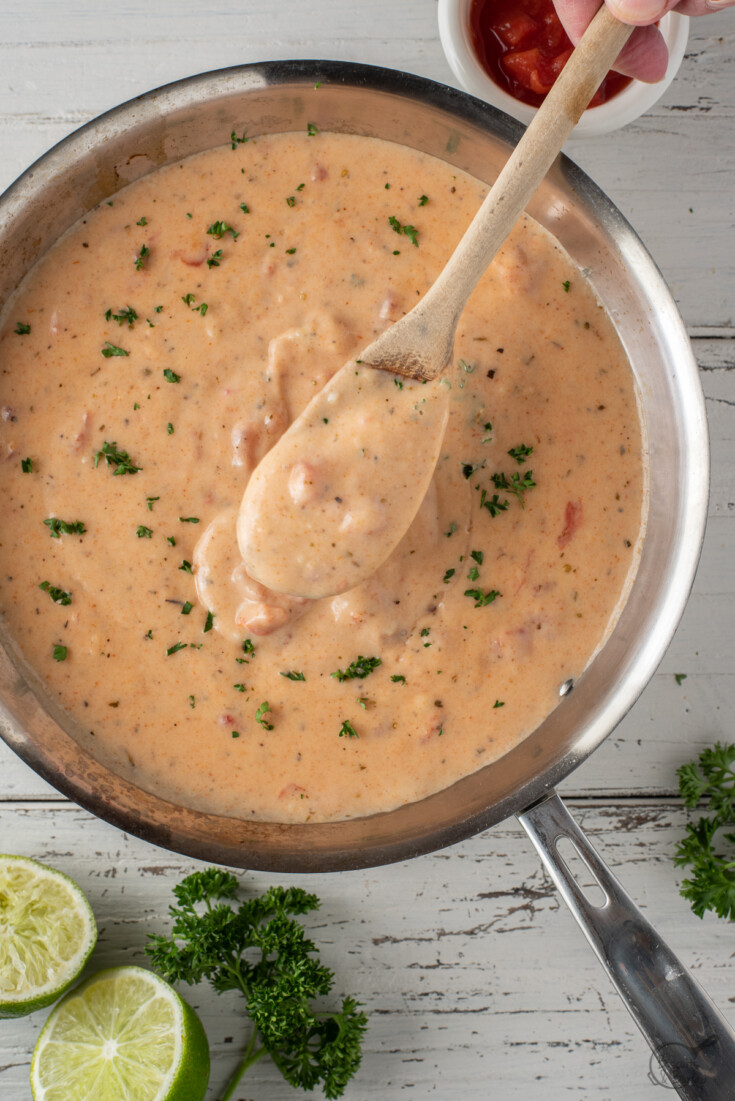 Is it really Creole, or is it Cajun?
One of our most beloved recipes here at B&B is our Cajun Cream Sauce. That one was developed especially for fish, but is also good over practically anything!
With it being so popular we thought we would develop another sauce - this one honoring the Creole cuisine. Are you thinking "Cajun vs Creole. Is there any difference?"
The answer to that is a big ol' southern "Heck yeah, there is!" The easy way to look at it is to think of Creole food as citified and Cajun food as country.
The foods in New Orleans were always more sophisticated due to the availability of ingredients from being a port city. Cajun cooking was more reliant on what was close by and easy to obtain.
That being said the years have blurred the lines a bit, but you still wouldn't want to say there's not a difference anywhere in Louisiana unless you're ready for a fight.
Tomatoes are a big ingredient in Creole cooking and even though we use a few tomatoes in our Jambalya recipe, it's still more of a Cajun dish made the way we do it. A Creole version would most likely be absolutely wet with tomatoes and ours is not.
And so, with all of that said, we have created this Creole sauce with tomatoes and even a good squeeze of lime (another ingredient the Cajuns of days gone by wouldn't have access to).
If you're here we know you love those flavors so you'll want to check out Cajun Fried Turkey Breast. It's perfect when you need just a few servings.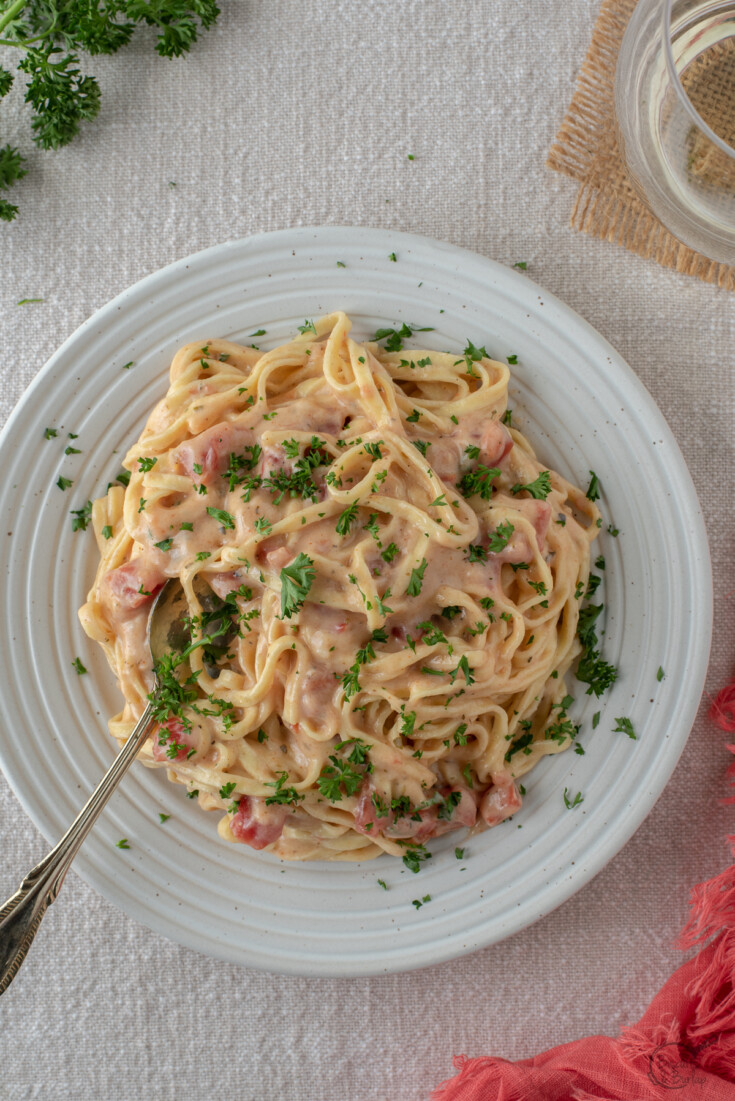 This post contains affiliate links, which means if you click on an affiliate link and buy something, we may receive a very small commission.  It does NOT result in additional charges to you or cost you anything extra. Click here for our full privacy and disclosure policy. As an Amazon associate we earn from qualifying purchases.
Ingredients and Substitutions
Butter (we always use the real thing and typically use salted and unsalted interchangably - just adjusting the salt in our recipes accordingly)
Whole milk (you can certainly use half and half and the sauce would be richer, or 2% milk and the sauce will be lighter)
Tomatoes - diced canned tomatoes are best in this recipe but you could chop up canned whole tomatoes or even use fresh if you have them. The fresh ones would need to simmer a little longer.
Flour - plain all purpose
Creole Seasoning - our favorite is Tony Chachere and we use it all the time. If you have another one that you love, by all means, use it.
Lime juice - freshly squeezed is always best, but use a good quality bottled juice if you must. You could even use lemon juice, but it will alter the taste slightly. (This link goes to our much loved citrus juicer)
Oregano - we use dried because it's always handy, but if you have fresh feel free to use. Just keep in mind you'll need 3 times as much.
Smoked Paprika - There is nothing like it and if you don't keep it in your spice cabinet we highly recommend that you start doing so. We use it in Oven Roasted Cajun Potatoes, and Cajun Steak Bites and this Easy Shrimp Etouffee, among others.
Salt - plain table salt is fine. Again, adjust according to taste, the type butter you have and how salty your Creole seasoning blend is.

How to make it
This is an easy cream sauce, with all the flavor added for fun and interest. The steps involve:
Melt the butter in a skillet over medium low heat.
Stir in the flour until blended.
Gradually add the milk or cream whisking as you add to incorporate into the butter/flour mixture thoroughly.
Now add the additional ingredients - tomatoes (partially drained), seasonings, salt and lime juice and stir them all in well.
Continue cooking and stirring, until sauce thickens and then allow to simmer (on low heat) for at least 5 minutes and it's ready to serve. If fresh tomatoes have been used your sauce will need simmering for at least 10 minutes to thoroughly cook them.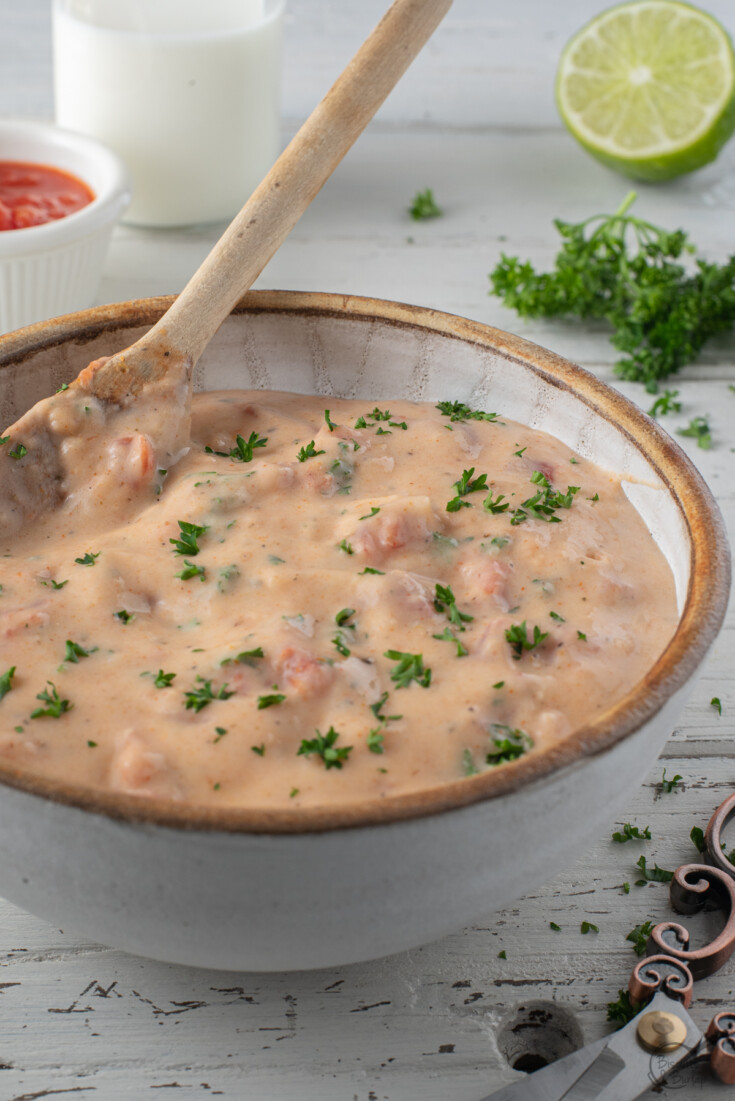 Tips, Tricks and Secrets we're sharing
This sauce is easily halved or doubled depending on how much you need.
If you have a pan that you have cooked your protein in (fish, shrimp, chicken, etc.) you can certainly use the pan drippings to further enhance the flavor of the sauce. Just make it in the same pan and then follow the recipe otherwise.
This is the same method we use in the Cajun Cream Sauce recipe, our basic "How to Make Gravy from Scratch" post as well as Italian Chicken in Creamy Pan Sauce.
If your like us and love sauce with your seafood and sides, check out the 10 Best Sauces for Fish.
Storing your sauce
If you're not ready to serve your Creole cream sauce immediately it can sit covered in the skillet on your stove for an hour safely. Then just reheat on medium low, stirring when you're ready.
If it will be longer you can keep it refrigerated (covered) for 3-4 days. Again, reheat on medium low, stirring until it's completely hot. You may need to add a little liquid - milk or water to get it to your desired consistency.
We have not tested freezing this sauce.
How to serve/what to serve it with
Pasta - Oh my goodness - it's just magnificent on any pasta of your choosing!
Shrimp - You can add plain steamed shrimp or grilled shrimp.
Fish - just like in the Cajun Cream Sauce recipe - or baked, broiled or grilled fish would be awesome.
as the basis for Shrimp and Grits - We do have a fabulous Shrimp and Grits recipe, but you could certainly make grits your favorite way (Pimento Cheese Grits anyone?) and then add shrimp to this sauce to serve over the grits.
Chicken (Cajun Baked, our famous "Preacher Chicken" or just slices off a rotisserie chicken you picked up.
Love the story version of recipes? Check out the web story on this one here.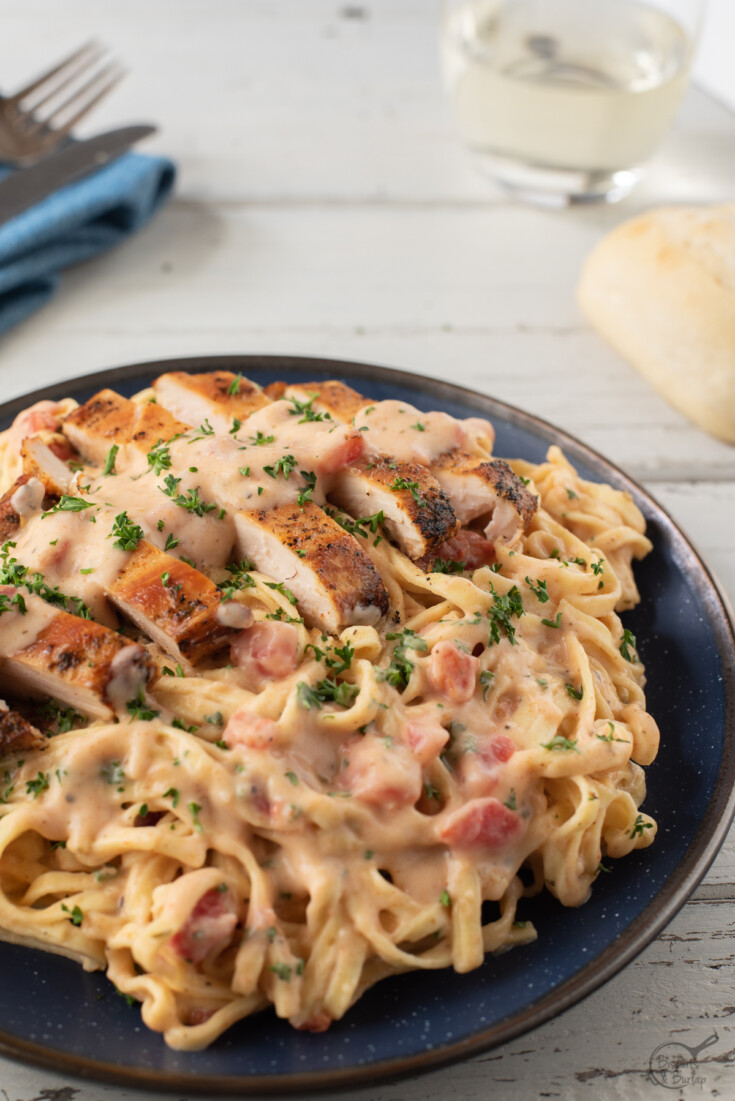 Do you love watching cooking videos? Subscribe now to our YouTube Channel!
📖 Recipe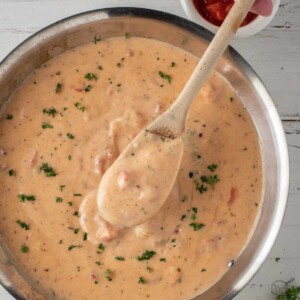 Creole Cream Sauce
In just minutes you can have a flavorful Creole Cream Sauce ready. It is absolute perfection over fish, pasta, shrimp and even chicken.
Ingredients
2

Tablespoons

butter

salted or unsalted

1

clove

garlic

diced

2

cups

whole milk

4

Tablespoons

all purpose flour

2

teaspoons

Creole Seasoning

1

teaspoon

dried oregano

½

teaspoon

smoked paprika

1

cup

canned diced tomatoes

drained lightly

1

Tablespoon

lime juice

juice of about ½ lime

½

teaspoon

salt

or to taste
Instructions
Melt butter in skillet over medium-low heat.

Add garlic and cook, stirring, about 1 minute.

Add flour, and whisk until blended.

Add milk gradually, whisking until incorporated.

Turn heat to medium and cook, stirring constantly, until mixture thickens.

Add tomatoes and salt, and reduce to simmer for 10 minutes, stirring occasionally.

Stir in lime juice before serving.
Notes
Half-and-half or 2% milk could be used as substitutes for whole milk
Adjust salt according to taste, allowing for salted vs. unsalted butter and the saltiness of the Creole seasoning
Fresh, diced tomatoes could be used, but approximately 10 additional minutes of simmering would need to be added
Could be made in a pan with pan drippings from cooking a protein
Fresh herbs could be used but about 3 times as much is needed 
If serving large entree servings you may only get 4-5 servings.
Nutrition
Calories:
112
kcal
Carbohydrates:
10
g
Protein:
4
g
Fat:
7
g
Saturated Fat:
4
g
Polyunsaturated Fat:
1
g
Monounsaturated Fat:
2
g
Trans Fat:
1
g
Cholesterol:
20
mg
Sodium:
313
mg
Potassium:
230
mg
Fiber:
1
g
Sugar:
5
g
Vitamin A:
662
IU
Vitamin C:
5
mg
Calcium:
122
mg
Iron:
1
mg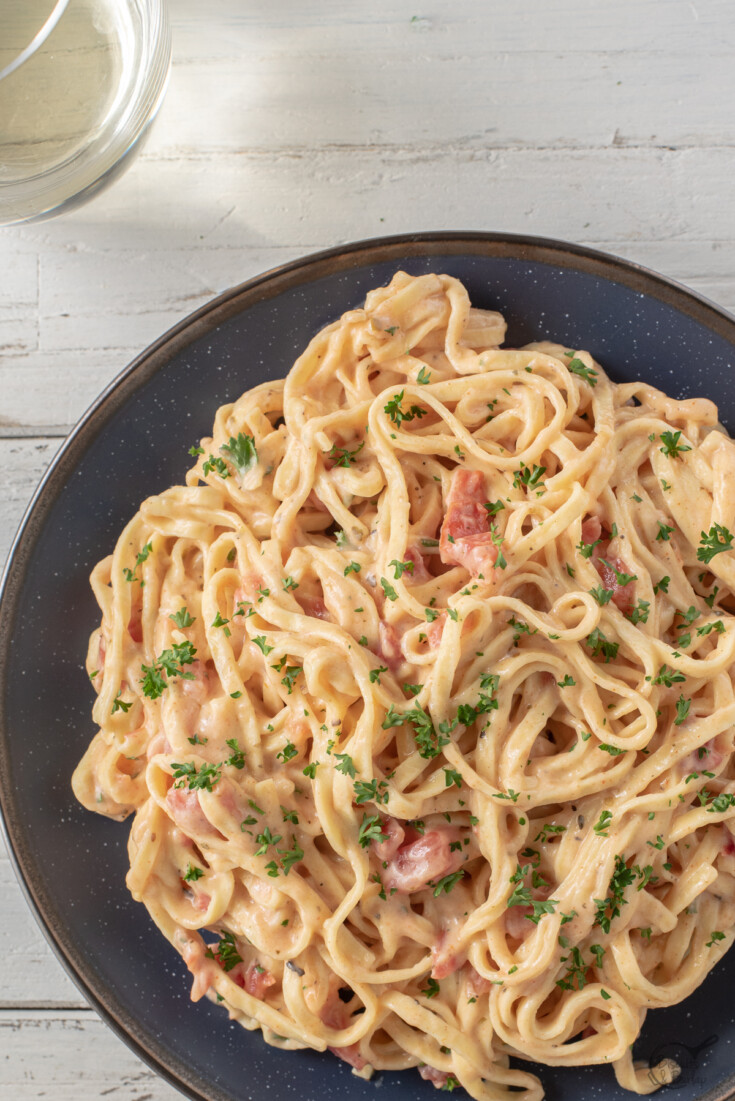 More recipes you'll love