This Italian Chicken is going to knock your socks off with its mouthwatering blend of flavors.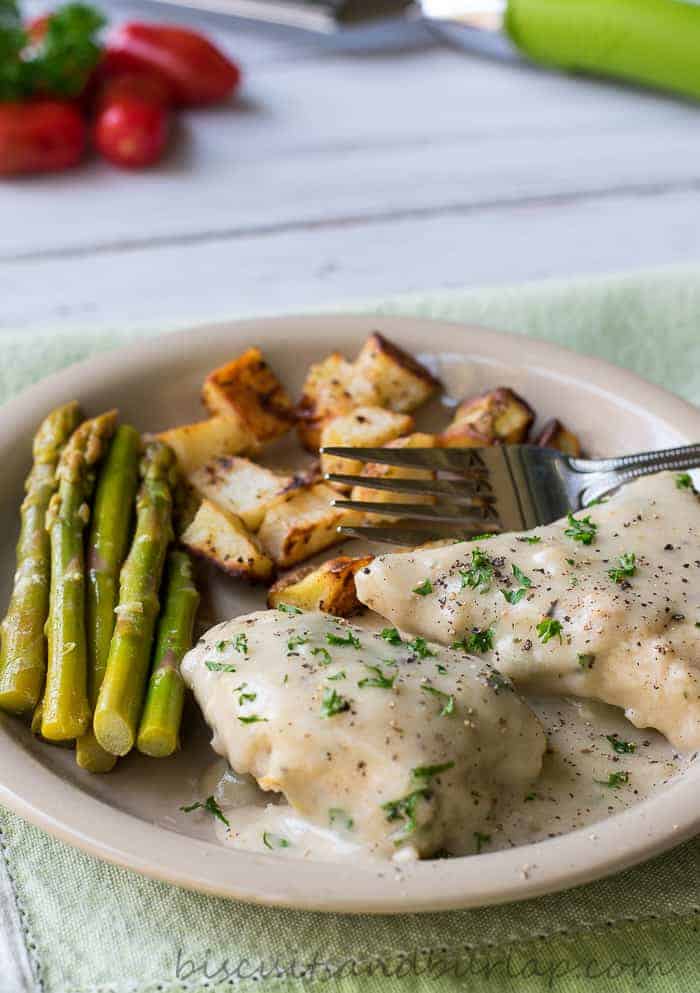 Our Italian Chicken comes together easily and has a combination of flavors that really work with each other to create something special! It's versatile, as it can be made with chicken thighs, breasts or a combination, depending on your preference for white or dark meat.
We served it here without pasta, but it's most definitely great over pasta. You'll want bread if you don't have pasta, because you need something to sop up that sauce. Leaving any of it on the plate would be downright sinful.
The perfect bread would be our Skillet Focaccia Bread and you won't believe how quick and easy it is.
Hey! Are you getting our weekly updates? Sign up here. We promise to treat you like family.
What is Pan Sauce?
Funny, this is a term I just became familiar with in the last ten years or so, but I certainly was already familiar with the concept. Pan Sauce just means that you make a sauce using the bits of goodness left in the pan after sauteeing or pan frying food - in this case chicken.
You definitely don't want to use your brand new non-stick pan because - well, nothing will stick. I made this is in an iron skillet, but a good stainless pan would work too.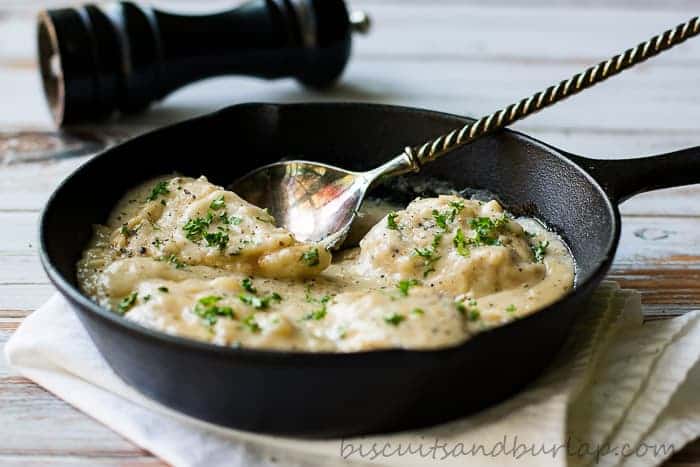 Like I said, I've known about the concept all my life. As a little girl I watched my Mama scrape the frying pan for the bits leftover after cooking country fried steak to make her gravy. Calling it pan sauce may be getting a little uppity, but hey, we go with the flow around here.
Is it really versatile?
It is. Besides boneless chicken breasts vs. boneless thighs, you could easily make this same sauce using bone-in chicken. And then, as always, the other ingredients can be varied if needed.
Don't have shallots, but have a regular onion? Go for it. No wine? Use all stock. No stock? Use all wine. No fresh lemon? Okay, use bottled, but I definitely recommend fresh if you can.
If half-and-half is what's in your fridge instead of heavy cream do not run to the store for the cream. Half-and-half will work just fine.
This Italian Chicken is great served with oven roasted potatoes and a cooked vegetable like we did here. Switch it up with pasta and salad and it's an equally delicious meal.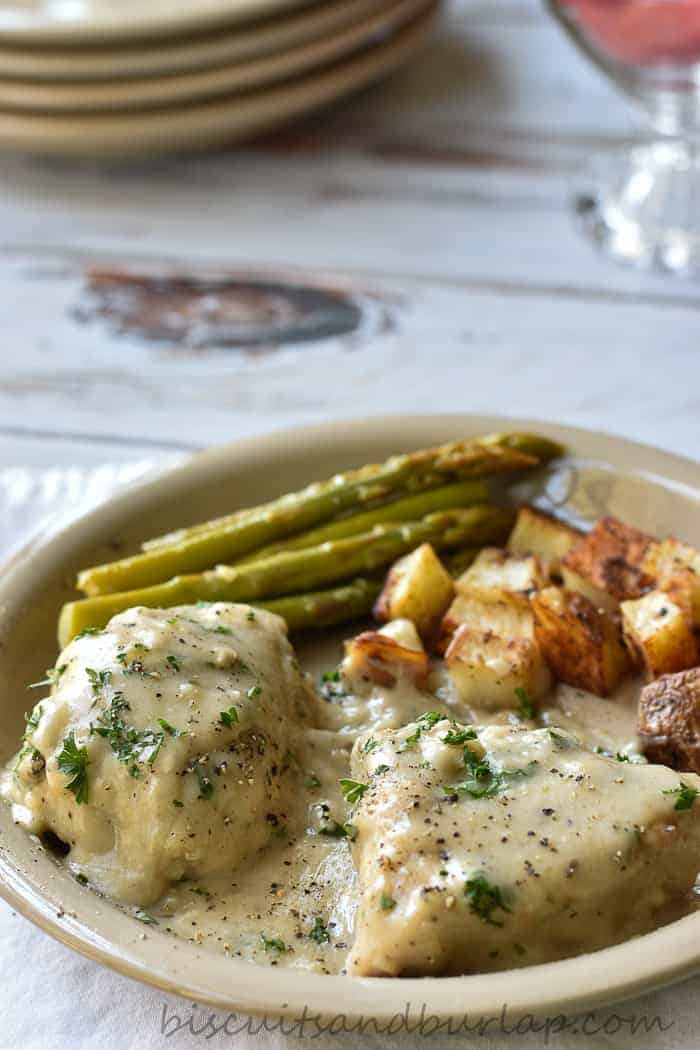 A few items that you may need for making your Italian Chicken with Creamy Pan Sauce:
This post contains affiliate links for your convenience. Click here to read our full disclosure policy
📖 Recipe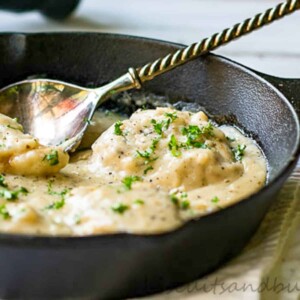 Italian Cream Sauce for Chicken
This Italian Chicken with Creamy Pan Sauce comes together easily and will knock your socks off!
Instructions
If using boneless chicken breasts, pound to ½ inch thickness and cut into smaller pieces, about 5-6 total.

Salt and pepper chicken to taste.

Brown chicken in olive oil over medium high heat 2-3 minutes per side, until lightly browned, but not done and set aside.

Reduce heat to medium. Melt 2 Tbsp. butter in same skillet.

Saute' shallot for 1 minute and add garlic, saute for additional minute.

Add flour and stir and then slowly add wine, cream and stock, stirring constantly.

Add salt, Italian seasoning and lemon juice. Cook, stirring until thickened.

Add parmesan cheese and stir.

Add chicken, turning to cover both sides with sauce. Cover and reduce heat to medium low. Cook for about 30 minutes or until chicken is done and tender.

Serve over pasta if desired. Garnish with freshly ground pepper and fresh parsley.
A few other recipes you will love.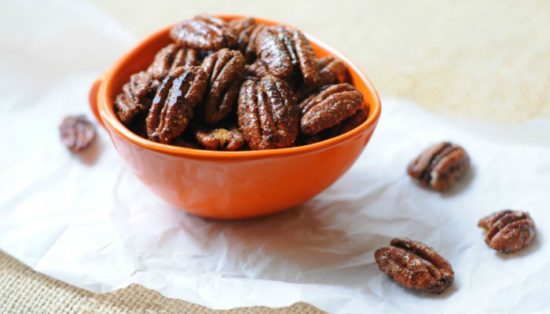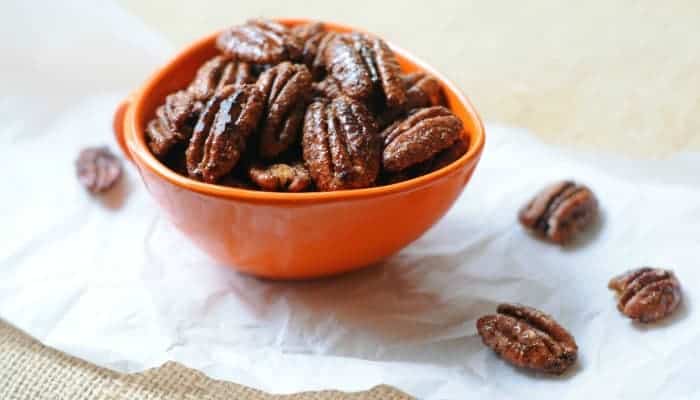 Don't forget to sign up here to get new recipes delivered to your In Box each week.
See y'all next time,