Country Fried Steak is a classic southern dish, and this version is more tender than most. It can be topped with gravy or eaten in all its crispy deliciousness as is.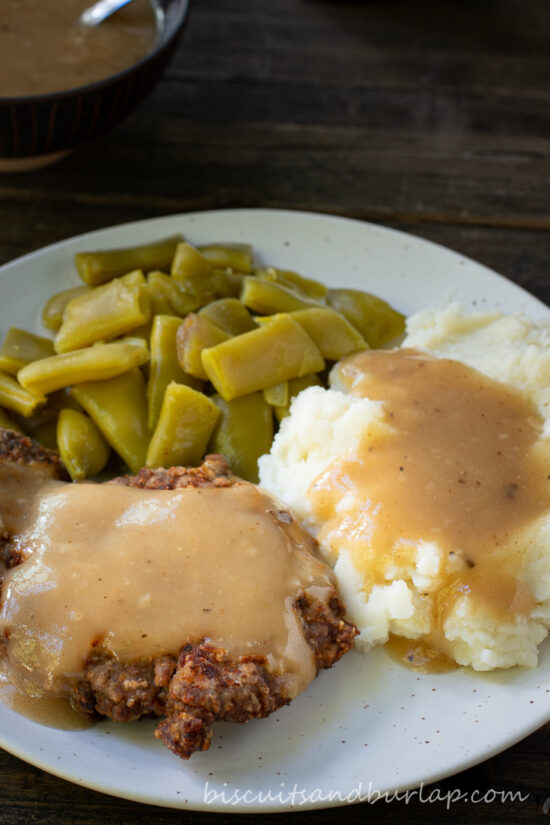 What is the difference between Country Fried Steak and Chicken Fried Steak?
Nothing but the name really. They are both fried beef steaks which are breaded in the same fashion as fried chicken. In all honesty, when I was growing up Mama called it simply "cube steak", and it was one of my Daddy's favorite meals.
All are different names for the same basic, homestyle fried country steak. The butcher has typically cubed it at the store, but you can buy a cubing machine and do it at home.
The indentations left by the machine are little "cubes" and that's where the name comes from. It's a method of taking a cheaper, less tender cut of steak and tenderizing it.
Gravy or not?
Chicken Fried Steak is typically served with gravy and we like it that way too, but it is darned tasty left crispy.
If you want to make gravy you'll use the pan drippings left behind after the steak is cooked. Then follow our easy recipe for how to make gravy. You'll then have yourself one classic plate of southern food.
Our favorite cuisine (and maybe yours too if you're reading this) is detailed in Southern Food: Then & Now. Be sure to check that out too.
#1 Tip for tender chicken fried steak
This one is actually a tip that came from my mother-in-law. She is the guru behind one of our top recipes around here – Cornbread Dressing (Southern Style), so you know she's an expert in this stuff.
Rather than picking up steak in the meat department that has already been cubed choose your own. It doesn't have to be an expensive cut – we like sirloin best of all, but you could go with something even more affordable, like round steak.
Then ask the butcher to cube it, one time. If you don't specify they may run the meat through the cubing machine twice, resulting in steak that's almost falling apart. One time through is absolutely perfect!
Does this look like a plate from when you were growing up? You must be our people then. Subscribe for regular updates below.
A few more tips for your country fried steak: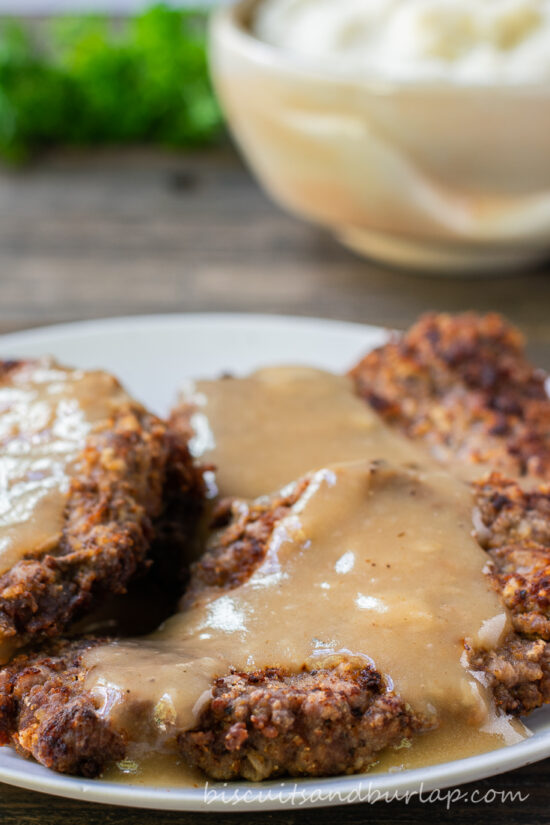 To prevent the breading from falling off your country fried steak you'll want to pat the steaks dry before doing anything else.
Be sure the oil is hot before adding the first steak.
Add the steaks gradually, allowing the temperature of the oil to recover between each addition
Use a seasoned salt (we like Lawry's)
Don't forget to get the butcher to cube the steak of your choice.
Top it with gravy made with the pan drippings from cooking the steak
Serve alongside traditional sauteed mushrooms and onions, Roasted Carrots and Green Beans, and Fried Squash.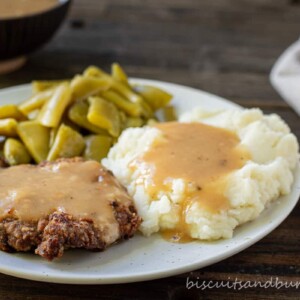 Country Fried Steak Recipe: The South's Best
Country Fried Steak is a classic southern dish, and this version is more tender than most. It can be topped with gravy or left crispy.
Ingredients
1½

pounds

cubed beef steak

approximate weight

½

cup

all purpose flour

1

teaspoon

black pepper

1

teaspoon

seasoned salt

recommend Lawry's seasoning salt

1

cup

vegetable oil

enough to be about ½ inch deep in skillet
Instructions
Pat steaks with a paper towel and then sprinkle with salt and pepper. Then dredge in flour on both sides.

Add steaks to oil one at a time slowly. Allow time for heat to recover between steaks.

Cook 5-7 minutes on one side, or until golden brown and then turn. Cook an additional 4-5 minutes and remove to absorbent paper for draining.
Notes
For best results, do not crowd steaks in pan, but leave a little space between each one. 

Southern food classics