This quick and easy peach bread recipe is a delicious way to make the most of summer's favorite fruit. Optional pecans and glaze make it versatile as a snack, dessert or breakfast bread.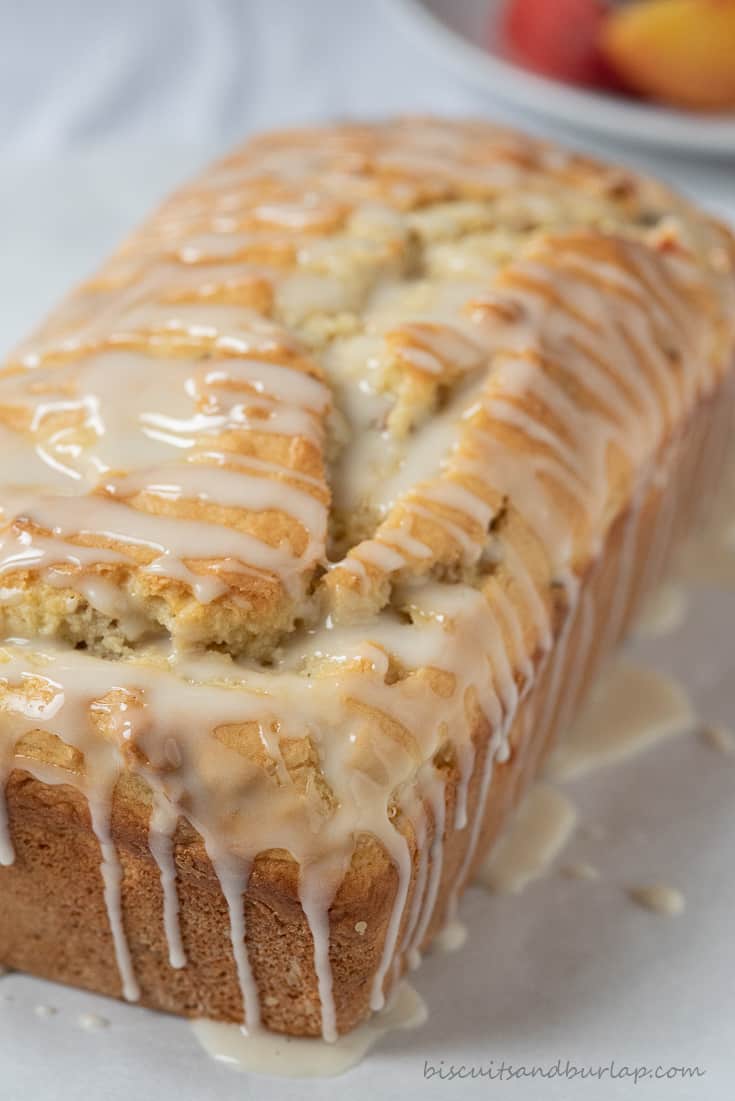 Fresh Peaches are a Gift
There is nothing like them, and you can't duplicate that special flavor. Canned peaches are fine, and so are frozen ones. We eat them all year long and enjoy them, but they are no substitute for the real fresh flavor you can only get in the summer, from the south's favorite fruit.
We like to think we've made a name for ourselves with our peach recipes. They range from classics like Peach Crumble with Butter Pecan Topping and Caramelized Peaches to the more unique ones. Chilled Peach Soup is perfect for a summertime party and Peach Mango Pie combines flavors you may not have thought of before.
Introducing Peach Bread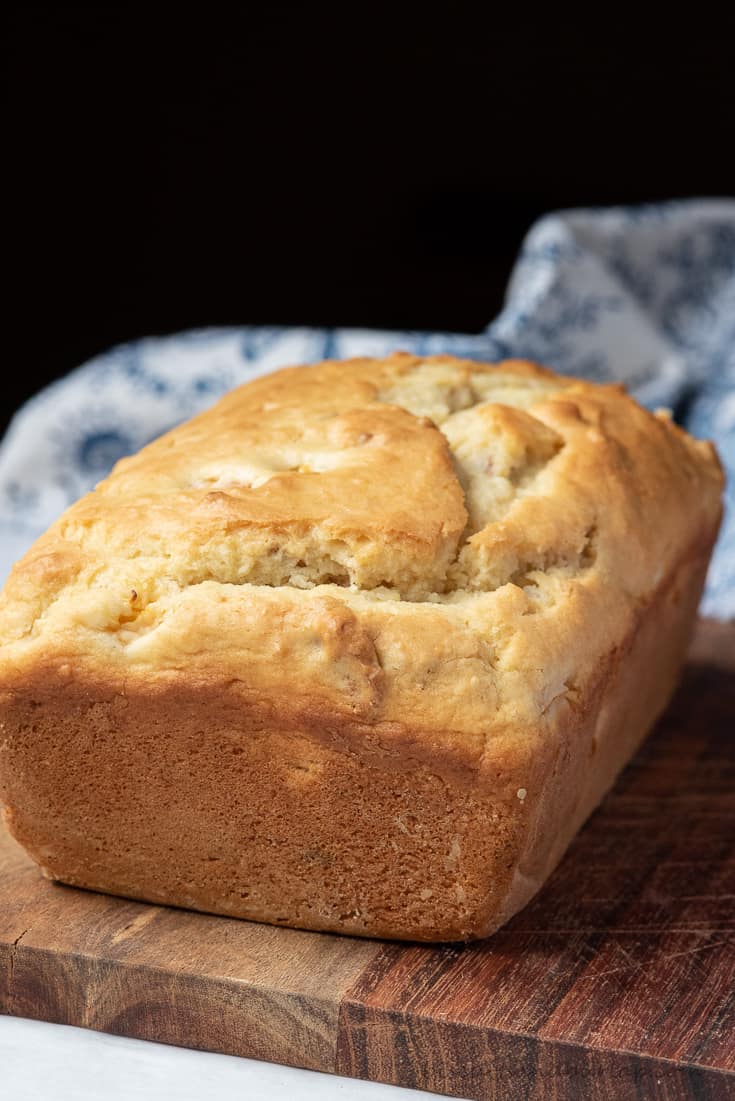 We have Hummingbird Muffins, Hummingbird Bread and Blueberry Orange Bread recipes that get a lot of love. So coming up with a quick bread recipe for peaches was a natural progression.
We kept it simple by using self-rising flour but if you don't keep it on hand you can refer to our 3 Ingredient Buttermilk Biscuit post for the substitution formula.
We add optional pecans because, well because, pecans are the king of nuts around here. Just put that word in the search bar and you'll find everything from Classic Pecan Pie to Fall Salad with Apples and Pecans.
Peaches and pecans are two classic southern ingredients. If you have an interest in all things southern food you'll want to read Southern Food: Then and Now. It's a look at our favorite cuisine's history and future.
We also added an optional glaze that makes the peach bread just a little bit sweeter. The light icing takes it over the edge towards a dessert, but we actually enjoy the glaze on it even as a breakfast bread. A slice for breakfast is especially wonderful toasted and buttered.
A double punch of peach flavor and moistness comes from pureed peaches. Adding more that are finely diced leaves you with no doubt what is the star of this loaf.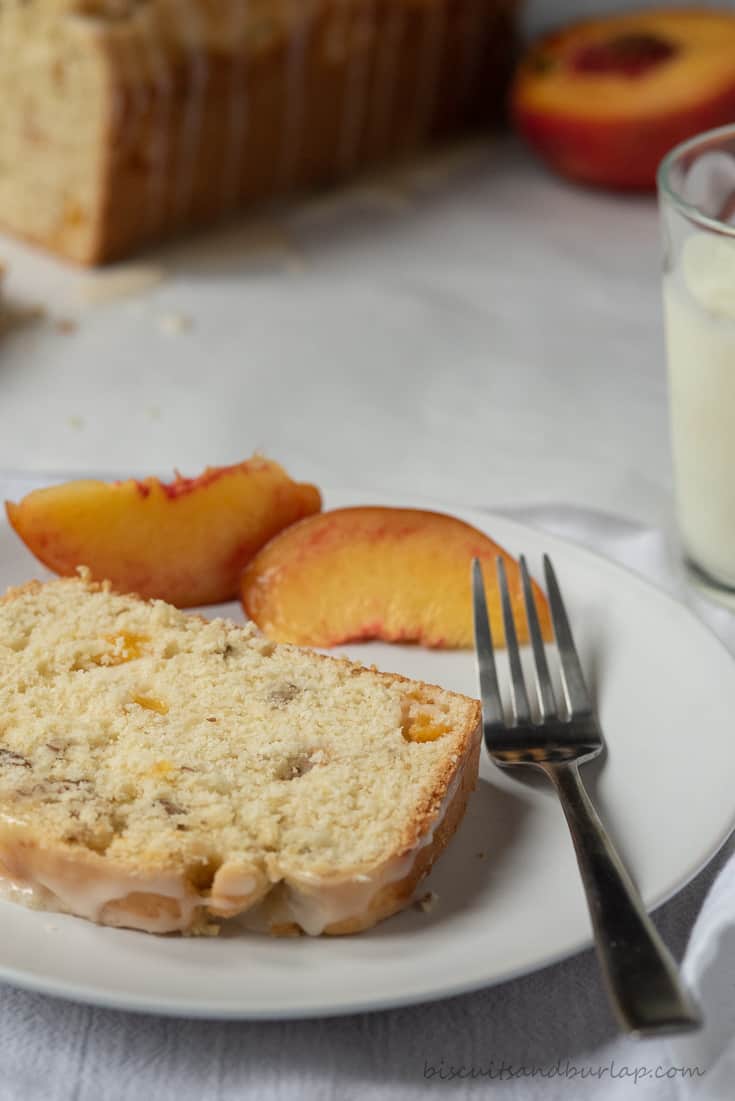 Tips for Making Peach Bread
Use peaches at their peak of freshness. We have not tested the bread recipe with canned or frozen peaches.
If adding the pecans toast them lightly in a 350 degree oven for 5-7 minutes. Toasting pecans really brings out the flavor.
Line your loaf pan with parchment paper that hangs over the edge giving you "handles" to easily remove the loaf. Our Hummingbird Bread recipe has photos of this.
If glazing allow the glazed loaf to sit out for a bit (30 minutes to 1 hour) before wrapping. This allows the glaze to form a little crust and helps to keep it from getting gooey after you wrap.
Cook only until a toothpick inserted in the center comes out clean. This will give you perfectly moist, but not dry peach bread.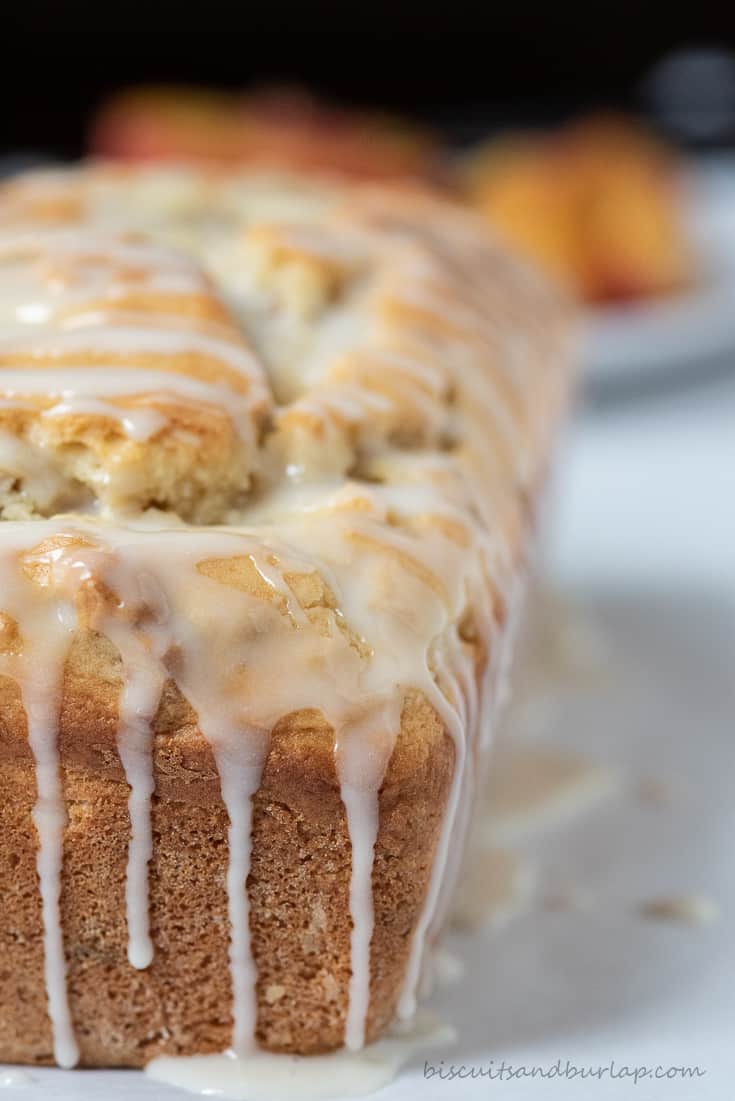 Note: The recipe has been modified as of August 5, 2021, to make a somewhat smaller loaf. It is still made in a classic 9x5 loaf pan and still full of peach flavor.
For yet another breakfast or brunch recipe using fruit and pecans you'll want to be sure to check out Banana Pancakes with Pecans. They have an optional splash of another signature ingredient around here (wink, wink).
📖 Recipe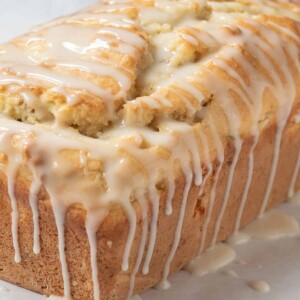 Fresh Peach Bread Recipe
Quick and easy peach bread is a delicious way to make the most of summer's favorite fruit. Try it with or without pecans and glaze.
Ingredients
⅓

cup

butter

room temperature

¾

cup

sugar

2

eggs

1

teaspoon

vanilla

⅓

cup

buttermilk

2¼

cups

self-rising flour

2-3

peaches, peeled and pureed

(2 large or 3 small - see notes)

2-3

peaches, peeled and diced

(2 large or 3 small - see notes)

½

cup

chopped pecans, toasted

optional
Instructions
Cream butter and sugar together until light and fluffy.

Add eggs and vanilla and blend well.

Add flour and blend well.

Add pureed peaches and buttermilk and blend well.

Fold in peaches and pecans (optional).

Pour batter into a 9x5 loaf pan which has been lined with parchment paper and sprayed with a baking spray like Bakers Joy.

Bake at 350° for 45-55 minutes or just until toothpick inserted in the center comes out clean.

Cool in pan for 5-10 minutes and then remove to cooling rack.

Cool completely before glazing, if desired.
For the Glaze
Blend sugar, vanilla and milk, adding a Tablespoon at a time until desired consistency is reached.
Notes
You should end up with about 1-1.5 cups of pureed peaches
You should end up with about 1.5-1.75 cups of diced peaches
After glazing allow peach bread to sit uncovered at room temperature until glaze forms a light "crust" before covering.

More Summertime Favorites