Perfect for any fall gathering these Sweet Potato Biscuits have just a hint of cinnamon. The light touch of sweetness makes them perfect for breakfast, brunch or your holiday feast, but they're easy enough to make any time you like.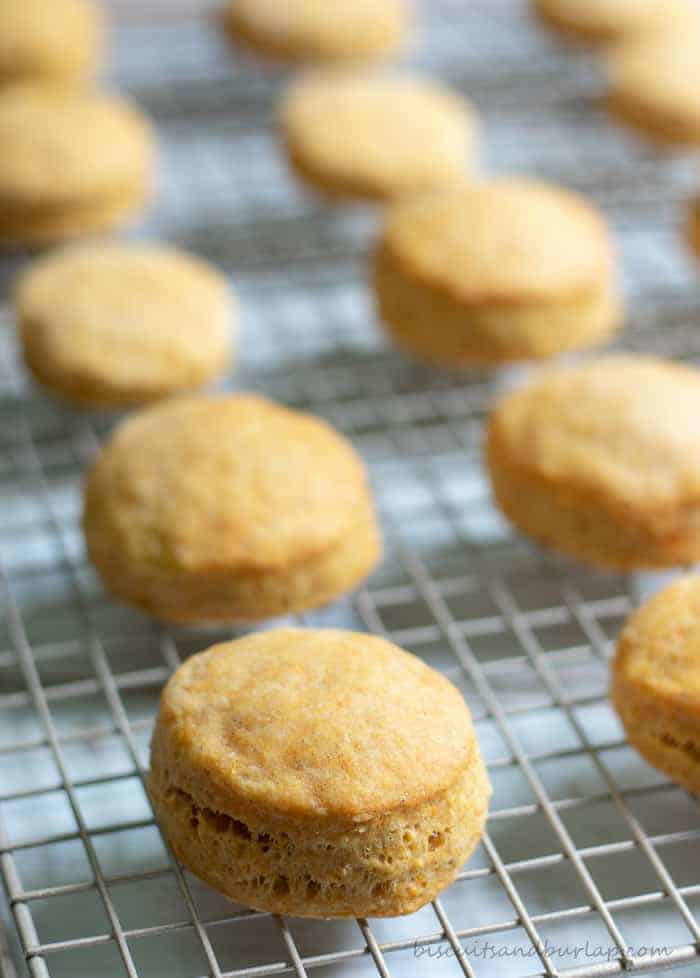 Sweet Potato Biscuits, you say? Yeah, man! They're like the best of all worlds in one little round bit of yumminess. Now, if you love sweet potatoes it's one more way to get some in your belly.
But honestly, the sweet potato flavor is subtle enough that you'll love the biscuits even if you don't love sweet potatoes. A gentle touch of cinnamon takes the flavor soaring to new levels. I am not kidding! You have got to try these.
On the other hand, if you do truly love sweet potatoes you'll want to learn to make Smoked Sweet Potatoes. They can go on the smoker alongside your ham or turkey.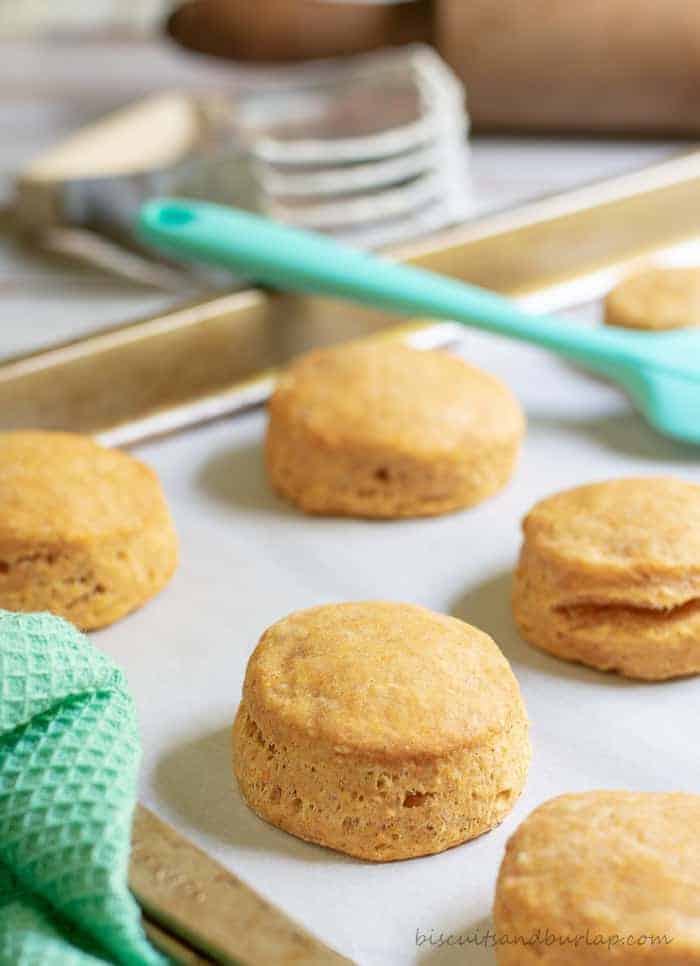 The Recipe is Tried and True
This post contains affiliate links for your convenience. Click here to read our full disclosure policy.
I made a few adaptations, but the inspiration for the recipe is from one of my all time favorite cookbooks, The Ultimate Southern Living Cookbook. This link is to my original 1999 cookbook, but if you'd prefer the updated version, this goes to The All New Ultimate Southern Living Cookbook.
Is anybody else out there like me and still like your printed cookbooks? I love finding recipes online like most of you, but there is something satisfying about sitting down with a cup of coffee or a glass of wine and thumbing through a real old fashioned cookbook.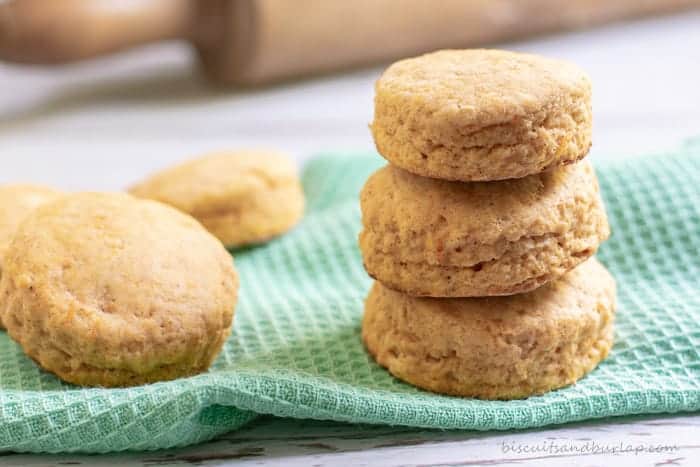 Changes made to the original Sweet Potato Biscuit Recipe
I used plain flour and the appropriate leavening instead of self-rising flour
I added a teaspoon of cinnamon
I used a 2.5 inch biscuit cutter
These biscuits were baked at 350 degrees with my oven on the convection setting
I find that a lot of people don't keep self-rising flour, but if you do have it, that's what the original recipe calls for, so by all means, feel free to use it.
The cinnamon was my own special touch. What goes better together than sweet potatoes and cinnamon?
There is something therapeutic about making biscuits. Making that big ball of dough and sprinkling it with flour and then rolling it out is just good clean fun. If that's the kind of fun that appeals to you be sure to check out Southern Food Then and Now.
The first time I made them I used the 2 inch biscuit cutter and I thought they were just a bit small. I feel like 2.5 inches gives you a more substantial biscuit, but that's a matter of preference too. You could even make little tea biscuits. Yum!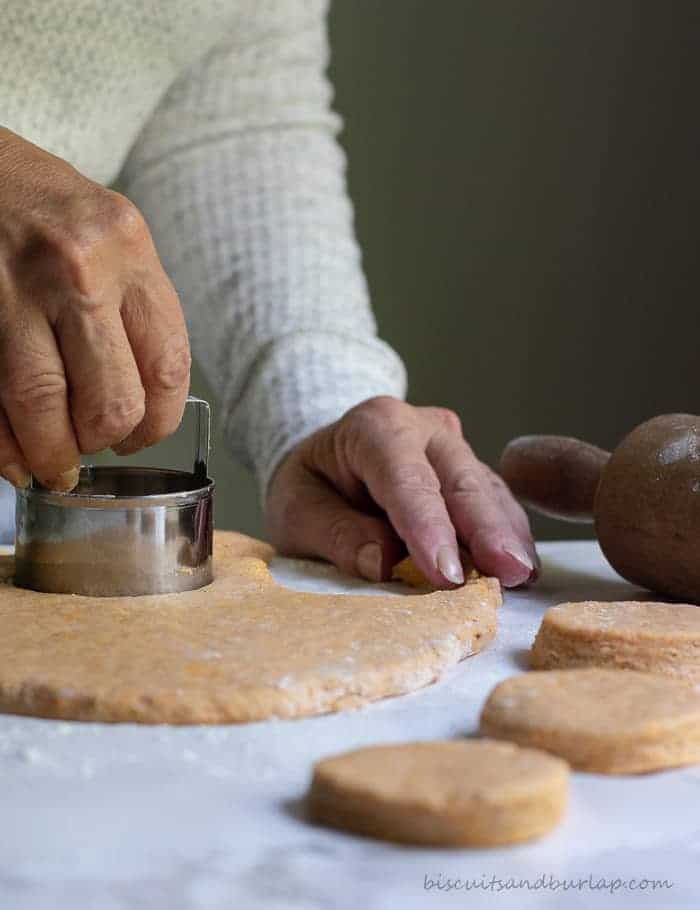 If you love the idea of sweet potatoes in your bread you'll want to try this recipe too. Sweet Potato Muffins with Crumble Topping have an optional praline glaze that takes them totally over the top.
Sweet Potato Biscuits
Slightly sweet with a subtle touch of cinnamon, these Sweet Potato Biscuits will be the star of your table.
Ingredients
2

cups

all purpose flour

¼

cup

sugar

3

teaspoons

baking powder

1

teaspoon

cinnamon

½

teaspoon

salt

3

Tablespoons

shortening

cut into small chunks

2

Tablespoons

butter

cut into small chunks

1

cup

cooked, mashed sweet potatoes

(about 1 large sweet potato) processed in food processor or mashed with potato masher

⅓

cup

milk or half-and-half
Instructions
Combine flour, baking powder, cinnamon, salt and sugar in a bowl.

Cut in shortening and butter with a pastry blender until crumbly.

Add sweet potatoes and milk, stirring just until dry ingredients are moistened.

Turn dough onto lightly floured surface, kneading 4 or 5 times.

Roll dough to ½ inch thickness; cut with 2-2.5 inch biscuit cutter.

Place on lightly greased baking sheet or parchment paper.

Bake at 400 degrees for 14-15 minutes in traditional oven or at 350 in convection oven for 12-13 minutes, or until lightly browned.

Brush with melted butter, if desired.
Notes
The yield will depend on the size of your biscuit cutter. I got 18 with a 2 inch cutter, but you'll only get 12-14 if you use a 2.5 cutter.
Do you have everything you need to make biscuits?
The Ultimate Southern Living Cookbook suggests filling these biscuits with a slice of ham, bacon or turkey. That's an idea we can wrap our heads around. We happened to have some homegrown tomatoes on biscuit baking day and we had a hot biscuit with a piece of Applewood Bacon and a slice of tomato. Oh my!
If you're reading this you must love biscuits. You'll also want to try our Asiago Cheese & Black Pepper Biscuits. They are divine! And Mexican Style Biscuits has all the flavors of Mexican Cornbread, but in biscuit form.
Our basic, 3 ingredient biscuit is made with just three ingredients and turns out a perfectly flaky biscuit every time. A different take on that same technique is the ultra Southern food, Pimento Cheese Biscuits.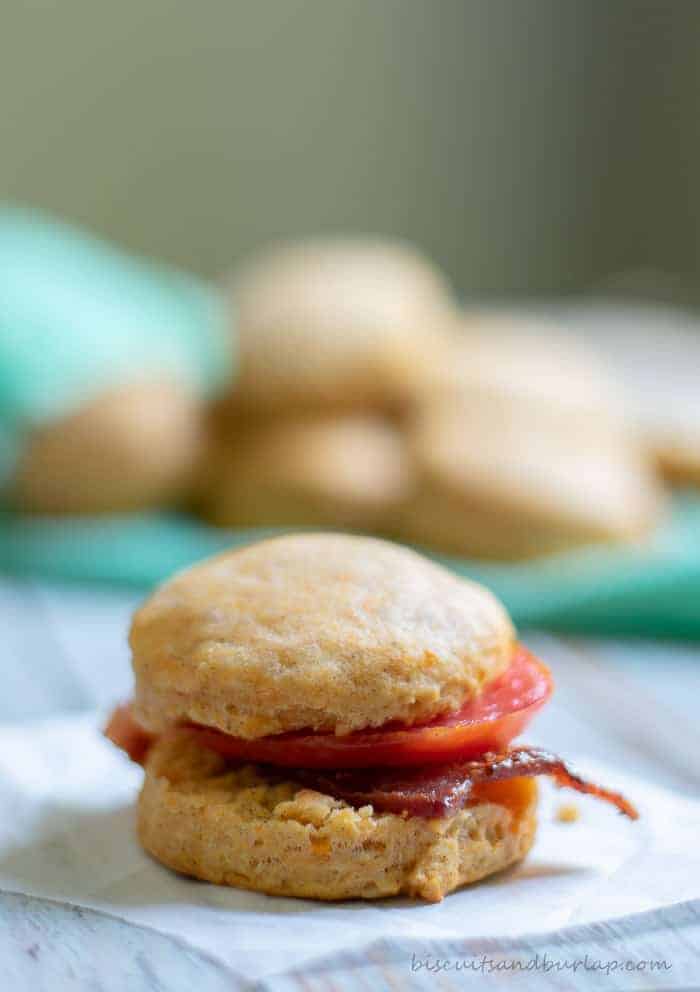 Make ahead and freeze
I'm a huge fan of doing anything I can ahead of a big holiday meal. The more time I have to spend with friends and family the happier I am.
These Sweet Potato Biscuits are perfect for that. Bake them and make sure they're completely cool before freezing. I would be very comfortable making them 2 or 3 weeks ahead.
At Thanksgiving I always include my Mama's old original Pecan Pie recipe and I make those ahead and freeze them too. No one can tell the difference. I promise. Both are included in this collection of 15 Make Ahead Recipes for Holiday Meals.
One more traditional Thanksgiving dish that can be made a day ahead and kept in the fridge or a couple of weeks and frozen is Slow Cooker Turkey Breast. It makes the most divine gravy which also freezes well.
Love Sweet Potatoes?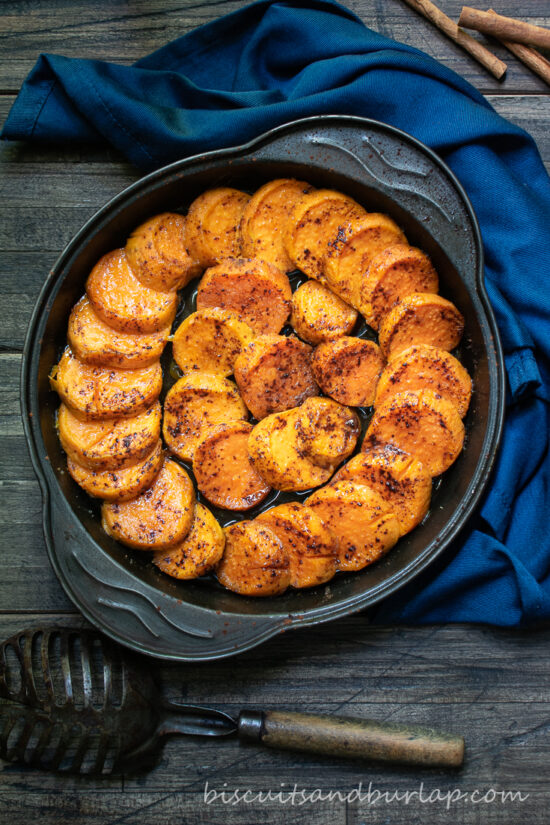 This is a super simple recipe that makes a wonderful side dish year round. Only 4 ingredients are in this one and it has humble beginnings in the Gullah culture of the Carolina Lowcountry. Gullah Style Sweet Potato recipe can be found here.
Funny Story:
When this recipe came to be it was because a friend had been going on about the great sweet potato biscuits she had in a restaurant. Or so I thought. As it turns out she was actually telling me about sweet potato cornbread. Duh.
Almost through with this biscuit post I went ahead to complete it – and y'all do love the biscuits. But, now we have added Sweet Potato Cornbread to Biscuits and Burlap. You'll want to click over for that recipe too.
If you make either recipe, be sure to leave a comment, and tag @biscuitsandburlap in a picture on Instagram. See y'all next time!
Don't forget dessert! For the perfect end to your fall meal try this Apple Crisp with Cranberries. Mmm…..
To make sure you get notified of our new recipes you'll want to sign up here. We promise never to share your information with a third party.

A few more recipes great for your fall & winter holidays