Sweet Potato Muffins will be the star of your holiday table or brunch buffet. Stirred up in just minutes, they have a crumb topping and optional praline glaze.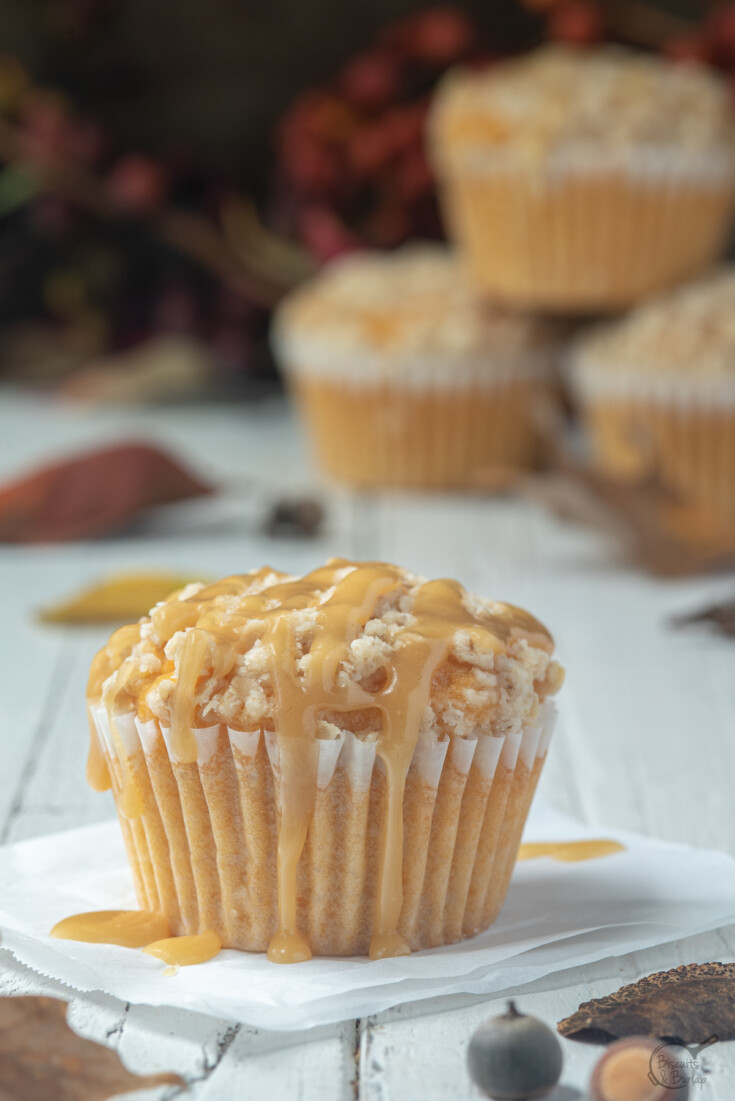 This is a sponsored post, written by me on behalf of Raven's Original. All opinions are 100% my own.
Make your holiday meals unique
There is nothing wrong with having lots of traditional favorites at Thanksgiving, Christmas, or any holiday. We embrace the much loved Cornbread Dressing like Grandmother made and gravy made from scratch just like Mama made it.
Around here Ambrosia Salad will never have a marshmallow or cool whip because that's how we've always done it - the old fashioned way.
But, after the classics have made it to the menu we enjoy branching out and trying something new. Introduce your family to a dish that's updated and unique. Who knows - it may become a staple that your kids and grandkids will make for years to come.
That's how traditions get born.
With that said, we do love pumpkin and all dishes that can be made from it. But honestly, hasn't it been done to death?
So, instead of pumpkin muffins make sweet potato muffins and rake in the compliments. They have a light crumb (or streusel) topping and you can add a little extra sweetness with praline glaze if you like.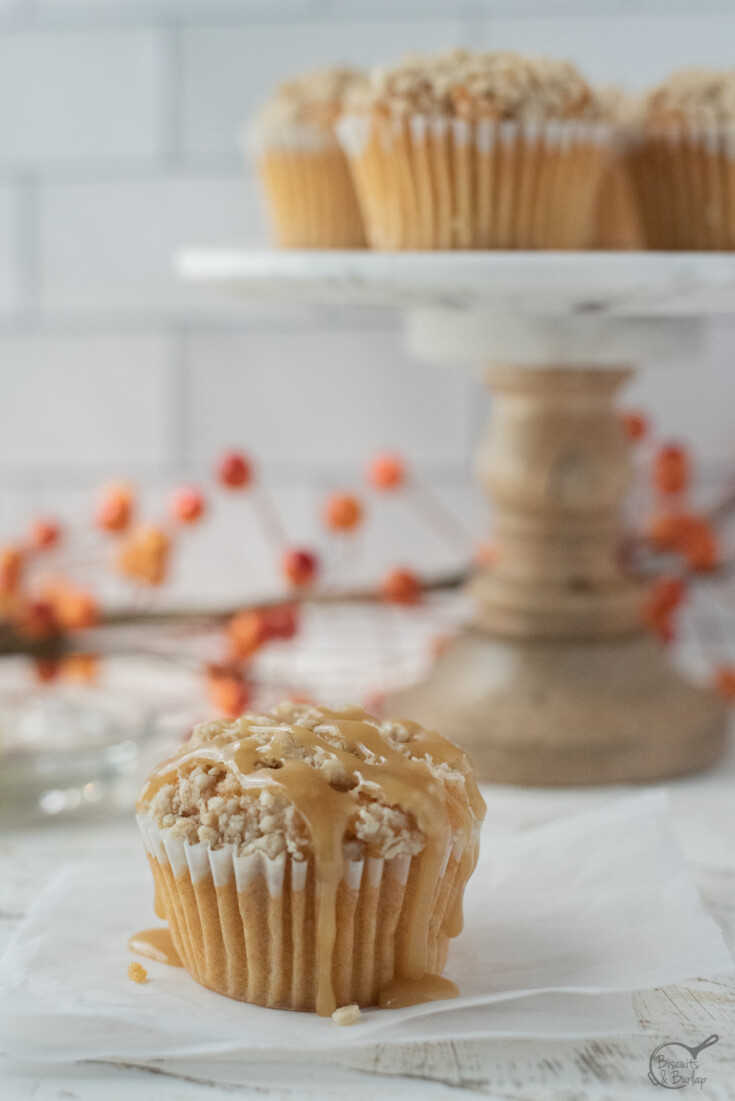 Keeping it quick and easy
The first thing we do is bake the sweet potatoes. That's the simplest way to get pure sweet potatoes with no additives. Give them 45 minutes to an hour in a 375 degree oven or until a fork pierces easily. Let them cool and then cut in half and scoop out the flesh. You can do this a day or two ahead if you like. This is the same method we use for sweet potato biscuits.
Use self-rising flour. We use it often and it's such a timesaver! It eliminates the need to add baking powder or baking soda. Self rising flour is the basis for our famous 3 Ingredient Buttermilk Biscuits, Banana Carrot Muffins, Hummingbread Bread and so much more.
Instead of lots of different spices we add our very favorite Raven's Nest Mulling Spices. Of course they're perfect for making mulled wine, but did you know they're awesome in all kinds of baked goods? Go ahead and order several packs now for these muffins. Then you'll have plenty left for all of the great recipes you can find on the Raven's Nest website.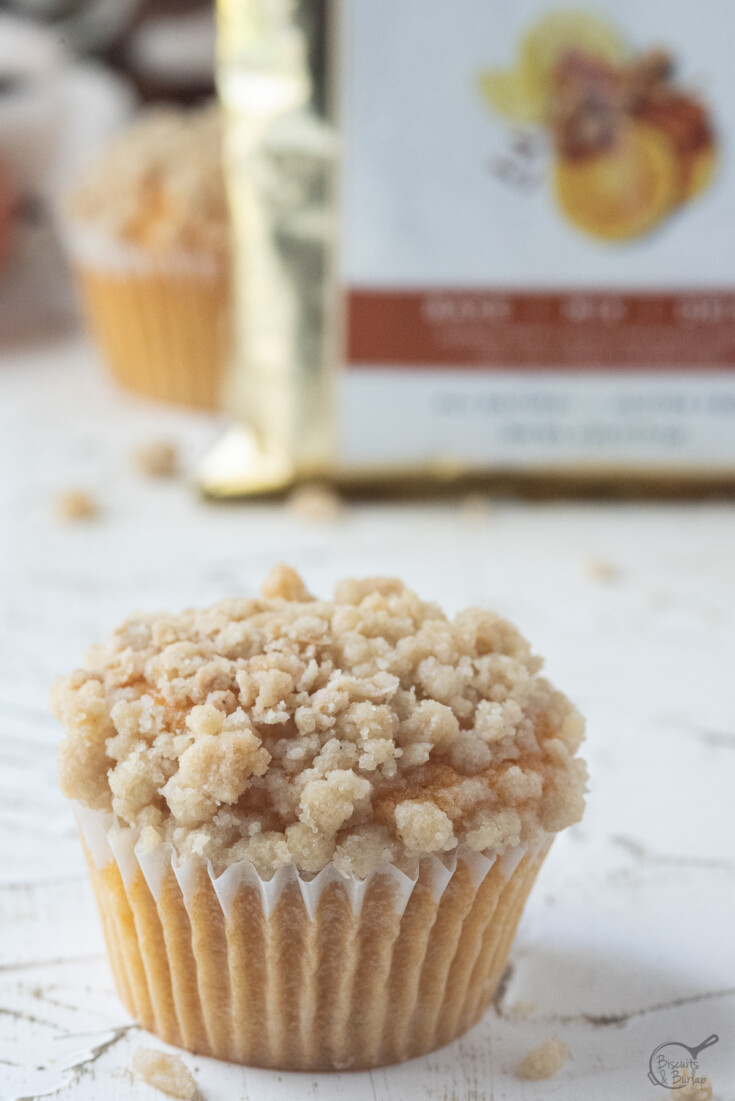 This post contains affiliate links, which means if you click on an affiliate link and buy something, we may receive a very small commission.  It does NOT result in additional charges to you or cost you anything extra. Click here for our full privacy and disclosure policy. As an Amazon associate we earn from qualifying purchases.
Tips for making the best sweet potato muffins
After the sweet potatoes are scooped out of the skins, mash with a potato masher or process in a food processor.
Allow eggs to come to room temperature. If you don't have time you can let them sit in warm water for a few minutes.
Allow your melted butter to cool 5-10 minutes before you stir it into the dry ingredients for the crumb topping. Then add it very slowly tossing everything with a fork until crumbly.
The praline glaze may thicken before you have time to drizzle over all 12 muffins. If that happens, give it a few seconds in the microwave.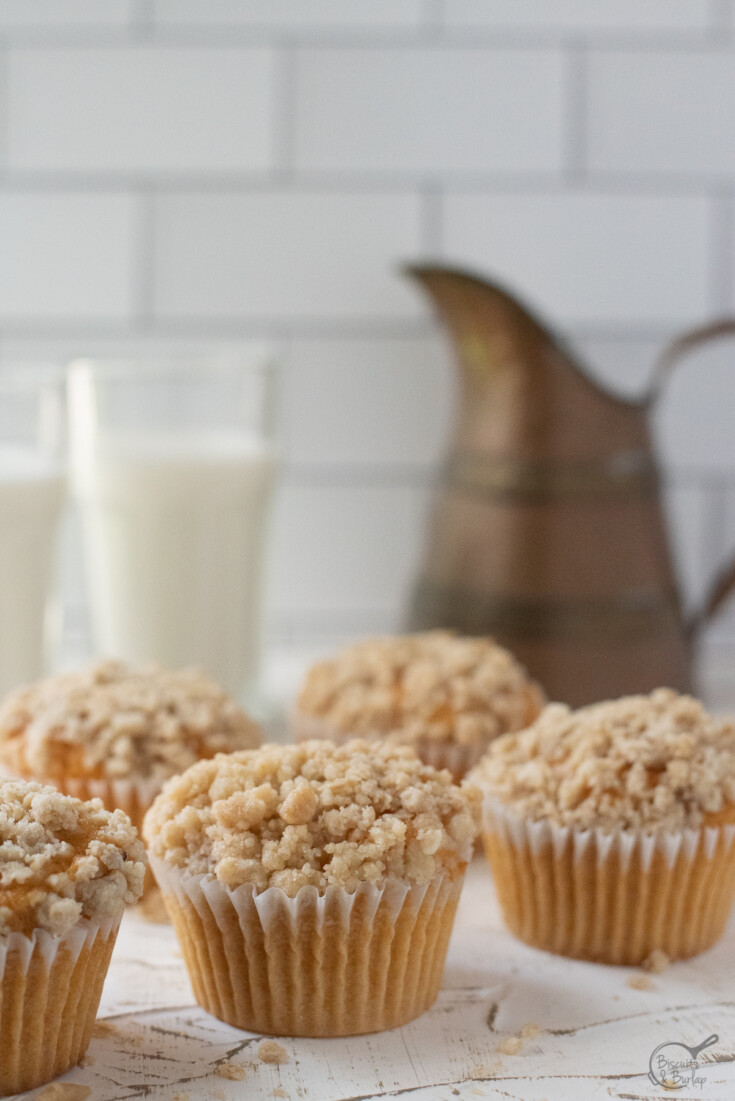 Can the muffins be made ahead of time?
As with most baked goods, they'll be at their best fresh out of the oven. But, it's perfectly fine to make them them a day or two before and refrigerate or even freeze them and keep 2-3 weeks.
If making ahead we recommend leaving the glaze off. When you're ready to serve, warm them in a 350 degree oven for about 8-10 minutes or until piping hot and then drizzle with the glaze, if adding it.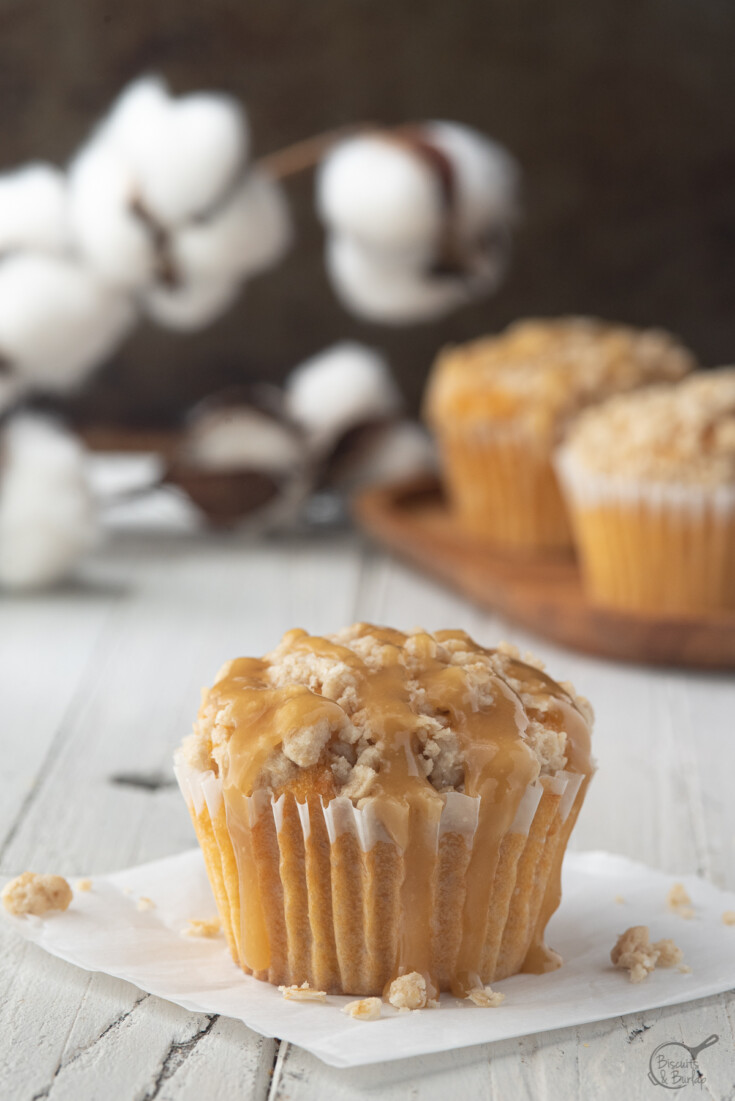 If you want to freeze the muffins, thaw them the day you want to serve and then reheat as recommended above and glaze, if desired.
These sweet potato muffins are really awesome without the glaze, too. It all depends on your level of love for sweetness. We sometimes make a few both ways.
For a decadent breakfast treat have a cup of White Chocolate Mocha with your muffins. It's an easy Starbucks copycat.
If you have sweet potatoes left over and you're still in the mood to try something new, Sweet Potato Praline Pie is always a hit. It's especially sought after around the holidays.
Don't forget about getting your Raven's Nest Mulling Spices. You can certainly order them online, but you may want to check their store locator. It's very likely you'll find them right down the street!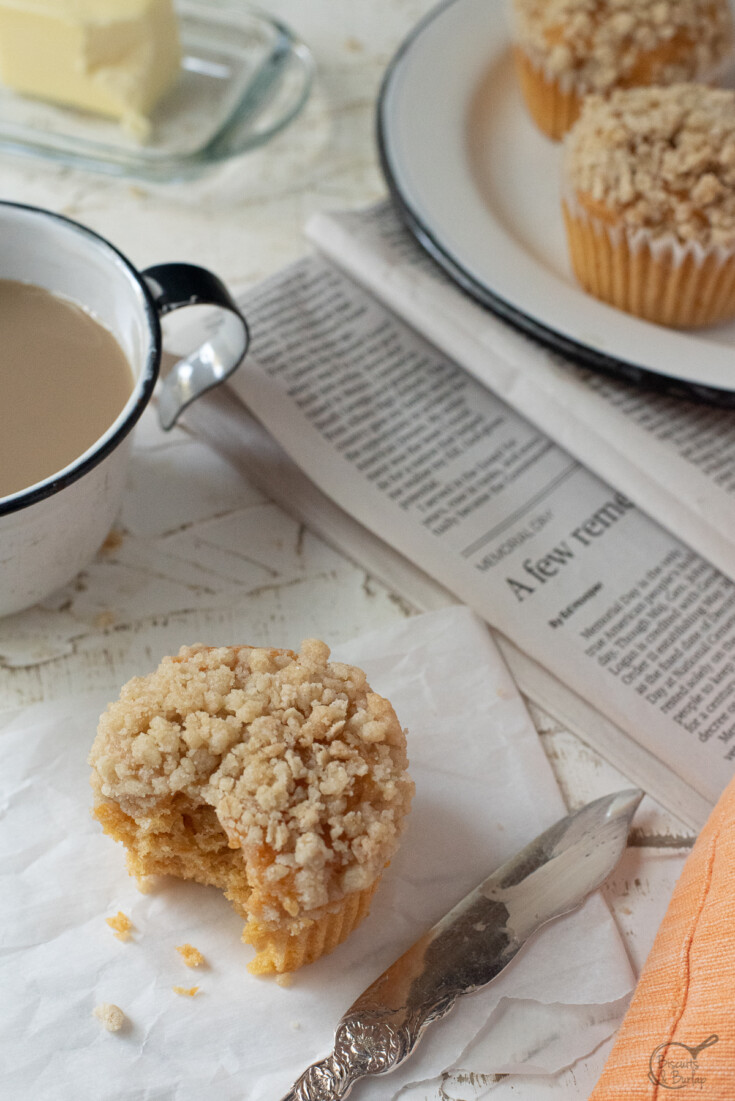 📖 Recipe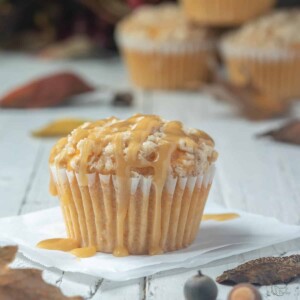 Sweet Potato Muffins with Crumb Topping
Sweet Potato Muffins will be the star of your holiday table or brunch buffet. Stirred up in just minutes they have a crumb topping and optional praline glaze.
Ingredients
For the Muffins
1½

cups

self rising flour

4

teaspoons

Raven's Original Mulling Spices

⅓

cup

vegetable oil

⅓

cup

sugar

⅓

cup

brown sugar

1⅓

cup

cooked, mashed sweet potatoes

about two medium sweet potatoes

2

eggs

3

Tablespoons

milk
Instructions
For the Muffins
Mix flour and mulling spices and set aside.

At low speed of mixer, blend oil, sugar and brown sugar until well blended and then add in eggs, sweet potatoes and milk blending until well blended.

Add wet ingredients into dry ingredients and blend until all ingredients are moist.

Line 12 muffin cups with paper liners or spray with baking spray, such as Bakers Joy.

Fill muffin cups ¾ full and sprinkle with crumb topping, pressing crumbs lightly into batter.

Bake at 350 degrees for 18-22 minutes or until finger pressed into center of muffin bounces back.

Cool for about 5 minutes in pan and then remove and drizzle with praline glaze, if desired.
For the Crumb Topping
Melt butter and allow to cool for 5-10 minutes.

Blend all purpose flour, sugar, brown sugar and mulling spices in a small bowl.

Pour melted butter into dry ingredients in a fine stream, tossing all ingredients lightly with a fork until the mixture is the texture of chopped nuts or coarse meal*
For the Praline Glaze
Mix butter and brown sugar in a small sauce pan.

Heat over medium heat until boiling, whisking or stirring constantly.

Boil for 1 minute, whisking or stirring constantly.

Remove from heat and drizzle over warm muffins immediately.
Notes
2 medium sized sweet potatoes should yield about 1 and ⅓ cups cooked sweet potato.
*SPECIAL TIP FOR CRUMB TOPPING: After adding melted butter if pieces are too big and "doughy" you can chill the topping for about 15 minutes and then crumble with your fingers.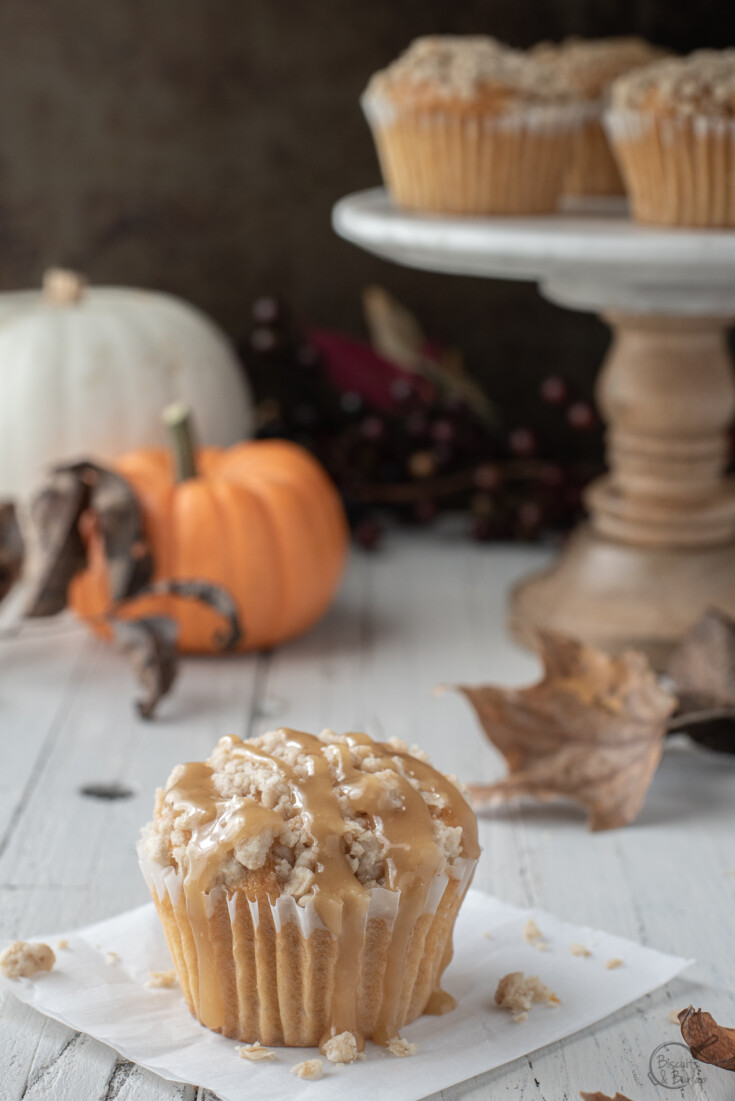 More Breakfast and Brunch Recipes