Basic ingredients are used to create a delightful Cajun quiche for dinner, brunch or lunch. It can be made with a crust or crustless for those watching their carb intake.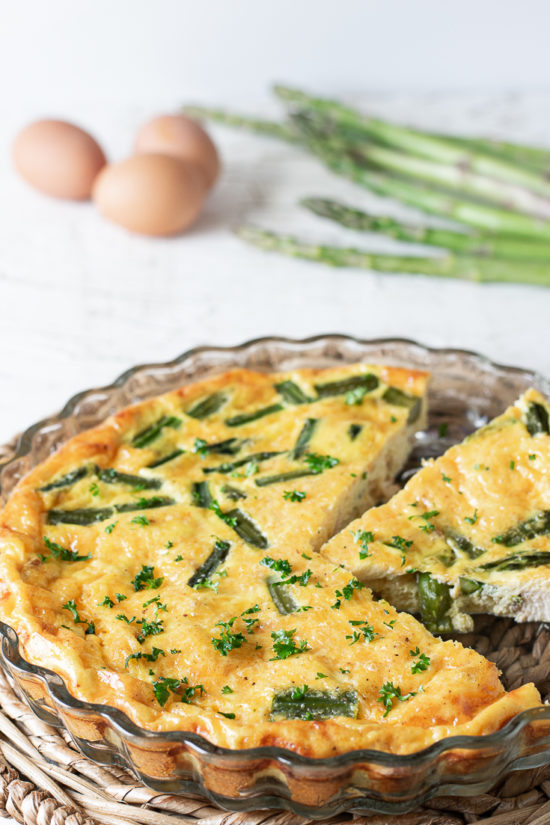 This version of quiche is one of those "use what you have on hand" creations. My mother was a child of the depression, so that makes me a child of a child of the depression. While I'm not nearly as frugal as she was, it's still ingrained in me to use what you have, and try not to mindlessly throw food away. You'll find this to be a recurring theme in southern recipes.
Quiche is the "queen" of versatility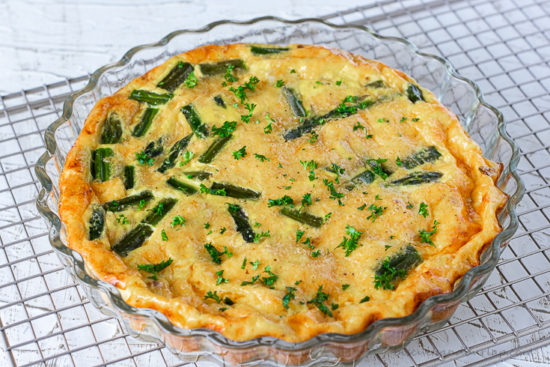 Y'all know we love all things with Cajun and Creole flavors (like our Easy Shrimp Etouffee and Dirty Rice) so we've seasoned chicken that way, and then added asparagus. It's healthy, it's green, and we know many of you love it too.
But, say you don't love Cajun flavors - season your chicken however you like. Maybe you don't love asparagus, or don't have any on hand. Add your favorite vegetable instead. You can even use a different meat or seafood.
We always add cheese to our quiche, and in this case it was cheddar. But that's another place you can be flexible. Whatever you have on hand or like the best - that's what you add.
Basic quiche ingredients & proportions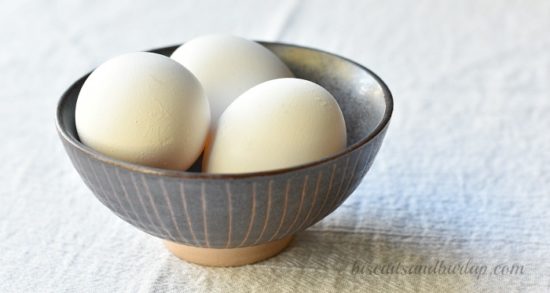 The basics are eggs, whole milk or half & half and cheese. The proportions are one egg for every ¼ cup milk and ¼ cup cheese. Take these ingredients and multiply them according to the size quiche you want to make.
The one you see pictured here is in a basic quiche dish and I used 5 eggs, 1 and ¼ cup half & half and 1 and ¼ cup grated cheese. A deep dish pie shell would be slightly smaller. Therefore, you would want to use 4 eggs, 1 cup milk and 1 cup cheese. A larger quiche may need 6 eggs and adjust the other ingredients accordingly.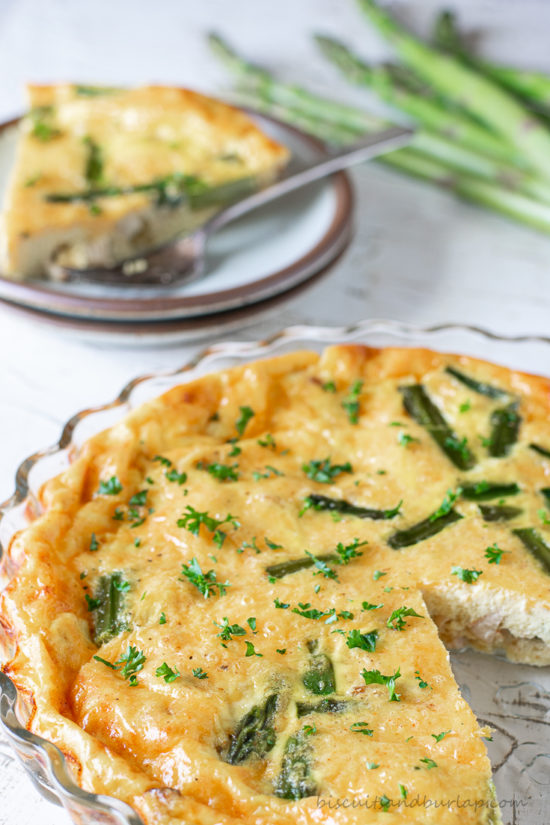 Quiche with crust or crustless?
We try to cut carbs when we can around here and two of our best loved recipes are Crustless Tomato Pie and Crustless Squash Pie. Both are similar to quiche, but have less eggs and more vegetables.
We've made this Cajun Chicken and Asparagus quiche with crust and without. The only difference is that it will cook a little more quickly without crust - by about ten minutes.
How to cook the chicken and asparagus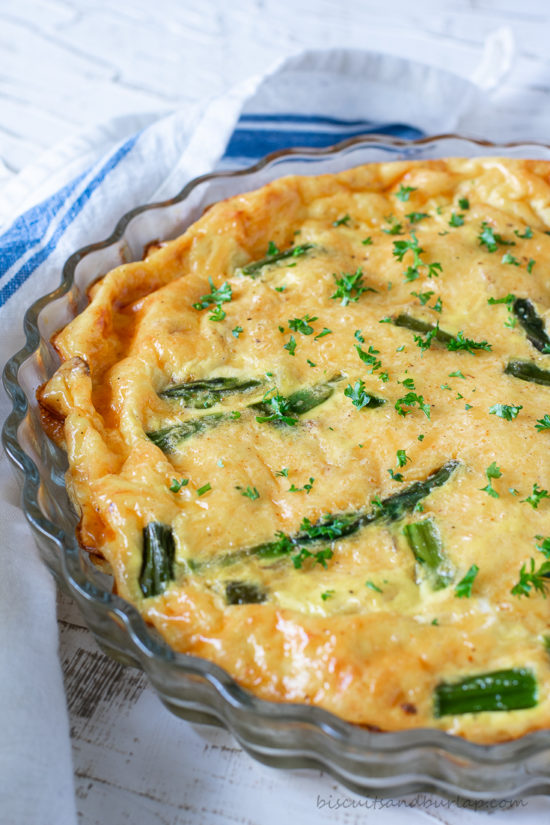 This is another reason this quiche is so versatile. I'll tell you how I did it, but you can just as easily chop a cup of rotisserie chicken and toss with the seasoning. Or, use any chicken you have leftover from another dish. The asparagus could be boiled, roasted or grilled. The key here is to not get them too overdone because they're going to have additional time in the oven while the quiche bakes.
For the chicken: I pounded a boneless chicken breast to about one half inch thick. Then I seasoned it with our favorite Tony Chachere's Creole Seasoning (if you use rotisserie chicken you may want to use the salt-free version).
Then cook 3-4 minutes per side in a medium to medium high skillet that was prepped with about a Tablespoon of oil. Set aside to cool and then cut into bite-sized pieces.
For the asparagus: Trim off the tough ends and discard, then cut the spears into about one inch pieces. Cook in boiling salted water about two minutes and then drain and set aside.
📖 Recipe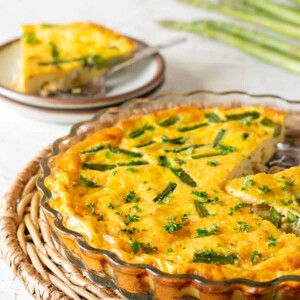 Cajun Chicken Asparagus Quiche
An easily customizable quiche can be made with your choice of meat, vegetables and cheese.
Ingredients
1 -1-½

cups

cooked chicken

seasoned with Cajun seasoning and cut into bite sized pieces

6-8

spears

cooked asparagus

cut one one inch size pieces

1-¼

cups

half & half or whole milk

5

eggs

slightly beaten

1-¼

cups

sharp cheddar cheese

shredded

1

teaspoon

Cajun seasoning

½

teaspoon

salt

1

pie crust

optional
Instructions
If a quiche with crust is desired, line pan with pie crust. If no crust is desired use oil or cooking spray to grease dish.

Mix eggs, milk, and seasonings until well blended.

Layer chicken, asparagus and cheese in pan.

Pour egg mixture over the top of pan.

Bake at 350 degrees for 35-50 minutes, depending on size of quiche. Check for doneness by lightly shaking pan for firmness in center.
Are you getting our newsletters? That's the best way to keep up with us here at Biscuits & Burlap.
A few items you may need for making your quiche:
This post contains affiliate links, which means if you click on an affiliate link and buy something, we may receive a very small commission.  It does NOT result in additional charges to you or cost you anything extra. Click here for our full privacy and disclosure policy. As an Amazon associate we earn from qualifying purchases.
If you make this or any of our recipes we'd love for you to leave us a comment and star rating. If you're into sharing your creations, snap a photo and tag us when you post it to Facebook or Instagram.

More recipes to try: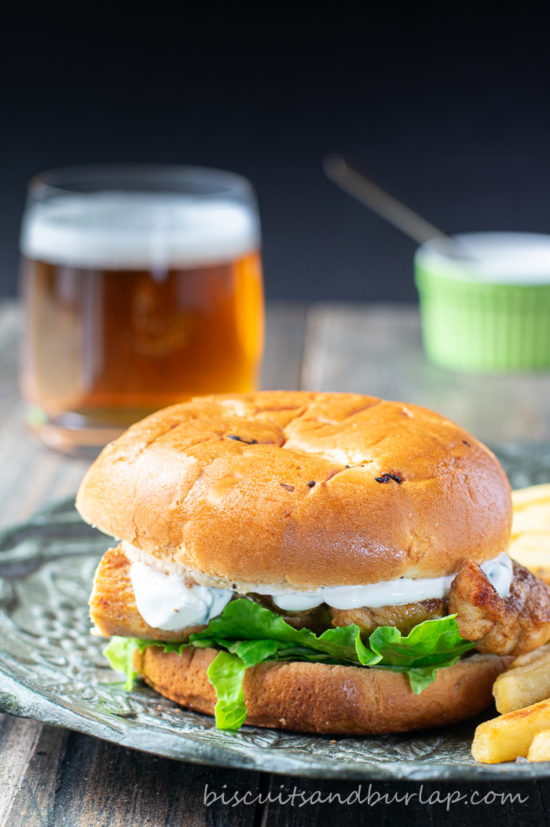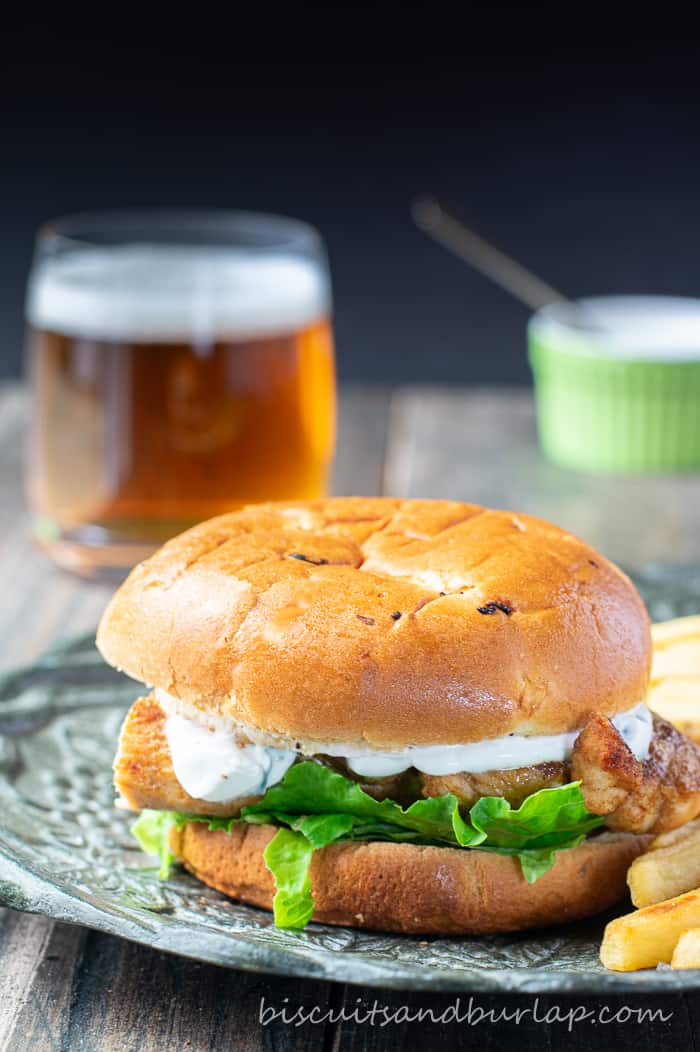 More recipes sources we recommend:
Fave Southern Recipes
Recipe Lion