Tomato pie is a delicious and beautiful side dish that would perfectly complement brunch, lunch, or dinner. With fresh herbs and mozzarella cheese, it has an Italian flair that will dress up the rest of the meal.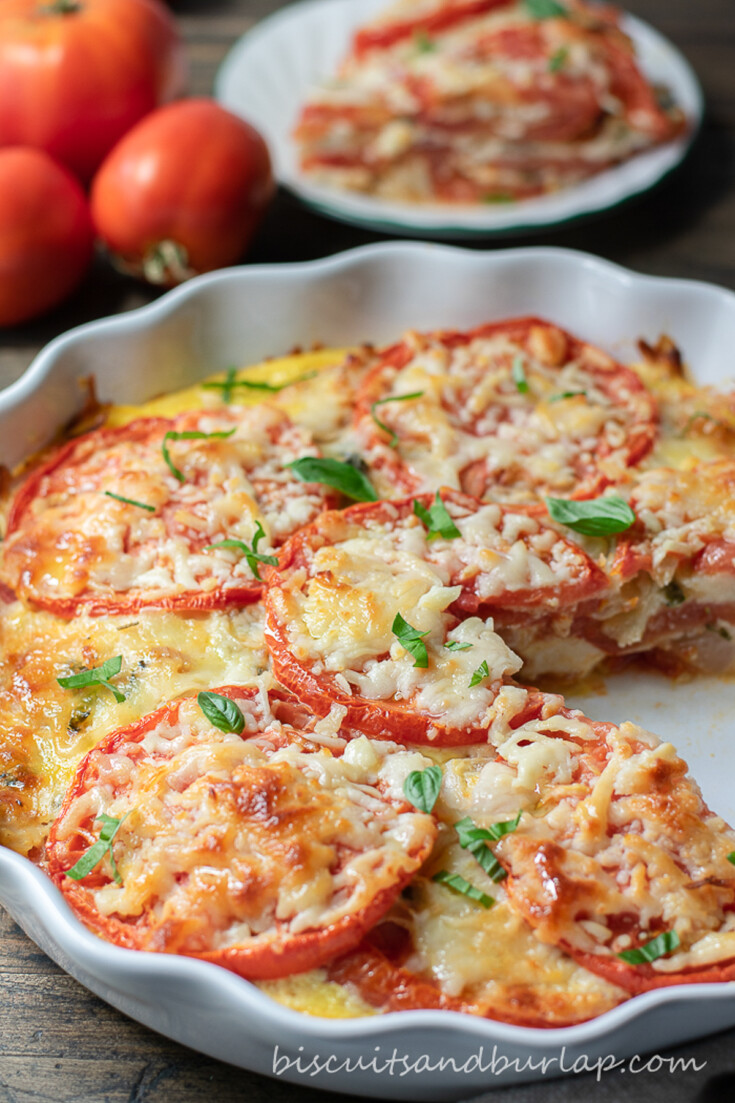 The idea of a low carb tomato pie is born
On a trip to explore the culinary culture of the South Carolina Lowcountry, Mom and I ate brunch at the darling Lowcountry Produce Market & Café.
In the middle of the space, there were glass cases filled with beautiful pastries, quiches, and pies and the tomato pie immediately caught my eye.
A tomato pie is naturally beautiful and really does go with just about anything. I knew I had to make one as soon as I got home.
In thinking about how I wanted to make it, I thought of our Crustless Squash Pie, which has been a reader favorite since we published it in 2017.
The squash pie and this Crustless Breakfast Quiche are beloved for their bright colors, their heartiness, and their low-carb appeal. Why not make this one the same way? I knew I wanted it to be a healthy, flavorful tomato pie recipe above all else.
Is it just crustless tomato quiche?
No. While eggs do hold the whole thing together, they are not the base ingredient like they are in a quiche. Fresh tomatoes are the star here!
With herbs and mozzarella cheese the squash pie has an Italian twist, too. If you love those flavors, be sure to hop over to our Baked Tomato Slices with Parmesan and San Marzano Sauce, which is a simple sauce made with either fresh or canned San Marzano tomatoes.
(For a fun quick look at this recipe be sure to watch the web story version here.)
In spite of the Italian flavors and the low-carb flair, this is, at its very heart, a southern tomato pie. It's just been made healthier by leaving off the crust and leaving out the mayonnaise, and made a little more interesting with the addition of herbs and cheese.
To read more about how southern food is heading in a healthier direction you'll want to check this out.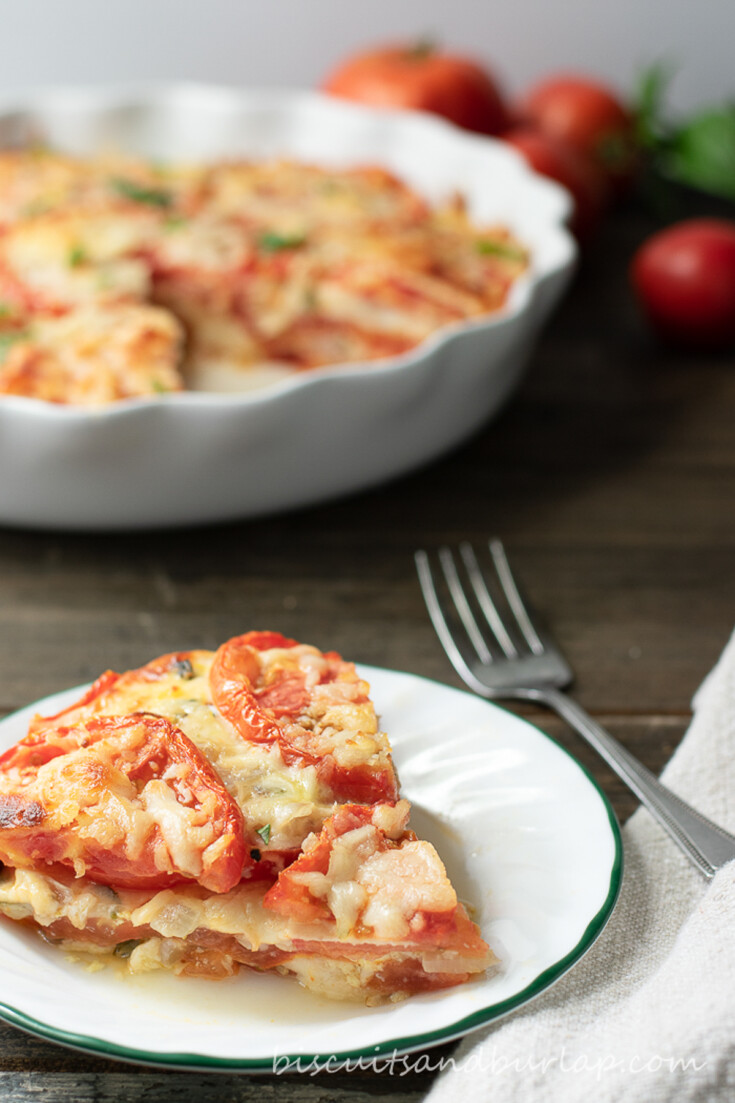 The main difference between our crustless squash pie and this tomato pie is that, since tomatoes are so much more tender than squash, you're not going to cook them with the onions and garlic.
Instead, you're going to put the pie together in layers. It really is so easy and makes such an impression on the buffet table.
Best tip for a perfect tomato pie with video:
In the recipe we show you how to lay the tomato slices out flat, add salt, and let them sit a few minutes. The salt draws out the excess liquid.
Pat the slices dry with a paper towel on each slide. This ensures you end up with a perfect pie (not soggy)! Watch the video for further details.
This post contains affiliate links, which means if you click on an affiliate link and buy something, we may receive a very small commission.  It does NOT result in additional charges to you or cost you anything extra. Click here for our full privacy and disclosure policy. As an Amazon associate we earn from qualifying purchases.
Do you love watching cooking videos? Subscribe now to our YouTube Channel!
A few items you may need:

Southern Food Then and Now is all about the history, origins and future of southern food. You'll want to read that next!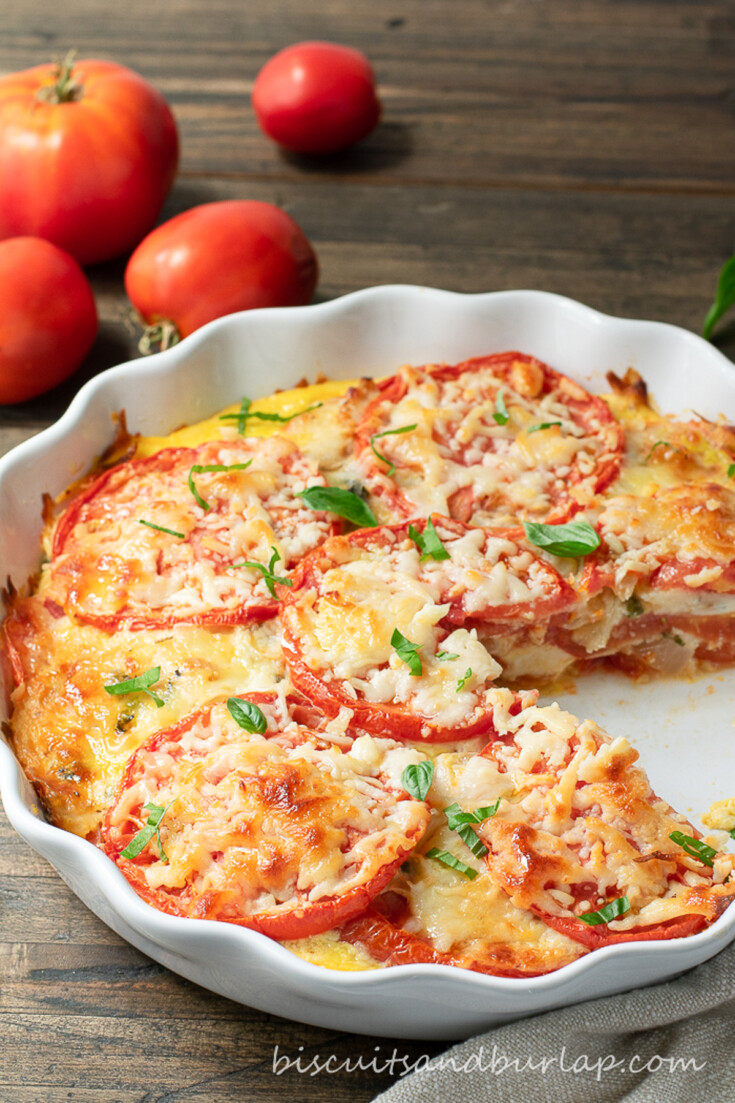 📖 Recipe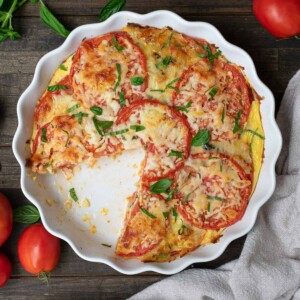 Easy Crustless Tomato Pie
Crustless tomato Pie is a delicious and beautiful low-carb side dish that is perfect for brunch, lunch, or dinner.
Instructions
Slice tomatoes and lay sliced on plates. Sprinkle lightly with salt and let sit at least 10-20 minutes, and up to 30 minutes.

Melt butter in small skillet over medium-high heat. Add onion and garlic and saute' until onions are soft (about 8 minutes). Transfer to a medium-sized bowl.

Add cheese, eggs, herbs, and pepper to bowl. Stir to combine.

Drain water off of plates with tomatoes, With a paper towel, Gently blot tomatoes to soak up excess moisture.

Arrange tomatoes in a single layer on a greased pie pan. Top with about ¼ cup of the cheese mixture. Repeat until all ingredients have been used, finishing with a layer of tomatoes. Top this layer with a sprinkle of mozzarella cheese.

Bake at 375 degrees for 30-40 minutes, or until edges are lightly browned.

Allow to sit 5-7 minutes before serving.
Notes
Be sure to follow all the tips for salting and draining the tomatoes. This is key to keep your crustless tomato pie from being soggy. 
Nutrition
Calories:
120
kcal
Carbohydrates:
5
g
Protein:
8
g
Fat:
8
g
Saturated Fat:
4
g
Polyunsaturated Fat:
1
g
Monounsaturated Fat:
2
g
Trans Fat:
1
g
Cholesterol:
63
mg
Sodium:
488
mg
Potassium:
219
mg
Fiber:
1
g
Sugar:
3
g
Vitamin A:
806
IU
Vitamin C:
9
mg
Calcium:
180
mg
Iron:
1
mg
If you're into low carb, Keto friendly sides, you'll want to check out this Broccoli Casserole and Keto Squash Casserole. They check all the boxes.
If you love all things Mexican-inspired (like we do) but you're watching carb intake be sure to add this recipe to your list to make soon: Low Carb Enchiladas are so delicious they'll never guess they're so healthy.
Here are some more of our favorite recipes: