Creamy Cajun Sauce is full of flavor and easy to make. It's the perfect topping for fish, shrimp or chicken that has been pan fried, blackened, baked or broiled. Starting with the pan drippings left behind gives it a zesty foundation.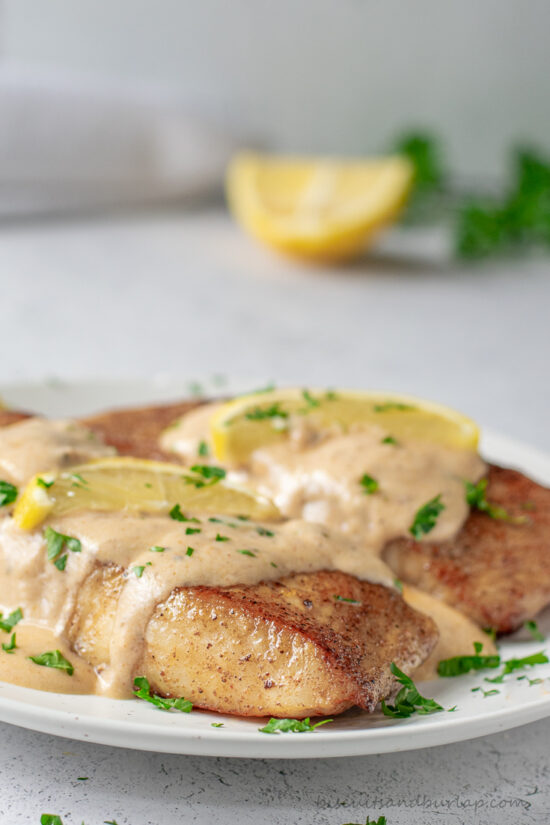 Cajun Cream Sauce adds a little decadence and a lot of flavor. Put it over blackened or Cajun seasoned and pan fried fish, shrimp or chicken and you double the punch of flavor. Add it to a more subtly seasoned protein and it soars to new heights of excellence.
This easy to make sauce recipe was originally developed for serving over fish, but has since been discovered to be equally perfect for shrimp or chicken too.
What kind of protein is best to serve with this sauce?
Any type of firm, white-fleshed fish will be awesome topped with this tasty sauce. Our personal favorites are snapper, grouper and flounder - not just for flavor, but because they're easy to handle when cooking.
Catfish would be so good too, and it's an often misunderstood fish, thought of in many areas only when it's fried. We wrote a whole post that includes a recipe for Catfish with Lemon Thyme Sauce - a mild, sort of sophisticated twist on sauce for fish.
If you love seafood with savory sauces you'll also want to try Grilled Fish Tacos with Baja Sauce. If you're looking for some new sauces to try, check out our 10 Best Sauces for Fish. They're family favorites around here!
For a fun look at this recipe, check out the web story!
The foundation for creamy Cajun sauce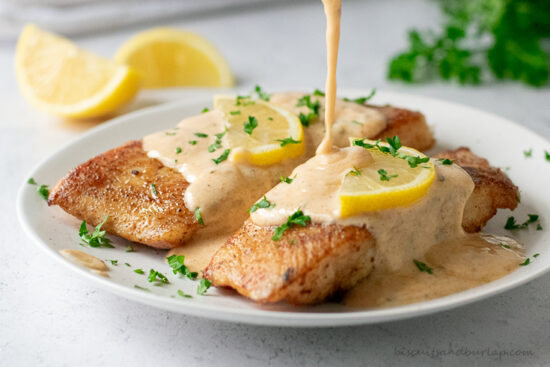 This sauce is very similar to the one we made for our Pork Chops. In that case we called it a Cajun Pan Sauce. It really just means that you've made your sauce in the same pan the protein was cooked in.
The little bits of flavor left behind are what flavors the sauce. If baking or broiling the fish, shrimp or chicken you'll want to keep it warm and use the drippings from your baking pan.
Another, more down-home name is gravy. Here in the south gravy is the name you'll hear most often for sauces with their roots in pan drippings. If you ever wanted to know how to make a Basic Gravy we've got you covered on that too.
If you don't have time to make protein, or you just want a good cajun sauce to go with pasta, our Creole Cream Sauce is the way to go.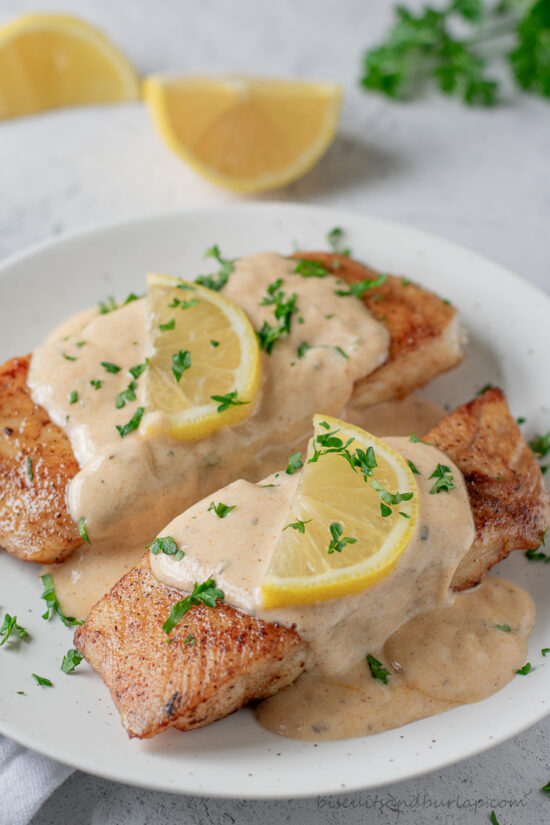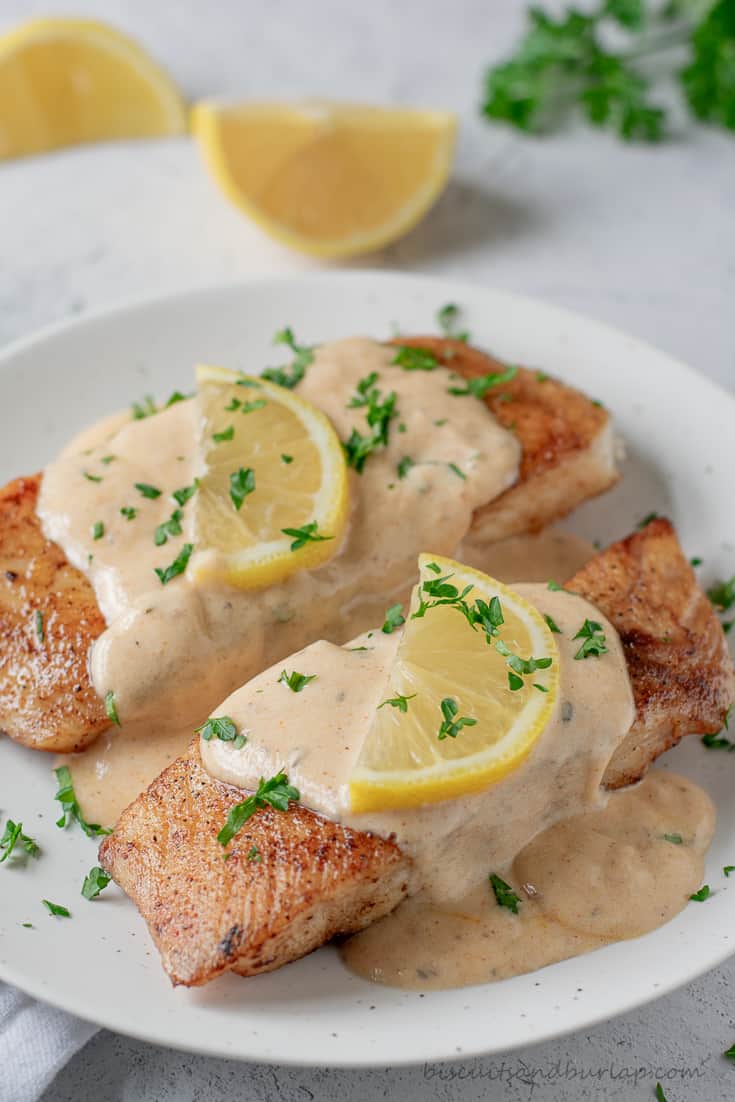 The basic steps for making Cajun cream sauce:
Start with firm, white fish, shrimp or chicken breast seasoned however you like. Our preferred method for cooking is with a light sprinkle of Cajun seasoning and then pan fried in skillet that is not non-stick. We use a little oil with a high smoke point like pecan or canola oil. (more on that here)
When the protein is done remove it and keep warm.
If you've baked or broiled you'll scrape the baking pan and add it to a skillet with some white wine. If you pan fried, deglaze the pan with the white wine scraping up the bits from the bottom.
Slowly stir in the cream which has had seasoned flour whisked into it. Whisk or stir constantly until the sauce is thickened.
Finish the Cajun sauce up with a squeeze of fresh lemon.
Our favorite tool for getting that fresh lemon juice?

Love all things Cajun like we do? This Best Jambalaya Recipe is so good because the guesswork for getting the rice done just right is gone! Perfect Jambalaya every time.
And Cajun Baked Chicken uses bone-in chicken and will be on your table with minimal effort!
📖 Recipe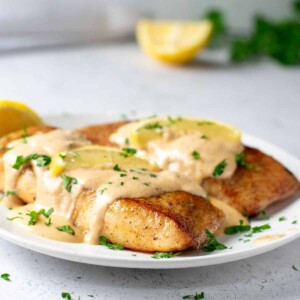 Cajun Cream Sauce Recipe
Cajun Cream Sauce is full of flavor and easy to make. Starting with pan drippings gives it a zesty foundation.
Ingredients
1-2

teaspoons

pan drippings from cooking fish, shrimp or chicken

⅓

cup

dry white wine

⅔

cup

half and half

1

Tablespoon

all purpose flour

1

teaspoon

Cajun or Creole Seasoning

½

teaspoon

dried oregano

¼

teaspoon

smoked paprika

2-3

teaspoons

lemon juice

½ lemon, juiced
Instructions
Deglaze pan the protein has been cooked in with wine. If baked or broiled, scrape up pan drippings from baking pan and add to skillet with wine. Heat thoroughly.

Whisk together ½ and ½, flour and seasonings until smooth.

Whisk flour mixture into skillet and stir constantly over medium-low to medium heat until thickened.

Add lemon juice and heat throughly before pouring over fish, shrimp or chicken.
Notes
Deglaze means to pour liquid into a pan where something has been cooked and stir, usually over medium low heat scraping the bottom of the pan to incorporate the bits of flavor into the mixture. 
Salt can be added if needed, but most Cajun and Creole seasonings will have enough salt.
Blackened fish, shrimp or chicken is excellent with the Creamy Cajun Sauce, but it will produce strong, salty pan drippings, so seasoning and salt may need adjusting.
If pan frying use a skillet that is not non-stick so you'll get the bits of flavor left behind for making sauce.
If fish, shrimp or chicken is pan fried, use that skillet to make the sauce. If baked or broiled scrape pan drippings from the baking pan and add to the skillet where the sauce will be made. 
Nutrition
Calories:
79
kcal
Carbohydrates:
4
g
Protein:
2
g
Fat:
5
g
Saturated Fat:
3
g
Polyunsaturated Fat:
1
g
Monounsaturated Fat:
1
g
Cholesterol:
15
mg
Sodium:
18
mg
Potassium:
89
mg
Fiber:
1
g
Sugar:
1
g
Vitamin A:
455
IU
Vitamin C:
1
mg
Calcium:
50
mg
Iron:
1
mg