Shrimp and grits is a low country classic and this version is a family favorite. You've never had grits this creamy!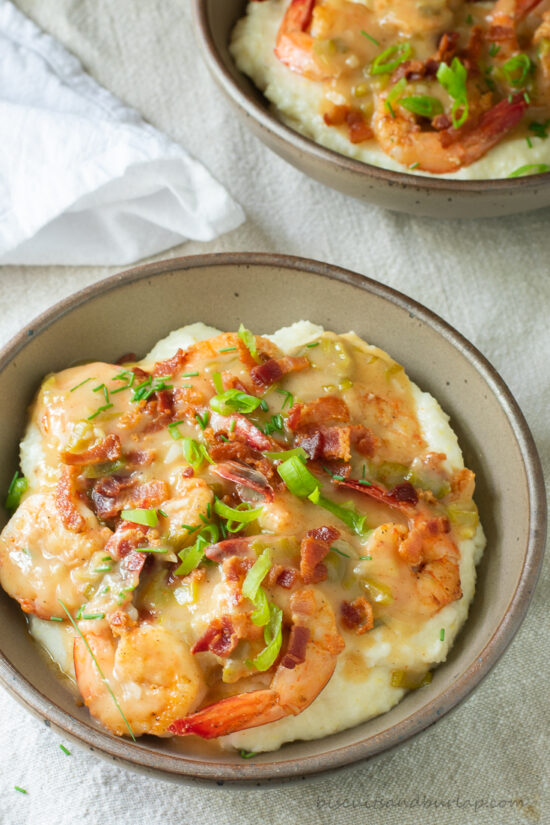 This post was updated July 3, 2020.
To say that the dish shrimp and grits has gained popularity in recent years would be a huge understatment. It's a lowcountry classic that has found its way into kitchens and fine restaurants the world over, and with good reason. It's a wonderful layering of flavors that appeals to all.
The origin of this shrimp and grits recipe
In every way imaginable this is my own recipe. I have made it many times, refining it over the years. When it was time to document the ingredients and instructions for an official recipe I had to carefully make notes and measure.
Sara, who is my partner on this blog, (and my daughter) told me to be sure to share that she refuses to order shrimp and grits in a restaurant because she knows it will never measure up to mine. I guess all kids love their Mama's cooking, but I'm just telling you what she said.
How to make the creamy grits
Heat the half and half just until it starts to boil and then stir in the grits. Bring back to a boil and then reduce heat to simmer.
This post contains affiliate links, which means if you click on an affiliate link and buy something, we may receive a very small commission.  It does NOT result in additional charges to you or cost you anything extra. Click here for our full privacy and disclosure policy. As an Amazon associate we earn from qualifying purchases.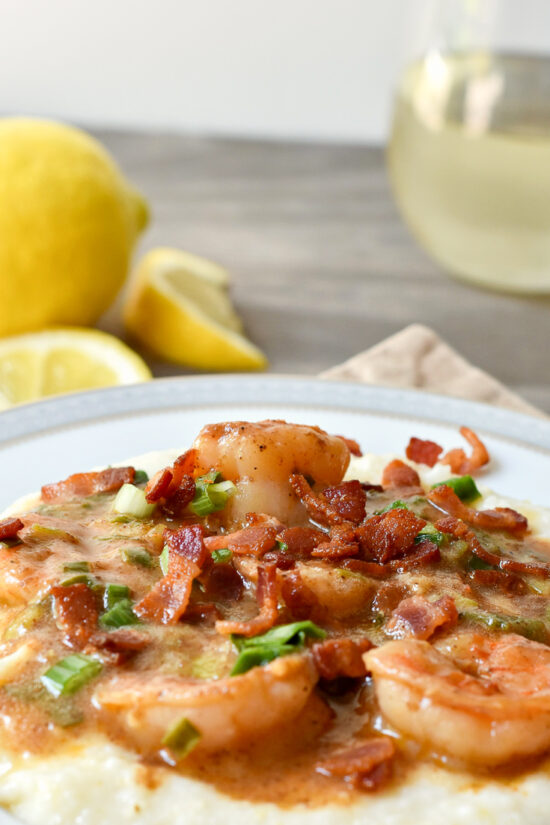 A good sturdy whisk is a tool you don't want to be without when cooking a pot of grits. It is worth its weight in gold for getting out lumps. Cover and cook 6-7 minutes, stirring occasionally. When the grits are done, stir in the cheese and red pepper.
For the cheese I like to use a good sharp white cheddar. Yellow is fine too, but I prefer to keep the grits a clean white color if possible. Another great option is to serve the shrimp over Gouda Grits with Cajun Spice. We love it both ways!
Cayenne pepper is of course, an ingredient you can adjust to your taste. I like to use enough to give it a small kick, but not overpower. There is something magical to me about the flavor combination of cayenne and cheddar. Think cheese straws.... yum! Our recipe for those are here.
Another fun, seafood appetizer is Smoked Fish Dip. It stirs up in just a few minutes and will bring back memories of your favorite beach bar.
After the grits are done you can keep them on warm if you'll be serving fairly soon. Otherwise, remove from the heat and reheat right before you eat. Just be prepared to stir like crazy and add a bit of water to reach the right consistency.
About the shrimp, the bacon and more:
I like to allow about ⅓ lb. shrimp per person, but honestly this shrimp and grits is a rich recipe, so ¼ lb. is probably plenty, unless you're serving football players.  We're starting out here with shelled and deveined shrimp. I use this method and find it quick and easy!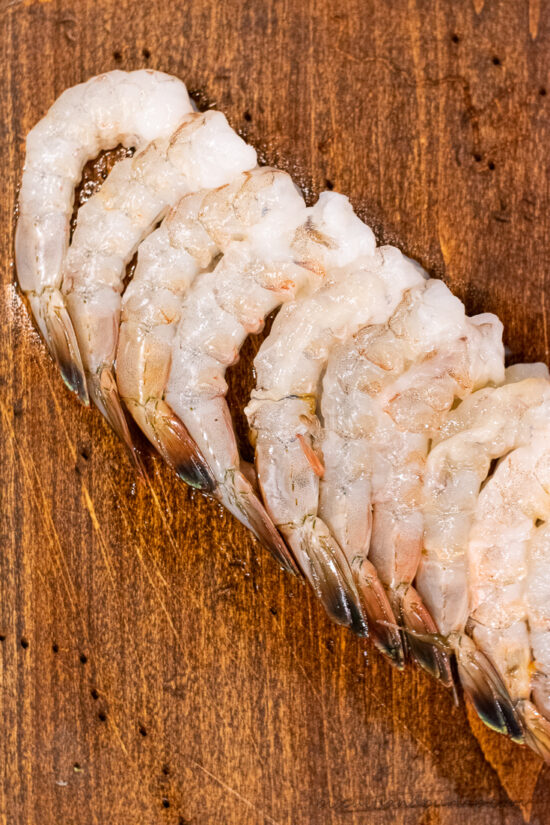 I season my shrimp lightly with Creole or Cajun Seasoning. This Tony Chachere's Original Creole Seasoning
is our family favorite. It is pretty salty, so keep that in mind as you shake it on. If you love Cajun Seasoning you'll also want to check out our Fried Oyster Po' Boys. Yum!
While the shrimp is soaking up all that goodness, cook the bacon. The easiest way to end up with bacon "bits" is to cut it before you cook it. Lay the slices on a cutting board and cut with a sharp knife into small pieces.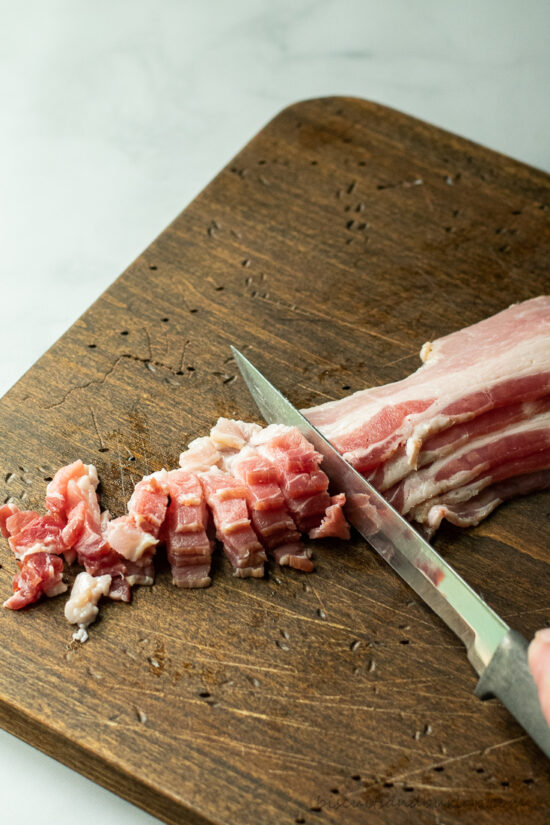 When you put it in the skillet and break it up, the heat hits and it cooks up very nicely. When browned, remove the bacon bits from the pan with a slotted spoon and put on paper towels to drain.
Drain off the most of the bacon grease. Leave a little in the pan, and try to leave that brown goodness at the bottom.
Cook the shrimp in the same pan, using that little bit of bacon grease. The amount of time is going to be determined by the size of your shrimp, but I caution you to stand over the shrimp and watch them very carefully so they don't get overcooked and tough.
I'm speaking from the experience of a person who does not like to stand idly EVER. Don't get distracted. About 2 minutes per side is a good rule of thumb.
Remove the shrimp and set aside while you go on to the next step.
Making the sauce for the shrimp and grits
Saute' the green onions and garlic in the pan until slightly limp, then remove and set aside. Deglaze the pan with the broth and wine. My preference is a mixture, but if you only have broth that would be fine. Likewise, all wine is perfectly good too.
Stir in the juice of a half lemon (fresh is so much better than that bottled) and the worcestershire sauce
Add a little more of the Creole Seasoning
and then thicken slightly with about 4-5 shakes of Wondra Quick-Mixing Flour, if you have it available. I don't like the sauce to be as thick as gravy, but just give it a little "body".
If you only have plain flour, dissolve about a tsp. in ⅓ cup water and stir into your sauce and simmer a few minutes. I also use this Wondra Flour in my succotash side dish when I make the creamy version. It thickens without lumps! Order yours here.
Add the shrimp and onion/garlic mixture in just long enough to heat. You don't want the shrimp to cook anymore.
Plating the shrimp and grits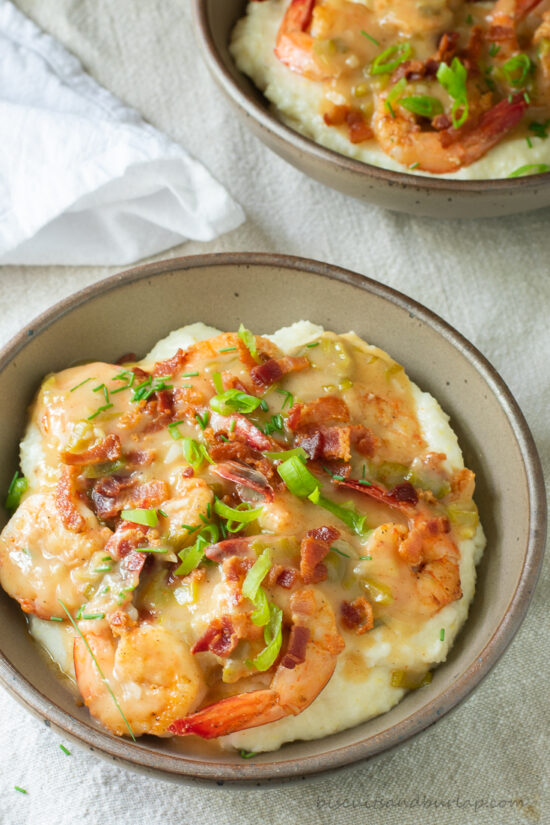 Boom! Divide the hot grits evenly onto four plates. Top with the shrimp mixture, bacon and the reserved green onions.
If you love shrimp and you love southern style food you'll want to make Classic Southern Style Fried Shrimp too. It's so many easier than you think.
Southern Food Then and Now is all about traditions, regions and the origins of our favorite cuisine!
📖 Recipe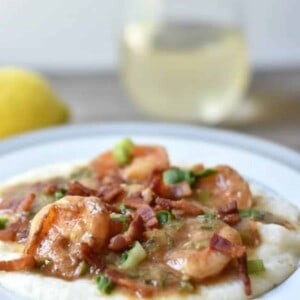 Shrimp and Grits — The Only Recipe You Will Ever Need
Instructions
Heat half and half and salt just until it starts to boil.

Stir in grits, return to boil, whisking to prevent lumps.

Reduce heat to simmer and cover.

Simmer 6-7 minutes until thickened (stirring occasionally).

Stir in cheese until melted, and add cayenne pepper and keep warm.

Sprinkle shrimp with ½ tsp. Creole seasoning and set aside

Cut bacon into small pieces

Cook bacon in skillet over med to med-hi heat until done & drain on paper towels; set aside

Drain most of bacon grease from skillet

Cook shrimp in same skillet until done about 2 min. per side and set aside

Cook ⅔ onions and garlic in same skillet until limp and set aside

Deglaze pan with wine/broth mixture

Add fresh lemon juice, worcestershire sauce and remaining Creole seasoning

Thicken sauce slightly by adding flour and simmer about 3-4 minutes

Add shrimp and onions back to skillet just until mixture is heated thoroughly

Divide grits evenly among 4 plates

Top with shrimp mixture, bacon bits and remaining onions
If you like this recipe, you'll like: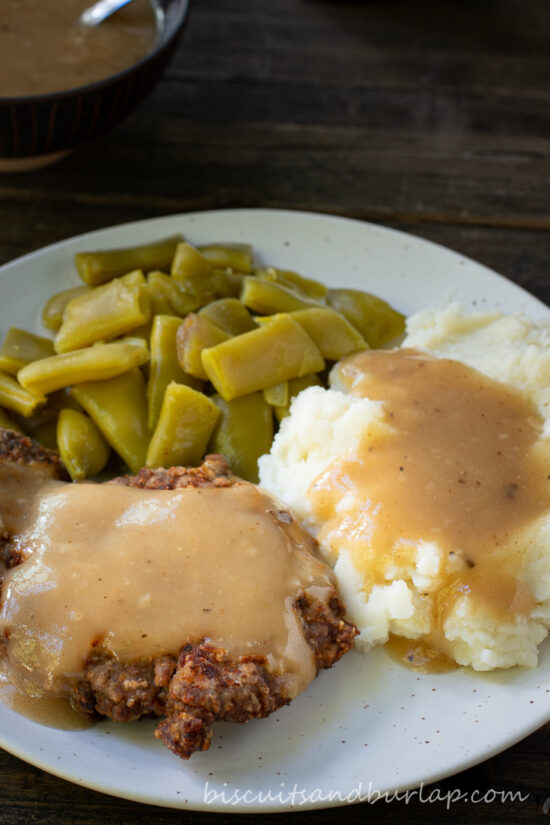 If you make any of our recipes we'd love for you to leave us a comment and star rating. If you're into sharing your creations, snap a photo and tag us when you post it to Facebook or Instagram.