This method will revolutionize the way you devein shrimp. They can be left with the tails on, shells on, both or neither.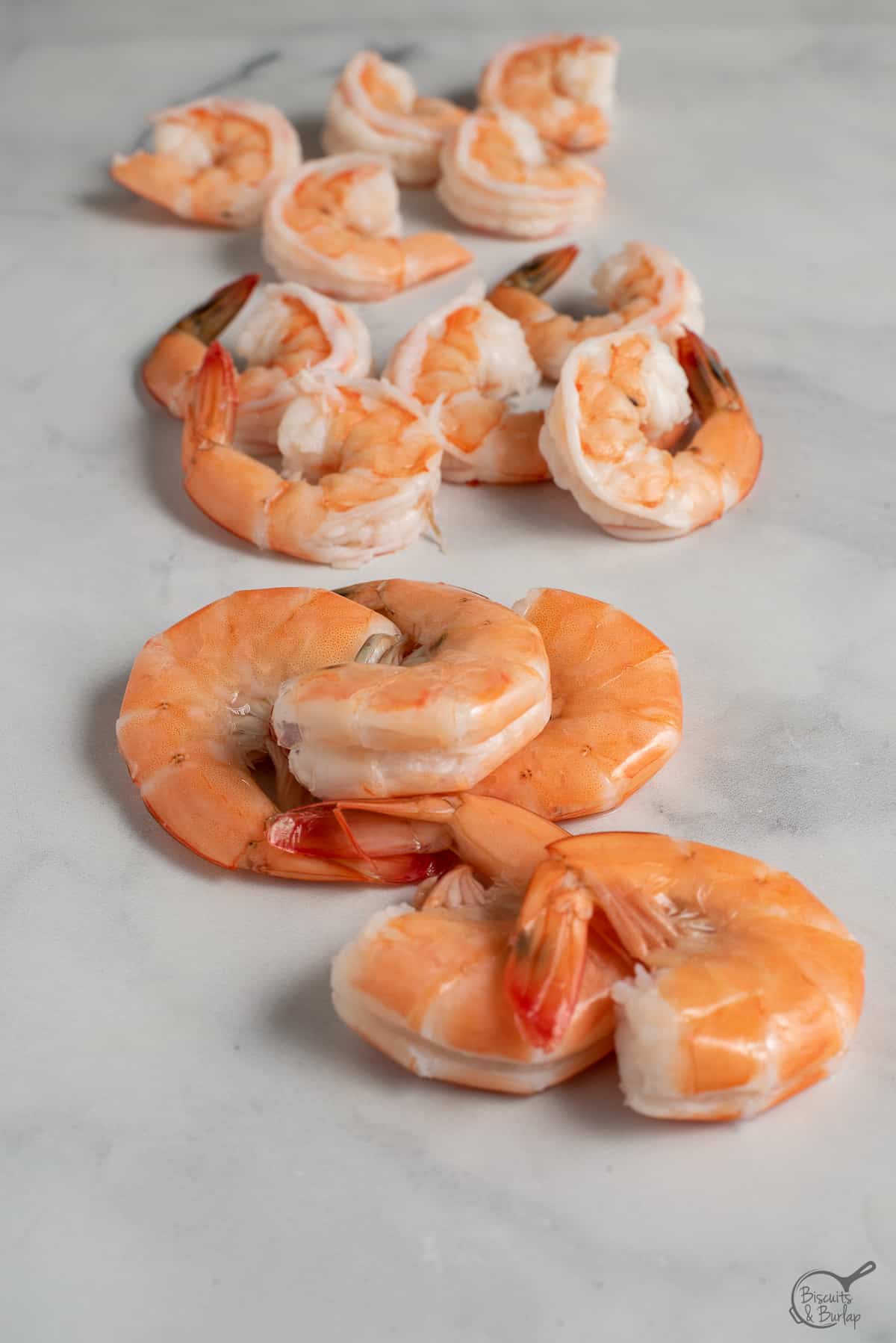 Whether your recipe calls for shrimp with the tails on, shells on, or completely shelled and deveined, this hack works great. In fact, you'll probably ask yourself why you didn't think of it.
The best tool to devein shrimp and peel them
Are you ready for this? It's not some fancy utensil designed just for this one application. In fact, it's a simple item you probably already have in the drawer or knife block in your kitchen.
But, no, it's also not just a paring knife. We've tried over the years cleaning our shrimp with a small knife and didn't find it particularly easy or even safe. One slip and you've got a badly cut finger instead of a clean shrimp.
Okay, we've kept you in suspense long enough. The very best tool is a good quality pair of kitchen shears or scissors.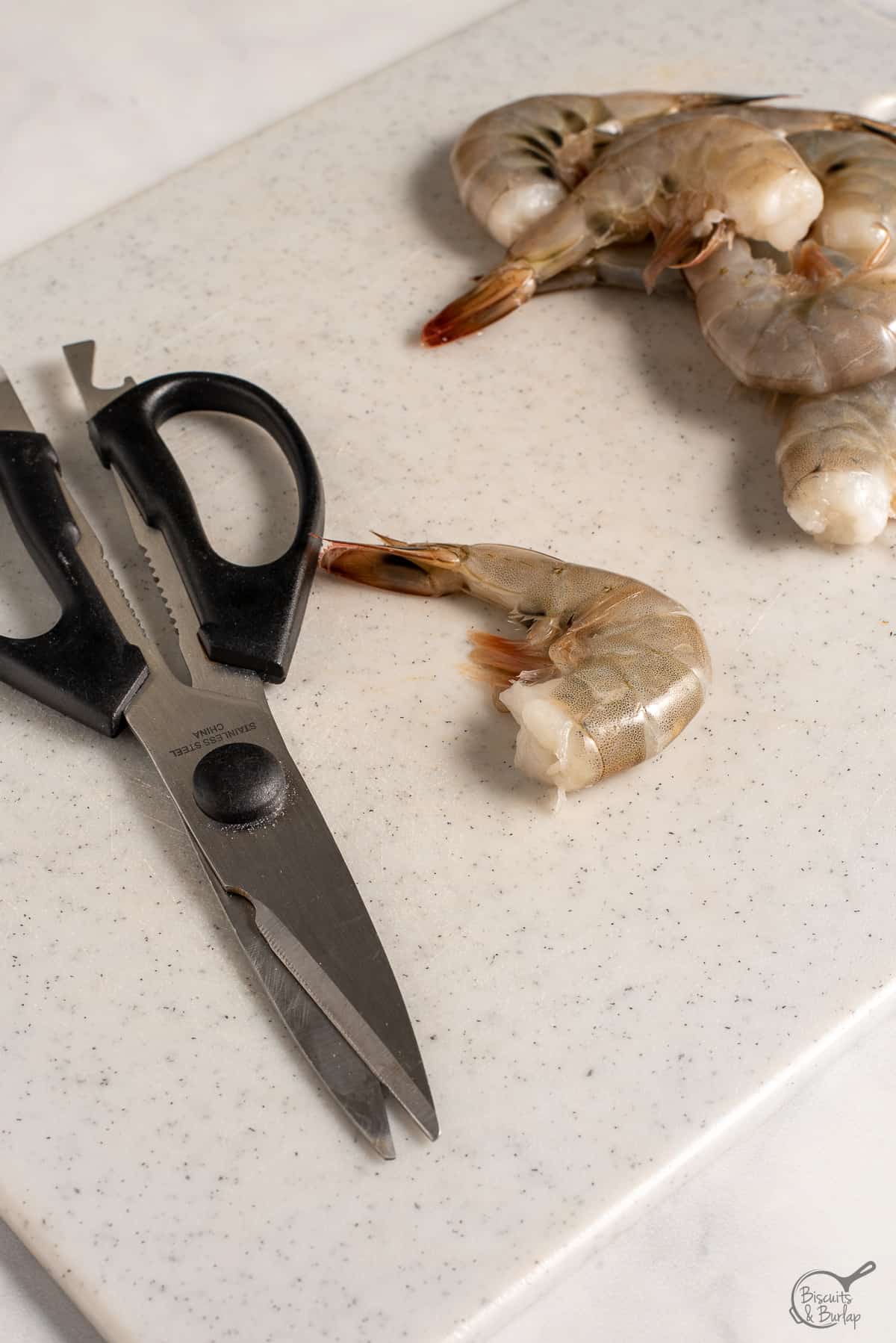 Why you should devein shrimp
The dark vein down the back of the shrimp is not actually a vein at all. It's the intestinal tract and the dark line is the waste. Okay, we'll say it. It's shrimp poop.
It won't actually hurt you if the shrimp has been cooked, but it can be gritty and let's get real, y'all. Nobody wants to eat intestinal waste.
The bottom "vein"
This one is lighter and is actually a blood vessel. Once cooked you most likely won't be able to even see it. There is absolutely no harm in leaving this one.
The steps for cleaning shrimp
You'll start with raw, fresh shrimp that already has the heads off like these.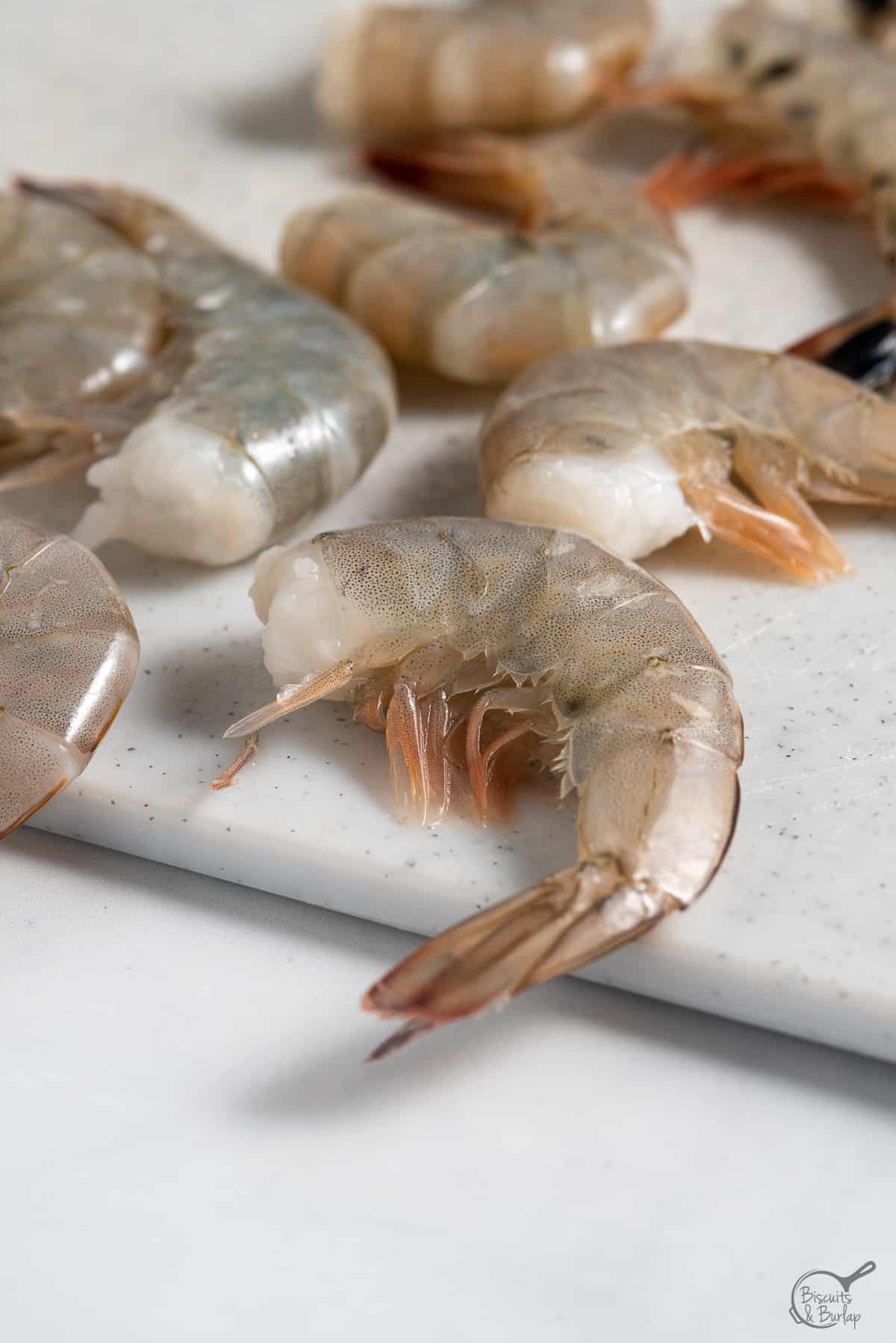 Begin cutting
Start the cut down the back of the shrimp. You'll cut just deeply enough to reach the vein.

Continue cutting down the back until you reach the tail.

At this point you can open the cut and see the vein.

Rinse vein out under running water if the recipe calls for the shrimp shells to be left on.

Peel and then rinse if you want shells off for your recipe.

The tails can be left on.

The tails can be removed by gently pulling.
This post contains affiliate links, which means if you click on an affiliate link and buy something, we may receive a very small commission. It does NOT result in additional charges to you or cost you anything extra. Click here for our full privacy and disclosure policy. As an Amazon associate we earn from qualifying purchases.
The kitchen shears
A pair of good kitchen shears (or kitchen scissors) is essential to this shrimp cleaning hack. If you don't have some in your kitchen you can order here from Amazon. These have all been rated 4 stars or above.
When would I want shrimp that is deveined and still has the shells on?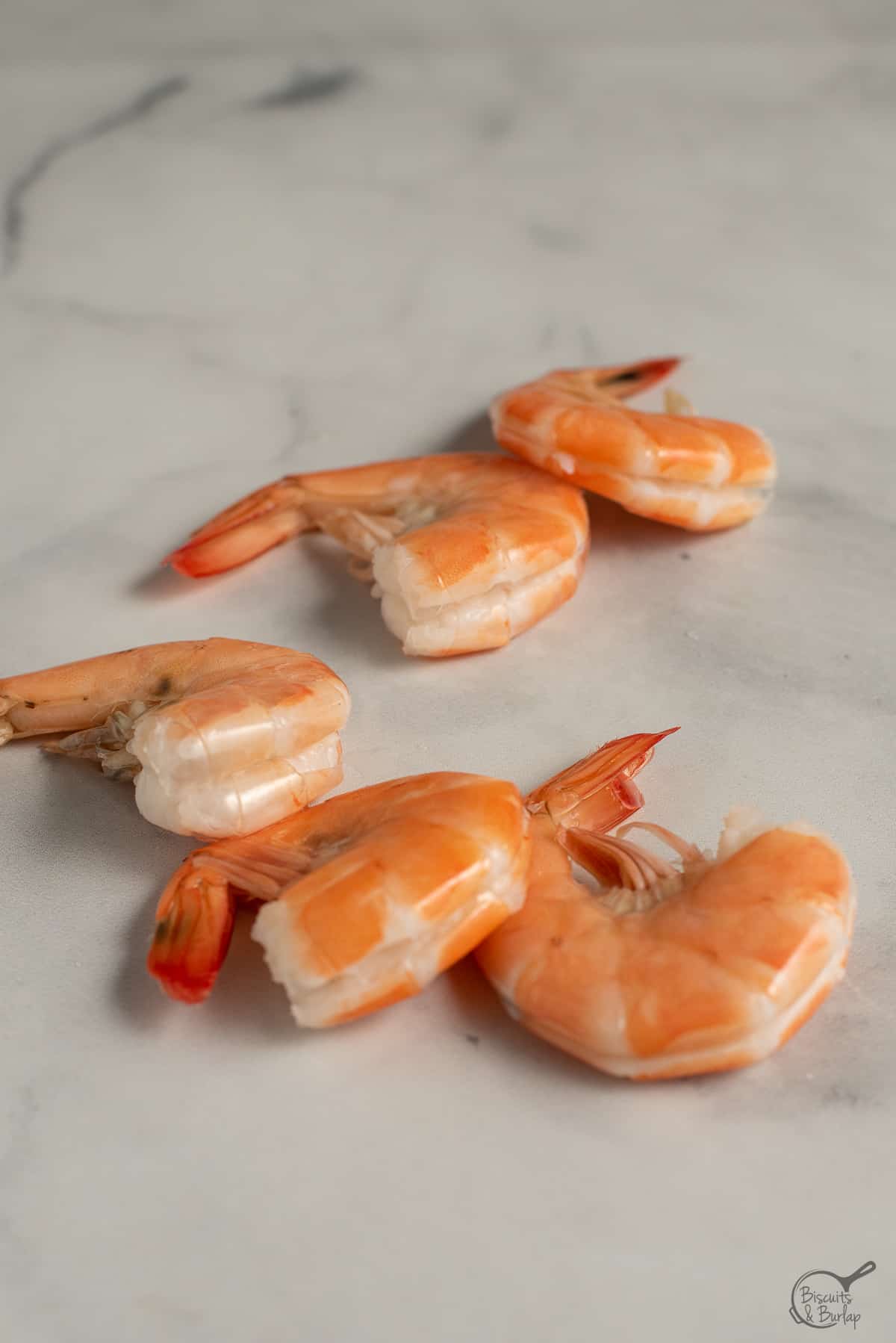 Anytime you serve "peel and eat" or boiled shrimp. For example, if you're offering an alternative to oysters when you plan an oyster roast.
Most any recipe where the shrimp is baked in the oven will benefit from the shells being left on. It keeps the shrimp moist, flavorful and makes them easier to not overcook. Fiery Cajun Shrimp is a perfect example.
Using shrimp that is deveined and peeled but with tails on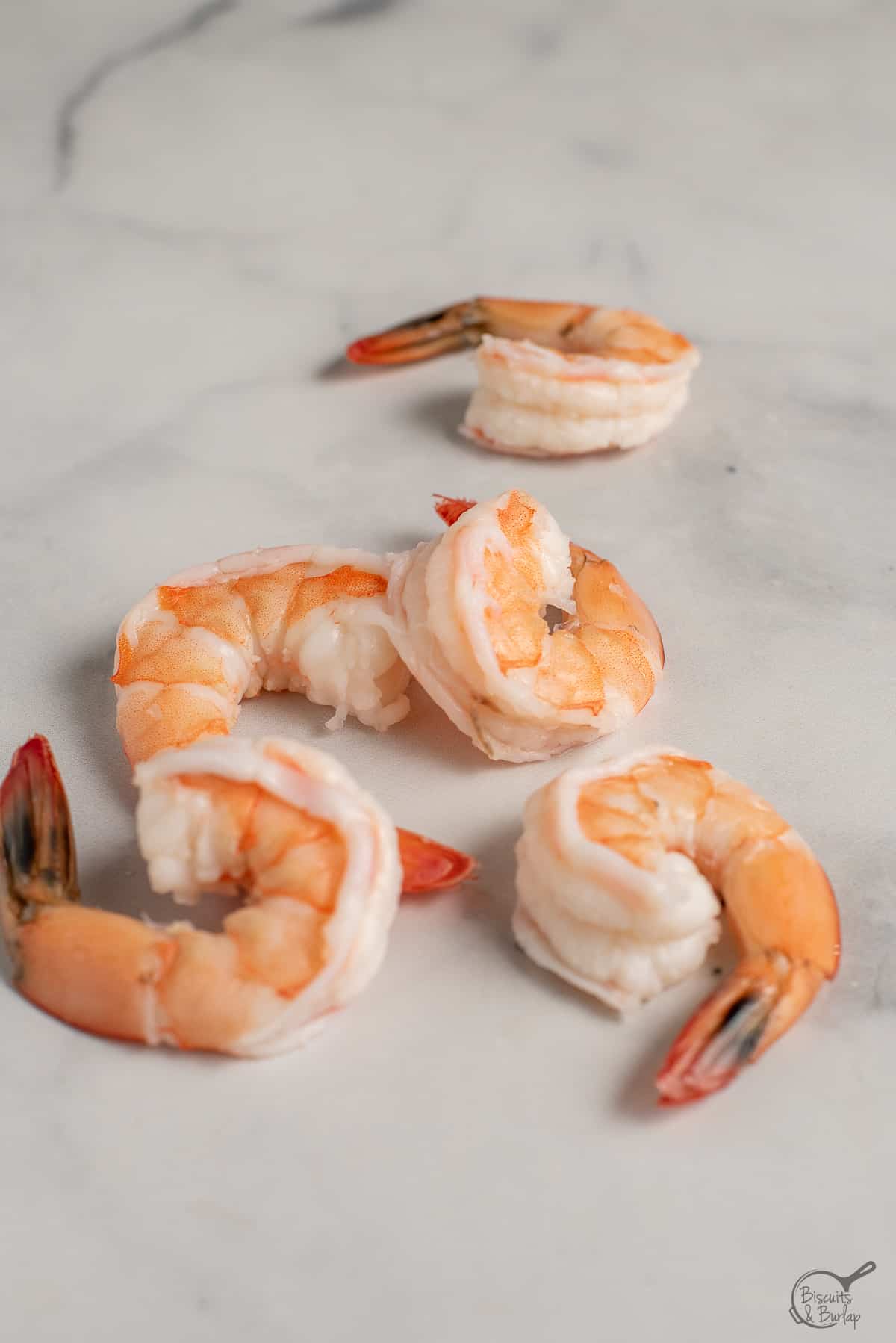 The first benefit of using shrimp this way is that they have a little "handle". You can use the tail to pick the shrimp up and eat with your fingers.
Examples of recipes:
Recipes for shrimp that are deveined, peeled and tails off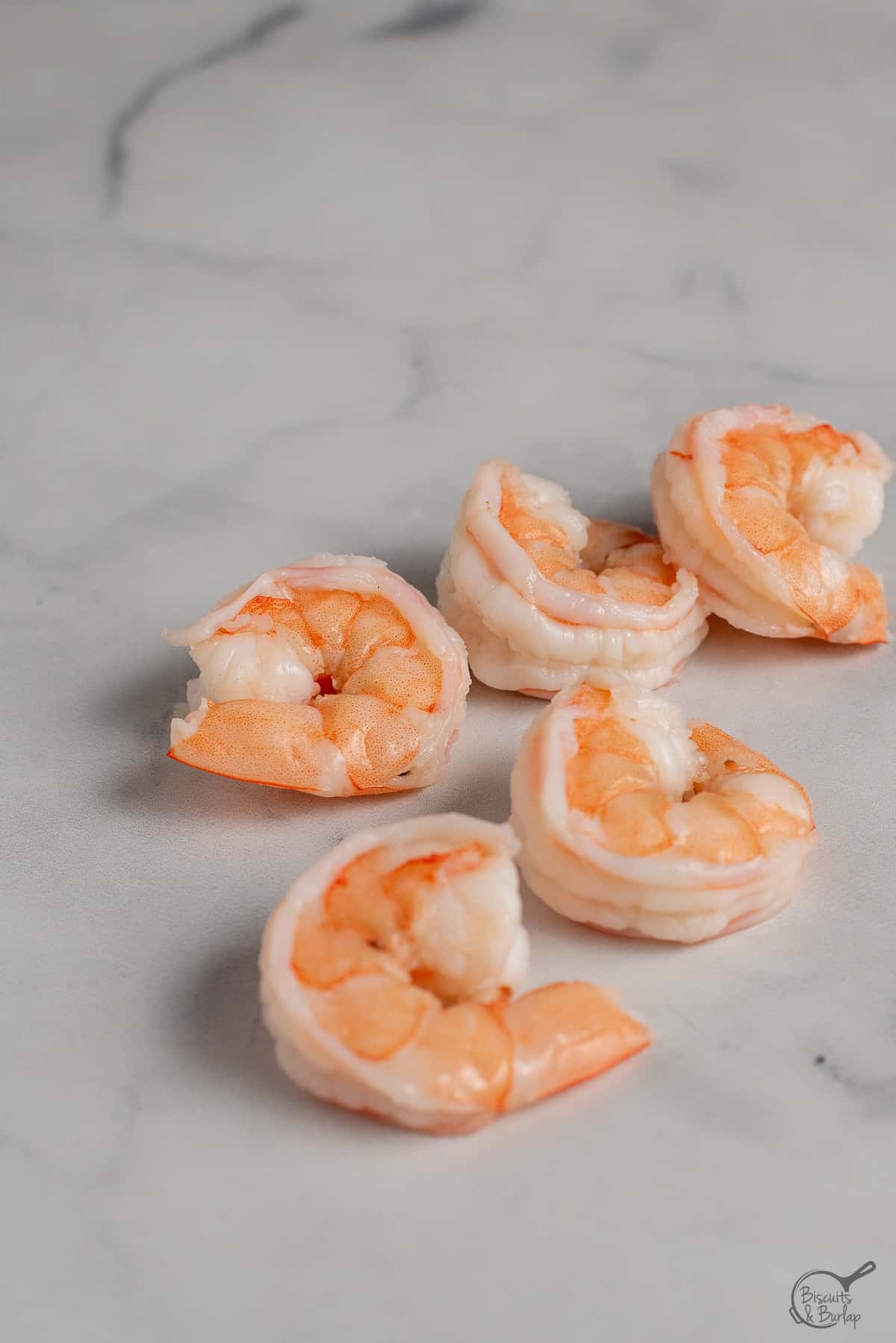 Most shrimp recipes will fall in this category. In some cases the shrimp are cooked first, like in the case of salads or tacos.
In some cases you will clean the shrimp and then cook them along with the rest of the recipe. Examples follow: