An Oyster Roast is the ultimate in casual, outdoor entertaining for fall and winter. Everything you need to know to throw your own Oyster Roast is covered here.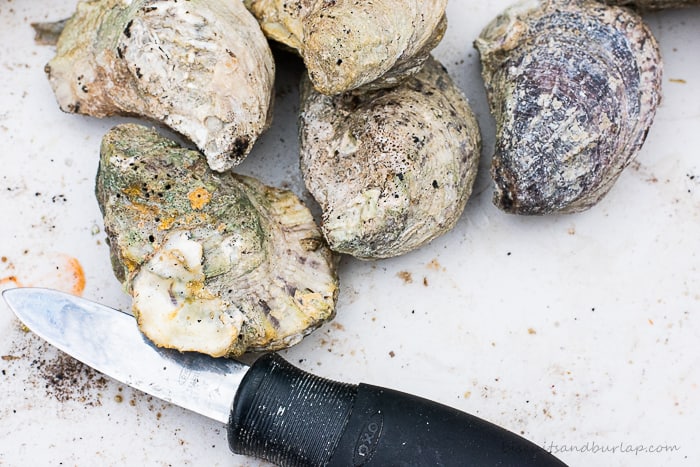 If you live near the coast you've probably been to an oyster roast, and may have a good idea what's needed to host one. But, our coastal neighbors needn't hog all the fun.
With the quick shipment of fresh seafood available these days, any of us can join in this fun event that marks the beginning of fall almost as well as football. Oyster roast season can be anywhere!
Yes, a few supplies are needed, but the big-ticket items (like what to cook on) can be improvised. The biggest thing to keep in mind is that you need to do a little advance planning.
That's where we come in, and we're here to get you organized, so that even the host can have a blast.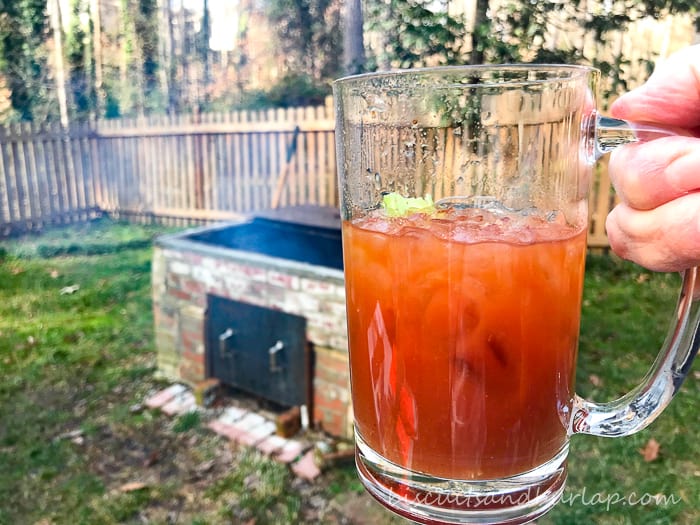 This post contains affiliate links. Click here for our full privacy and disclosure policy.
How many oysters are needed and where to get them:
You will most likely order your oysters by the bushel. The number will vary with the size of the oyster, but generally figure on 100 per bushel. Larger oysters are preferable for roasting, so be sure to question the size available when ordering.
A good starting place for per-person planning is 12-18. That may seem like a lot, but keep in mind this is an hours-long event. No one is going to sit down and eat all of those oysters at once.
You'll cook some, and then everyone stands around shucking, drinking beer and having a good time. Then, repeat. And, repeat again. You get the idea.
Ideas of where to get your oysters are local seafood and meat markets, farmers markets and large grocers (like Whole Foods), and even restaurants who are known for their raw oysters.
Be sure to plan in advance. Call them at least a couple of weeks ahead and find out how much time they need. When you go to pick up your oysters take a cooler to put them in.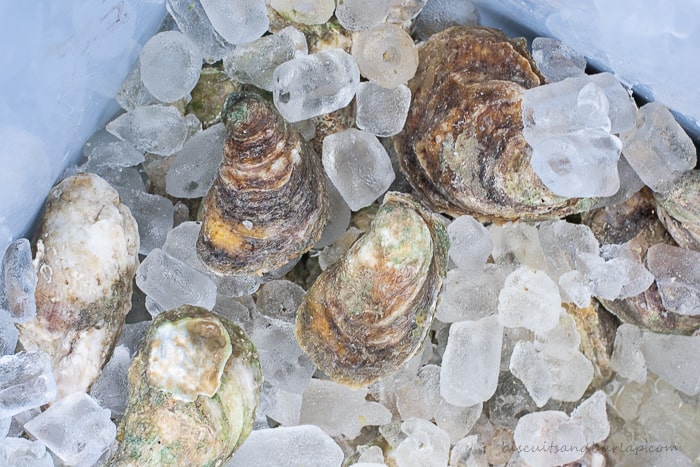 How to cook the oysters:
When these photos were taken we were attending an oyster roast where the host is lucky enough to have a brick barbecue pit. But, that's definintely not a necessity.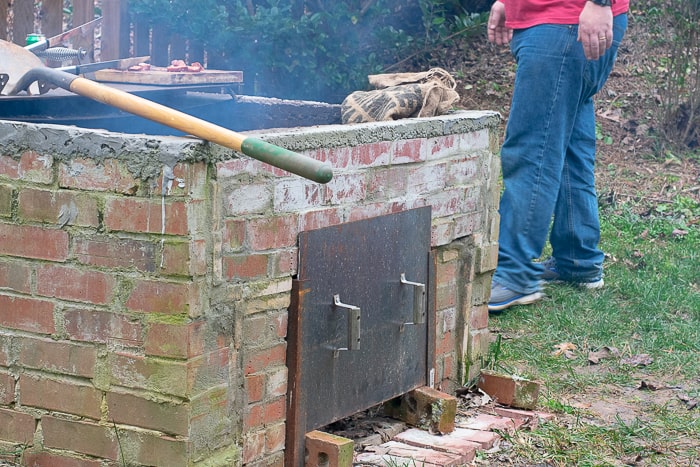 A fire built in a shallow pit in the ground with stacks of 4 or 5 concrete blocks holding a piece of metal is really more common. The expanded metal you see here was ordered from Metal Supermarkets and was inexpensive and easy to order.
You could even roast the oysters on your gas grill, but that can get messy, and will require a good bit of clean up afterwards.
Either way, get the fire good and hot and shovel (or scoop with gloved hands) the oysters onto the fire in a single layer.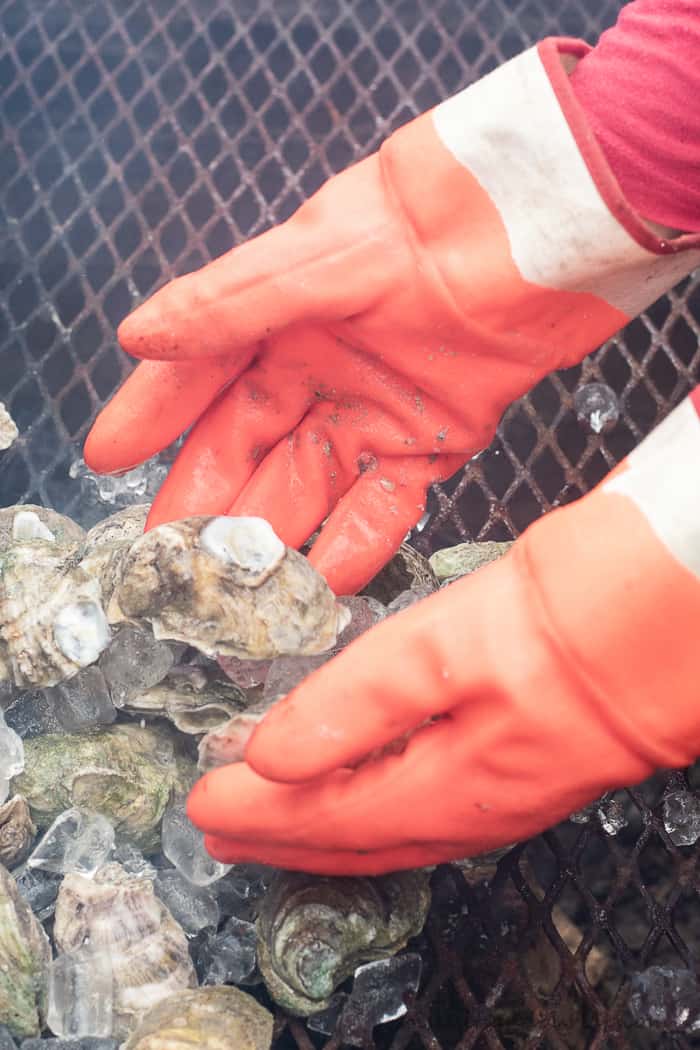 Cover them with wet burlap (lacking burlap you can use old towels which have been wet). The oysters are actually steamed, not roasted, and you cook them just until the shell starts to open. That will take about 10 minutes or so.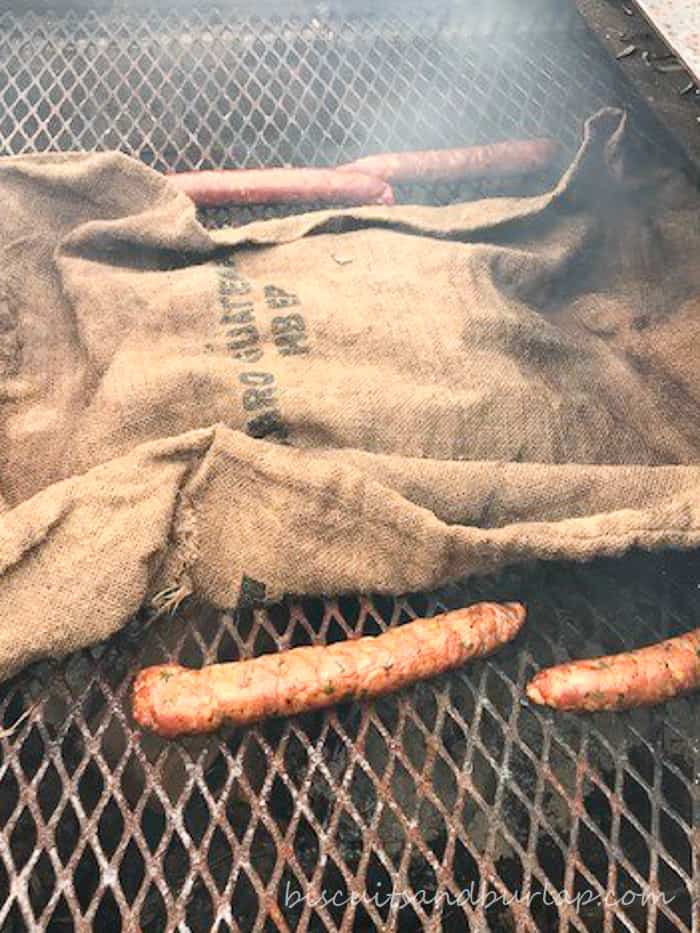 Then move the oysters (with the shovel) to a table you have prepared with newspaper or butcher paper.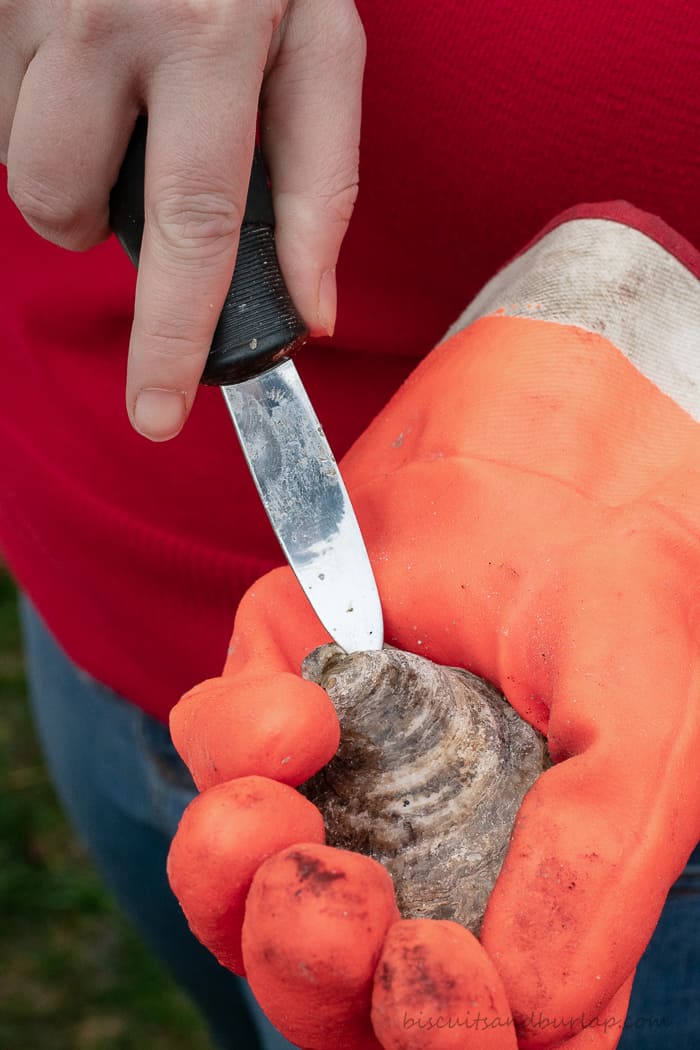 Shucking and eating at an oyster roast
The tip of the oyster knife is slid into the small opening and then the oyster is popped open. You'll want to have a few oyster knives laying on the table. About half the number of guests you have should be good.
Gloves are also good to have tossed on the table as oysters can certainly be tough on the hands. This leads to some choices on Amazon.
You'll need a couple of trash cans nearby to toss the shells in. If you live in a coastal area be sure to find out if there is an oyster shell recycling program available.
Oyster shells are the best way to replenish the dwindling oyster beds along our coastlines, and many communities, particularly in the carolina lowcountry are on board.
To learn all about farmed oysters, be sure to read our post From Oyster Farm to Raw Bar.
A breakdown of the southern food regions, including coastal areas are found in the article Southern Food Then & Now.
What goes with roasted oysters?
Traditionally, you keep it simple. Cocktail Sauce is a must-have and our easy recipe for 3 Ingredient Cocktail Sauce is below.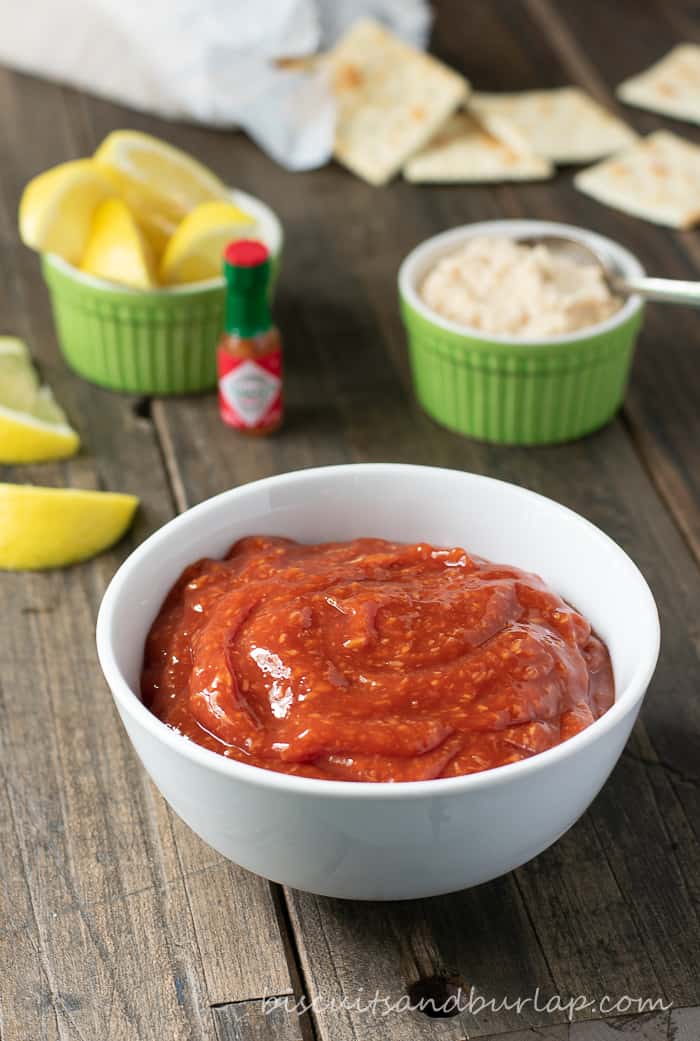 Some folks like to add extra zing, so a bowl of plain horseradish and bottles of hot sauce are great to have. (Check out these adorable mini-bottles of Tabasco sauce.) Full size bottles are fine, but the mini bottles are just fun.
Lemon wedges and saltine crackers round out the necessities for your oyster roast. If you want to get a little fancier check out our recipe for Classic White Wine Mignonette Sauce. For more sauce options, check out our choices for 10 Best Sauces for Fish.
At the roast where these photos were taken we made our Jambalaya Dip and it was a hit. But, it's up to you if your menu will include other food. Plenty of fun oyster roasts have been held with nothing but the essentials listed above.
What do you drink at an oyster roast?
Beer! Lots of good cold beer. No need to get fancy here either. This is a casual party, y'all.
Besides beer you may want to consider oyster shooters. What the heck is an oyster shooter you say? The essentials are oysters and a shot glass. Go from there with what makes you happy.
Most oyster roasts will also have a table with Bloody Mary Fixings, and those ingredients do double duty for oyster shooters - an oyster, a splash of bloody mary mix and vodka. Then each person can add hot sauce or horseradish according to what floats their boat.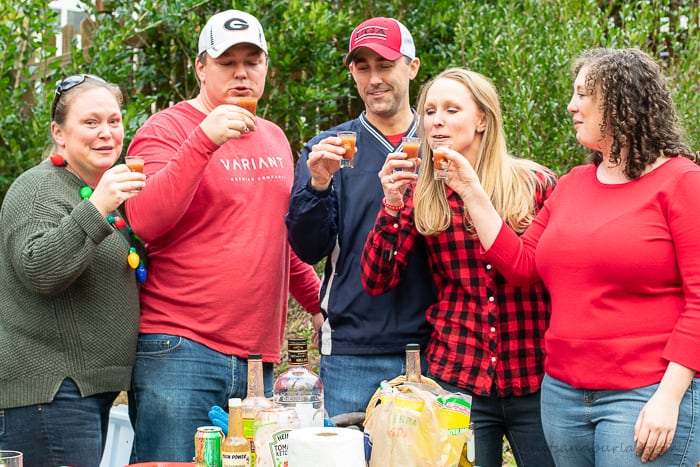 Recap of equipment needed to host an oyster roast:
Items fun to have at an oyster roast
📖 Recipe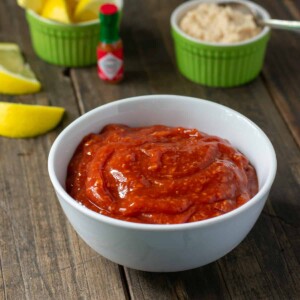 3 Ingredient Cocktail Sauce
Classic Cocktail Sauce perfect for serving with any type of seafood.
Ingredients
1

cup

ketchup

2

Tablespoons

horseradish

½ lemon

juiced
Instructions
Stir all ingredients together.

Refrigerate at least 1-2 hours before serving to allow time for flavors to blend.
Notes
Additional horseradish can be added according to personal preference. 
Nutrition
Calories:
32
kcal
Carbohydrates:
9
g
Protein:
1
g
Fat:
1
g
Saturated Fat:
1
g
Polyunsaturated Fat:
1
g
Monounsaturated Fat:
1
g
Sodium:
288
mg
Potassium:
94
mg
Fiber:
1
g
Sugar:
7
g
Vitamin A:
154
IU
Vitamin C:
2
mg
Calcium:
7
mg
Iron:
1
mg
Above all, keep it simple and have fun at your oyster roast!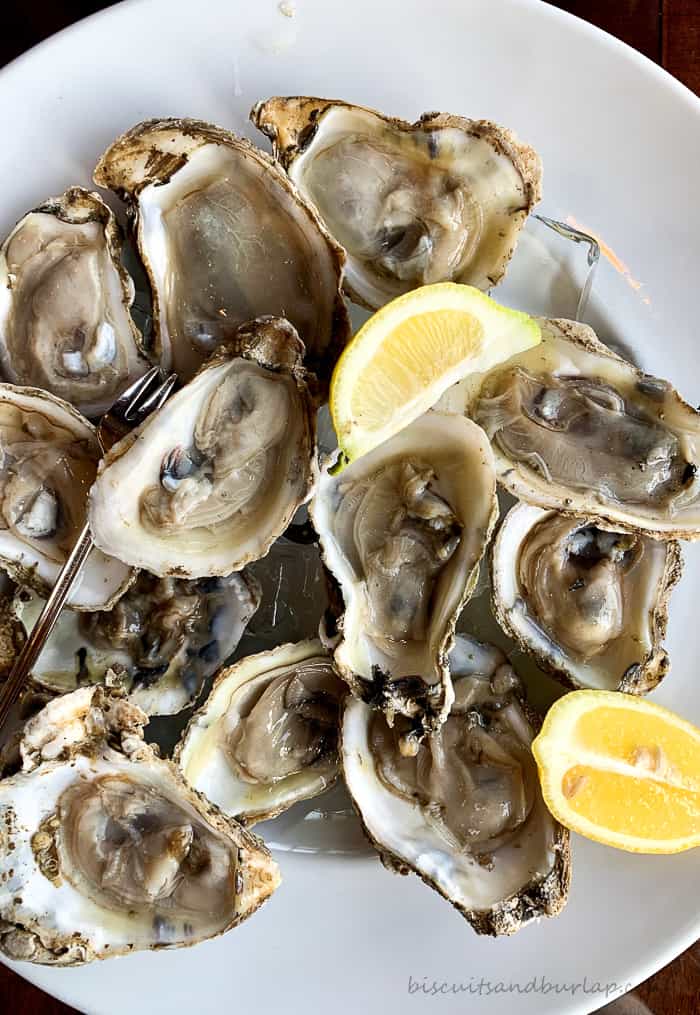 Be sure to tag us on Instagram or Facebook with photos of your oyster roast or leave a comment with any questions. We hope you've enjoyed this Oyster Roast "tutorial" and found it helpful.
Another cold weather idea:
You could even set this up to the side of the oyster table especially for the little ones, or add a few liquers and the adults will make dessert out of it. A Homemade Hot Chocolate Bar features decadent hot chocolate in a slow cooker and lots of toppings!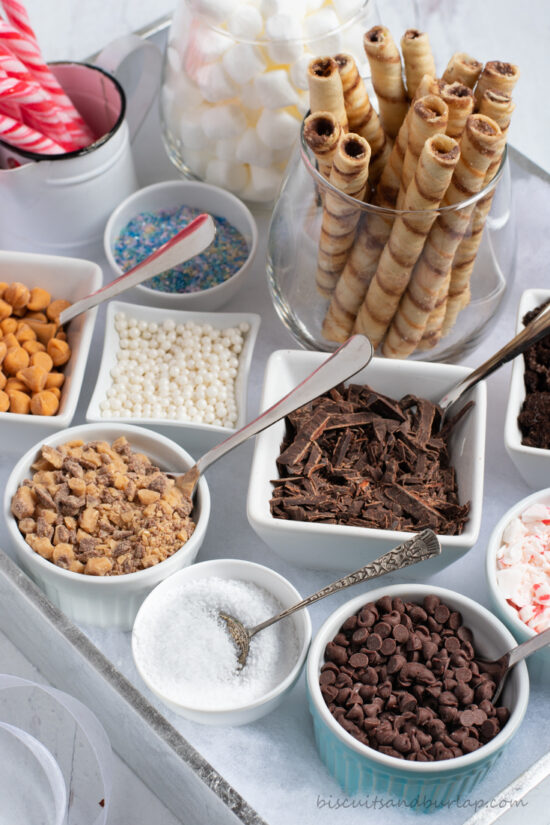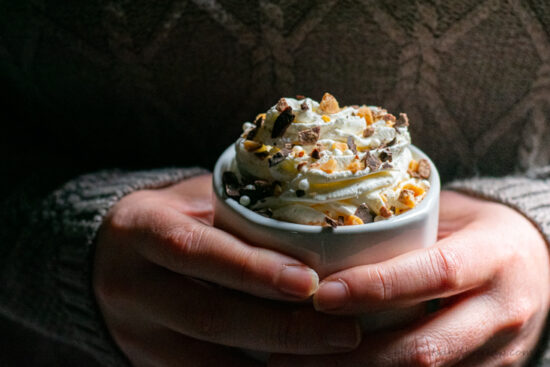 Don't forget to sign up here to get our weekly updates.

A few more recipes you'll love: