Personally, I never find it easy to shop for men. Birthdays, Christmas, Father Day… I feel like every gift idea has been done to death (a shirt, a tie, a watch, a… Home Depot gift card, I don't know!)  and this year I wanted to be more original. I had to share the Bloody Mary Gift Basket I gave my friend Ken because I had so much fun putting it together, and he absolutely loved it.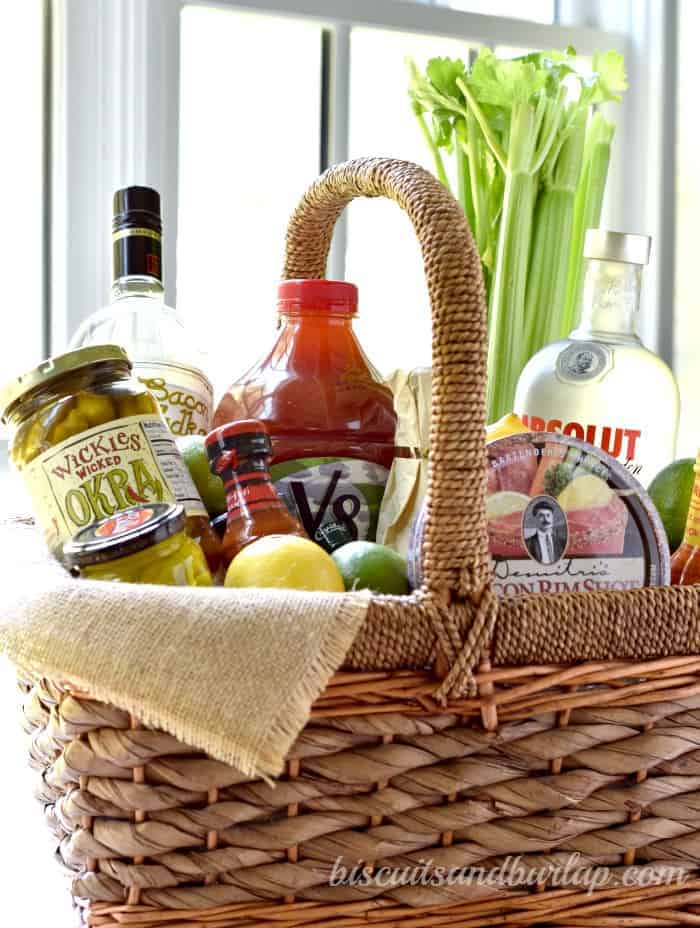 One thing Ken and I have in common is that we are both foodies. We love to go out and try interesting restaurants and I'm always on the look out for places I know he would get a kick out of. When it comes to the most important meal of the weekend, I know there is one feature of any brunch menu that Ken will be sold on: A Bloody Mary bar.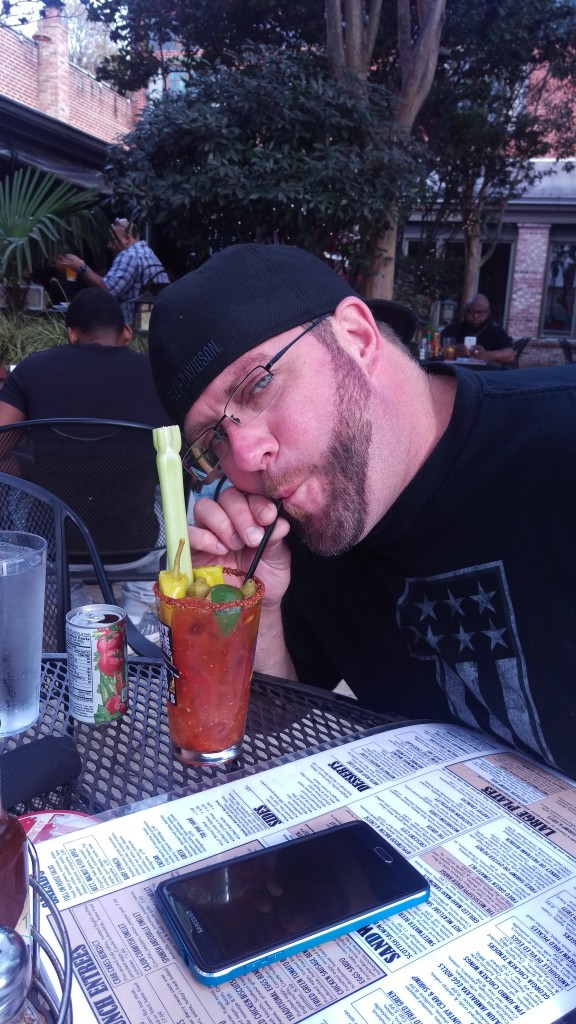 Are you getting our newsletters? It's easy to sign up, and you won't miss a recipe, gift idea or project. Sign up here.
I took this picture in the fall at Front Page News, a restaurant in Little 5 Points area of Atlanta that is known for their Bloody Mary bar. He had so much fun putting it together (even if he did get a little carried away with the hot sauce selection) I thought, why not give him his own Bloody Mary bar? Personally, I can't stand Bloody Mary's, but I have a lot of friends who are obsessed with them, so I've learned to recognize a good one. This post contains affiliate links for your convenience. Click here to read our full disclosure policy.
What to put in a Bloody Mary Gift Basket
-The basket! Any good sturdy container will do- All those glass jars are heavy! To keep it simple, go with a shallow wicker basket like this one.

–V8 Tomato Juice (of course)
-Absolut Peppar (pepper flavored vodka)
-Bacon Vodka (that's right- BACON VODKA… recipe below)
-Celery
-Lemons and Limes
-Interesting hot sauces (I found 3 I thought he would like- Dave's Gourmet has several different types that would make a great combo)
-Pickled jalapenos
-Olives (I got some stuffed with garlic, some with blue cheese, and some with jalapenos)
–Demitri's Bacon RimShot
(or any bacon salt/BBQ rub that you think would be good along the rim of the glass)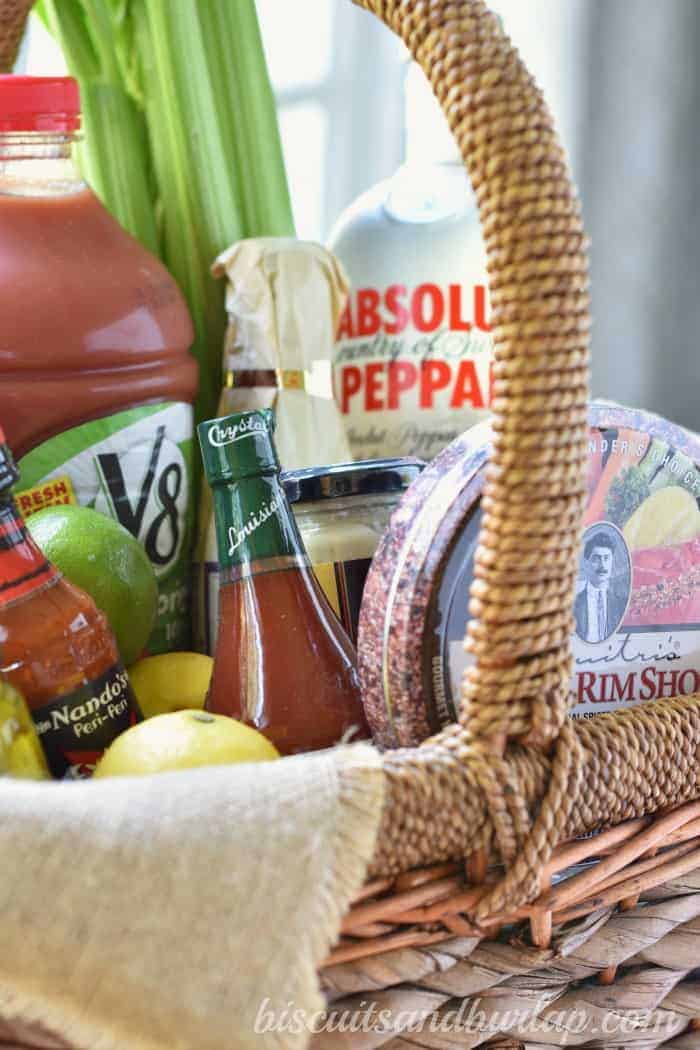 >
How to make bacon vodka
If you want to make bacon vodka (and trust me, you do) it's super easy. Just put about 3 tablespoons of liquid bacon grease in a mason jar with the vodka, shake it up, and let it sit at room temperature 4-6 hours. Then, pop it in the freezer for an hour. The grease will solidify and the vodka won't, so after an hour you can pour it through a fine mesh strainer to get the solids out. Lastly, run it through a coffee filter to get out the remainder of the grease. Be warned: It's still going to taste a little greasy, and I wouldn't recommend it straight- but in the Bloody Mary, it is phenomenal!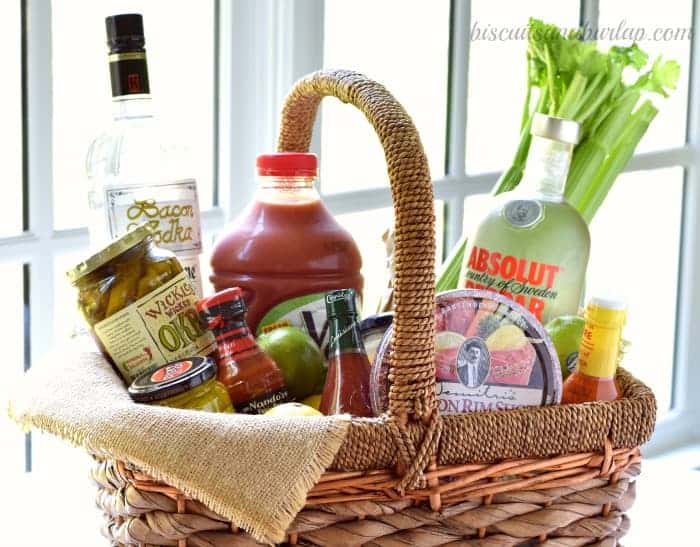 Do you need to make this gift a super-duper one? Add an awesome cocktail pitcher for stirring up those Bloody Mary's.
And how about a set of glasses? I think these are pretty perfect!
Or…. Everybody loves their Yeti Tumblers. This set is just the thing for a bloody mary.


Put the basket together with the glasses and/or a pitcher and you've got a great gift to take to the one of those Stock-the-Bar wedding showers or Housewarming parties.
Sound good? Keep up with what's going on with us here. We promise we won't overdo it.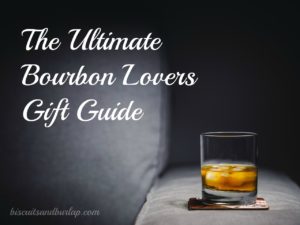 Got a Bourbon Lover in your life? We've put together the Ultimate Bourbon Lovers Gift Guide. You'll find the lowdown on bourbons for every budget and the accessories to go along with them. Click here to see it all.
Need to find gifts for a football fan? We've done the work for you and there are a ton of great ideas in one place. Click here to see them all.