Just 3 ingredients are used to make delicious homemade pineapple preserves. No pressure canning is needed for this easy recipe!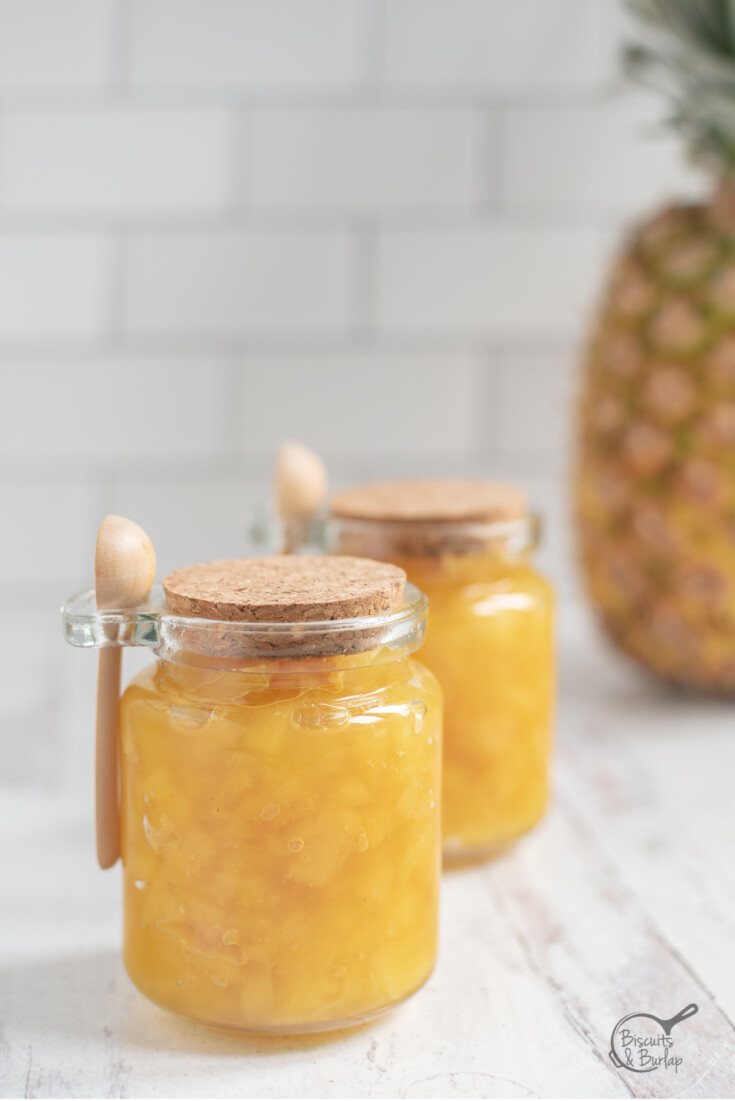 Fresh pineapple preserves are like sunshine in a jar
This lightly sweetened fruit confit can be enjoyed so many ways: Use it in a marinade (it's fantastic in this marinade for pork using it instead of the pineapple juice), serve it over ice cream, stir it into yogurt, or savor it the traditional way on toast or a biscuit.
One of my favorite ideas is to give a pretty little container as a hostess gift (more food gift ideas found here. Who doesn't appreciate something made from the heart with love?
Jump to:
No canning needed
Canning is just not something Sara or I have ever had an interest in. We admire those folks who will "put up" jars and jars of tomatoes from their garden every summer - we truly do.
Give us a bounty of cucumbers and we'll make "Refrigerator Pickles" or okra and we're making Spicy Pickled Okra by the fridge method.
These preserves are going to keep just fine for up to 4 weeks in the fridge, and that's if any lasts that long.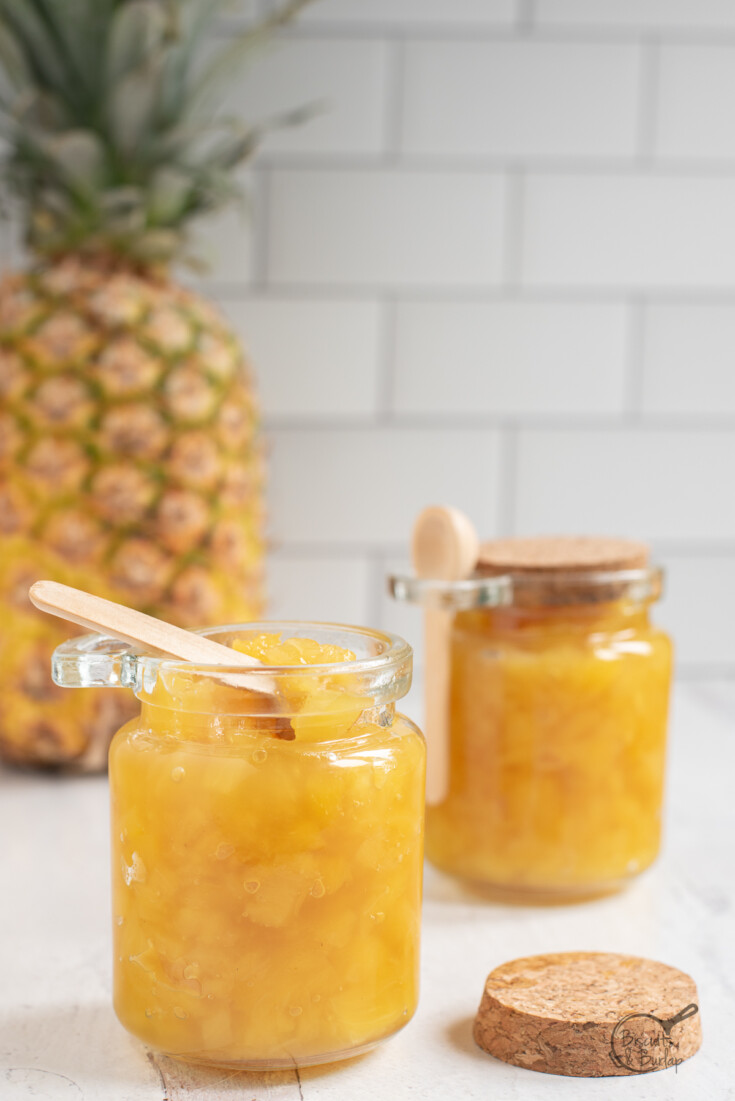 Ingredient/Substitution notes
This recipe is made with just three simple and natural ingredients:
Fresh pineapple is readily available in many markets year round these days. I buy the market-prepared type that has been cut into big chunks and sold in containers in the produce section. You can also start with a whole pineapple if you like. We have not tested making these preserves with canned or frozen pineapple.
Granulated sugar - just plain old white sugar is what we use.
Add Lemon juice in a small amount as a natural preservative and to cut the sweetness a little. While I usually advocate using fresh lemon juice (like in Air Fryer Lobster Tails) this recipe will work just fine with bottled juice.
How to make pineapple preserves
This method is pretty forgiving. You can undercook a little, overcook a little, stir constantly or wait a few minutes between stirring. You can even adjust the texture of the pineapple by crushing or blending it or leave it in bigger chunks.
First make sure your pineapple doesn't have any of the hard core still in it. If you find any be sure to trim it off. Then dice into pieces about ¼-1/2 inch square or so.
Put the pineapple in a heavy saucepan and stir in the sugar and lemon juice.
Start out with the heat at medium to medium-high until it starts gently bubbling, and then turn down the heat to just under medium. Stir every couple of minutes.
Cook until the pineapple has turned from yellow to a golden color and the juices are reduced to just a little syrup in the bottom of the pan.
Remove from heat and let cool thoroughly before putting in jars.
If you're a pineapple lover like us or you just have some extra lying around, try this Fresh Pineapple Mojito.
How much will it make?
The recipe is written for approximately 5.5-6 cups of diced pineapple. That's about 2 pounds if you're buying by weight. It makes two 8 ounce jars of preserves.
It's easily doubled or even tripled if you use a larger dutch oven for cooking the fruit. However, we like that this is a small batch recipe and not a big production to make.
When using a fresh whole pineapple you should get about the right amount for two jars from one pineapple. This is a great guide on choosing and cutting a pineapple if you need some help.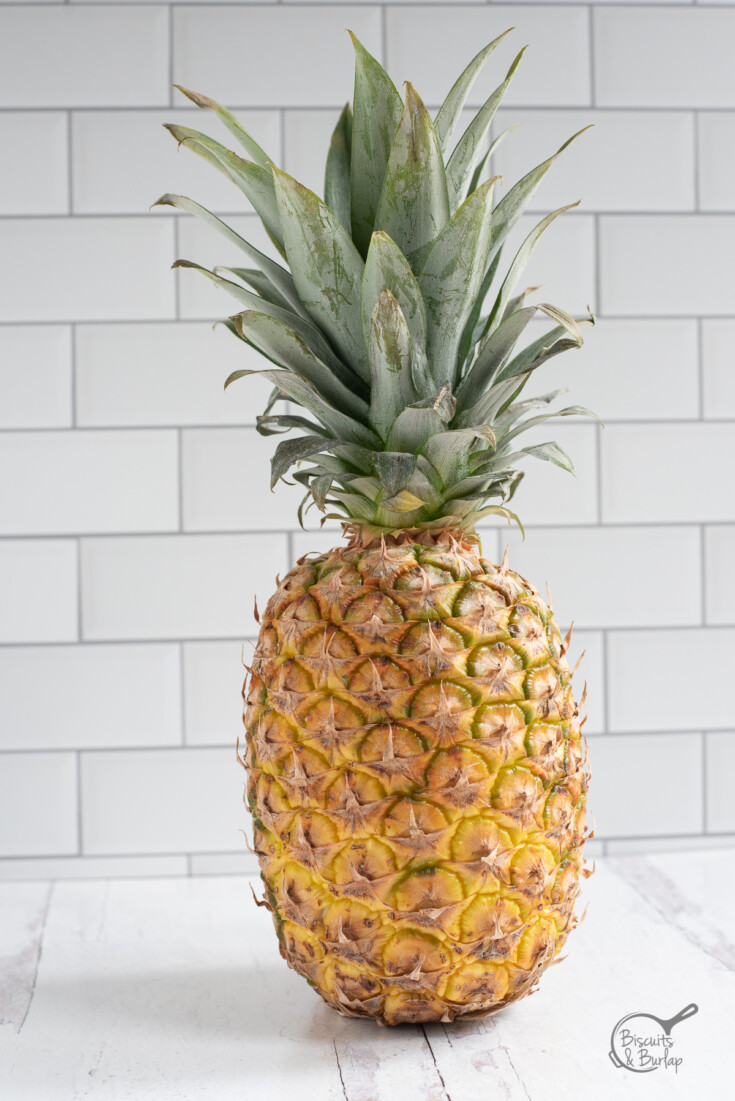 Items you may need for making your preserves:
This post contains affiliate links, which means if you click on an affiliate link and buy something, we may receive a very small commission.  It does NOT result in additional charges to you or cost you anything extra. Click here for our full privacy and disclosure policy. As an Amazon associate we earn from qualifying purchases.
Is it really pineapple jam or preserves?
We call it preserves because it's simply sweetened fruit and has no pectin added to make it "gel" like jam would. The pineapple and its juice plus a little sugar is all you've got here, making it truly preserved pineapple.
We think it's delicious as is, but if you want to end up with a more jelly-like consistency you could certainly add pectin. Just be aware that we have not tested it that way.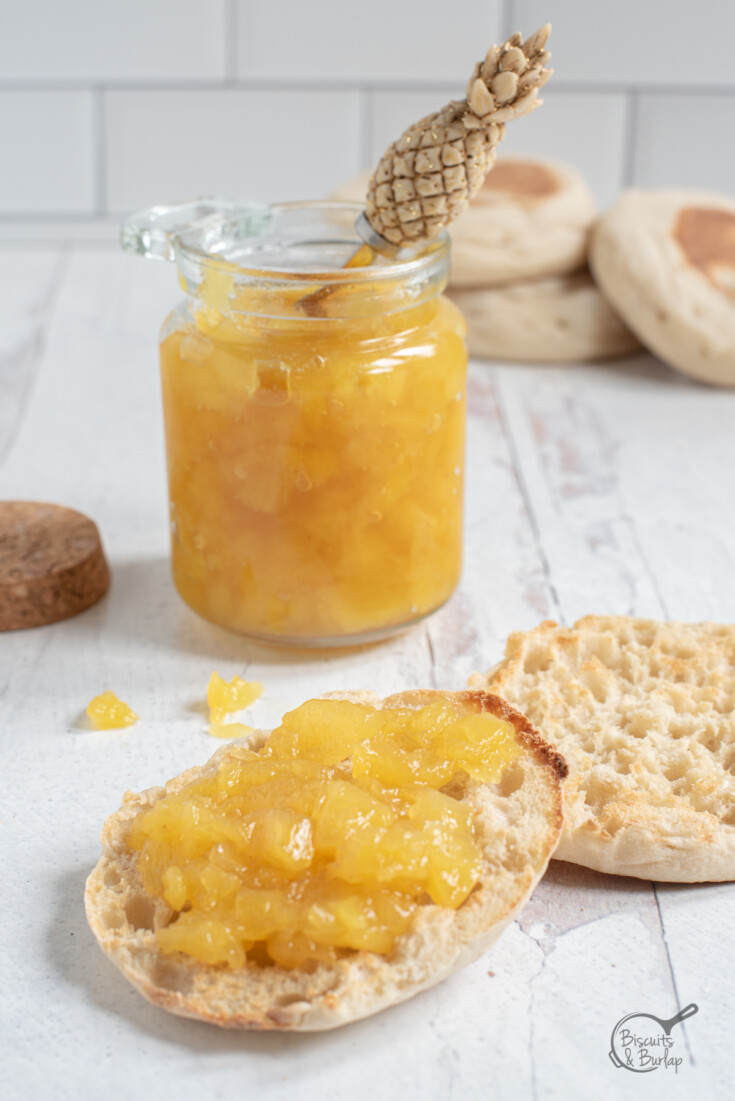 FAQ'S
How long will pineapple preserves last?
If kept tightly covered and refrigerated this pineapple jam will last up to 4 weeks, and possibly longer. This no-canning recipe is not for long term storage.
Can you make pineapple preserves with canned pineapple?
Canned pineapple has been processed and usually sweetened, so it wouldn't take as long to cook or need to be sweetened. We have not tested it.
Would these pineapple preserves make a good hostess gift?
Yes! Put them in a pretty jar and tie a ribbon or cord around them. If you want to go the extra mile you could even include a list of ways to use them.
📖 Recipe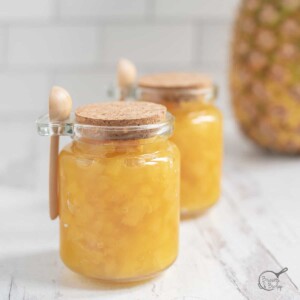 Homemade Pineapple Preserves (no canning required)
Just 3 ingredients are used to make delicious homemade pineapple preserves. No pressure canning is needed for this easy recipe!
Ingredients
6

cups

fresh pineapple

diced into ¼ to ½ inch size pieces

⅔

cup

granulated sugar

2

tablespoon

lemon juice
Instructions
Mix diced pineapple, sugar and lemon juice in a heavy saucepan.

Bring to a boil over medium high heat and then reduce heat to between medium-low and medium, stirring occasionally.

Continue cooking and stirring occasionally for about 30-35 minutes or until liquid is reduced and fruit is golden in color.

Remove from heat. If a smoother consistency is desired mash with a potato masher or blend with immersion blender. Allow to cool before placing in jars.

Cover and refrigerate for up to 3-4 weeks.
Notes
Fruit may be left in chunky diced pieces or blended afterwards with potato masher or immersion blender if a smoother consistency is desired.
5.5-6 cups of diced pineapple will yield approximately enough preserves for two 8 ounce jars. 
Nutrition
Calories:
127
kcal
Carbohydrates:
33
g
Protein:
1
g
Fat:
1
g
Saturated Fat:
1
g
Polyunsaturated Fat:
1
g
Monounsaturated Fat:
1
g
Sodium:
1
mg
Potassium:
139
mg
Fiber:
2
g
Sugar:
29
g
Vitamin A:
72
IU
Vitamin C:
61
mg
Calcium:
16
mg
Iron:
1
mg
Citrus Juicer
Good sharp knives (these are quite affordable)