This Bacon Onion Jam with bourbon is the perfect addition to a crostini, pimento cheese, a grilled cheese sandwich, or even roasted vegetables!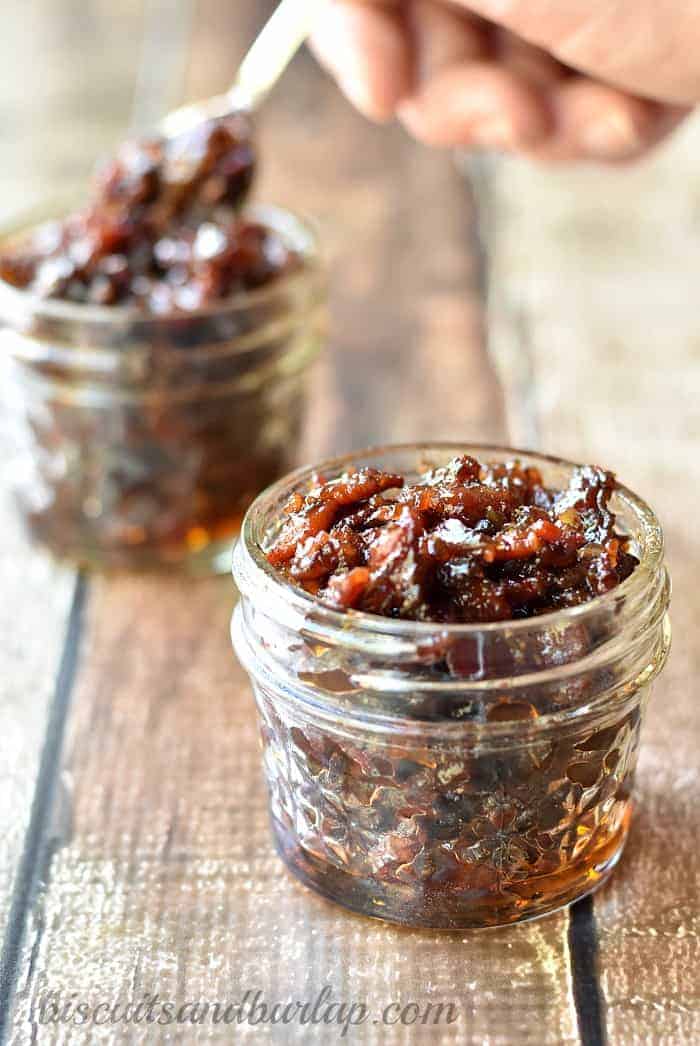 Bacon. Bourbon. Jam.
Really, what could possibly be wrong with this? It's meaty, sweet, tangy, salty... And its bacon! Some of my favorite places around town have been using bacon jam to top their breakfast sandwiches or their pimento cheese appetizers and I just can't get enough of it.
Anyone who knows me knows that if I love something I have in a restaurant, I have to get in the kitchen and figure it out.
Mission accomplished.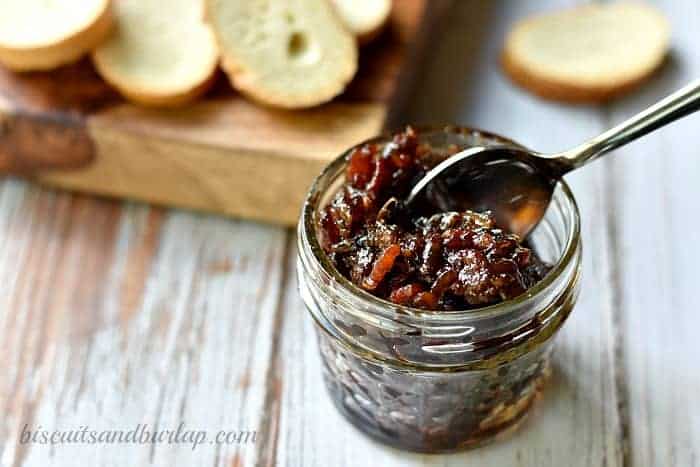 Before making this recipe, I had never tried bacon bourbon jam, but just as bacon makes everything better, I believe the same is true for bourbon. The bourbon just gives it a little something extra that sets it over the edge and makes this stuff downright addictive.
Smear a little of our Cheeseball with Pimento Cheese on a cracker and top it with this bacon jam and you've got absolute perfection.
Know someone else who loves bourbon? Check out our Bourbon Lovers Gift Guide
The key to a good bacon jam is extra thick bacon, cooked extra crispy. I managed to find some in my neighborhood grocery store, but next time I think I'll head to my local meat market to find some that is even a little thicker.
You want to cook it a bit past the point that you typically would.. not burnt, but done enough that it crumbles easily when cooled and most of the fat has cooked off.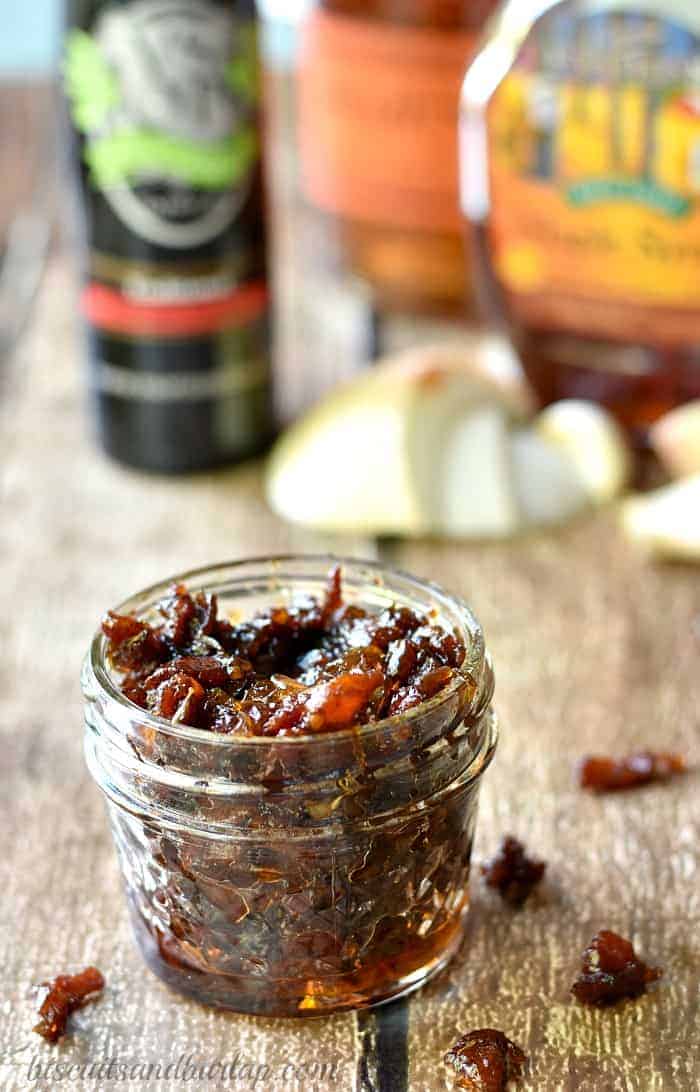 Once you have the bacon cooked and crumbled, the rest of the bacon bourbon jam process is really pretty easy!
Set aside the bacon and drain off all but about a tablespoon of the bacon grease. Toss in the minced shallots and onions. (Hint: cut the onions and shallots into chunks and pulse them a couple times in a food processor. Instant mince.) Cook them on medium high heat until the onions caramelize (about 10 minutes). Add in your garlic and cook for a minute longer.
Next, add your spices, bourbon, and maple syrup and let it boil. Be sure to stir, scraping the bottom of the pan to get all that bacon goodness. Let it boil for 3 minutes, stirring. Then, add your balsamic and brown sugar and stir for another 3 minutes.
Add the bacon back to the pan and lower the temperature to low. Let it simmer for 10 minutes and you're done! The only question now is what to put it on...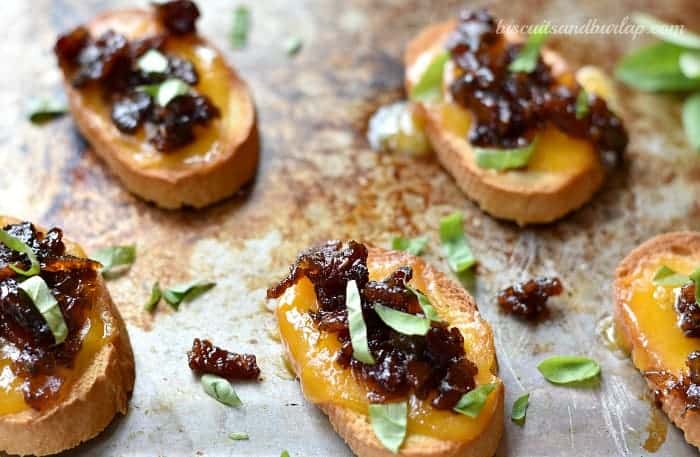 The Possibilities with Bacon Bourbon Jam Are Endless
We tried this bacon bourbon jam on crostini with melted cheese... delish. On top of pimento cheese? Perfection. My friend Ken got a jar from me and put it on top of some homemade Mexican Cornbread... out of this world.
How about on top of our Pimento Cheese Stuffed Burger Sliders? That sounds like heaven.
I've seen it in restaurants served on top of roasted brussel sprouts and avocado toast... why not? The sky is the limit. It's also an ideal addition to any charcuterie board.
If you're reading this no doubt you love bacon like we do. You'll also love this Baked Brie topped with Apples and Bacon.
What are you going to do with your bacon bourbon jam?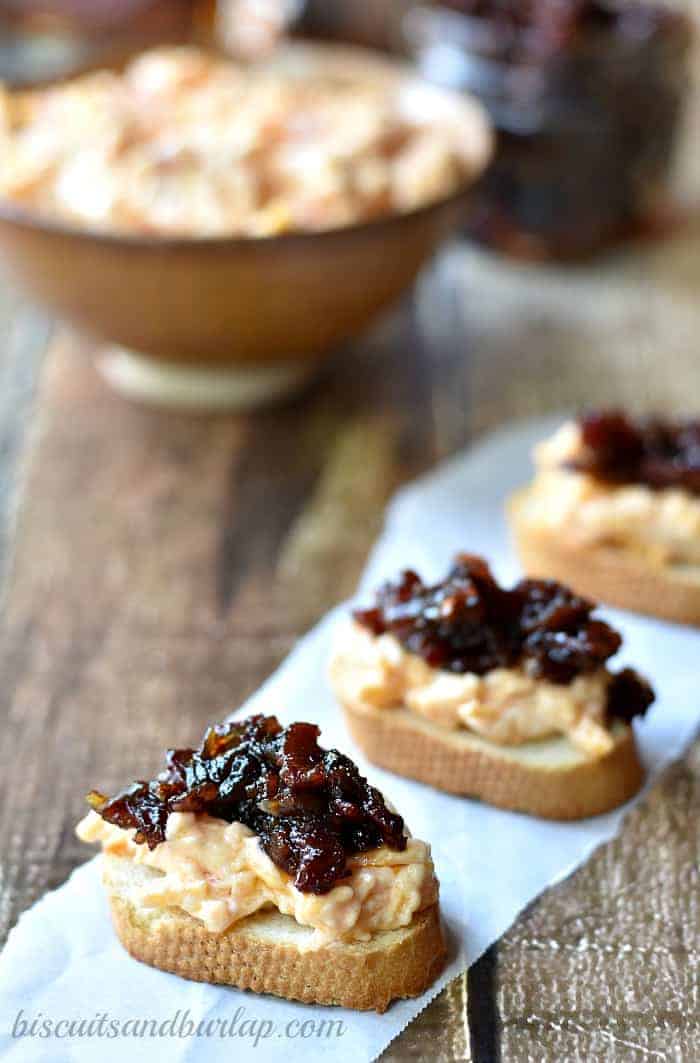 First and foremost - it makes a perfect from-the-heart gift! Just like Homemade Chocolate Covered Pecans and Homemade Pineapple Preserves your Bacon Jam will be full of southern flavor and love!
Southern Food Then and Now is all about traditions, regions and the origins of our favorite cuisine!
FYI: Stored refrigerated in a mason jar, this jam will keep for up to 2 weeks, but if you don't use it by then I hear it freezes well too! I can't imagine not eating it before then, though...
If you're like us and think bourbon and bacon are a match made in heaven you'll want to check out this recipe for Butternut Squash with Bourbon, Maple and Bacon. If you're looking for something a little different, our Honey Bourbon Chicken is just as delicious and has that same bourbon flavor.
If you make any of our recipes we'd love for you to leave us a comment and star rating. If you're into sharing your creations, snap a photo and tag us when you post it to Facebook or Instagram.
📖 Recipe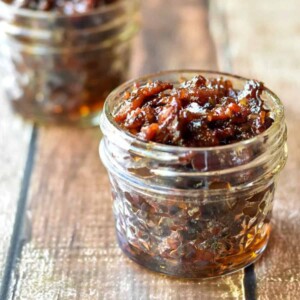 Bacon Bourbon Jam
This Bacon Bourbon Jam is the perfect addition to a crostini, pimento cheese, a grilled cheese sandwich, or even roasted vegetables!
Ingredients
2

lbs

thick cut, hickory smoked bacon

3

shallots

minced

½

sweet onion

minced

4

cloves

garlic

minced

¾

cup

maple syrup

½

cup

bourbon

1

teaspoon

chili powder

1

teaspoon

dried thyme

½

teaspoon

smoked paprika

¼

teaspoon

black pepper

1

dash

cayenne

½

cup

brown sugar

¼

cup

balsamic vinegar
Instructions
Cook bacon over medium heat, allowing it to get crispy and for almost all the fat to cook away. Lay on paper towels and blot to remove excess oil. Crumble when cool.

Drain all but 2 tablespoons of the bacon grease from pan and discard.

Put minced shallots and onions in pan with bacon grease. Cook on MH heat 8-10 minutes, stirring frequently.

Add garlic and cook 1 more minute.

Add bourbon, syrup, and spices. Bring to a boil for 3 minutes, stirring to scrape pan.

Add vinegar and brown sugar. Continue to stir for 3 minutes.

Add crumbled bacon back to pan. Reduce heat to low and simmer 10 minutes.

Remove from heat and allow to cool. Transfer to jars and refrigerate up to 2 weeks.
Looking for more appetizers and snacks?